The Workamper Show Podcast
Subscribe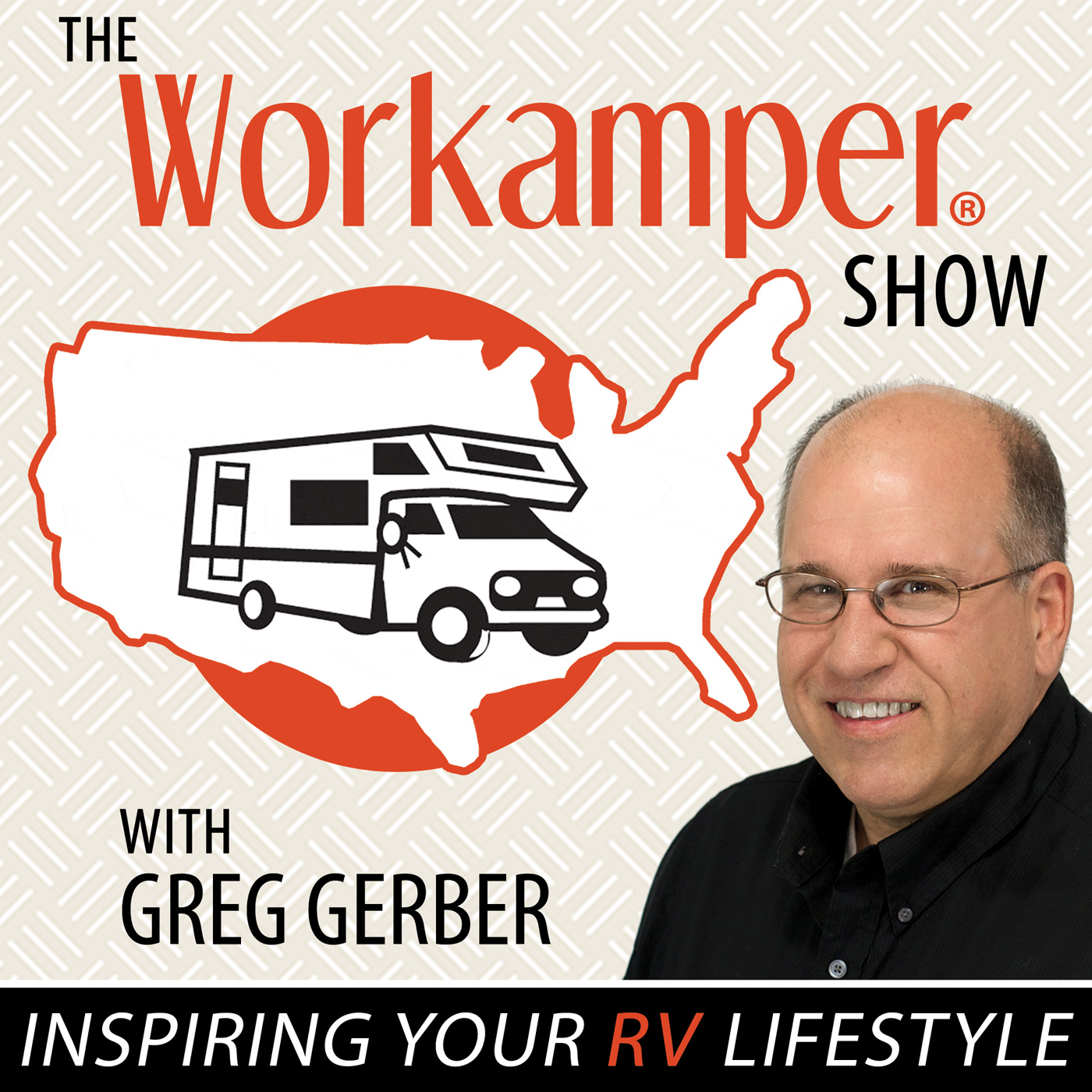 Workampers are adventuresome individuals, couples and families who have chosen a wonderful lifestyle that combines ANY kind of part-time or full-time work with RV camping. If you work as an employee, operate a business, or donate your time as a volunteer, AND you sleep in an RV, you are a Workamper! The Workamper Show is a podcast about workamping and the people who enjoy the lifestyle, either full-time or seasonally. It will feature interviews with current and former Workampers, as well as people who hire them to perform a wide variety of jobs. We'll even feature interviews with experienced RVers...
Episode 119 features Jeff Knutson who is looking for entrepreneurial Workampers to manage his Wisconsin campground
Jeff is looking for a Workamping solo or couple who is experienced in managing a campground or RV park. They may also be tasked with managing the on-site apartments and retail space, too. Compensation is set up differently than most other Workamping jobs in that the manager will receive a percentage of the gross income of the RV park. Jeff hopes that will be a big incentive to a prospective manager to help fill the park.
---
Ranger Andrew Huddleston describes volunteer opportunities at a U.S. Army Corps of Engineers project in Idaho for Episode 118
Workampers serve as park attendants, which mean they greet visitors to the park, help them check in to their campsites, clean up the bathrooms, and help with clerical duties at the office. The volunteers are expected to donate 24 hours of time per couple in exchange for a full-hookup RV site very close to the Washington/Idaho border. The project has enough volunteers for the 2021 season, but Andrew is looking for Workampers in 2022, at which time he will be transitioning two more campgrounds over to volunteer attendants. He estimates he will need nine sets of volunteers next year.
---
Leah Moskovitz describes Workamping opportunities at Cherry Republic in Episode 117
Cherry Republic operates six retail stores throughout Michigan, but hires 10 Workampers for its headquarters campus which is also home to the packing and distribution center. Workampers are utilized in the retail store, but also to serve samples or full glasses of wine to guests. In the distribution center, they assemble and label products before packing them for shipping. The paid jobs start at $10 per hour plus a free RV site.
---
Jim Nelson and Rene Agredano, founders of Live. Work. Dream., encourage people to 'be more dog' in Episode 116
Jim Nelson and Rene Agredano jumped in to the RV lifestyle as a favor for their German shepherd, Jerry G. Dawg, who lost a leg to cancer. They wanted to give him an adventure of his lifetime, but the experience changed them to the point they continue traveling in their RV to encourage others to "be more dog." Since 2007, they have logged 170,000 miles working various Workamping jobs, but also developed multiple income streams to support their nomadic lifestyle. They founded several successful online groups including Tripawds, for pet owners caring for three-legged animals, and Live. Work. Dream. to encourage others to e...
---
Denise Fuller describes her RV experience and motivation for launching Camper Quilter Kits in Episode 115
Last year, with everyone stuck inside for COVID, Denise Fuller saw an opportunity to encourage others to try quilting. She started a business she could run out of her RV to create kits that people can buy online. Designed specifically for RVers and others who live in confined quarters, the kits come with patterns, batting and other supplies to complete smaller quilting projects. She also describes the RVing adventures she has enjoyed with her husband, Mark, since 2012.
---
Amanda Burleson describes opportunities this summer at Prairie Berry Winery in South Dakota
Workampers have been employed by Prairie Berry for the past five years and they've always been involved with serving samples. This year, additional Workampers are needed to help in the kitchen preparing food for the on-site restaurant and helping to set up for special events. We have interviewed a number of Workampers on this show and in the Workamper News magazine who have described their time at Prairie Berry as one of the best jobs they've ever had.
---
Ranger Mark Hill and Workampers Mike and Sue Ward describe opportunities at a USACE project in Florida on Episode 113
Park Ranger Rob Hill needs several volunteers to help create and deliver water safety presentations to area schools. For that reason, any Workampers with teaching experience and who love boating, canoeing or kayaking would likely love this opportunity. Rob is also looking for volunteers to help with maintenance of the property, serve as gatehouse attendants and simply interact with guests while overseeing the project. Workampers Mike and Sue Ward also come on the show to describe the community of Workampers as well as some of the jobs they do when working and some of the activities they enjoy during their...
---
Mark Braddy talks about lucrative opportunities with ID Plans for Workamping couples in Episode 112
For 20 years, ID Plans has hired teams of RVers to trek across the country performing physical surveys of commercial real estate properties, primarily at retail locations, like malls or strip shopping centers. The teams confirm and record all the assets on the property. It might be the location of light poles in the parking lot to the types of air handling equipment on the roof and even the position of security cameras. The compensation plan uses a formula based on the square footage of the commercial property and assigns an amount to each item that must be documented whether it...
---
In Episode 111, Heidi Dusek explains how Ordinary Sherpa can transform any activity into a memorable adventure
Adventures add life to living, but they don't have to be extravagant, expensive or epic trips. Heidi Dusek, founder of Ordinary Sherpa, helps adults and families transform ordinary activities into extraordinary adventures. The money parents spend on trinkets for their kids that just add noise to their lives and clutter to the house can be reinvested into memory-making park admissions and tools like butterfly nets and fishing poles. Heidi helps other families build lasting memories and discover how much fun it can be to share common experiences that enable everyone really get to know each other on a more personal...
---
RVer Anthony Montelongo describes why he launched Certified RV Solutions in Episode 110
Anthony Montelongo, who owns a fifth wheel, started a mobile service business in north Georgia right in the middle of the COVID shutdowns.  He completed five weeks of advanced training, went to work for an RV dealership to get some experience and then ventured out on his own by launching Certified RV Solutions in Ellijay, Ga. His company does more than just fix RVs. He also offers inspections as well as enhanced walk-through orientations for new buyers that go beyond the quick tour that buyers typically receive when picking up a new RV. He describes the steps he took to g...
---
Dan and Patty Harrison describe their three-year Workamping adventure that keeps them young and active on Episode 109
Dan and Patty Harrison feel Workamping gives them a purpose for getting up in the morning. Like Patty said, people can fill their time with crafts, playing cards and activities like that. But, for the Harrisons, that lifestyle quickly got boring. Workamping allows them to use their brains while keeping busy and active. They also wanted a greater sense of purpose, so Dan and Patty started looking for ways to volunteer to help others in some way. That's when they discovered Workamping as an ideal way to blend tourism with jobs.
---
Tracy and Lee Perkins talk about their six-year adventure on Episode 108
Tracy and Lee Perkins have been crisscrossing the country a number of times and funding their travels by Workamping along the way. They have sold Christmas trees, harvested sugar beets, shipped products in an Amazon warehouse, guarded gates at Texas oilfields, and worked at several campgrounds in paid and volunteer positions. They constantly feel the tug to go see some place new. In fact, Lee said that whenever he wears a path from his RV to the pond, he knows it is time to move on.
---
Ranger Tyler Marye describes Workamping opportunities with the Army Corps of Engineers in New Mexico in Episode 107
Ranger Tyler Marye is looking for paid gate attendants, and that involves greeting guests on arrival, opening and closing the gates, issuing permits, collecting fees, and educating people about park rules. There are also a few volunteer positions open this summer.
---
Episode 106 features Workampers Ron and Gerry Bays
Gerry and Ron Bays love Workamping at campgrounds. It saves them money and, more importantly, allows them to remain active in retirement and visit a number of places they'd dreamed about seeing. They share what attracted them to Workamping in the first place and describe some of the fun adventures they've enjoyed as well as lessons they learned along the way.
---
Episode 105 features professional dog trainer Dan Ross who uses an RV in his mobile business
This week's show features an interview with a dog trainer who is planning to use his RV to travel throughout his market area to put on training seminars for pet owners. Dan Ross is a professional dog trainer from southern California who has been in business for six years. He has developed a way to communicate with dogs that has become second nature to him, and he shares that knowledge with other pet owners in hopes they'll bond more closely with their own dogs.
---
Kyle Henson from Nomad Insurance Group describes insurance opti
Kyle Henson is a full-time RVer who has traveled with his wife and 13-year-old daughter since 2011. He had already been working online in the insurance industry when they decided to take their first RV trip. However, while on the road, Kyle discovered a pressing need among RVers, especially those who traded in a sticks-and-bricks home for one on wheels. The couple formed Nomad Insurance Group to connect RVers to insurance companies that realize the challenges RVers face in finding healthcare on the road. The company focuses exclusively on health insurance programs that provide nationwide coverage that is not location-dependent in...
---
Park Ranger Emily Kohl describes a Napa Valley opportunity at the USACE project at Lake Sonoma in Episode 103
Workampers are needed at the U.S. Army Corps of Engineers project at Lake Sonoma in central California. They serve as camp hosts and to help out in the visitor centers by selling merchandise and leading people on tours of the hatchery. The volunteers also provide maintenance and landscaping services as well as serve as gate monitors by interacting with guests and ensuring fees are being paid. They generally work three days on with four days off to explore wineries and the San Fransisco area.
---
Episode 102 describes opportunities at The Golf Club at Devils Tower and Geode Yoga Fitness
As we start a new year, today's show will feature interviews with two Workamper employers. They are The Golf Club at Devil's Tower and Geode Yoga Fitness. Todd Coover is the general manager of what he describes as a destination golf facility. Because the course is located in a remote section of Wyoming, Todd relies upon Workampers to help out in the pro shop, golf course and range, as well as serve as housekeepers, cooks, waiters and bartenders. Marci Hedderson-Carroll is the founder of Geode Yoga Fitness, and she's looking for help planting gardens around the property and ma...
---
Mike and Donna Bender describe how they make money fixing and inspecting RVs on Episode 101
Early in their adventure, Mike and Donna Bender stumbled upon an opportunity to work for a natural gas company inspecting gas lines throughout the country. When they learned of the opportunity to make money repairing RVs, they opted to take the training and attain their certification. But, while taking the RV Fundamentals class, their eyes were opened to opportunities to make money inspecting RVs. So, after they completed the first week of training together, Donna continued along a path to become an RV inspector and Mike completed five weeks of training to become a certified technician.
---
Episode 100 provides recap of Workamper News' 33-year history with Jody and Luke Duquette
This week's show is rather special. In honor of our 100th podcast, Workamper News Editor Jody Anderson Duquette and her husband, Luke, opted to record a special show to commemorate the milestone. Jody and Luke recall the key historical highlights of Workamper News that took place during the past 33 years since its founding in 1987 by Greg and Debbie Robus in the tiny town of Heber Springs, Ark. Many things have changed over the years, but one thing remains consistent -- Workamper News' commitment to connecting employers needing short-term workers and RVers looking to help finance their travel dreams.
---
Jason Weiner describes juggling jobs and life on the road in Episode 099
ason Weiner and his wife, Amanda, were at a crossroads after their daughter grew up and ventured out on her own. They were just going through the motions of going to work and coming back to a quiet house day after day.  That time period also coincided with a realization that Jason had hit a career wall in the tech industry and he either needed to find something else to do or start over. They had been thinking about the RV lifestyle for a while, and had even attended the Workamper Rendezvous. They bought a 42-foot fifth wheel in March 2019 a...
---
In Episode 098, Andy Hoffman describes Workamping opportunities at New Hampshire's Saco River Camping Area
Saco River Camping Area is a full-service campground featuring more than 240 mostly full-hookup RV sites. The family-oriented campground offers tubing, kayak and canoe rentals as well as bikes, golf carts, laser tag and even wagon rides. During a typical season, more than 60,000 people use the campground as a base camp for a variety of adventures. Up to 14 Workampers are needed to help with maintenance, guest services and housekeeping. Workampers are paid $11 per hour for all hours worked. They also receive a free full hook-up site with cable television, Wi-Fi, free use of the laundry and a 30 percent discount at the...
---
Kimberly Leal and Phil Grunder share their Workamping experiences on Episode 097
After meeting on E-Harmony, Kimberly Leal and Phil Gunder have been together for almost six years. They started full-time RVing about two and a half years ago with their two dogs and a cat in a 28-foot travel trailer. Today, they are passionate about sharing the Workamping and RVing lifestyle with others. After experiencing sharks, sudden snow storms, tire problems – and a whole bunch of positive events as well – Kimberly and Phil chronicle all their adventures on their blog.
---
Kary McElroy describes her first Workamping experience on Episode 096
Kary McElroy spent the summer working for the U.S. Forest Service at the Wild Plum Campground in the Tahoe National Forest. Her first Workamping experience was challenging for her because she was often on her own overseeing 47 campsites in a remote area of the forest. But, because she considered herself to be a self-starter, Kary relished the opportunity to work without direct supervision.
---
Don and Pat Hawes describe their RV-based business, Camping Keepers, in Episode 095
After realizing that it was becoming more difficult for them to do physical work as they got older, the Hawes started Camping Keepers as a way to earn money by applying their own skill and talent toward helping other people who didn't have that same level of comfort with accounting that they had. Camping Keepers specializes in providing bookkeeping services to RV-based businesses. The Hawes also added virtual assistant services to their offerings a few years ago.
---
In Episode 094, Steve Turtle loves Workamping so much he started a YouTube channel to promote the lifestyle
Steve Turtle and his wife have enjoyed their time on the road so much that they started documenting it on YouTube. At first, it was only to create videos for friends and family to follow them on their trip along Route 66. But, it grew from there as the couple started sharing tips and tricks with their followers.
---
Chris and Barbara Kay talk about making the most of the COVID situation in Episode 093
Chris and Barbara Kay have enjoyed a tremendous variety of Workamping experiences so far. They worked at baseball spring training, helped harvest sugar beets, served wine to guests at Prairie Berry, shipped boxes at Amazon, and catered to tourists visiting Yellowstone National Park. They even worked at a rodeo in Texas. The COVID situation altered their summer plans, but they managed to make the best of it by arriving early in West Yellowstone and finding a second job in the local community. They talk about what attracted them to the Workamping lifestyle and how they enjoyed a fun summer despite...
---
Levi and Natalie Henley talk about maintaining positive relationships on Episode 092
Workamping can truly enhance a strong relationship or work to expose cracks in a relationship's foundation. Levi and Natalie Henley have been married for 12 years and full-time RVing for six of them. In fact, they have also worked 20 Workamping jobs together. Through it all, they have learned a lot about each other's personal habits and traits on the job and how to differentiate what goes on at work from their private lives.
---
Krista and Roy Renning describe their Workamping experiences in Episode 091
Krista and Roy Renning have been RVing full time for a year and a half and have completed three Workamping jobs. They retired in their early 50s and saw Workamping as a way to keep some money coming in while living a life that offers them more freedom and flexibility. They wanted to retire from full-time work while they were still young enough and physically capable of doing the outdoor things they really enjoy, such as paddleboarding, hiking and kayaking.
---
Marcia Mercer describes how RVing and Workamping keep her active long after retirement in Episode 090
Marcia Mercer comes back on the show to elaborate on her personal experience as a solo, full-time RVer and about the types of jobs she has performed during the seven years she has been Workamping. People like her have decided they won't let age or the fact they are single prevent them from enjoying the life they've always imagined. Some people reach a certain stage in life where they feel compelled to just slow down, stop working, stop dreaming and opt for a daily routine. Marcia's life is much richer because she keeps her dreams alive.
---
Johanna D'Aleo describes Workamping in a smaller RV in Episode 089
Johanna D'Aleo has been Workamping for more than four years. She started by living in a teardrop trailer and recently traded that in for a 19.5-foot RV. While some folks may find that cozy, Johanna shares the space with her 100-pound dog, Kia. She offers some great advice about finding jobs and things to do to make life on the road more hassle-free.
---
Jeff Bown, with MotorhomeTires.com, talks tire maintenance, safety and selection on Episode 088
Jeff Bown technically started Motorhome Tires out of his garage 35 years ago. Today, his company is a massive network of more than 4,000 certified installers nationwide. Together, they complete nearly a thousand mobile tire installations every year. Jeff describes how balancing beads are better than traditional spin balancing, why tire age is more important than tread wear, what pressure tires should be inflated to, and how a simple device can help motorhome drivers maintain control in a blowout situation. Alot of what he talks about applies to towable RVs as well.
---
In Episode 087, Dan Marlow describes tax preparation opportunities with his company and Jackson Hewitt
Dan Marlow is a certified public accountant and the owner of Valor Tax Services in Kansas City, Mo. His firm is a franchise of Jackson Hewitt Tax Services, which provides professional tax preparation services nationwide. Preparing taxes is not as hard as it looks. Workampers will not be preparing complicated business tax returns for corporations, although they may prepare returns for self-employed individuals. Most of the time, they will be working with people who just feel more comfortable having a professional prepare and review their taxes.
---
In Episode 086, Kelly Calmes describes the Amazon CamperForce Program and jobs available this fall
Amazon, the online retail giant, has been hiring Workampers for years as part of its CamperForce program. It's a community of enthusiastic RVers who work seasonal jobs picking, packing, stowing and receiving products at one of 11 warehouses in eight states. Those warehouses are located in Oregon, Nevada, Arizona, New Jersey, Pennsylvania, Virginia, Kentucky and Tennessee.
---
In Episode 085, Lisa Sarver proves it's possible to make money doing RV inspections
Lisa Sarver and Jason Carletti launched My RV Inspection three years ago near Tampa. They have inspected more than 450 RVs since then. In fact, they make enough money that Lisa was able to leave a lucrative job as a traveling medical technician. Lisa describes what goes into a typical inspection, how long they take and how much money they can earn. She also describes what type of advertising and promotion worked for them, and outlines some of the expenses they incur throughout the year. This is a good episode for anyone contemplating purchasing an RV to listen to because Lisa...
---
Michelle Burton describes jobs in 2021 at New Jersey's Wading Pines Campground in Episode 084
Michelle Burton is the general manager of Wading Pines Campground in Chatsworth, N.J. It's an unusual campground in that it's in the woods, but only 30 minutes from the Atlantic Ocean, one hour from Philadelphia and all the history there, and two hours from New York City. Wading Pines typically hires about 15 Workampers every year. They do things like maintain the grounds, operate a general store, housekeeping, take reservations, check in campers, and serve food in the snack shop.
---
Sylven and Adrian Watson describe steps they're taking to ready for full-time living in Episode 083
Sylven and Adrian Watson are looking forward to the day they can uproot their lives and head out onto the open road. They have both done quite a bit of camping during their lives, and they just love being outdoors. Even though the couple has owned an RV for 14 years, they opted to enroll in the new RV Dreamers Journey course to get answers to some lingering questions so they could feel more confident about living in an RV full time.
---
Lynne Swanson describes Safe Harbor Farm and its dog-friendly mission on Podcast 082
Lynne Swanson is a retired veterinarian and dog trainer who has lived with up to 20 dogs at the same time. Through that experience, she has discovered that dogs are actually among the best communicators on earth. She is looking for several workampers to help transform the center's 61-acre home base in North Carolina into a dog-friendly network of walking trails and group play areas. The volunteers work side-by-side with a variety of animals from goats to cats to turtles.
---
In Episode 081, Bryan Carbonnell explains how he makes money fixing and inspecting RVs while traveling
Just doing two inspections a month, Bryan Carbonnell can bring in $1,400, on average. He can more than double that by completing minor repairs where he can charge $100 per hour. There are very few expenses, like insurance, that are deducted from his monthly income. Nor does he need to do a lot of promotion. They are both ideal Workamping businesses to operate on the road.
---
Lynn Hupp describes her experience in the Dreamer's Journey class in Episode 080
Lynn Hupp dreamed about the RV lifestyle for many years, and two major life changes earlier this year nudged her to jump out and make that dream a reality. Yet, she still wasn't quite confident enough in her knowledge or abilities in order to become a full-time RVer. So, she enrolled in the Workamper News' new RV Dreamers Journey online course designed for people like Lynn who want to soak up all the information they can about the lifestyle and the opportunities it presents. It required a minimal investment of money and some time, but she knew she'd get en...
---