Superstar Communicator podcast
Subscribe
Become an excellent speaking communicator with your audience, clients, colleagues and prospects. Full of invaluable content, this show deals with everything about speaking, and includes interviews with successful entrepreneurs who share their top tips as well as masterclasses from speaker expert Susan Heaton-Wright.
Navigating Cross-Cultural Communication
Welcome back to another episode of the Superstar Communicator podcast, where we delve into the fascinating world of cross-cultural communication. In today's episode, our hosts, Susan Heaton-Wright and Nick Simon, are joined by special guest Michael Gates, a renowned authority on understanding different cultures. Michael brings over 30 years of experience in the field of cross-culture, and in this episode, he shares valuable insights on mastering cross-cultural communication.
Throughout the episode, Michael shares two real-life examples related to air travel that highlight the challenges and nuances of intercultural communication. From a delay caused by bad weather to a...
---
Men's Health and International Men's Day with Mike Pagan
Welcome to the SuperStar Communicator podcast! In this episode, we dive into a thought-provoking conversation on International Men's Day with special guest, Mike Pagan. Together with Susan Heaton-Wright and Nick Simon, Mike shares his insights on the importance of peer support, mental wealth for men, and the impact of social media on mental health. We explore personal stories, practical tips, and expert advice on creating a supportive network, prioritizing self-care, and navigating the challenges of modern work environments. Join us as we delve into this engaging discussion and gain valuable takeaways for personal growth and well-being.
Key...
---
Building a Strong Brand and Community: The Power of Radical Humility in Business with Jeffrey Hayzlett
Welcome to another exciting episode of the SuperStar Communicator podcast, where we delve into the world of business, communication, and success. Today, we have the privilege of hosting the incredible Jeffrey Hayzlett, a renowned business expert and media personality. In this episode, Jeffrey shares invaluable insights on why radical humility is the key to success. He reveals how building a strong brand, creating engaging content, and connecting with your audience can propel you to new heights. Through his own experiences, including being a Chief Marketing Officer and a judge on The Celebrity Apprentice, Jeffrey offers practical advice for businesses...
---
Celebrating the 30 Day Plan from SuperStar Communicator
Celebrating the 30 Day Plan from SuperStar Communicator
Introduction: Hello, everybody. It is a very exciting day because I am am launching the Superstar communicator 30 day plan. And very exciting. I have have contributed to other books in the past, which has been a huge honor but this is my first one of a number that I'll planned. And I have my partner in crime from podcasting. Nick Simon, who's gonna ask me some questions about the superstar communicator 30 day plan.
Key points from the interview (bold)
[00:02:23] Celebrate strengths, challenge weaknesses, grow skills.
[00:04:27] Smiling changes conversation dynamics and perceptions.
---
Talking on Eggshells: managing difficult conversations
"On this episode of SuperStar Communicator, our hosts Susan Heaton-Wright and Nick Simon are joined by the renowned speaker and pitch coach, Sam Horn.
In this episode, Sam shares a powerful technique on what to say in the first 60 seconds of a presentation, pitch, or negotiation that will captivate your audience, earn their respect, and generate buy-in.
She encourages listeners to shape behavior rather than shame it, and shares practical tips on how to introduce oneself effectively and provide specific details to facilitate follow-up conversations. With her wealth of knowledge and experience, Sam Horn aims...
---
Trust, Connection, and Building Strong Teams: Insights from Scrum Master Angela Johnson
On this episode of SuperStar Communicator podcast, host Susan Heaton-Wright  interviews Angela Johnson, a certified Scrum trainer and author. They discuss the importance of trust and communication in building strong teams, particularly in the context of implementing Scrum and Agile methods. Angela shares her experience teaching virtual classes during the pandemic, detailing how her organization had to quickly adapt and pivot to virtual teaching to stay afloat. She highlights the challenges of teaching virtually to a global audience, recognizing the need to be more aware of cultural and linguistic differences. 
Key points from the interview:
[00:00:26]  int...
---
Using the Superpower of Listening
On this episode of SuperStar Communicator titled host Susan Heaton-Wright and co-host Nick Simon engage in a live discussion with guest Raquel Ark. The episode dives deep into the importance of listening in leadership and creative problem-solving.
The episode highlights the episodic nature of listening, with moments of focused attention being crucial. Listeners are encouraged to pay attention to when they listen at their best and recreate those conditions to foster effective listening. Self-listening and feedback are also discussed as methods to improve listening skills.
Key points from the podcast:
00:03:00] Listening is a...
---
Understanding the X Men The Neurodiverse Talent, in the world with Diva Diaz
On this episode of the SuperStar Communicator podcast, we dive into the world of neurodiversity and communication with guest Diva Dias. Diva believes that those who are neurodiverse have a unique superpower when it comes to communication due to their curiosity and open-mindedness. This perspective also allows them to look at situations in multiple ways, leading to creative solutions that others may not consider.
Diva also discusses the role of AI in emotional intelligence and why we should embrace diverse forms of communication versus relying on technology as the norm. Additionally, the importance of creating a culture...
---
Public Speaking Top Tips with the SuperStar Communicator
On this episode of SuperStar Communicator, we explore the importance of presenting the best version of yourself in business conversations, focusing on public speaking. Our expert guest shares tips on how to cater to diverse audiences, including summarizing your speech beforehand and using interactive polls to keep audiences engaged. We also dive into nonverbal communication, overcoming mental blocks, and the changing landscape of public speaking, including the rise of virtual events and the demand for more Q&A sessions. Stay tuned to learn about neutral "diva feet," "sitting diva," and other posture techniques that can help you shine in...
---
Negotiate with excellence with Greg Williams
In this episode of the Superstar Communicator podcast, negotiation and body language expert, Greg Williams, sat down with hosts Susan and Nick Simon from "Superstar Communicator" to discuss tips and tricks for successful negotiations. From the importance of compromising to the power of observing body language, Greg shares insights from his 30 years of experience and Harvard training. The episode covers negotiation strategies such as using silence, taking breaks, and stalling tactics, as well as the crucial role body language plays in communication. Listeners will walk away with a deeper understanding of negotiating effectively and using nonverbal cues to their...
---
How to communicate and engage with clients using video
In an increasingly virtual world, we all need to be aware of effective ways to communicate on video. We were joined by Tim Kovoor who is based in London but has lived and worked cross-culturally and multilingually around the world. Communication has been a lifelong passion. Tim is now a key part of the growth team at tech company Quench: connecting the world's top experts with companies and their employees through video learning and consulting services.
This is a content packed interview; takeways include:
8.38: how videos bring the human connection in a way that A1 doesn't 14.11...
---
How to build successful business relationships
We are delighted to host a discussion with Colette Cooper, Client Services Director at Cariad Marketing. An Award-winning Hertfordshire digital marketing agency. With a passion for helping SME's compete with the online giants, Colette is the most often the first person people see for help with their marketing. With over 20 years of Sales and Marketing experience, Colette is a a hybrid professional who is good at sales, marketing and leadership.
We discuss top tips on how to build successful business relationships: whether you have your own business; are part of a larger organisation or even you building...
---
The power of diverse line ups at events
With International Women's Day on 8th March this is a good time to remind everyone the power of a wide range of different speakers at events. I am joined by Mette Johansson, a leading Diversity leadership consultant and founder of Keynote women speakers. During the discussion we covered:
Why having a diverse line up in events is so important How we can find diverse speakers for events what we can do to challenge event organisers to have more diverse speakers at events
DOWNLOAD THE TRANSCRIPTION HERE 
More information about Keynote Women Speakers
"KeyNote Women is...
---
Be a great technical speaker with Bob Ferguson
Bob Ferguson is an Engineer by profession who now supports technical experts to make a positive impact when they present and pitch.
We discuss how technical experts NEED to be heard. And Bob shares some top tips to being more impactful when discussing technical topics. Here are three highlights.
1. Try not to rely on powerpoint slides and specifically slides full of information. You will overwhelm your audience.
2. Learn to summarise key points for the audience. This will generate interest - and possibly questions at the end.
3. Technical experts have the ability...
---
Managing your emotions when your buttons are pressed
In 2022, there was an incident at the Oscars where Will Smith hit the compere Chris Rock, when Rock made a derogatory comment about Smith's wife. This was shocking to see.
I am joined by international executive coach, Carol Stewart
We discuss why this incident was so shocking and what we can learn from this as leaders. Some key points include:
1. Why both men were at fault in this incident.
2. How a pause and a verbal response would be far more effective
3. How as leaders we should be aware of...
---
Celebrating International Men's Day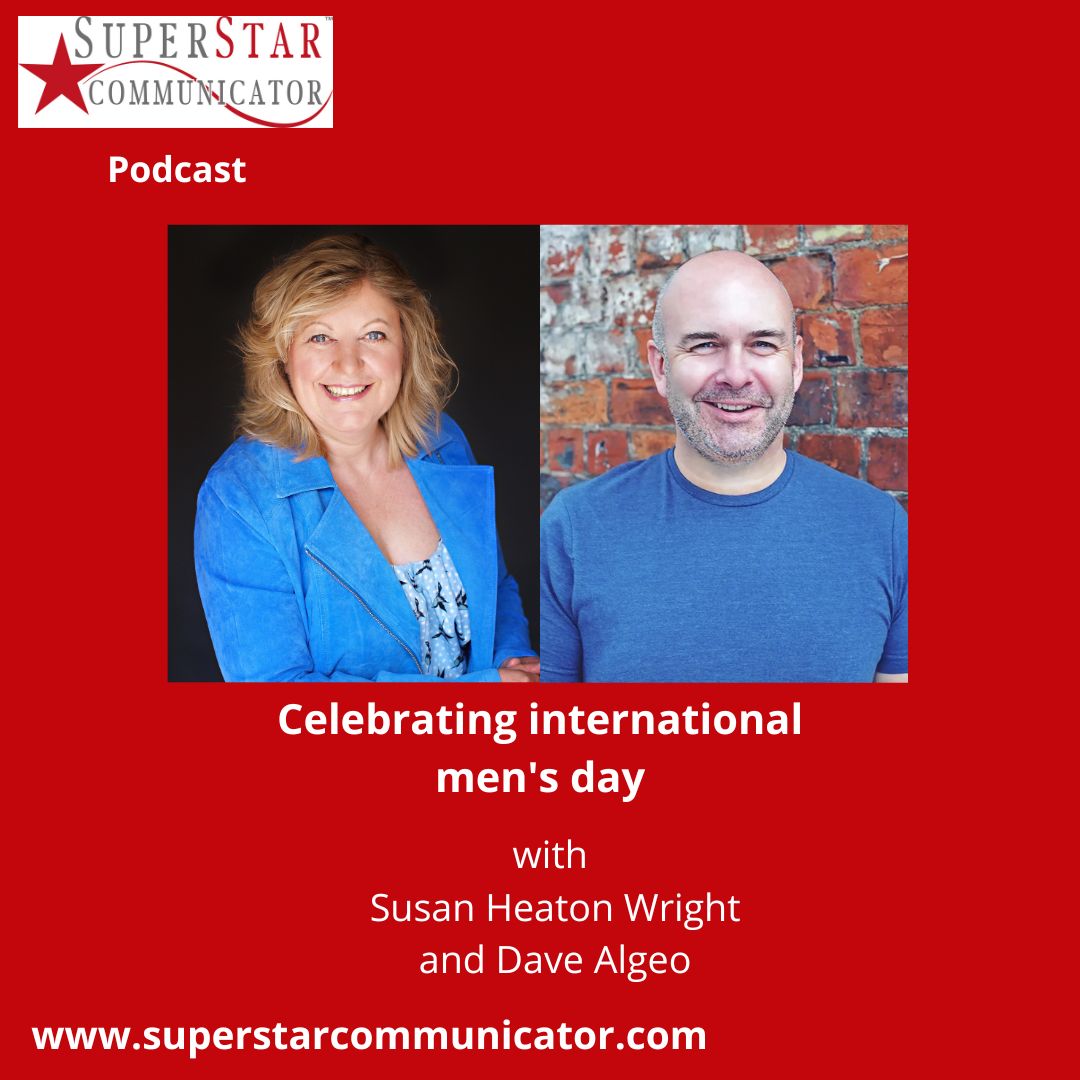 international men's day  is  on 19th November. Not only should we celebrate the men in our lives we should also support  them. I  am joined by Dave Algeo who supports men with their health and mental health. We discuss a number of topics including how we can reach  out  to men who might find it  difficult to discuss their feelings. This is full of content but some key points are:
1. Men will often use humour or alcohol to hide their feelings
2. Remembering to 'nudge' regularly to remind men they need to look after themselves
3. Th...
---
Recognising others emotions from non-verbal cues
We are joined by Dr Paddy Ross, Associate director of psychology at Durham University. Paddy has done a lot of work on how children learn to read emotions. He highlights the fact that before a certain age, sound is more important than non-verbal cues.
We don't exclusively communicate with what we say but how we say it - and hand gestures, facial expressions and body language play a big role in this. Some highlights include:
1. Wearing a mask (during covid) or not makes little difference in reading emotions because we use our eyes, gestures and...
---
Speaking and Engaging with International Clients
Do you wish to engage and make more impact with international clients? In this podcast episode Susan Heaton-Wright shares top tips and case studies to ensure you have invaluable engagement with your clients; whether they speak English as their first language or not. She uses examples of working with clients in North America, the Middle East and Myanmar.
Tips include:
* Modifying the way you speak and the language you use to ensure everyone understands you.
* Read the room; be aware of what is going on in the room, and modify what you do...
---
Lessons to lean into your influence with Joel Green
Joel Green is the CEO of pro level training, the National Director of Nike sports camps, a former professional basketball player, and renowned motivational speaker. He endured significant trauma as a child, and experienced unacceptable racism, yet went on to have a successful basketball career and  to alter his mindset and "Filter". This is such a powerful tool he developed, where he was able to focus on the good rather than continue to be impacted by the appalling acts he witnessed and experienced. Three of many highlights are:
1. Use dark moments to get aways from them even m...
---
Managing Microaggressions as a leader with Joanne Lockwood
Microaggressions cause harm in the workplace. What might appear to be a tiny comment; if repeated, undermines someone's confidence. In this incredible podcast discussion with Joanne Lockwood 
We discuss:
* What Microaggressions are
* The impact on individual talent and the team
* Ways we, as leaders can manage these so we have an inclusive, effective workforce.
Here is a transcription of the podcast
You can contact Joanne's company SEE Change Happen here
Connect with Joanne on Linkedin Here
Remember you can grab your copy of o...
---
Top tips for Leading New Graduates
Early September is the time new graduates are employed in their graduate roles. These young people are the "COVID generation" whose degrees were studied, in part, online. And it is even more important to support and demonstrate positive leadership to these talented young people.
I am joined by Nick Simon
He is a recent graduate who has researched his friends' experiences and what they need in the way of information and support to thrive in their new role. The discussion highlighted:
* How important it is to provide information on prospects, working hours, whether...
---
Managing your emotions as a leader
As a leader or emerging leader, there are times when you need to manage your emotions - even if you are triggered or impacted by a situation or what someone else has said.
In this impactful episode Susan is joined by Donna McGrath to discuss this important communication skill. We cover:
* Why it is important to understand what might trigger your emotions
* Why there are occasions where managing your emotions are extremely powerful and important as a leader
* Techniques and tips to help you manage your emotions.
Download the...
---
Presentation Skills Top Tips
Our latest Ask Susan Masterclass is a Q and A about presenting. Susan shares 5 top tips to consider when you are presenting as well as questions from listeners.
Learning includes;
* What is your purpose for presenting?
* Who will you be speaking to?
* Grab the opportunity to answer questions
* Practice so you really know your content
Here is a transcription of the podcast
You can grab a copy of our Ten Top Tips to presentation skills here
Our latest Virtual Presentations Skills online course...
---
Celebrating the Queen's Platinum Jubilee
This weekend in the United Kingdom, we are celebrating Queen Elizabeth's 70th Anniversary of being our monarch. An extraordinary achievement.
In this podcast I share key points as to why she is such a powerful public figure despite her not being political and what we can learn for our own personal brand. Remember you can grab your copy of 10 Top Tips to being a SuperStar Communicator here.
Our website is SuperStar Communicator
Want to book a call with us to discuss providing workshops, speeches or individual coaching on communication, presence, impact, influence and...
---
Creating effective ways to work in Hybrid environments
How does a company navigate working effectively and efficiently in a hybrid work structure? Jo Rigby works for Zappi 
This company has always run with remote workers as well as teams in the office. This innovative company has created effective ways to communicate, build a business community and a supportive work environment. We can all learn from this.
Jo shares:
* How important trust is for developing this work environment
* The use of APPs and technology for keeping people engaged and connected
* How technology is used effectively and inclusively
---
Public Speaking to Global Audiences with Kayra Martinez
We work in global environments: and not everyone speaks English despite it being the language of business. So how can we ensure we engage with our audiences who don't speak English and how can we make more impact if English is not our native language?
I am joined by Kayra Martinez: humanitarian, TEDX speaker and founder of Love without borders 
This is a challenge she regularly encounters when working with refugees in Athens. in the discussion we cover:
* Why it is important to understand our audience 
* How we could modify what we...
---
All about public speaking and presentations
There are so many questions about public speaking and presentation skills. We have a session where individuals have asked Susan questions related to public speaking. These questions include:
* What is your top tip for preparing a speech?
* What is more important; content or delivery of a speech?
* How do I know what to say?
* Do courses on public speaking?
* What is the best way to improve your public speaking?
Book a call to see how we could help you
If you would like to download...
---
New Year Outlooks 2022
Speaking and sharing your plans for 2022 are powerful ways to connect with others; be more accountable and receive ideas.
In this episode, I share an exercise I do with my friends and family each year. You will need to download the worksheet from www.superstarcommunicator.com/newyearoutlooks 
I still have the sheets from previous years and it is fascinating to see how my family has evolved!
The idea is that you are inspired by each of the questions and write what you wish to do related to it. Then share and discuss your a...
---
Supporting Charities at Christmas
Suzy Moody is the Marketing Strategist for Hertfordshire Homestart in the United Kingdom. The charity provides outstanding support for parents of young children. 
In this episode we discuss the important role many charities play in people's lives and how, at Christmas, the needs of their clients is intensified. This is an inspirational and insightful interview and focuses our minds on supporting others rather than thinking about material things! 
Key points include:
* Why it is especially important to support charities at Christmas
* Some of the activities Suzy and the charity do to ra...
---
The Impact of Animation in your communication
Animation is a powerful way to communicate your message to clients and customers. So I was thrilled to interview the CEO or multi-award winning Animation company Salamandra, Christine MacKay. In the interview we covered plenty of tips, advice and ideas including:
5:00 mins: Plenty of advice that the visual element of animation helps retain information in many viewers
15.30 mins: you never finish learning; learning new skills keeps you vibrant
16.30 mins: Use animation to translate complex information into more digestible information
17:00 mins: remember we work in H to H (human to human) not...
---
Dark Cockpit: How to communicate, lead and be in control
It is an honour to interview two such incredible guests. Capt. Emil Dobrovolschi is an Airline Captain; ensuring all his passengers and crew are safe. He and the leading leadership coach Octavian Pantis have written a fantastic book "Dark Cockpit" about how to approach leadership and use communication as the principle tool in managing this.
In the podcast interview there are many fascinating examples they use to support their work. These include:
* (9.00mins) How everyone knows who you are due to your uniform but how important it is to use communication to your team, to...
---
5 Scary Halloween Communication Styles
We are at Halloween and it's getting scary! I'm going to share 5 scary communication styles to be aware of and try to avoid. They are:
* Not listening to other people
*Mumbling
* The Interruptor
* The person who won't let go of a specific idea and goes on and on
* The person who never gets to the point
Download the transcript of the podcast.
Register for our monthly Lunch and Learn sessions.
Grab our copy of our Ten Top tips to being a Superstar Communicator...
---
Accessing your conscious power with Kass Thomas
As part of the SuperStar Communicator Black History Month Celebrations, I am delighted to interview Kass Thomas: international empowerment coach and author.
In the interview Kass shares many gems of advice including:
1. We should listen to our bodies because they are our sixth sense.
2. Be aware of other people's moods and the way they present themselves. So many people block this intuition and empathy.
3. We pick up the emotions of others; this is very powerful when we are communicating with them.
Download the transcription of the podcast here.
<...
---
Creating an Inclusive Culture with Aisha Suleiman
During October we are celebrating and showcasing talent from the Black Community for Black History Month.
Aisha Suleiman is an award winning diversity and inclusion advocate, consultant and founder. Her Specialism lies in driving organisational change through leading effective employee networks, supporting the diversity and inclusion goals of the business and influencing senior leaders to bring about lasting change.
In the incredible interview, which is full of content, Aisha shares
* What is the power of Diversity and Inclusion for any organisation
* Why creating employee networks is a good thing
...
---
What does SuperStar Communicator do to help you speak with impact and credibility?
People often ask what is SuperStar Communicator and how could it help them with their career development. So I am delighted that my old intern, Ella Proudlock interviewed me about SuperStar Communicator.
This includes:
All about the SuperStar Communicator Methodology, which is a powerful communications model to ensure YOU speak with credibility and impact.
How this could help you with your career development.
What sort of coaching or training you could receive
How it is delivered.
You can contact us to arrange a discovery call here.
<...
---
How to be a great podcast guest
If you want to discover anything about podcasts both as a podcaster or guest, the go to person is James Mulvany. He is a multiple business owner; Angel investor and for our interest, the founder of Matchmaker.fm
In a world where many people are now launching their podcasts (yay!) there is also a great opportunity to be a guest on podcasts. In this fabulous episode, James shares many tips for being a great guest, from how to approach podcast hosts, to how you can add value to a podcast. Tips include:
1. If you are...
---
How to communicate effectively during vacation time
We all need a break after the last 18 months; however, it is really important to put in place a clear vacation communications plan to re-assure your valuable clients and customers, so they understand how to contact you and when to expect a response. IN this master class I will share:
Tips on how to write an automised response which is very clear to the customer when you will respond.
The possibility of having a 'hotline' or someone in your team on call, so your customers can speak to someone.
How to hand over...
---
The Psychology of Success
With the Olympics starting in Tokyo, it is the perfect time to discuss success and how to prepare psychologically with top performance psychologist Sam Bishop.
Sam is a Performance Psychologist, Executive Coach and Accredited Psychotherapist. Sam has a decade of experience working with elite performing athletes and business executives. His passion is working with people, Sam thrives in environments where he can facilitate self-growth and help individuals to identify and overcome their challenges. He helps people to fulfil their own potential.
In the incredible interview we discuss the power of mental preparation and a growth...
---
Self leadership in a hybrid work environment
When we are moving back to the office, we need to take responsibility for our own safety and that of others. In this episode, I share top tips to self leadership in a changing world. Top tips include:
* Respecting other people's preferences for social distancing
* Following the guidance from your company regarding using other people's equipment
* Taking the lead and reporting if anything is not working.
* Letting others know what your preferences are to reduce anxiety
Here is the downloadable transcription.
And if you would like our...
---
Make it don't fake it - how to succeed as a CEO
Today we have a fabulous guest: award-winning CEO, C-suite advisor, entrepreneur, and communications expert Sabrina Horn gives leaders the tools to resist "short hacks," and the courage to lead with authenticity and integrity. Sabrina speaks candidly about developing leadership skills as a founder of the PR firm Horn Group, which has received national acclaim as Best US Employer, Best US Tech Agency, Silicon Valley Hall of Fame winner, and PR Entrepreneur of the Year. Her wealth of experience and expertise is incredible.
Some of the top tips of the interview include:
Fakers and fibbers will be found out...
---