Subscribe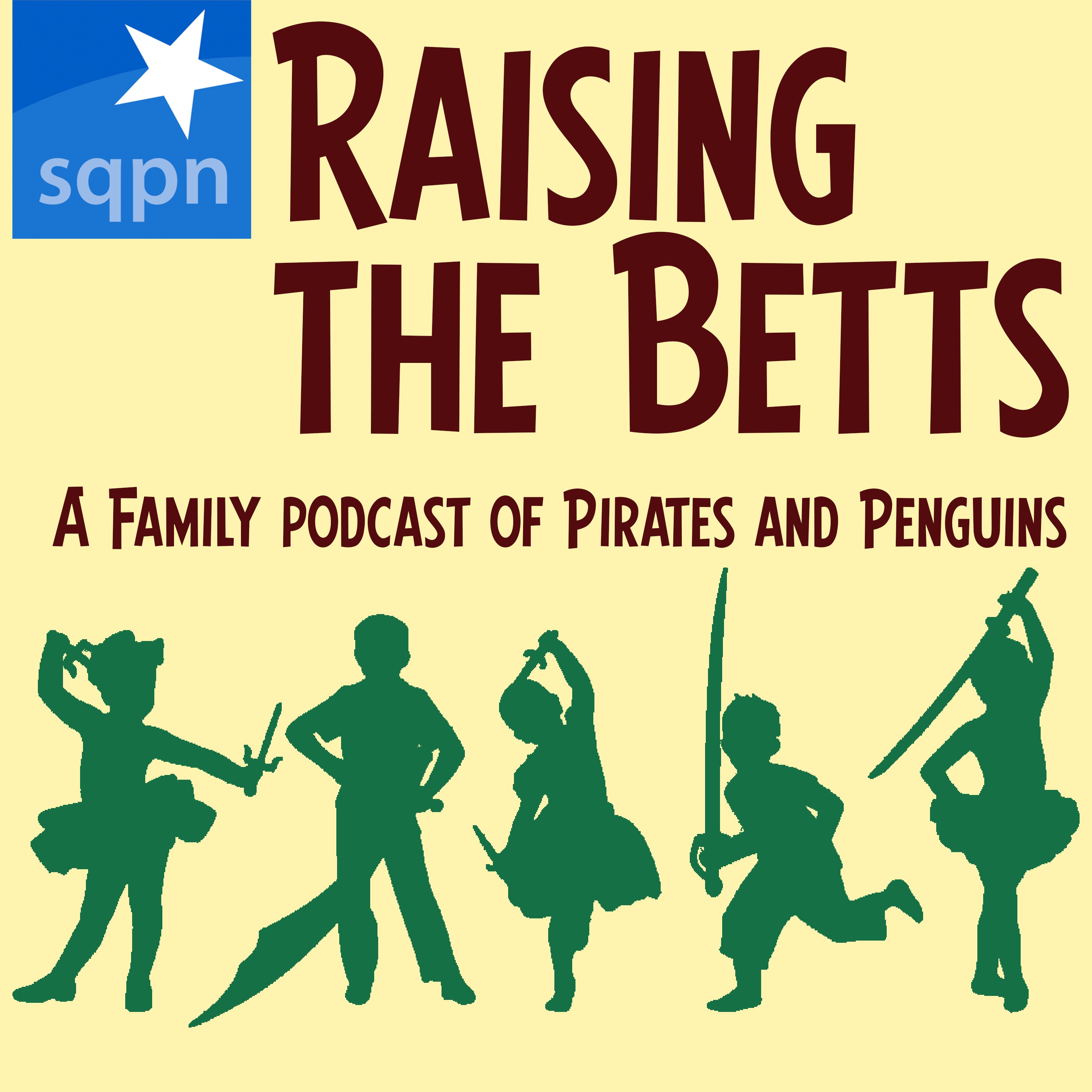 A family podcast by Domenico Bettinelli and Melanie Bettinelli, who are raising five kids in the Boston area. They discuss marriage, homeschooling, Catholic faith, their adventures far and wide, cooking exotic dishes, exploring nature, engaging culture and more.
Derby Day
The long-delayed Pinewood Derby is finally here, the farmers market is back, and the Betts fix all the broken things. Plus sourdough vs. levain; Star Wars books; a new British cop show; Dom finishes This Is A Robbery; Melanie finishes Marvel Phase 1; and staying grafted to Jesus the Vine.
The post Derby Day appeared first on SQPN.com.
---
Tea with Penguins
On World Penguin Day, the Betts deal with broken bikes and appliances; discuss hammock camping and whether you can sleep; the virtuous merits of superhero movies; and Good Shepherds and their very dumb sheep.
The post Tea with Penguins appeared first on SQPN.com.
---
May We Sing?
This week, the Betts get outdoors to a beautiful, new wildlife area; try a new ribs recipe; Melanie watches more Marvel while Dom watches a Netflix doc on an art heist; and they discuss what seem like arbitrary and confusing rules about what you can and can't do at Mass these days.
The post May We Sing? appeared first on SQPN.com.
---
Quo Vadis and Mercy
This week, the Betts are vaccinated; the girls went fishing; we discuss lamb leftovers; Melanie gets insight into Iron Man and his PTSD; and then they discuss the novel of early Christians in Rome called Quo Vadis and as what it has to tell us about Divine Mercy.
The post Quo Vadis and Mercy appeared first on SQPN.com.
---
Leave It To Cleaver
It's Easter and the Betts discuss their Triduum, including memories of why not to take 5 small children to Easter Vigil; what special foods they made for Easter dinner, and why Dom ended up at Urgent Care on Easter Sunday. (It involved a cleaver.)
The post Leave It To Cleaver appeared first on SQPN.com.
---
Take Up Your Cross of Palms
On Palm Sunday, the Betts discuss palm crosses; a future big trip; setting a date for First Communion; explaining how TV used to work to children who only know streaming; and more.
The post Take Up Your Cross of Palms appeared first on SQPN.com.
---
Vaccination Date
What's more romantic than a date to get vaccinated? The Betts get their shots, celebrate two great saints with Irish and Italian meals, build a shed, go on a cleaning binge, and talk about looking death in the face each day.
The post Vaccination Date appeared first on SQPN.com.
---
I Thirst
Halfway through Lent, the Betts see where they fall short and how Jesus reaches out to them; discuss how they assess books the kids want to read; and talk about a repertoire of recipes that use up leftovers.
The post I Thirst appeared first on SQPN.com.
---
Winter Camping
This week, Dom takes the Scouts camping in below freezing temps while Melanie entertains the others at home; they discuss why Confirmation requires proof of 1st Communion; make Peruvian steak and baked potato soup; and talk about cleaning our own temples of the Spirit.
The post Winter Camping appeared first on SQPN.com.
---
Shelf Life Expired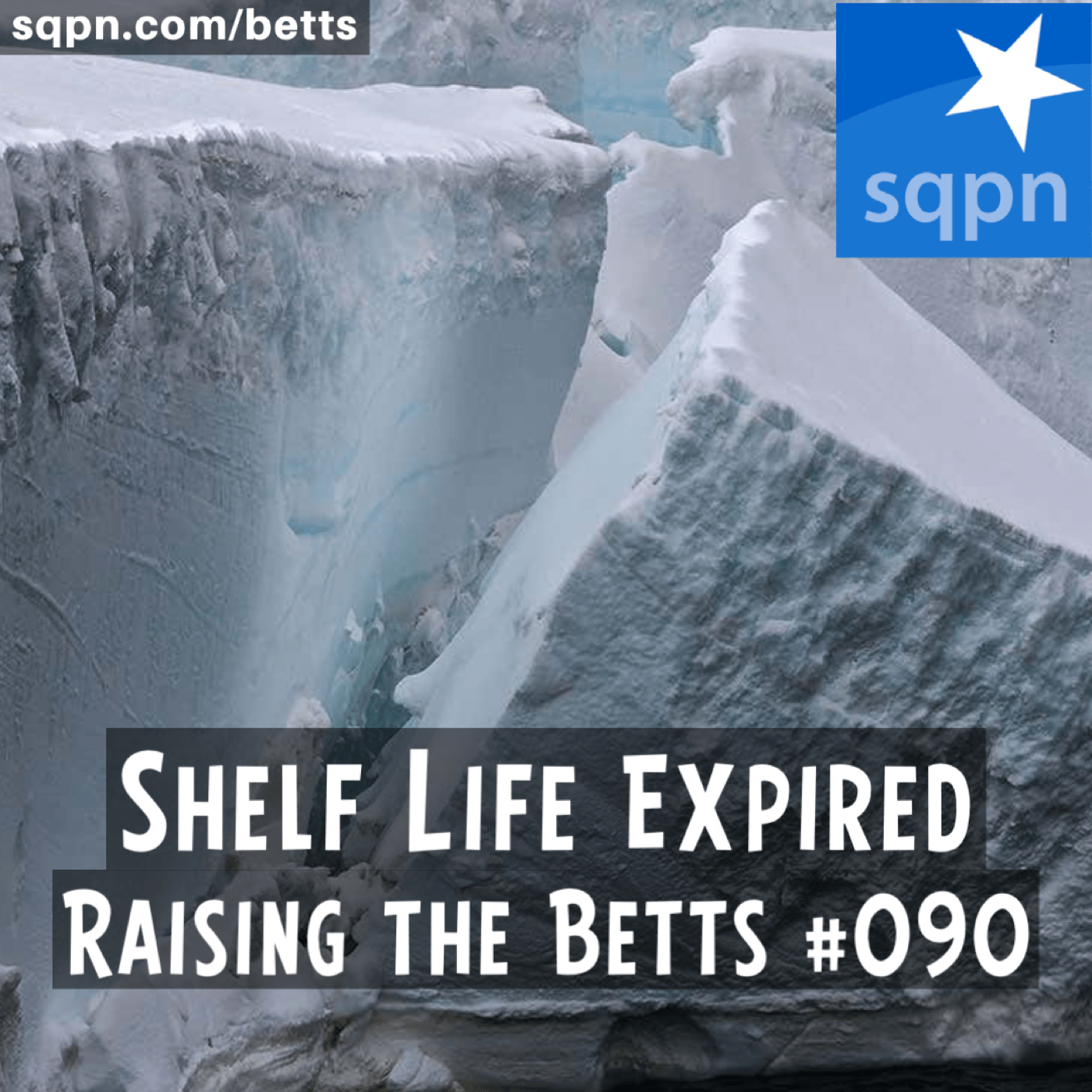 This week, the Betts bought a new deep freezer and Dom is excited; a shelf collapses out of the blue; visit Dom's parents; celebrate the last Lucy's allergies going away; read the latest Dresden Files book; and find Abraham on the Mount of Transfiguration
The post Shelf Life Expired appeared first on SQPN.com.
---
Grand Multipara
This week, the Betts celebrate a birthday; discuss the Texas snowpocalypse; offer an excellent, quick Mexican rice hack; watch Good Will Hunting; review The Memoirs of Peter and Death Comes for the Archbishop; and begin Night Prayer with the kids for Lent.
The post Grand Multipara appeared first on SQPN.com.
---
Be My Valentine
This week, the Betts clear another allergy hurdle; discuss why they don't do much for Valentine's; try to figure out what to do about summer vacation; explain why they're staying home on Ash Wednesday; and talk about new books they're read: Peace Talks and The Space Between Worlds.
The post Be My Valentine appeared first on SQPN.com.
---
Beware: Falling Iguanas
The Betts talk about winter when you've grown up with snow versus coming to it later; why Melanie doesn't want to move to Florida (hint: falling iguanas!); a great fish and chips recipe; and Dom watches The Godfather, Part 2 for the first time.
The post Beware: Falling Iguanas appeared first on SQPN.com.
---
Winter Hike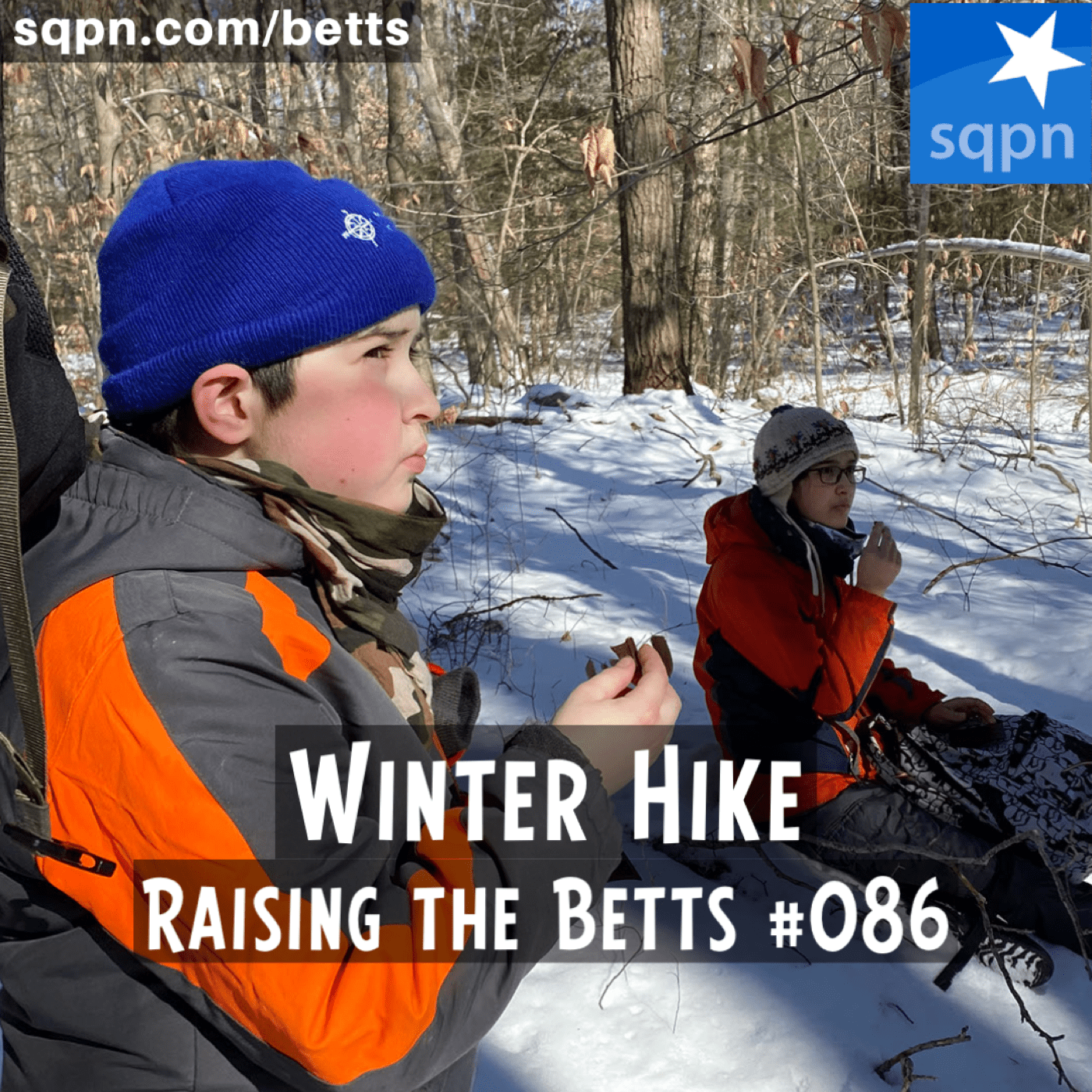 In the midst of the winter doldrums, the Betts go for a very cold winter hike with the Scouts; overcome another food allergy; Melanie dives into the world of Star Wars novels and find they're good; and Dom gets nostalgic over the Breakfast Club.
The post Winter Hike appeared first on SQPN.com.
---
Good Discourse
The Betts discuss Good Discourse, which was the name of a conference where Melanie gave a talk on humility and writing; talk about sharing their music and memories with the kids; discover the magic of potato starch; and enjoy British TV detectives and a Russian novel.
The post Good Discourse appeared first on SQPN.com.
---
Sea Shanty TikTok
You could tell from our intro music and podcast tagline, the Betts are big into sea shanties and so we discuss the new TikTok sea shanty trend; sing the praises of dehumidifiers; love our huge, new Dutch oven; and identify with poor Eli being woken up by Samuel in Sunday's reading.
The post Sea Shanty TikTok appeared first on SQPN.com.
---
Changing the Routine
As the kids are getting older, Dom and Melanie switch up the evening routine; they go for a hike on a cold, but beautiful winter's day; remember a friend from her humorous obituary; talk about the Friendship of Christ; and consider St. Gregory Nazianzen's take on temptations and our baptism.
The post Changing the Routine appeared first on SQPN.com.
---
Happy New Year
The Betts ring in the new year watching Avengers and then celebrate Lucia's birthday on liturgical Epiphany with sushi, pho, and Grogu. Melanie bakes an amazing almond torta caprese, Dom watches Soul and Now You See; they discuss annual book reading goals; and then talk about making gifts of ourselves.
The post Happy New Year appeared first on SQPN.com.
---
Merry Christmas
Merry Christmas from the Betts! It's a low-key, stay-at-home Christmas this year and the Betts have experienced the sacraments, opened the gifts, eaten all the food, and watched the Christmas movies, including showing Home Alone to the kids for the first time.
The post Merry Christmas appeared first on SQPN.com.
---
Mary, Do Not Delay
This week, the Betts get snowed in and prepare for Christmas; face an allergy obstacle; discuss the three kinds of Christmas movies--including ones they're watching; and then meditate on the beautiful reflection of St. Bernard of Clairvaux of the Annunciation and waiting for Mary's "Yes".
The post Mary, Do Not Delay appeared first on SQPN.com.
---