Subscribe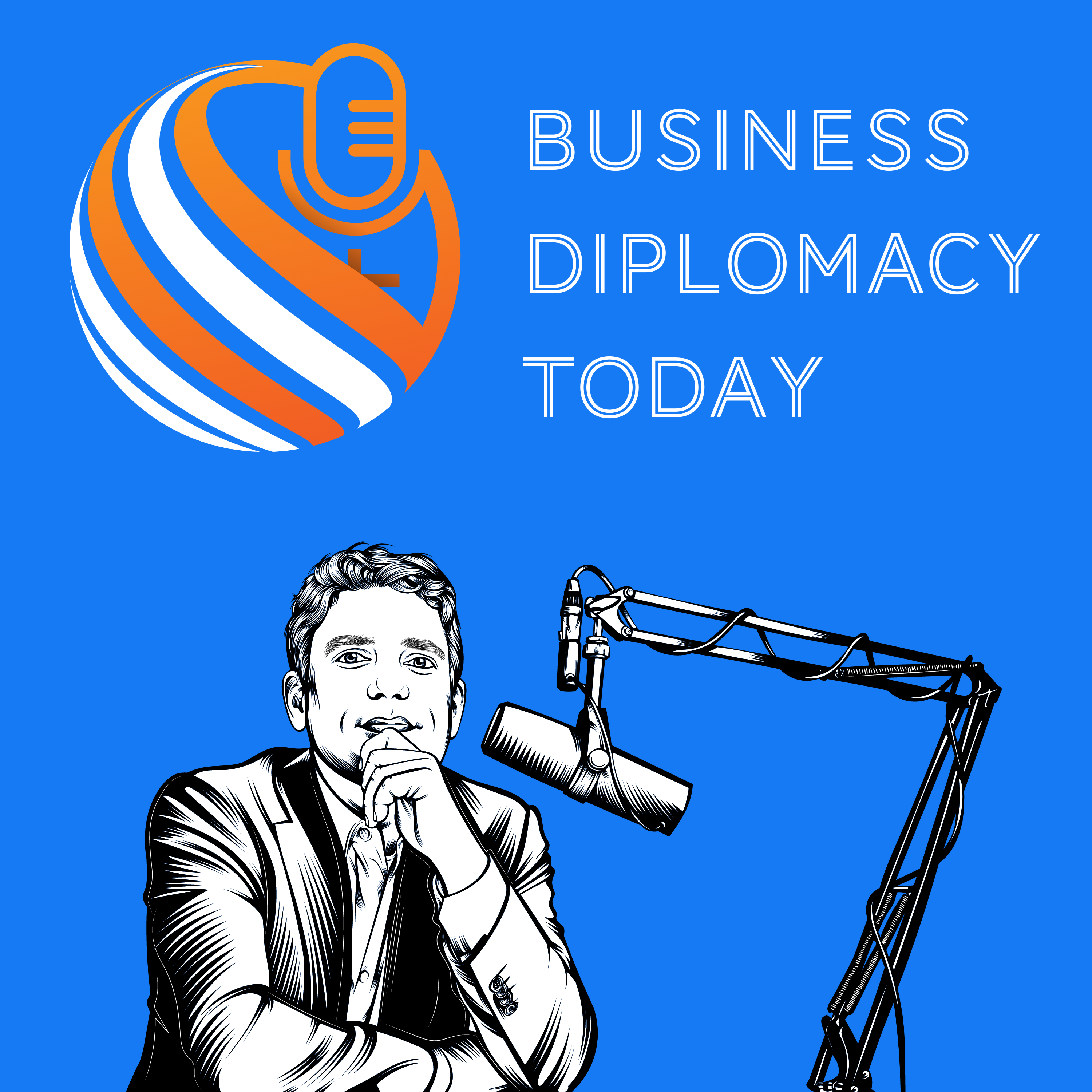 We live in a dynamic world where the spheres of business, government, and society converge. Today, every business leader must be a savvy player in the public arena. Geopolitical events, new regulations in other markets, natural disasters, changing public perceptions, etc. directly impact a company's future, even if they happen far away. Business Diplomacy Today addresses contemporary international relations and geopolitics, looking at the issues from a business perspective. It helps business leaders anticipate changing political and societal trends, build and leverage political networks and take a proactive stake in societal and political matters that influence their business environment.
Corporate strategy in the age of global uncertainty and volatility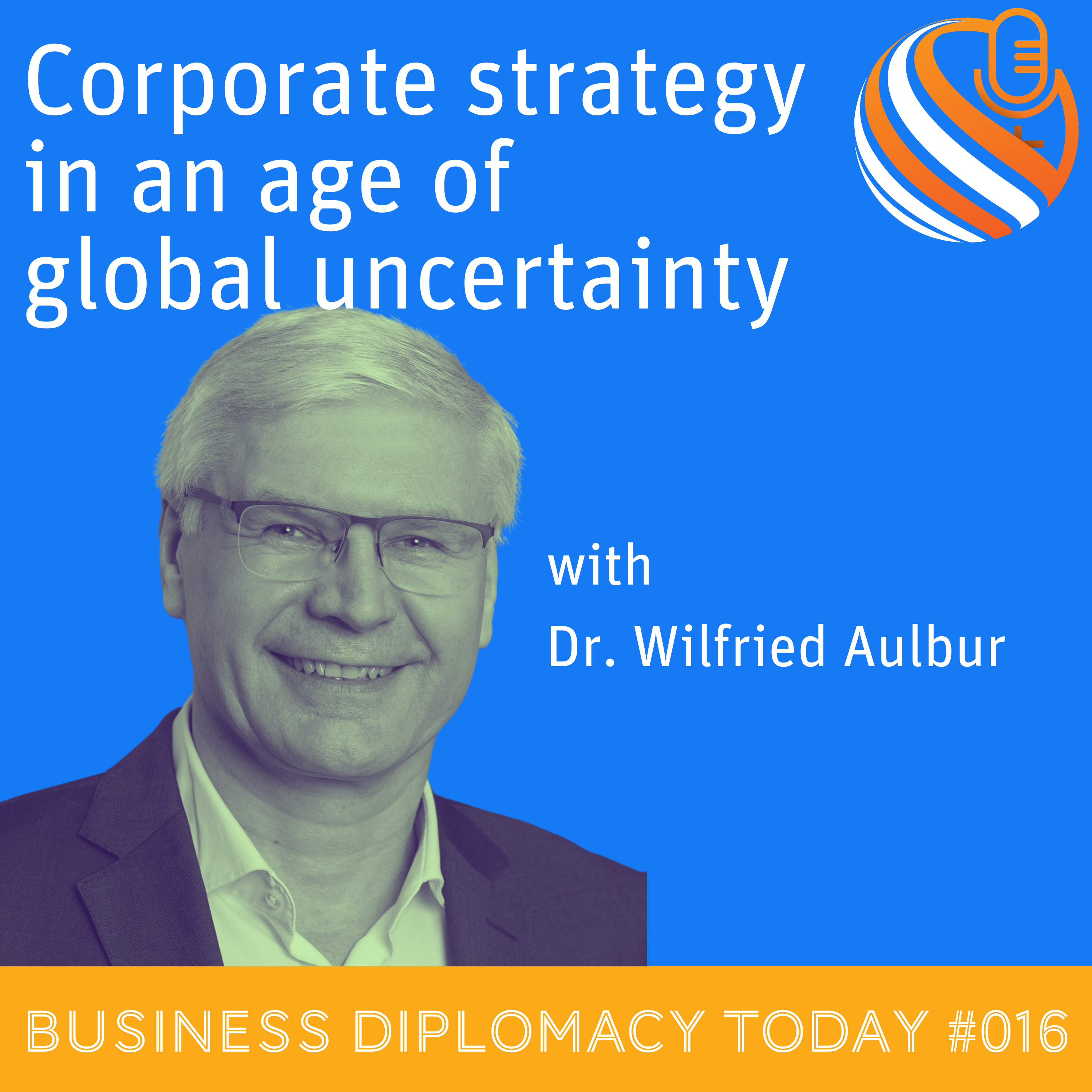 In this episode, host Matthias Catón and Wilfried Aulbur, Senior Partner of Roland Berger, explore the navigation and development of business strategies in a volatile and ever-changing world.
Through topics of geopolitical relations, climate change, and technological innovation, Matthias and Wilfried discuss the importance of agility to transform business strategy and respond to uncertainties. Drawing on his in-country experience, Wilfried provides a detailed account of the potential and growth of India and how the responsiveness of the country can be a model to follow globally. As we reexamine the geopolitical order, Wilfried and Matthias discuss the t...
---
Water Governance and International Security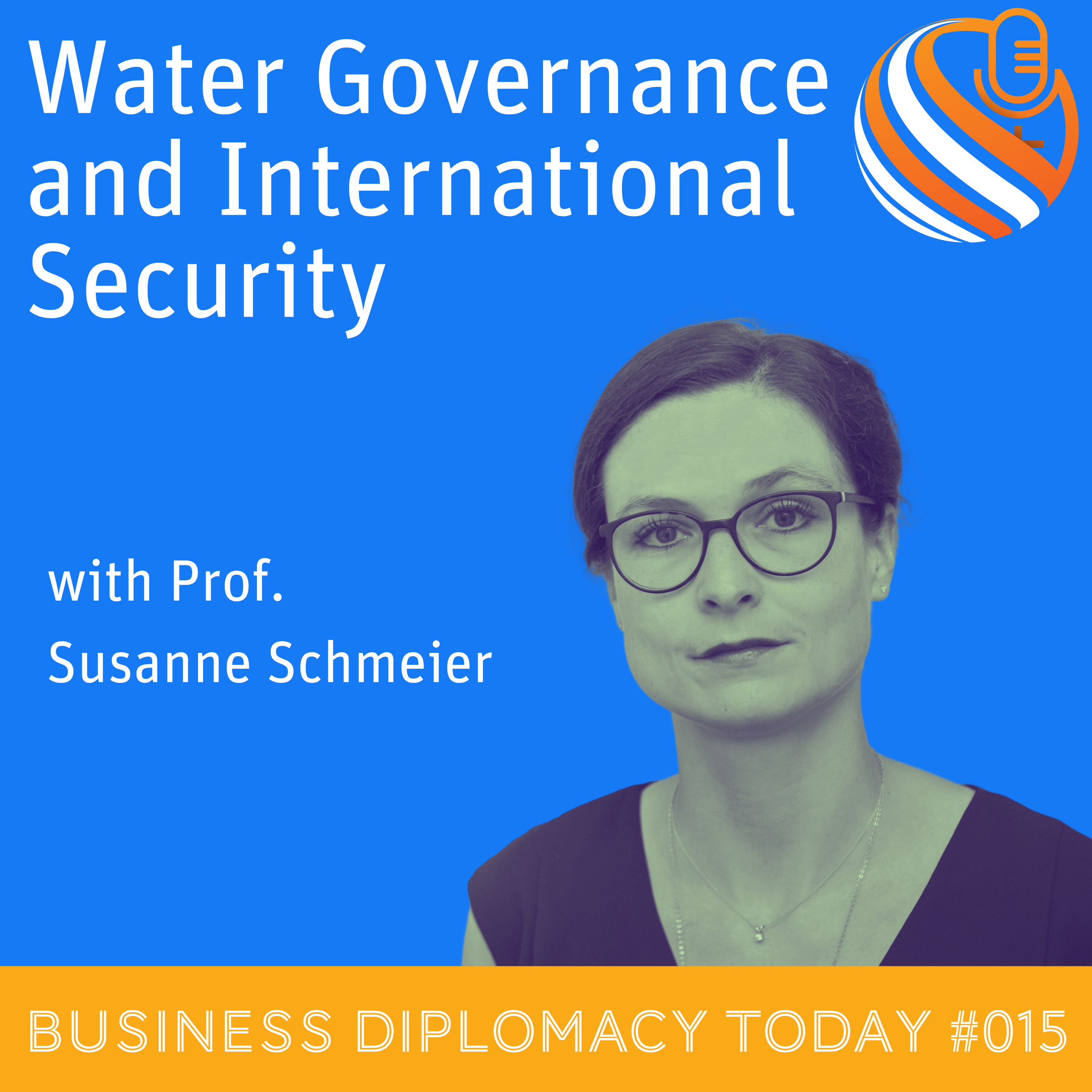 This episode of Business Diplomacy Today explores the topic of water security. Host Matthias Catón is joined by Susanne Schmeier, Head of the Water Governance Department and Associate Professor of Water Law and Diplomacy at IHE Delft.
They discuss the global water crisis and its implications for meeting the 2030 Agenda, pollution issues, overuse, and potential conflicts. Susanne identifies the necessity to reduce our water footprint and highlights the relationship between businesses, foreign investors, and states in achieving this and holding each other accountable for water consumption. As our most valuable resource and global significance, Matthias and S...
---
Corporate Strategy and Political Risk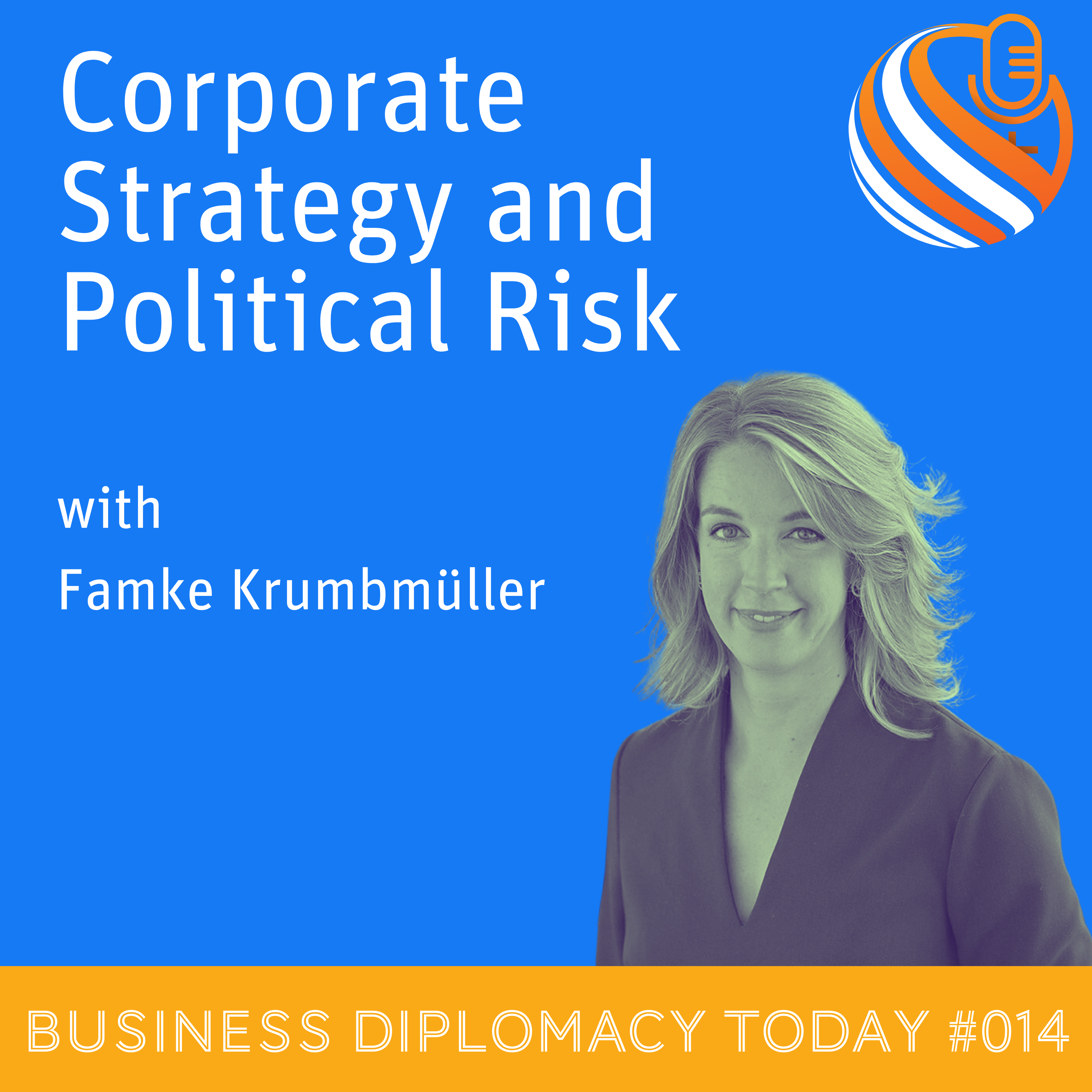 In this episode, Matthias Catón speaks with Famke Krumbmüller, Executive Director of the Geostrategic Business Group at EY, on building a robust corporate strategy in a volatile world. Famke introduces us to definitions and sub-categories of political and geopolitical risk and how companies can enhance their risk management protocols to be more prepared and expectant as the density and intenseness of global levels of volatility rise.
With global examples, from France to China, Famke highlights the importance of businesses implementing and updating their geo-strategy; that is a holistic approach to managing political risk. Famke and Ma...
---
The migration governance complex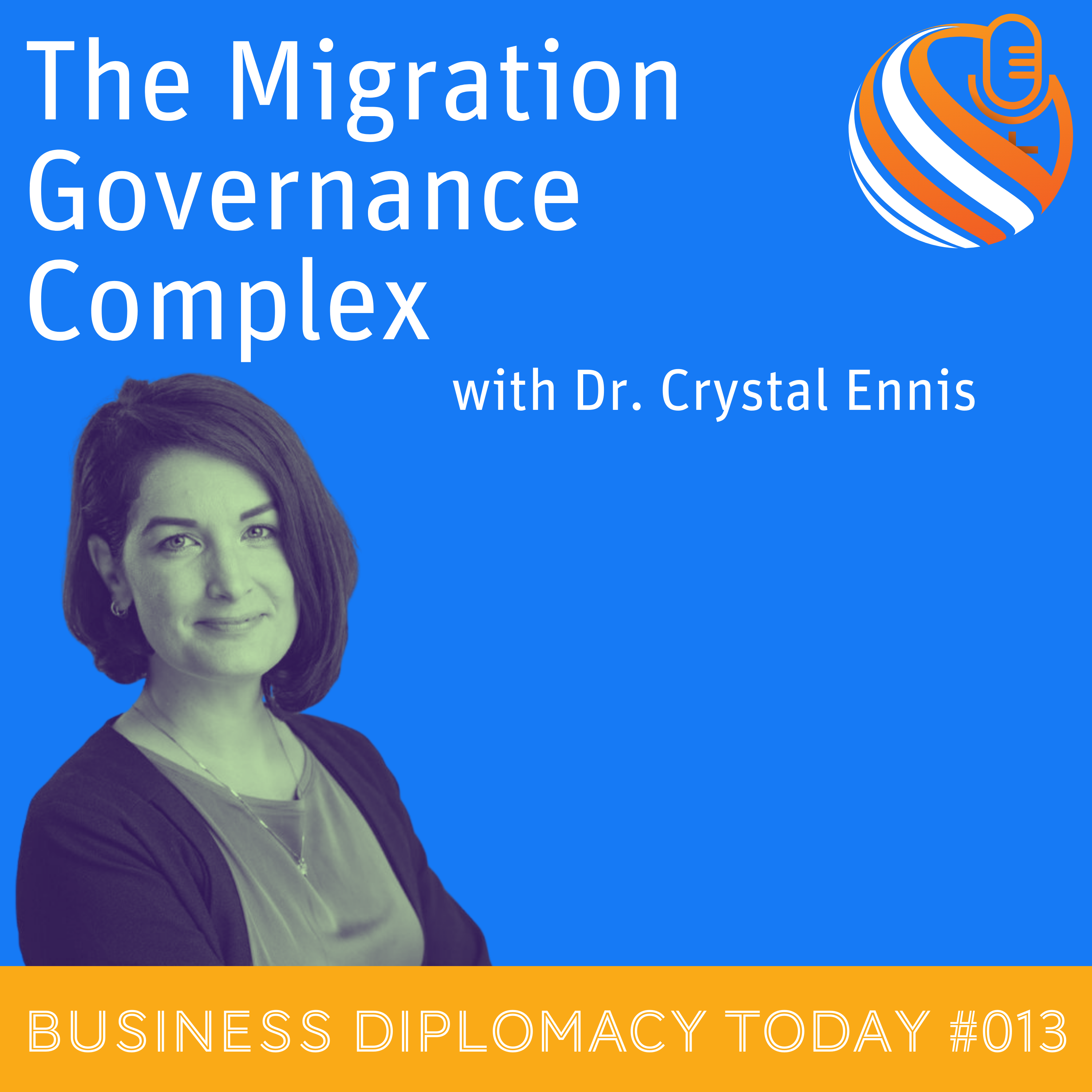 In this episode, Matthias Catón and Crystal Ennis discuss the migration governance complex, defined as how migration governance happens in practice and the various actors involved. Their discussion focuses on labor migration and examines its definitions, the fragmentation of migration governance, changing trends and geographical destinations of labor migration, and how we (individuals, organizations, and governments) can improve the socioeconomic conditions for labor migrants.
Matthias and Crystal apply these theories globally and discuss practices in Germany, Canada, South Asia, and the Gulf countries. From a business perspective, and with businesses playing a significant role as employers, C...
---
Lessons from the Munich Security Conference 2023
In this episode, Matthias Catón speaks with Sophie Eisentraut about the Munich Security Conference (MSC), the world's leading forum for debating international security policy. The episode investigates the effectiveness and relevance of multilateral dialogues from a broader perspective and the trends we can see in the future of international cooperation.
Matthias and Sophie compare their experiences with Matthias' attendance at the Raisina Dialogue in March 2023 and Sophie's involvement in the MSC. Sophie shares her insights on changing moods at the MSC, in comparison to previous years, and highlights the importance of dialogue in response to a ch...
---
Why digital payments can help us achieve the Sustainable Development Goals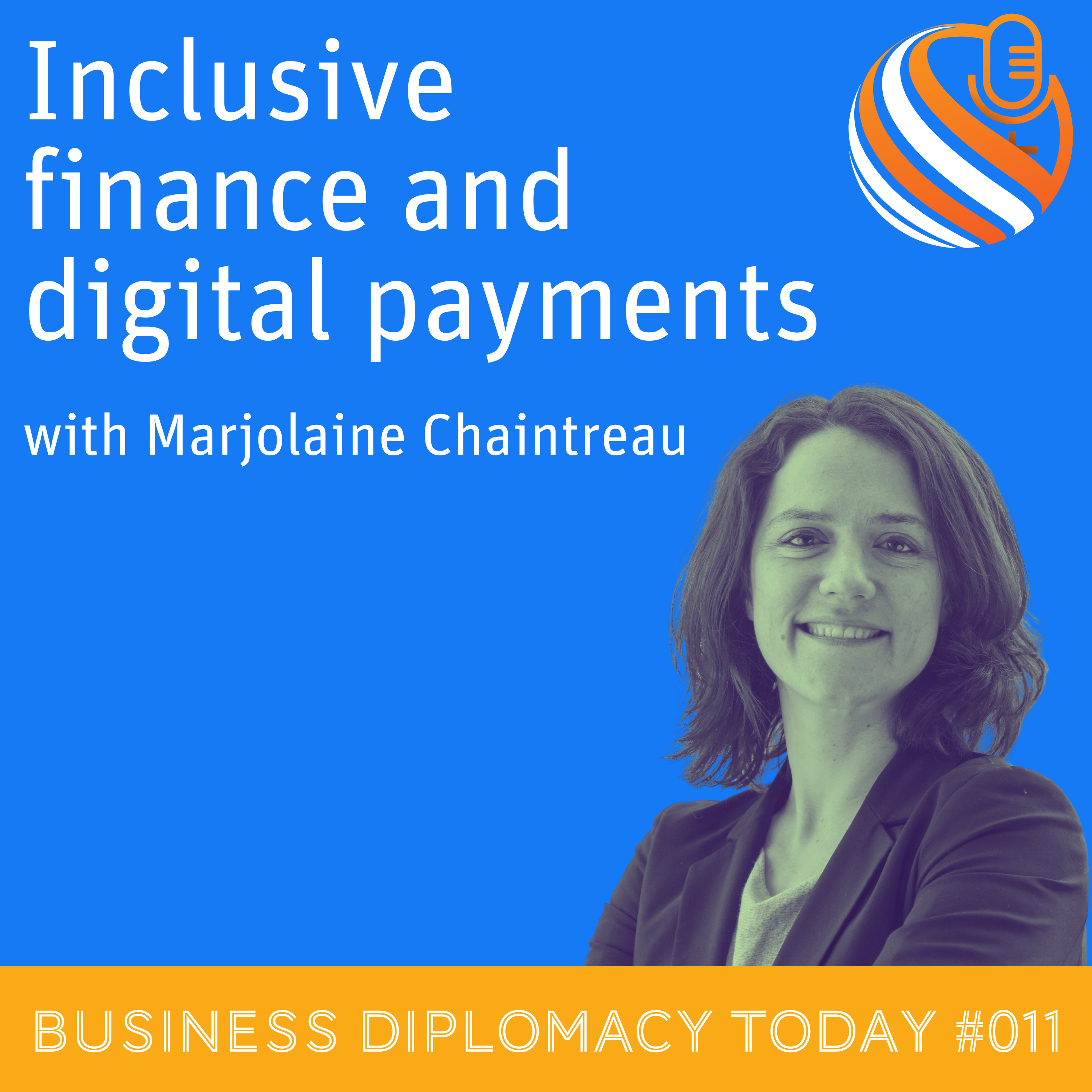 In this episode, Marjolaine Chaintreau, Head of Private Sector Digital Payment Innovation at the Better than Cash Alliance, and Matthias Catón discuss the evolution, importance, and impact of digital payments and, more broadly, access to financial services.
The discussion examines how digital payments promote social inclusion and empowerment among individuals and the innovation and regulation driven by the private sector, financial institutions, and governments in finding solutions to increase access to digital payments. Marjolaine explains how traditional methods of digital finance (such as credit cards and ATMs) are incredibly costly to implement, hence why many parts o...
---
Measuring and managing ESG performance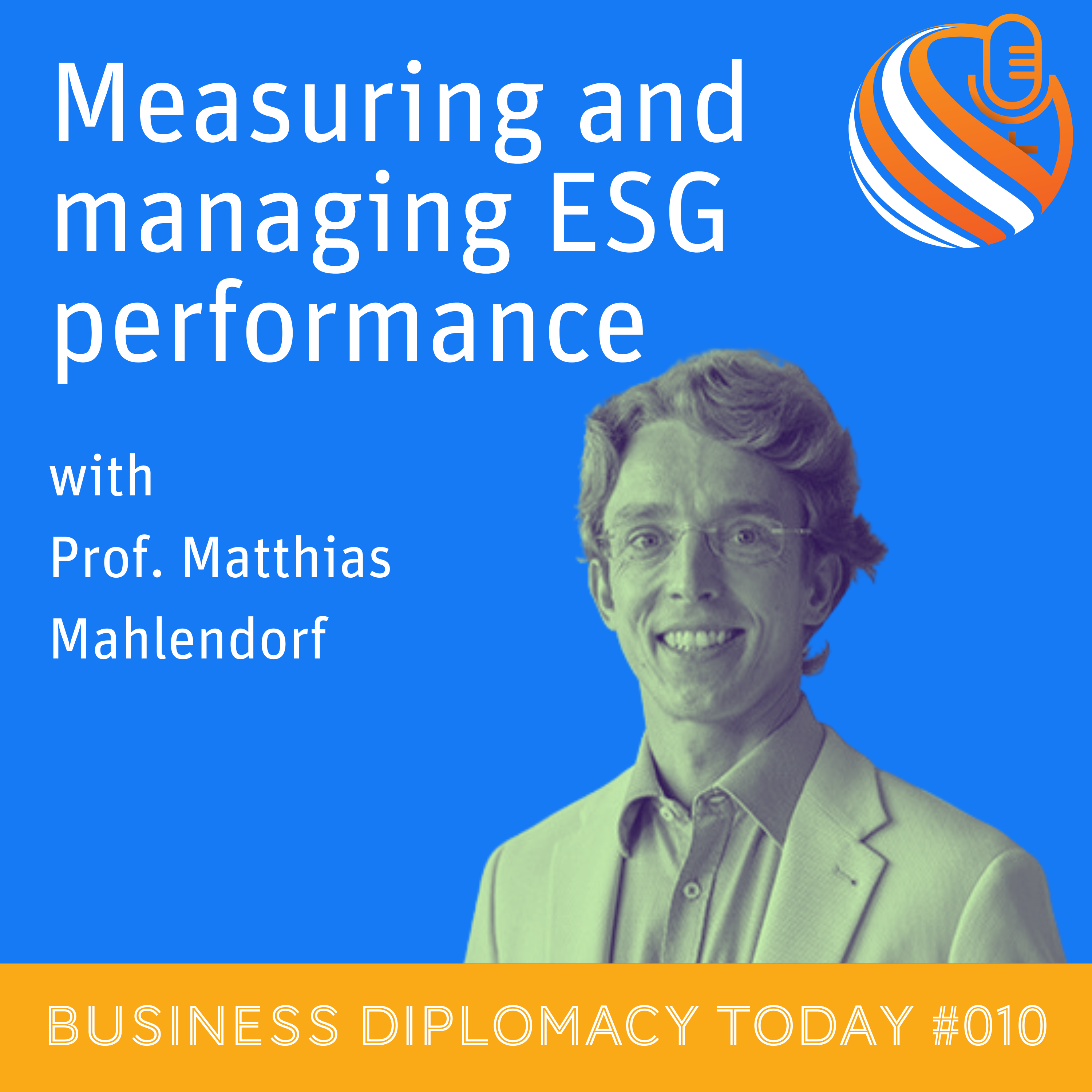 This episode of Business Diplomacy Today explores the importance of measuring external impacts in society and how companies can incorporate sustainability practices. Our guest expert, Matthias Mahlendorf, discusses the performance measurement for managing sustainability, performance, and digital transformation of management control.
Topics include measuring social value, the benefits of sustainability for companies, normative aspects of measurement, and the cost of carbon emissions. We also learn about sustainability-linked bonds for financing large companies and whether small and medium-sized companies can also benefit. Please tune in to learn about various models companies can coexist with regarding ESG and switch...
---
Corporate strategies for emerging markets
In this episode, Matthias Catón speaks with Talal Rafi, Senior Global Management Consultant at Deloitte and a Deloitte Global Economist Network member. The discussion investigates how markets, notably emerging markets, can navigate the current economic climate when developing corporate strategies. Talal highlights the importance of supply-chain diversification through different lenses, how democracy can influence investment choices, and the transformation of economies during sustainability. Matthias and Talal map these theoretical concepts to the infamous India-China choice. Talal shares his expertise on Sri Lanka, the strategically-located country, the reasons for its recent distress, and its untapped potential.
About t...
---
Geoeconomics in the investment industry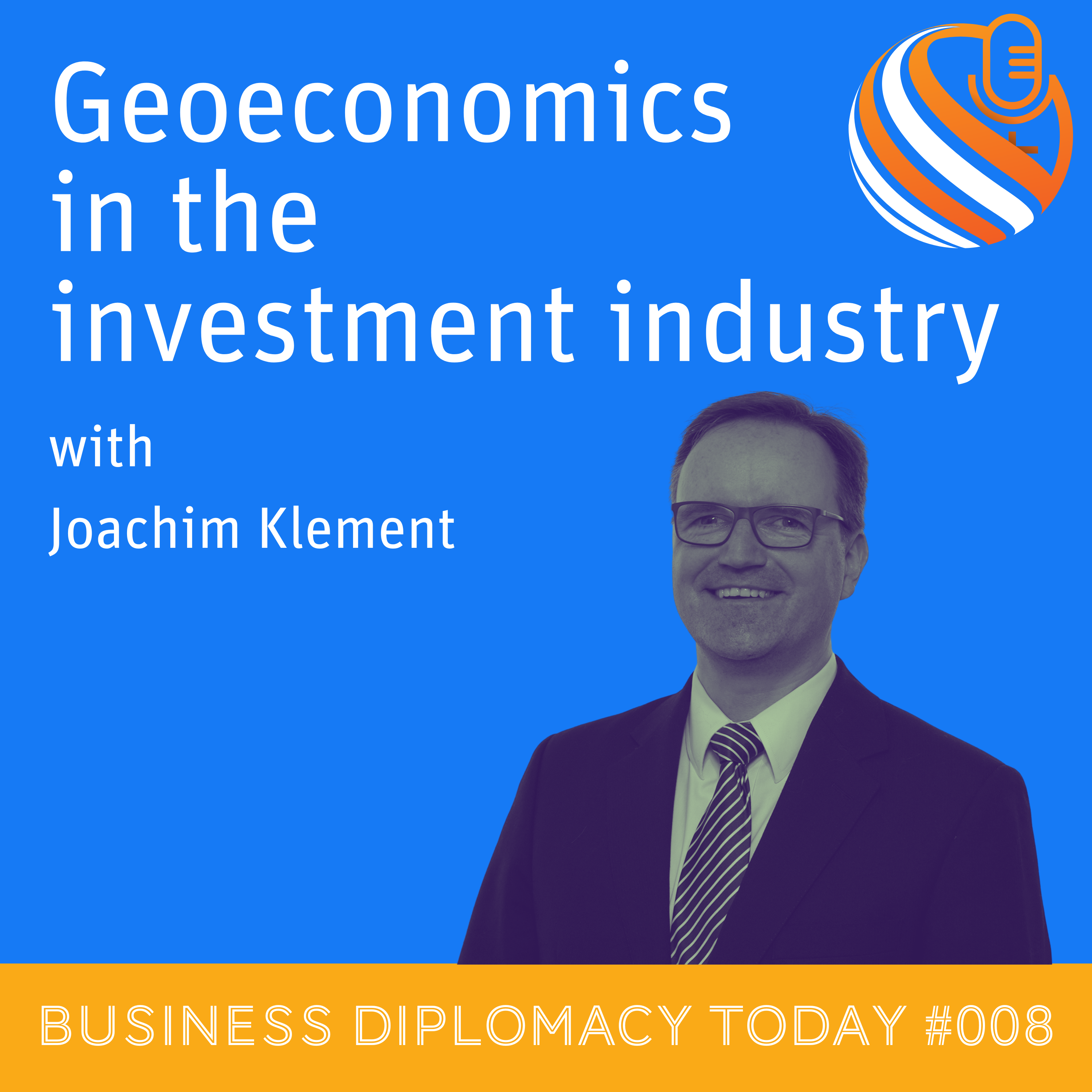 Hosted by Matthias Catón, today's episode is in discussion with Joachim Klement, Head of Strategy, Accounting, and Sustainability at Liberum. We often hear about geopolitics, economics, and our globalized world. In this episode, Joachim introduces us further to geoeconomics. The discussion analyses changes in business models (notably since the pandemic) and the relationship between geopolitical risks and decision-making processes for companies of various sizes and natures.
Matthias and Joachim empirically take this discussion on a national and individual level and further discuss country examples when looking into paths to diversification. In the context of geopolitical ris...
---
Climate Diplomacy and Emerging Economies
Climate Change mitigation is discussed mainly on a political level between countries, both in multilateral fora such as the COP (Conferences of Parties), the G20, or bilaterally. Our guest Dhanasree Jayaram is an expert in these negotiations. She talks with Matthias Catón about different approaches to climate change in developed and developing countries.
Developing and emerging economies have long argued that developed countries are historically responsible for past emissions. While this argument still holds, many of those countries also see opportunities. China focuses on green technology and is a world leader in producing solar panels. India h...
---
International sanctions
In this episode, Matthias Catón speaks with Julia Grauvogel, Senior Research Fellow at the German Institute for Global and Area Studies (GIGA). They discuss the implications of economic sanctions and talk about different types of sanctions and the ways to measure their effects on the "target" (the country receiving the sanctions) and the "sender" (the country imposing the sanctions).
Matthias and Julia discuss why countries apply sanctions frequently and how effective they are, depending on the type and context of the application. Julia describes different concrete sanction regimes, such as during Apartheid in South Africa and the ongoi...
---
India and China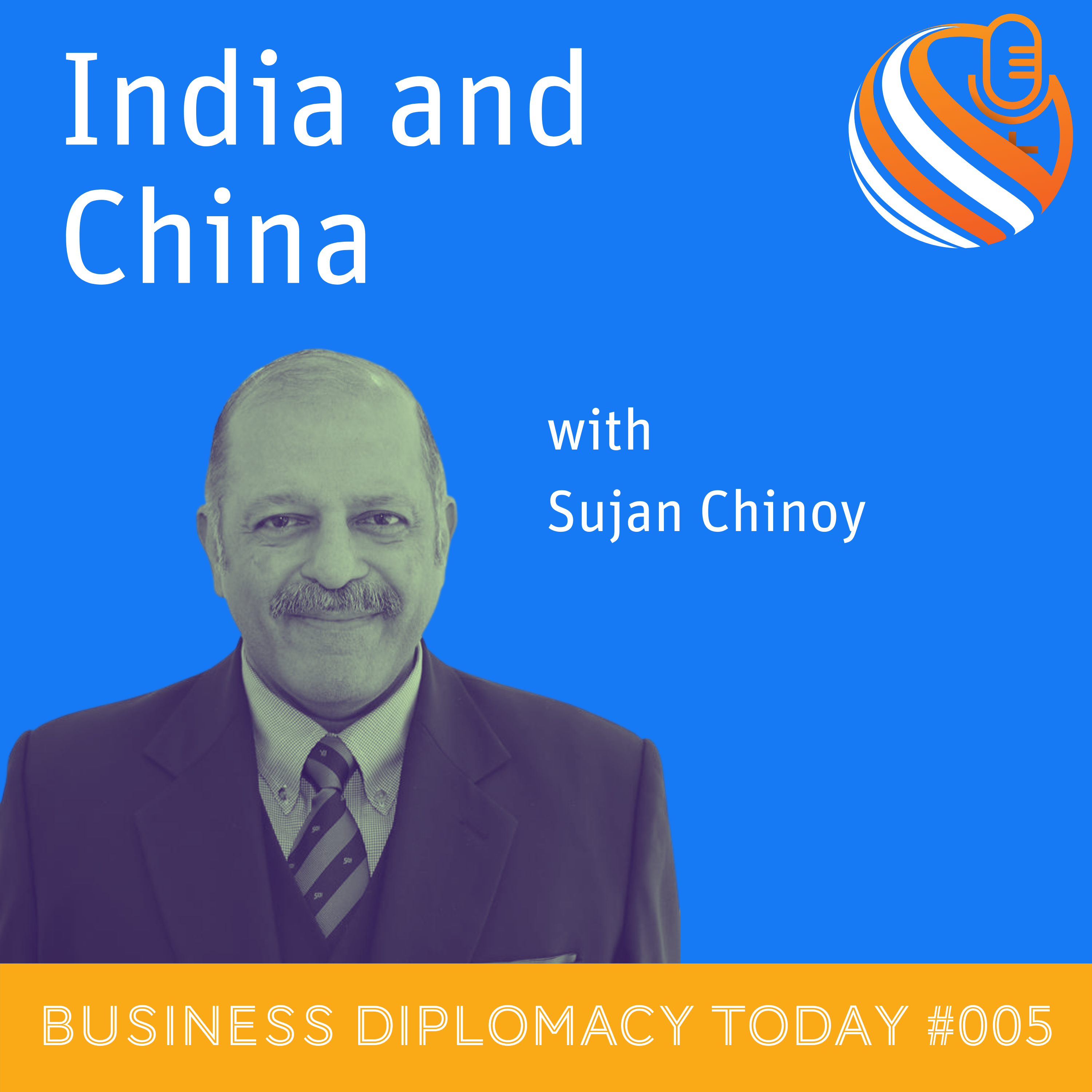 In this episode, Dr. Matthias Catón interviews Sujan Chinoy, the Director General of the Indian think tank IDSA. The former Ambassador is an expert in Indo-China relations. They discuss the current political situation and the ongoing border conflict between the two countries, which has been going on for decades but is again tense since 2020. Despite the political and military tensions, trade between the two countries has increased over the past years.
They talk about attempts to decouple supply chains partially from China to make them less dependent on a country whose geopolitical ambitions may make cooperation m...
---
Identify and manage political risks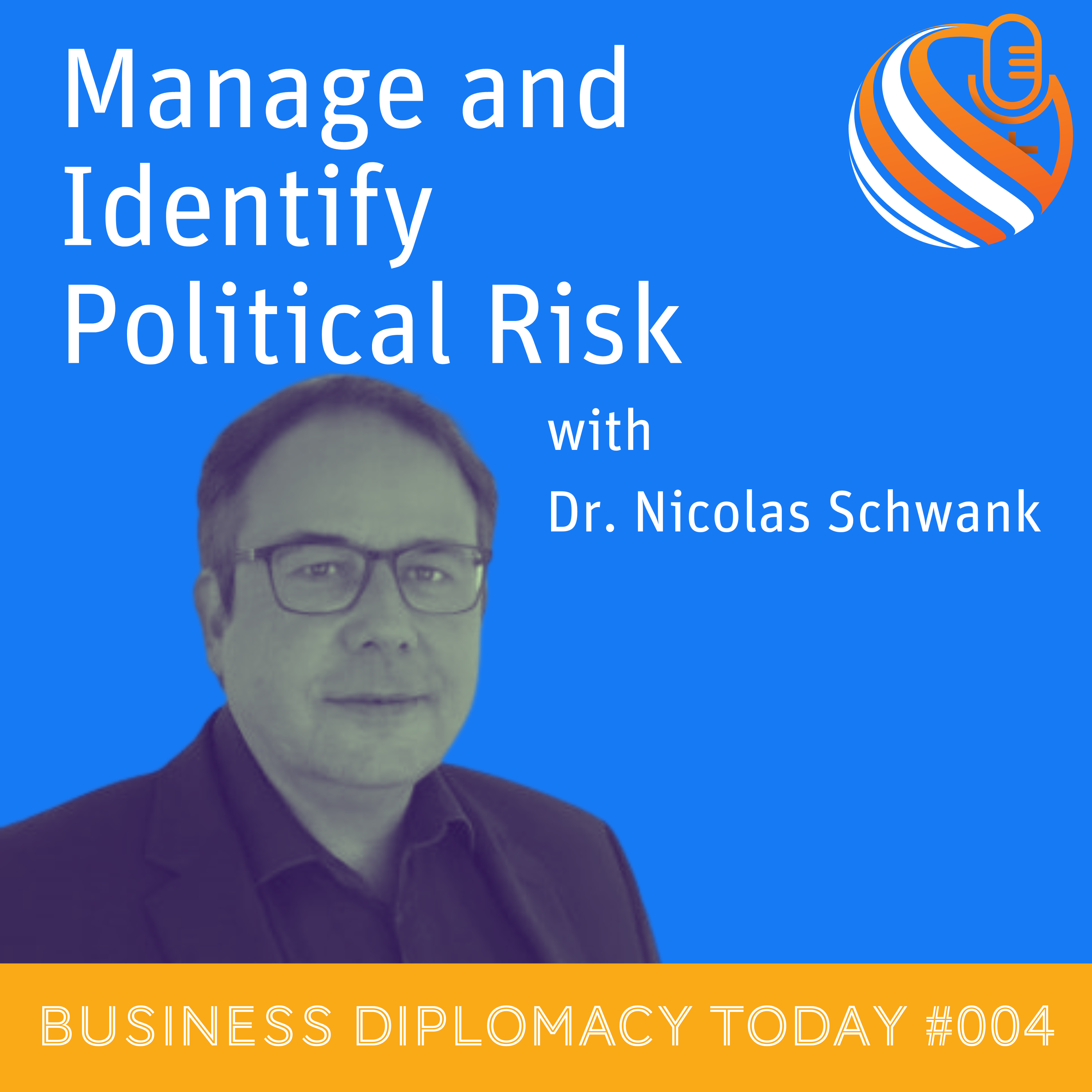 Nicolas Schwank is an expert in political risk. His company monitors and analyzes different risks and briefs business clients. Our host Matthias Catón and Nico (who met when they both studied and worked at the University of Heidelberg), discuss different political risks that can affect business and how business leaders can ensure that they stay on top of things.
About the guest
Dr. Nicolas Schwank
Dr. Nicolas Schwank studied political science, medieval and modern history, and public law in Heidelberg and Barcelona. He earned his doctorate in Heidelberg. For several years Nico directed the H...
---
ESG Taxonomies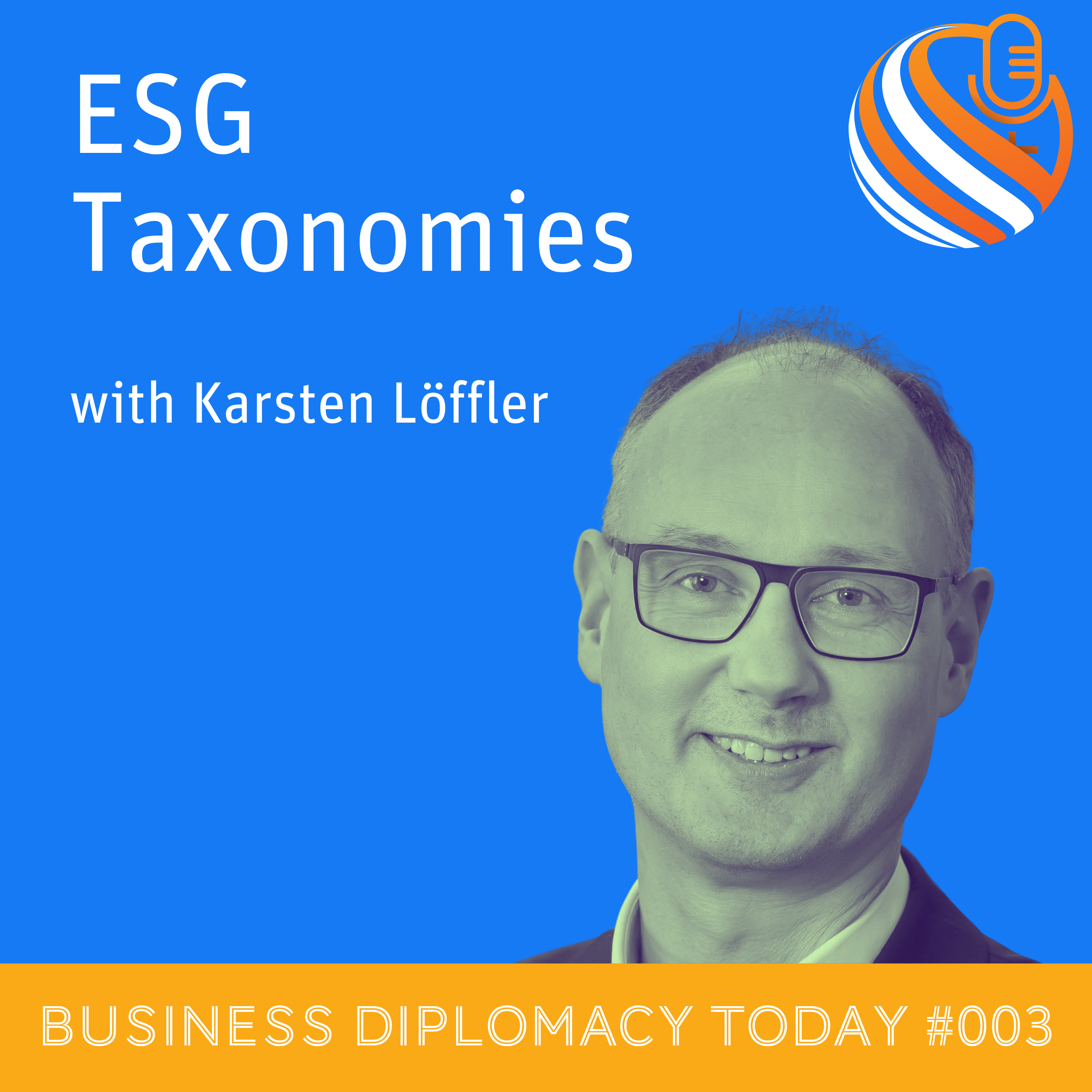 The host Matthias Catón and his guest Karsten Löffler talk about ESG Taxonomies. ESG stands for "Environmental, Social, and Governance" and essentially means how companies "behave" well as corporate citizens. Taxonomies measure this. The best known is the EU Taxonomy, but as we learn, it is by no means the only one in force or being considered worldwide.
Karsten explains that ESG taxonomies cannot judge "good" or "bad" behavior. They are merely instruments for transparency, particularly for financial investors and banks. They have become mandatory for more and more companies.
While large corporations are mostly well pr...
---
Doing business in China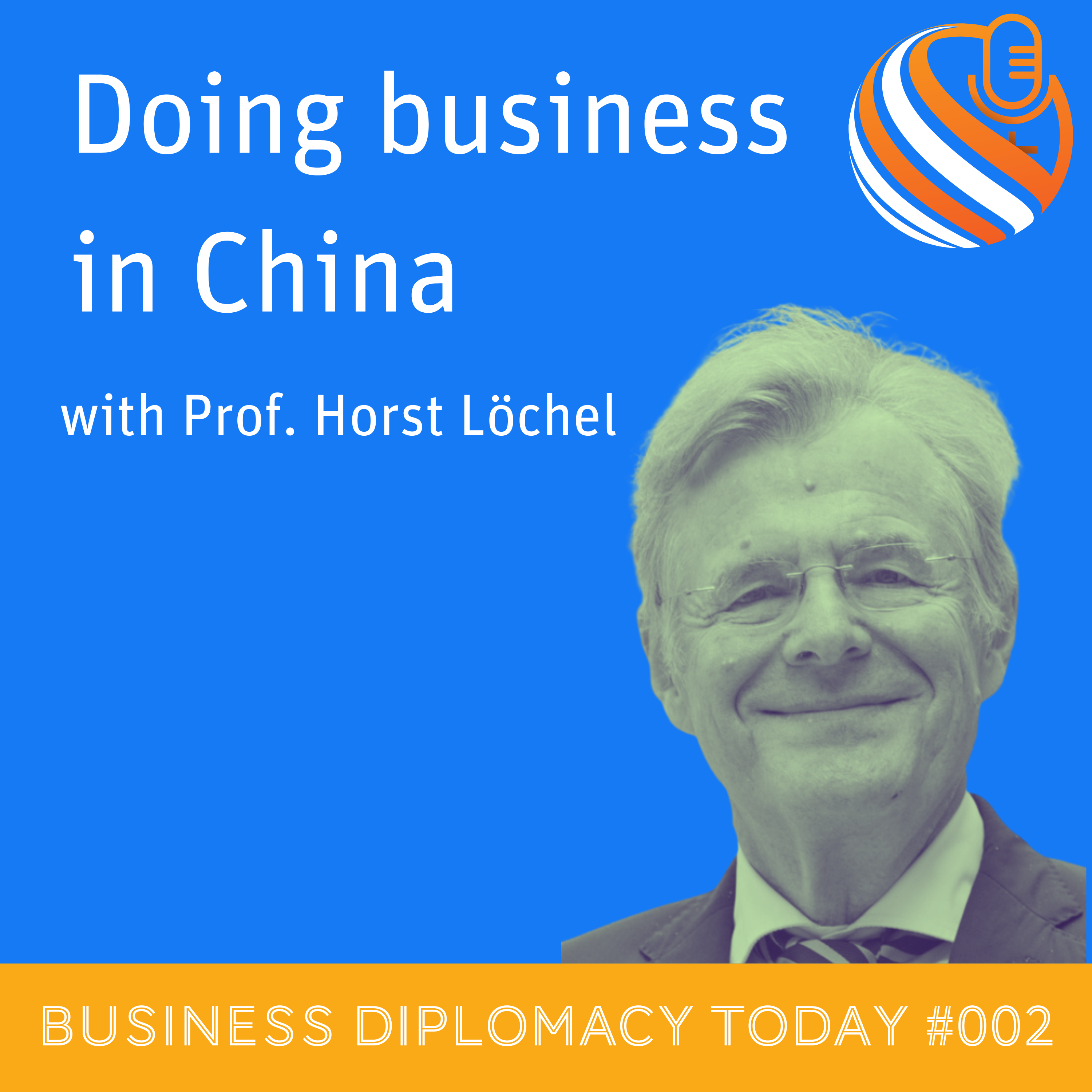 Our host Matthias Catón interviews Horst Löchel, a true expert on China. They talk about the prospects for international companies to do business in China today.
What is different from ten years ago? What are the risks, and what are the opportunities? And what are the specific challenges of operating in a country with an authoritarian government? Horst Löchel also weighs in on China's economic and geopolitical perspectives, including assessing the conflict with Taiwan.
About the guest
Horst Löchel
Dr. Horst Löchel is a Professor of Economics and Co...
---
Social media in global affairs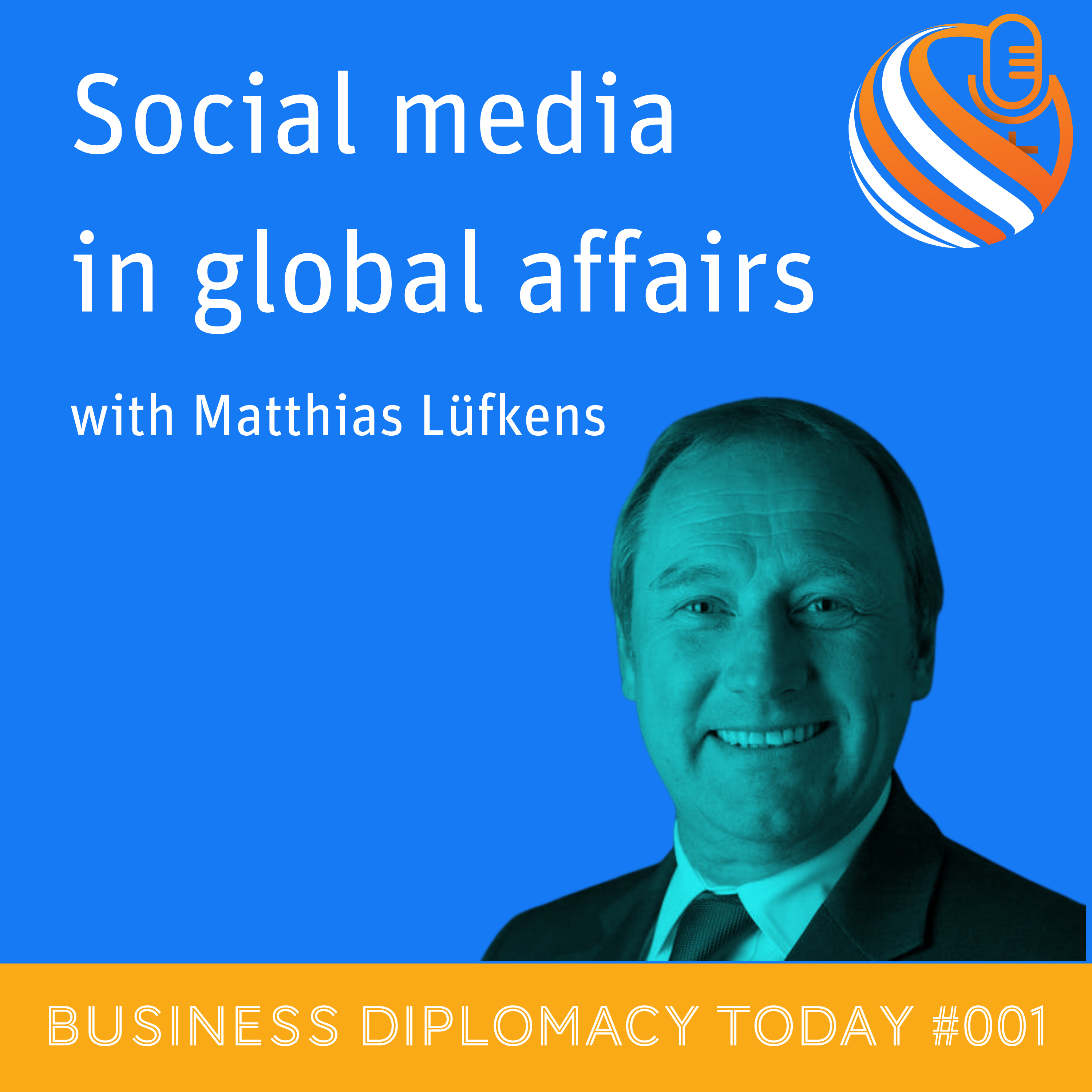 In this episode, our host Matthias Catón interviews Matthias Lüfkens, a veteran social media expert. They talk about using social media as a means of public diplomacy. How do governments and world leaders use it, what should they avoid, and why can it be such a powerful tool?
Of course, they also discuss how business leaders could and should use social media (notably Twitter) to make their voices heard in global affairs.
About the guest
Matthias Lüfkens
Matthias Lüfkens is a social media architect at DigiTips, a boutique PR agen...
---