Subscribe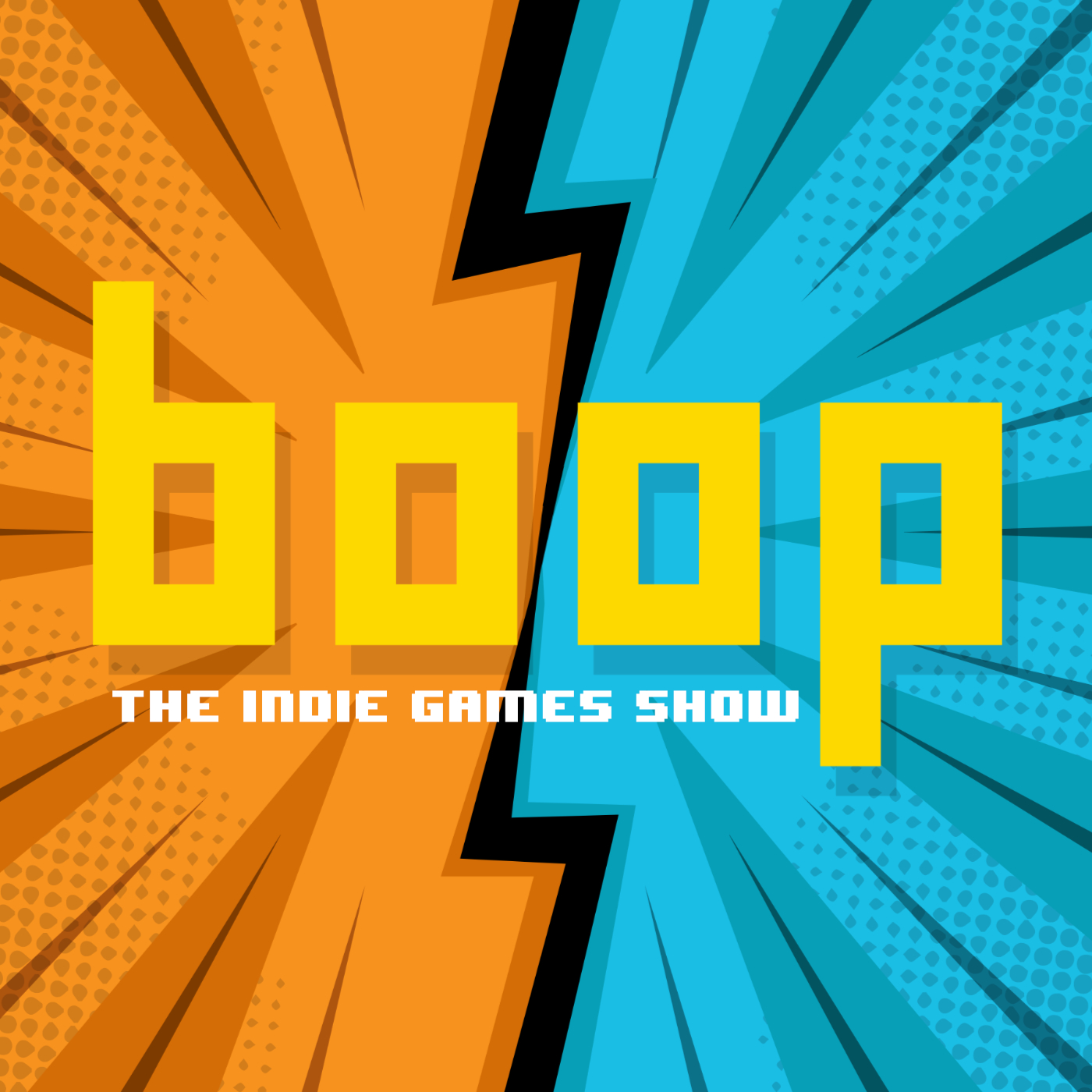 Scott and Brian cover indie gaming and more every week!
BOOP 288: Doin' that 80 12, baby!
All the Golf. Waiting for that Xcloud invite. MS giving a better cut to devs. Legend of Keepers is OUT of EA. Turnips are really popular on Steam right now. Hot deals! Skeletal Avenger. We Are The Caretakers. Guess My Game. Your emails. A new contest and more!
---
BOOP 287: My Bullets Go Around
We get into it this week right away, with the Evercade VS, Mona, and Instruments of Destruction! Scott played and loved Orbital Bullet. Brian played and loved Rain on Your Parade. We have a great music discussion and more!
---
BOOP 286: Cloud Monsters
Scott has his head in ESO hard, and Dun away did NOT get his Xcloud invite. Also, we hit some breaking indie news, and then got to some sweet games this week. Scott played American Fugitive on Switch, and Brian played The Slormancer on Steam! Guess My Game, emails and more!
---
BOOP 285: Set your Grove on Fire
Put in the Italian Sub! Also, Cozy Grove is rad. Wildfire is also rad. Your emails are rad. Our Guess My Game competition is pretty rad. And loads more! Including what game we wanna see resurrected.
---
BOOP 284: Romantic Dorfs
Rock Runners is going strong! Still can't stop with these life sims. Bite the Bullet provides twitch fun. Scott played Dorf Romantik, and Brian played Narita Boy. Guess My Game, emails and MORE!
---
BOOP 283: Check it twice, that game is nice!
Why Scott cracked open FF14 again. Why brian thinks a MS owned Discord might be a good thing. Scott checked back on Mech Mechanic Simulator and LOVES it now. Dunaway checked back on Chicken Police and LOVES it now. We play a little "Guess My Game". And we read your emails too! What constitutes indie vs AAA? Well, we discuss that too!
---
BOOP 282: Scratching that cyber itch
Scott decided that everyone should give Mankind Divided another shot because the game is rad and will fill your Cyberpunk void. Brian thinks the way to go is some dark fantasy turn-based business with King Arthur: Knight's Tale. Plus some Guess my Game, emails and more!
---
Frogpants Plays: Special Interview with Chris Metzen
Scott and Chris have a sit-down and chat up up about his new big project, plus lots of great insights into development of this kind of project vs something like a major game release at Blizzard. Here's a bit more about the project.
Auroboros: Coils of the Serpent is a 5E campaign setting by Chris Metzen and Warchief Gaming. The first release in this universe, Worldbook: Lawbrand, is based on the roleplaying campaign that Chris ran with his childhood friends in the eighties and nineties, before heading to Blizzard to work on worlds such as Warcraft, St...
---
BOOP 281: Tiny Town Everywhere
Scott has a town building problem today. Brian got an early birthday present. We talk at length about Nebuchadnezzar, while Brian goes in deep on Rogue Heroes, Guess Our Games, emails and more!
---
BOOP 280: One More Loop
We go from monitor buying options, too much time in Valheim, and then, this week's games! Loop Hero for Scott, and the final release for Curse of The Dead Gods for Brian. Guess Our Games, emails and more!
---
BOOP 279: Just Be Millionaires.
Waiting for Shipbreaker patches. System Shock demo play9ing. The Touryst is really fun and on Gamepass. Ultimate Adom: Caverns of Chaos is out. Guess my Game, your emails and more!
---
BOOP 278: Val Heeeeem!
We get down to business this week with a little more about Scott's stream play of Little Nightmares II, and how Arcanium got a nice update! His game this week is Blasphemous! Brian's is Valheim, and we both played a load of that. Guess My Game, emails and more! Oh, and what happened to Game Genies and Game Sharks!
---
BOOP 277: Naked Rust Guy
Scott plays Legend of Keepers, and brian plays Little Nightmares II, and we also play Guess my Game, and we also read and answer emails. What else could you ask for?
---
BOOP 276: The One With All The Animals
We talk about cool homebrew arcade stuff, the fact that we are only a few days away from more Mario Goodness. Scott played Arcanium: Rise of Akhan. Brian played Ratropolis. We had a great chat about CRT displays and what leg you have to sell to afford one, and more!
---
BOOP 275: How many spiders?
Scott is still breaking ships, Dunaway wants to sell his Stadia controller. Scott reviews Kill it With Fire. Brian played Encodya. Guess My Game! Your emails and more! And when should you remove your old 8bit console from your TV.
---
BOOP 274: Like Ultima but Not Like Ultima
Scott keeps going back to 2015 and playing Invisible Inc. Brian picked up a big new Samsung display finally. Scott played Fort Triumph this week and really quite liked it. Great if you like your Xcom-style gameplay, and Might and Magic world management. Brian ran all the runs in Skul the Hero Slayer, a rogue-like with some special sauce to be sure. Guess my Game, your emails and maybe some good Ultima-likes in 2021.
---
BOOP 273: Can You Hear This Show In Space
Scott played a LOT more Shipbreaker over the weekend. Brian got a shiny new monitor! And Everspace 2 had a great new start! Brian got deep in Skellboy and talks about what he say. We play a little Guess My Game, and read your emails about comfort games!
---
BOOP 272: The Sun is Crying
We play Crying Suns, buy Series X controllers, play Unto The End, Guess our Game, what survival games are worth your money and lots more!
---
BOOP 271: Raid It In Space
Why Scott needs more mechs in his life, and when GOG2 gets even better. Space Raiders in Space is Scott's game of the week, Brian talks up Visage while he poops himself. Guess Our Games, your emails and more!
---
BOOP 270: Sometime before the ashes
Scott finally discovered why everyone loves Monster Train so much. Little Nightmares 2 is coming to Brian's house! Chronos: Before The Ashes, Monster Sanctuary, Guess Our Game, and loads more to end the year of 2020!
---
BOOP 269: Box full of Cloudy Punk under the tree
It's our CHRISTMAS show, with lots of great talk including our BOOPIES awards for 2020! Plus a deeper look at CloudPunk, El Hijo, our go-to holiday video games, and why sometimes you just need a match three game to get the job done.
THE BOOPIES!
Scott Top 3 BOOP Show games of 2020: Star Renegades, Cloud Punk, & Fury Unleashed. Early Access Game he loved: Shipbreaker.
Brian Top 3: Carrion, Evergate, & As Far As The Eye. Early Access Game: Phasmophobia
---
BOOP 268: Erik is the worst
New show with lots of great stuff! Why your controller's blutooth might suck. Scott played the 4 player combat blast GUNTASTIC, and Brain finally went hard with Dragon Quest II. Guess Our Games! And your emails to end things out!
---
BOOP 267: Top Down is the new Behind The back
Haven is pretty cool when it's not crashing, and relationship game lovers will love it! Darksiders Genesis reminded Brian that there were other great Darksiders games that he missed! Guess Our Games, next weeks hits, and what to do when your Quest takes a dump!
---
BOOP 266: Just Let Me Save!
A visit back to The Outer Worlds, Jackbox 7, The Falconeer, and Blasphemous. Oh and our emails, and lots of discussion!
---
BOOP 265: Greedy Dungeons
The Series S and X have arrived in the hosts hands! We look at Dungreed, Descenders, Rune II, Sea of Solitude and more! We play Guess My Game and read your emails too!
---
BOOP 264: Fasma What The What?
Scott is playing Days Gone finally and likes it while he waits for his Series X, while Brina is gonna brave the target and try and lock down a new console. We played PositronX, Phasmophobia, Carto, and Lumo. We also play guess my game, and read your emails!
---
BOOP 263: Tear Down This Pumpkin
We are here with a fresh hot new BOOP show, featuring some cool new games like Watchdogs Legion, Teardown, Pumpkin Jack, Graveyard Keeper, Mesmer, your emails and games to guess!
---
BOOP 262: What's 9 years old is new again
Scott dips back in time for some Renegade Ops, and back to the future with Endzone: A World Apart. Darkwood is on Brian's plate, and Crown trick. Guess Our Games, emails and more!
---
BOOP 261: Solitaire means Alone, right?
We do another BOOP, and that means The Solitaire Conspiracy, FFXIV, Hades, Man of Medan, Starlink, Touhou, Slash Quest, Guess Our Games, emails and more!
---
BOOP 260: Farming Up Daisies
We bid goodbye to Farmville, and then get into all the new stuff! Swords and Magic and Stuff. Art of Rally. Samurai Jack: Battle Through Time. Chuck's Challenge 3D. Xbox pre-orders did not go well. Why get consoles when we got the PC's we have? All that and more!
---
BOOP 259: Fallout Meets Halo
MS bought Bethesda, and we talk about it. Also, Hotshot Racing, As Far As The Eye, Shadow of War revisit, going to the Gamestop for your Series X, your emails and more!
---
BOOP 258: Electro Metal Magic
What games have you 100% cleared? We get into a bit of that. Star Renegades is Scott's big pick of the episode! LOVE IT SO MUCH! Also, Ancestors, Drake Hollow, Battletoads, Quest 2 leaks, and your emails!
---
BOOP 257: How wasted is your land
Wastelands 3, Inmost, Mad Max, Grounded, Evergate, Spiritfarer, remembering to play your PS+ games, and MORE!
---
BOOP 256: When Your Legacy Goes Rogue
Factorio and Littlewood are out of EA! Popup Dungeon, Rogue Legacy 2, Fall Guys, Livelock, Luigis Mansion 3, LiveLock, and your emails! Oh and Guess My Game!
---
BOOP 255: A Proper Remake
Destroy all Humans, Astrox, Sleeping Dogs, Grounded, Skater XL, Job Sim, emails and more!
---
BOOP 254: Carrion My Wayward Blob
We played a lot of games this week, including Carrion, Earthlock, Tetris 99, Surviving Mars, Hello Guest, and more! Plus your emails and Guess My Game!
---
BONUS: Xbox Series X Streaming Event Coverage
BONUS: Xbox Series X Streaming Event Coverage
---
BOOP 253: Dead Neon Monster Stew
Dead Age II, Neon Abyss, Krumits Tale, Monster Train, Radical Rabbit Stew, steering wheels, Paper Mario talk and more!
---
BOOP 252: How early is your access?
Titanfall 2, Shipbreaker, Pirate Outlaws, West of Dead, Urban Flow, Overload, and MORE! Plus Guess My Game and your emails!
---
BOOP 251: Dungeon Plunger
Scott and Brian are sick of the heat but ready for a rockin show! Our games today:
- Mr Driller Drill Land (Switch)
- Curse of The Dead Gods (Steam)
- Titanfall 2 on sale (Steam)
- Link's Awakening (Switch)
- Disintegration (PC)
- Potata (PC)
Guess My Game, and your emails and more!
---