Subscribe
A podcast for the bold and curious to help you navigate our world's accelerating weirdness — about science and the philosophy of it, prehistory and post-humanity and deep time, non-human agency and non-duality, science fiction and the stories we regard as real, complex systems and sustainability (or lack thereof), psychedelics as a form of training for a weirding present and proliferating futures, art and creativity as service and as inquiry. Join paleontologist-futurist Michael Garfield every other week for deep but irreverent discussions on the biggest questions we can think to ask — and even deeper mysteries beyond what's thinkable. Get bo...
164 - Violet Luxton on Scientific Reductionism vs. Traditional Ecological Knowledge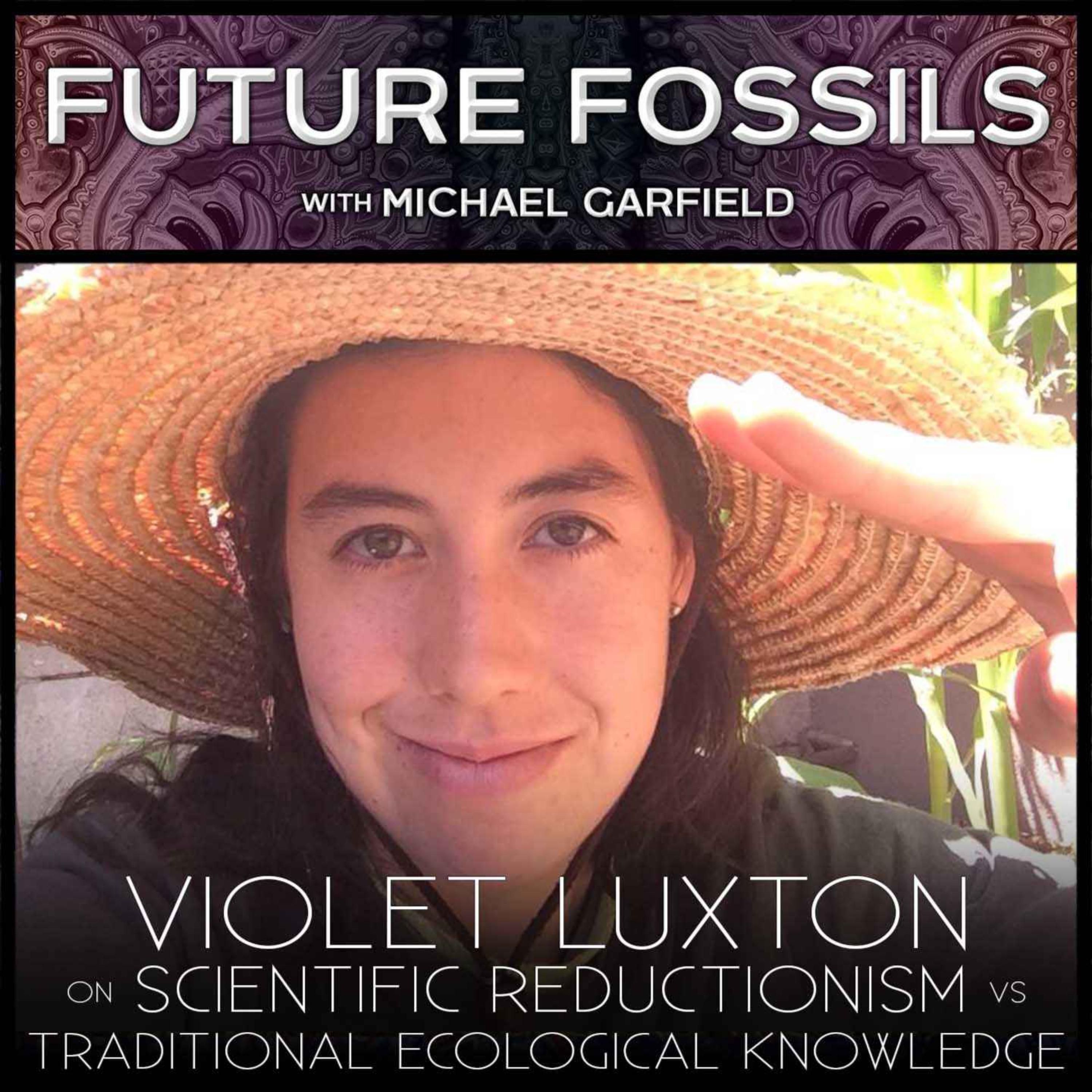 This week we talk to artist, musician, and community organizer Violet Luxton, who works and lives at the intersection of Indigenous wisdom traditions and Indigenous rights movements, #LandBack and #BlackLivesMatter, afro-futurism, yoga, and visionary biotechnological speculation. In a conversation far shorter than the subject matter deserves, we explore some of the themes in and related to her profound academic paper, "Transtemporality and The Technology of Indigenous Kinship: The Science of Remembering Ourselves."
If you believe in the value of this show and want to see it thrive, support Future Fossils on Patreon and/or please rate...
---
163 - Bitcoin & Fungal Economies with Toby Kiers & Brandon Quittem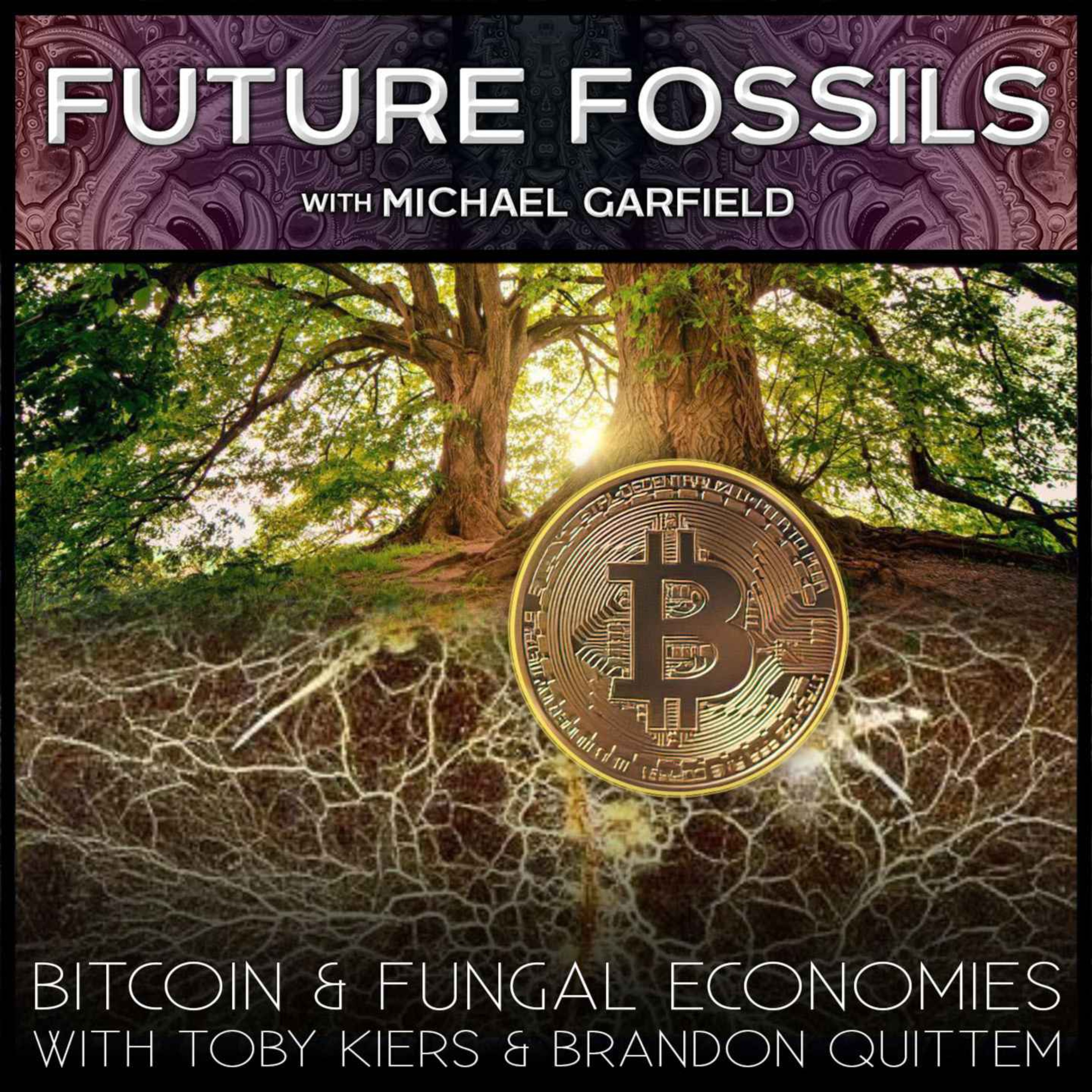 This week we're joined by evolutionary biologist Toby Kiers and Bitcoin entrepreneur Brandon Quittem for an interdisciplinary trialogue on the analogy between digital currencies and the so-called Wood Wide Web. Toby studies fungal economies in the lab, and her research challenges the commonly-held assumption that mycorrhizal networks are socialist utopia hippie love-fests. Brandon evangelizes "The Internet of Money" as an exemplary instance of biomimicry and argues that Bitcoin is doing for human finance what mycelial networks have done for terrestrial biology. And I wade in with more than my usual helping of paradoxically-critical enthusiasm to ask if "natural" really equ...
---
162 - "AHA" (Ask Him Anything) #1: Aliens, Death, Creativity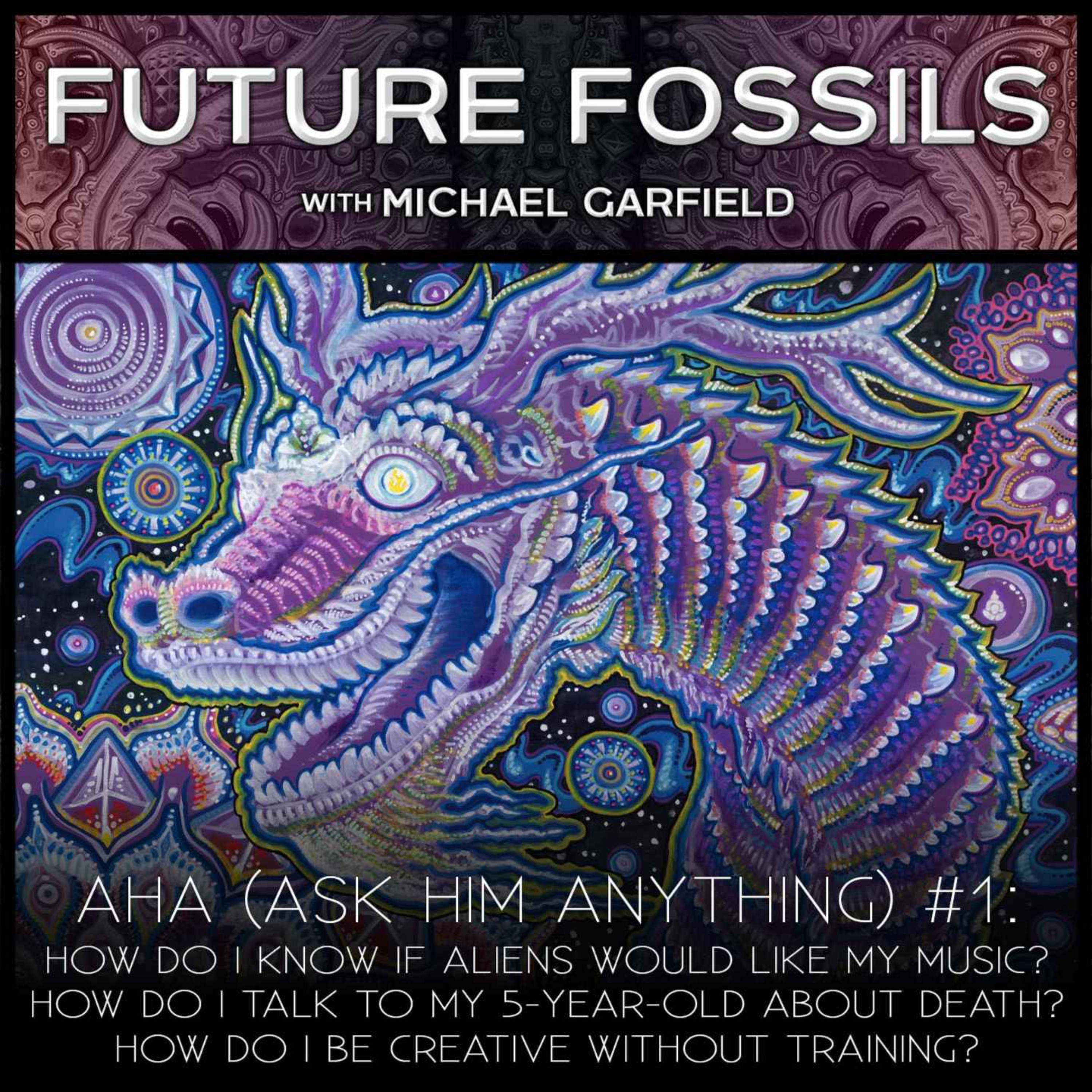 This week, I embark on a new experiment and respond to three "advice column" questions from the Future Fossils listening audience:
• How do I know if aliens would like my music?
• How do I talk to my five-year-old about death?
• How do I be creative without training or experience?
This was a lot of fun and I'll definitely do this again. Enjoy, and thanks for listening!
Please rate and review Future Fossils on Apple Podcasts! And if you believe in the value of this show and wa...
---
161 - On Play & Innovation with Michael Phillip: Hermes, EvoBio, Bitcoin, and Good Noise
This week I talk play, innovation, noise, disruption, cryptocurrency, and trickster creativity with Michael Phillip, host of sister podcast Third Eye Drops, which I'm on A LOT – episodes 102, 88, 58, 44 with Doug Rushkoff, 38 with Niles Heckman, 28 with Bruce Damer, 21 with Erik Davis, 9 with Shane Mauss, 4 with Erik Davis, and this special mashup episode.
This one was originally recorded as Third Eye Drops Episode 239, but I went ahead and painstakingly edited out over ten minutes of filler language and head-scratching to give you the sharpest and most...
---
160 - His Dark Materials: Narnia, Fillory, and Coming of Age in the Multiverse, with Stephen Hershey & Kynthia Brunette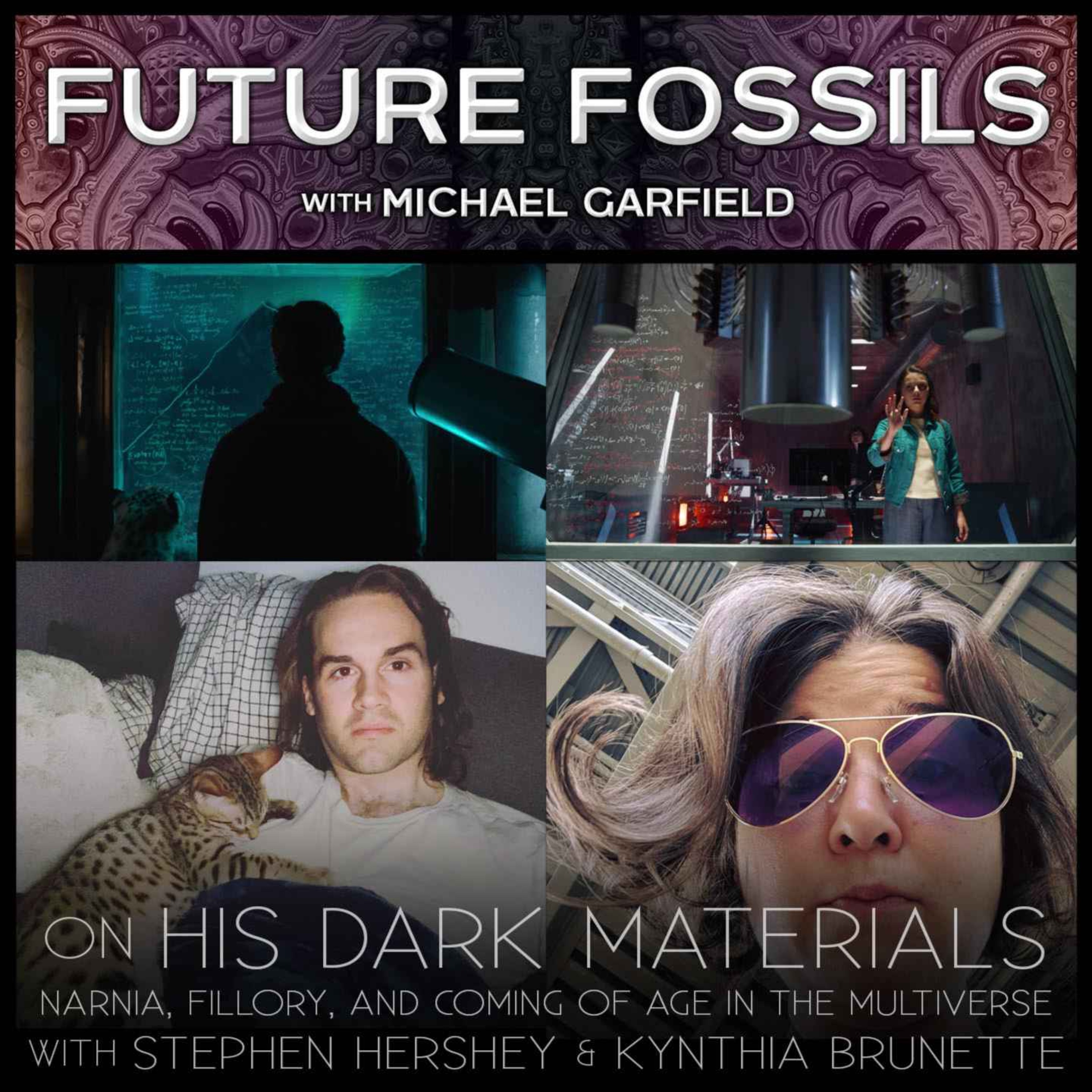 It's time for humankind to grow up — but it might also be more important than ever that we reconnect with our inner children and play like our lives depend on it (because they do). And so, given the in-progress BBC/HBO adaptation of Philip Pullman's masterful fantasy trilogy His Dark Materials, it feels like a great time to talk about this coming-of-age story and its cosmological questions. This week on Future Fossils, we link up with my friends Stephen Hershey and Kynthia Brunette, whose perspectives from acting and the study of human-computer interaction, as well as their...
---
Michael Dowd on Post Doom: Life After Accepting Climate Catastrophe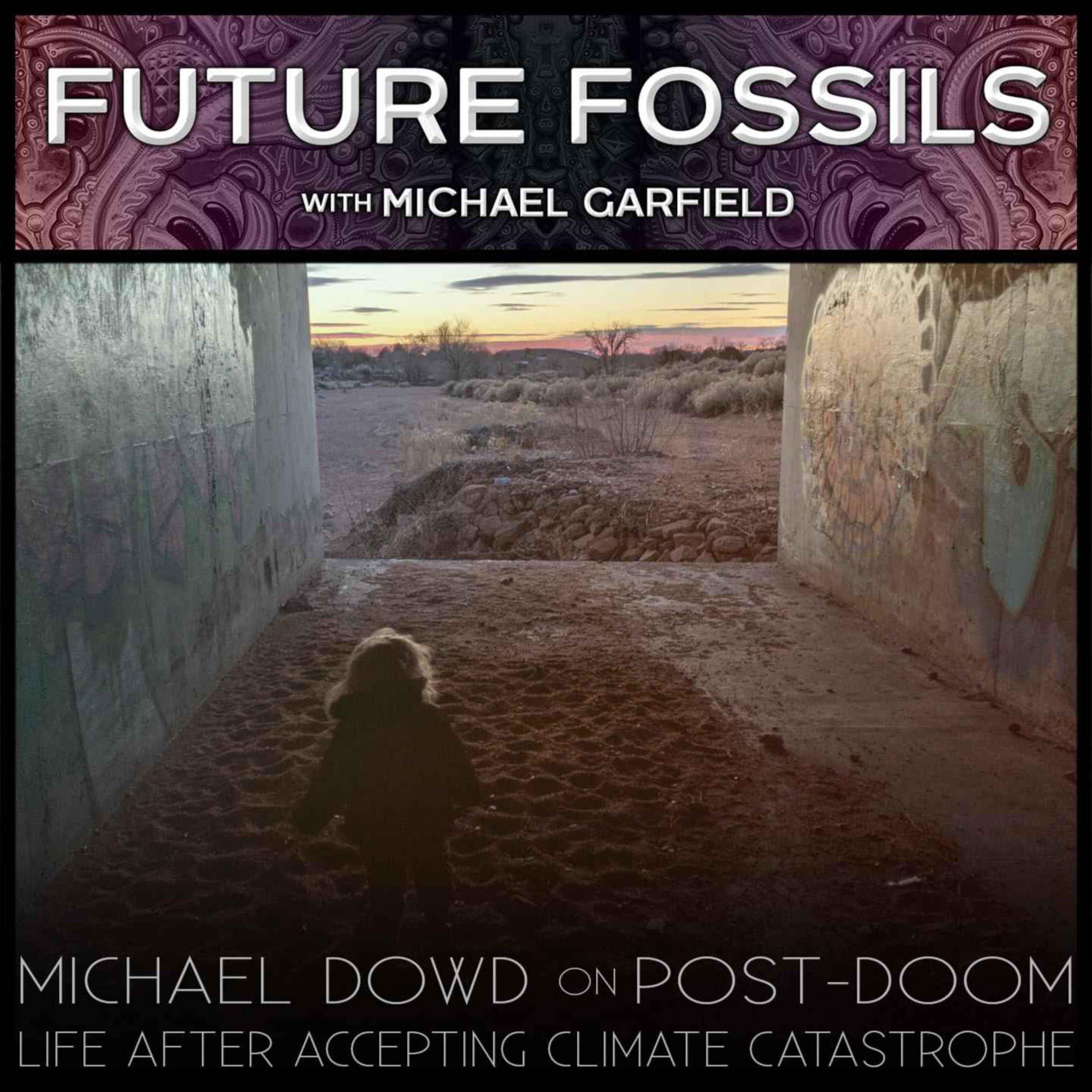 2021 comes in hot with Michael Dowd, ecumenical Christian preacher turned climate grief advocate, whose Post Doom Conversations are a well of wisdom for anyone prepared to stop fighting the inevitable* and start celebrating what actually can be done in these weird, scary, precious years to come. We discuss his time as an evolutionary biology evangelist and his friction with techno-optimists, what it means to live sustainably within a mature religion of place, urban scaling and collective action problems, a general theory for the collapse of market-based civilizations, and how to reorient one's faith to planetary and secular values th...
---
Ramin Nazer & The TeaFaerie: Mid-Singularity Trialogues, Part 1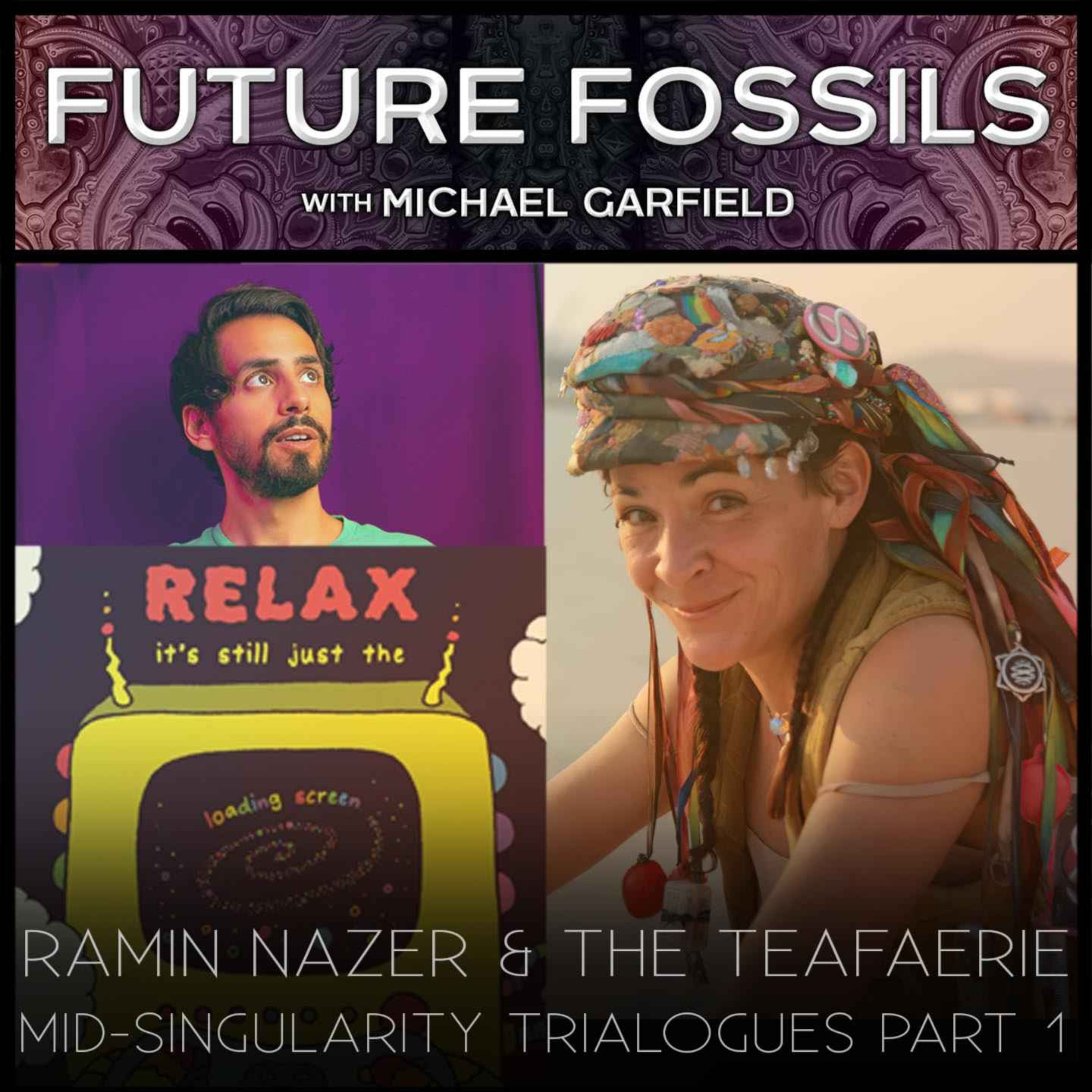 This week I'm delighted to bring The Teafaerie (ep. 100) and Ramin Nazer (ep. 120) back to Future Fossils Podcast! These are two of the funniest, weirdest amateur futurists I know, and I hope you agree this discussion was worth the wait while I spent hours making it sound like we didn't just talk over each other like overexcited dorks for two-plus-hours.
In this episode, we discuss the virtualization of live events as relates to the science fiction of Charles Stross and Hannu Rajaniemi, the stratification of class according to who can afford to be somewhere in p...
---
Phil Ford on Taboo: Time and Belief in Exotica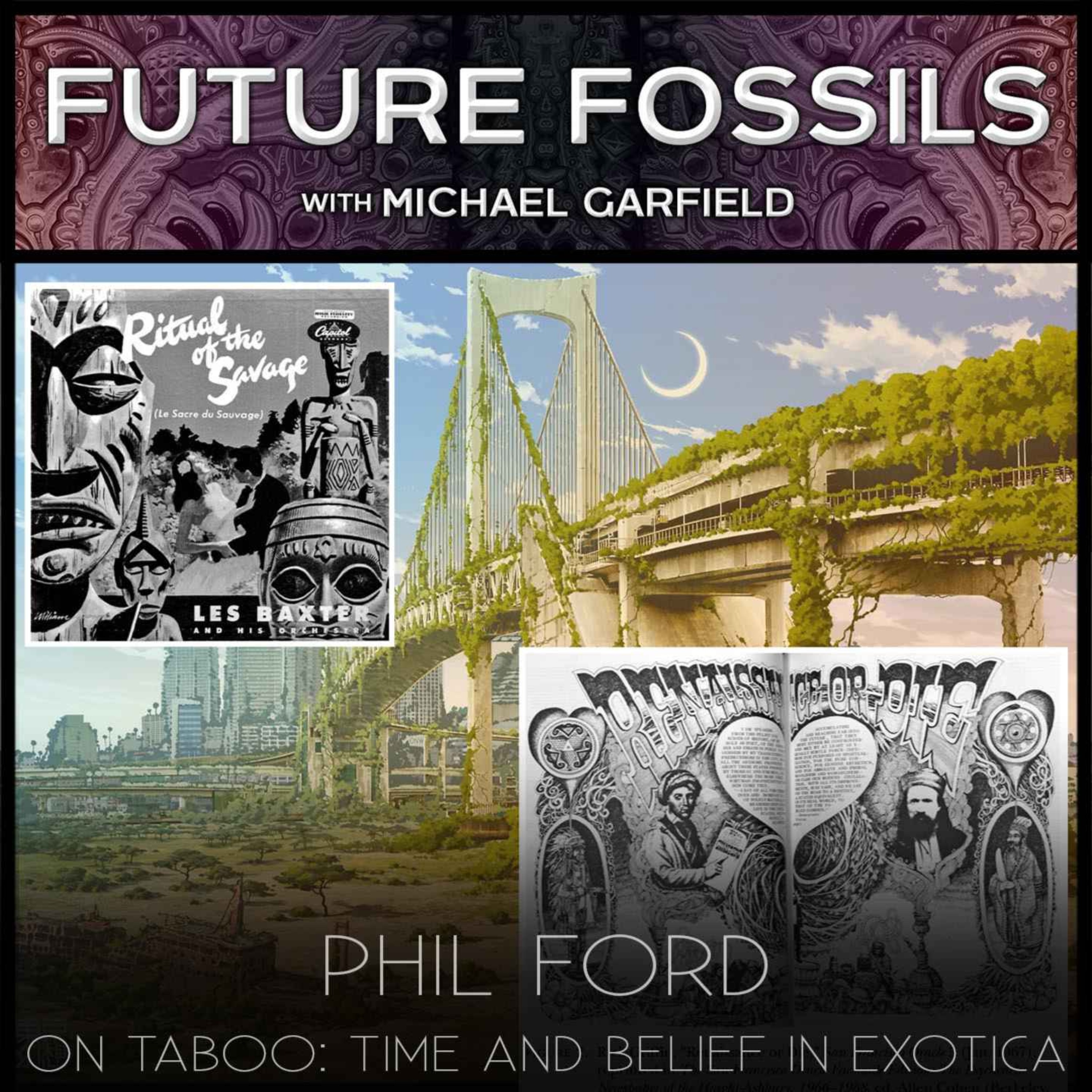 This week I'm honored to speak with musicologist Phil Ford, co-host of Weird Studies, on a voyage that takes us from elevator muzak to aquarian cults to Disneyland to the future of magical warfare. We discuss what it means to be (or want to be) "primitives of an unknown culture," the staging of nature, what happens when your aesthetic commitments become your reality commitments, ontological anarchy, and The Super Mario Bros Movie's influence on the 2016 presidential election. Keep your ears peeled for deep cuts on Fight Club, the Alt-Right, Les Baxter, William Irwin Thompson, Jurassic Park, and Burning...
---
Stuart Davis on Zen, Aliens, and Psychedelics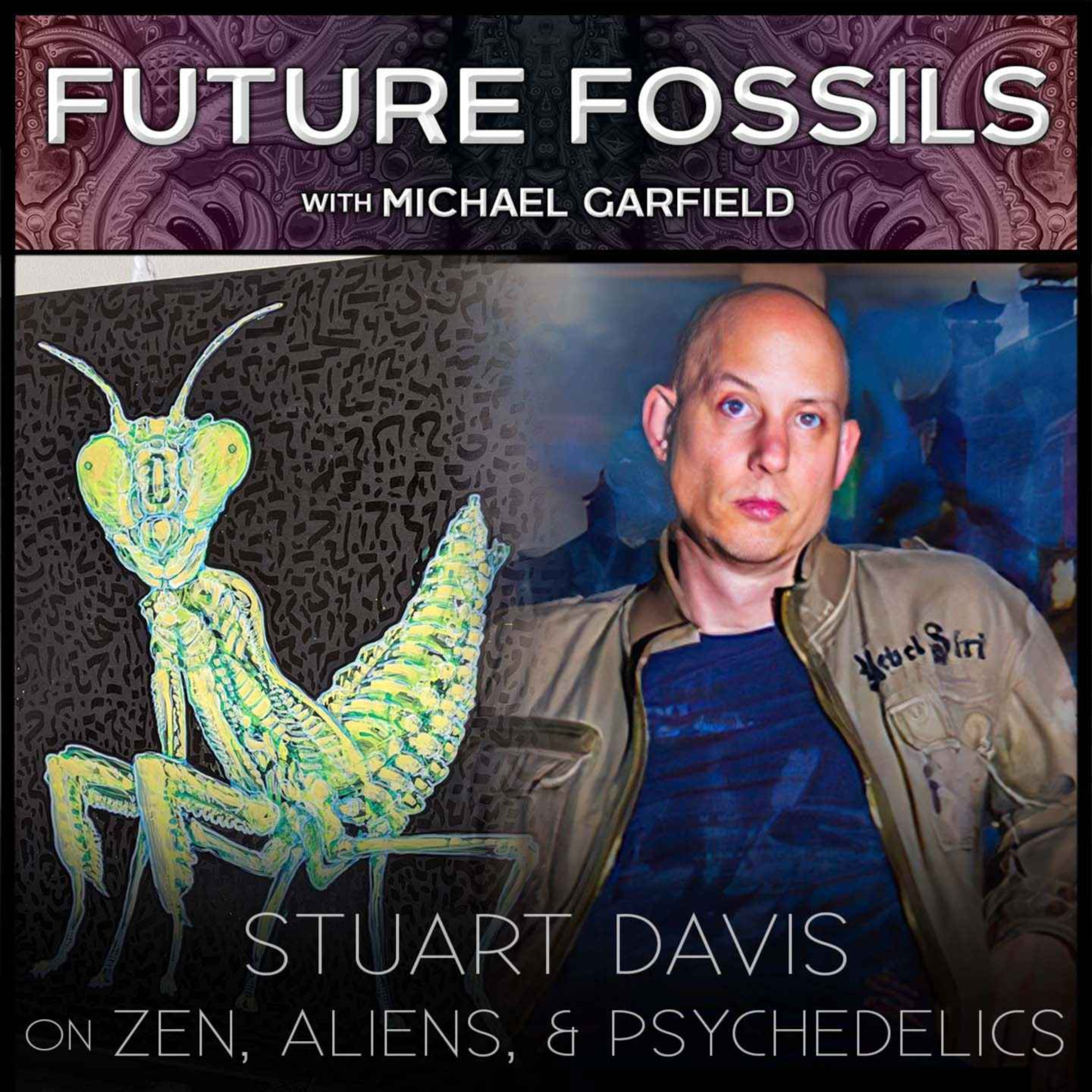 "There's a Mormon Tabernacle Choir inside of everyone. It's just better to include and embrace all these facets of identity."
I'm not going to waste your time trying to explain Stuart Davis. He's been a guiding star for me and presumably many other irrepressibly nondisciplinary artists for over a decade, one of the founding figures of my adult psyche in its pluriform contortionism. Musician, painter, poet, talk show host, stand-up comic, film-maker, and depth psychologist, the man knows no bounds and it's all I can do to follow closely and listen carefully, whi...
---
155 - Michael Morgenstern on Fictions as Weapons and 21st Century Media Literacy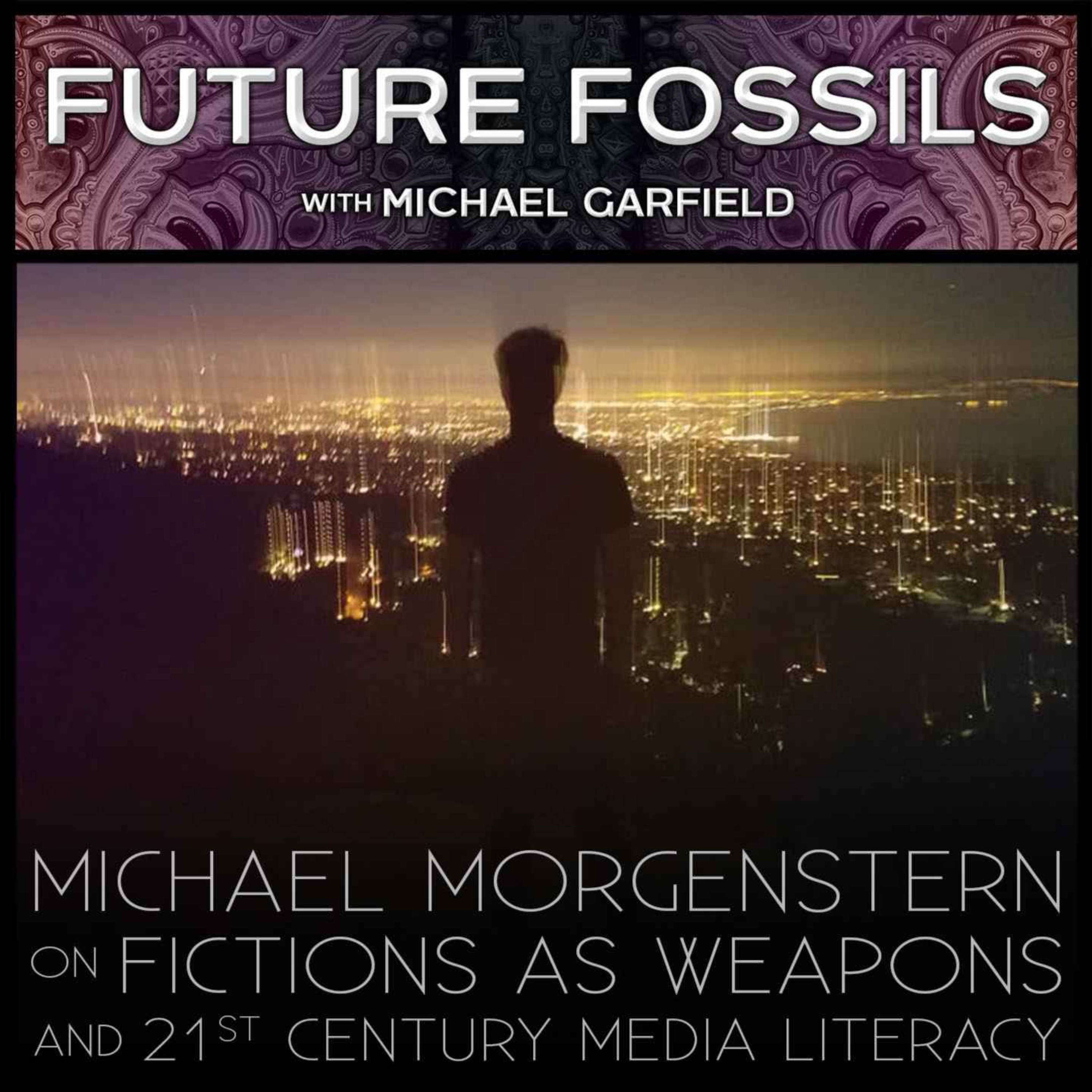 This week I chat with film-maker Michael Morgenstern about his latest transmedia project, I Dared My Best Friend To Ruin My Life, which takes young adults down a mind-bending and immersive narrative vortex about weaponized synthetic media to teach vital 21st Century literacies and the society-threatening implications of #deepfakes.
While I've been speculating on the ominous (albeit numinous) social and psychological consequences of deepfakes since my 2017 sci-fi short "An Oral History of The End of 'Reality'" and discussed the more hopeful possibilities in last week's episode with Stephanie Lepp, this conversation takes the futurist speculation to a whole...
---
154 - Stephanie Lepp on Pro-Social Deepfakes, Post-Normal Science, and The Future of "Reality"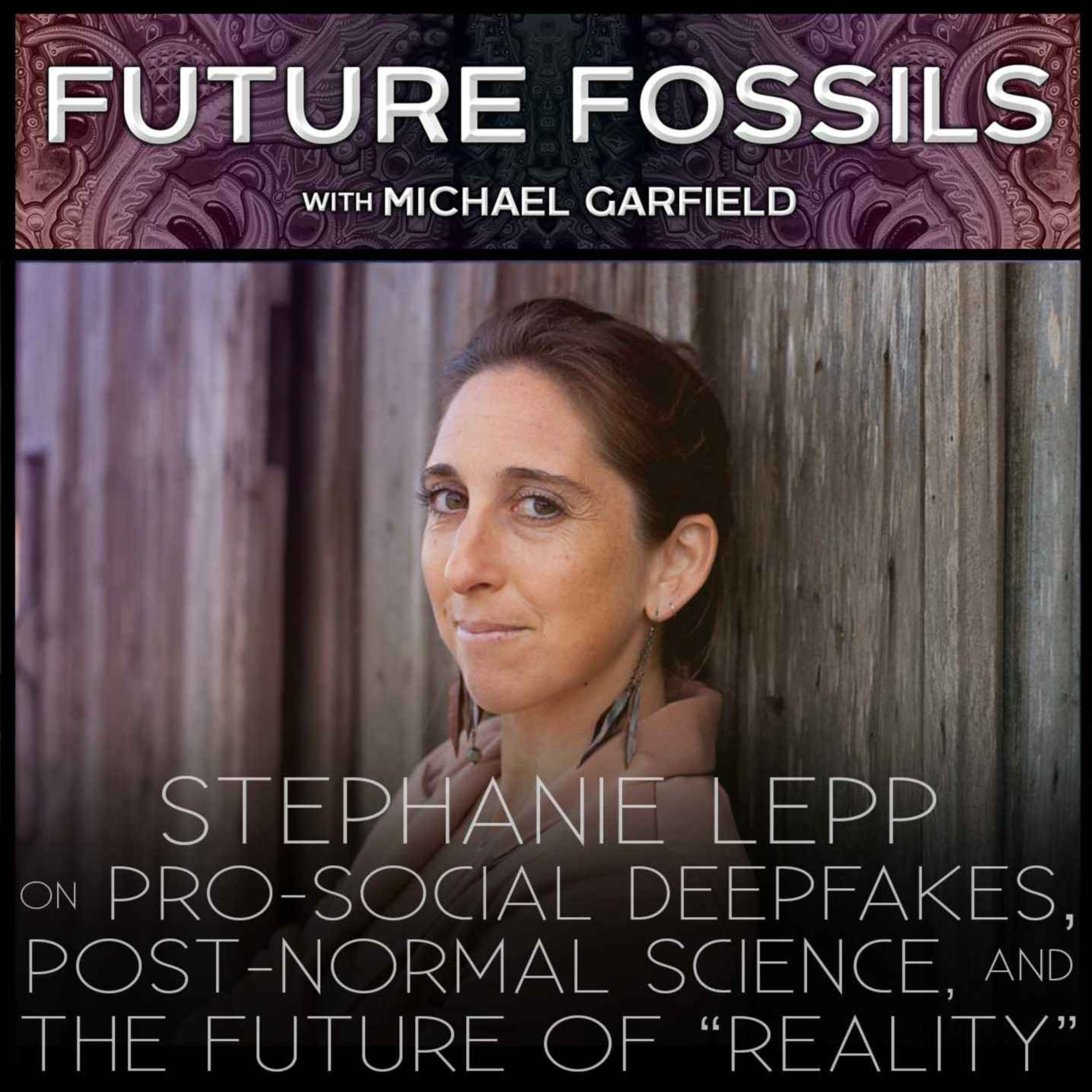 This week I chat with artist Stephanie Lepp, producer of Infinite Lunchbox, the Reckonings podcast, and — most excitingly, for me — Deep Reckonings, a stunning new project exploring the "pro-social" uses of AI-generated "deepfakes" and other synthetic media for education, therapy, and other beneficial outcomes.
While I've been speculating on the ominous (albeit numinous) social and psychological consequences of deepfakes since my 2017 sci-fi short "An Oral History of The End of 'Reality'", it never really occurred to me that these tools aren't just dangerous but potentially healing and transformative. Stephanie, however, has made it very clear in her new...
---
153 - Burning Man VR x IRL with Caveat Magister, Naomi Most, and Raven Mitch Mignano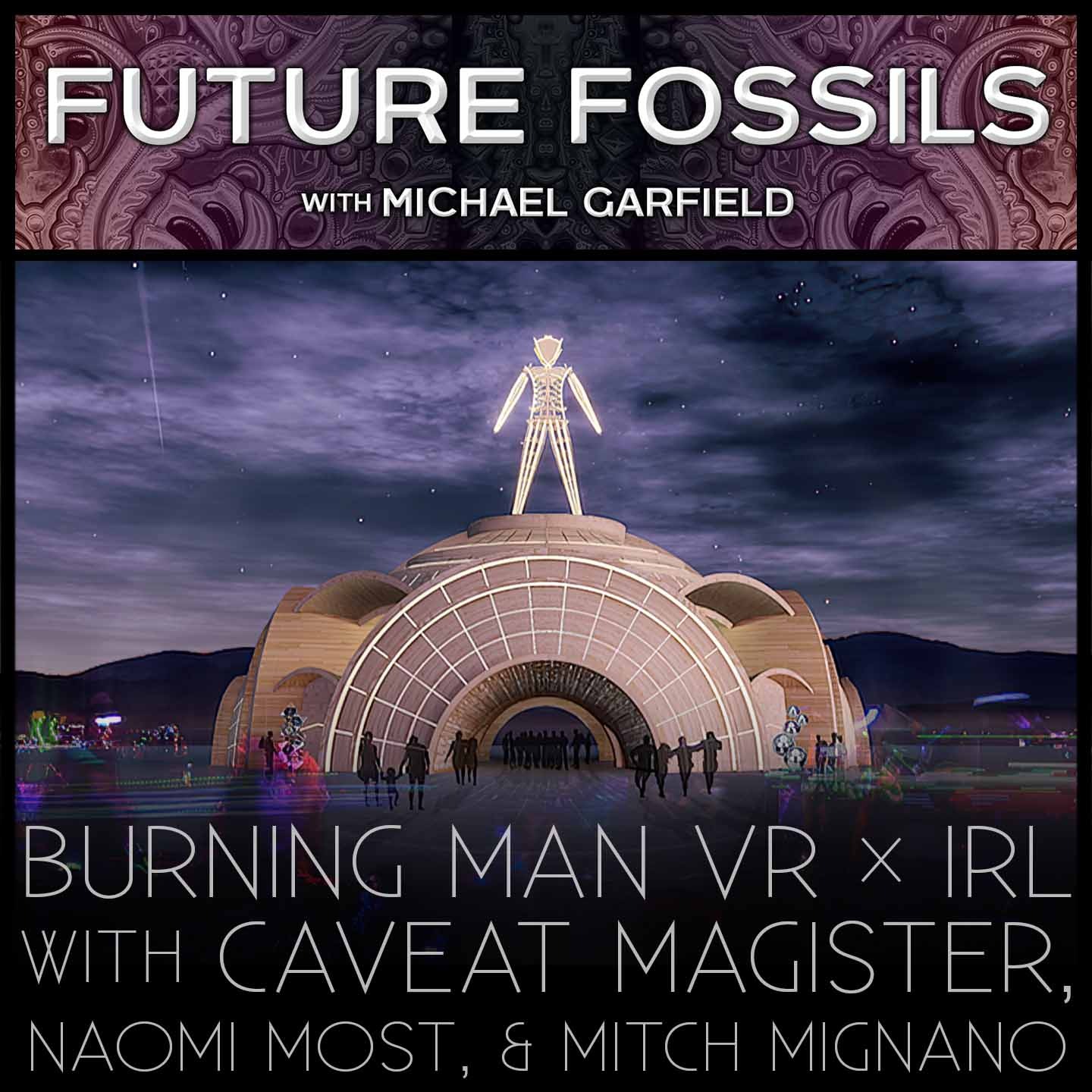 This week we bring together Burning Man's resident philosopher Caveat Magister (the author of The Scene That Became Cities, from Penguin Random House) together with anarchist community organizer Naomi Most of Noisebridge and Playa trickster historian Mitch Mignano for a conversation about the festival's uneasy but remarkable transition into virtuality — and how holdouts worldwide persisted in "IRL" celebrations that preserved the face-to-face community and presence Burning Man cannot yet replicate online.
This discussion was a total treat, and covered everything from complex systems and the evolution of the city to the new and strange ontologies...
---
152 - Weird Artist Medicine Storytelling Hour with Colin Frangicetto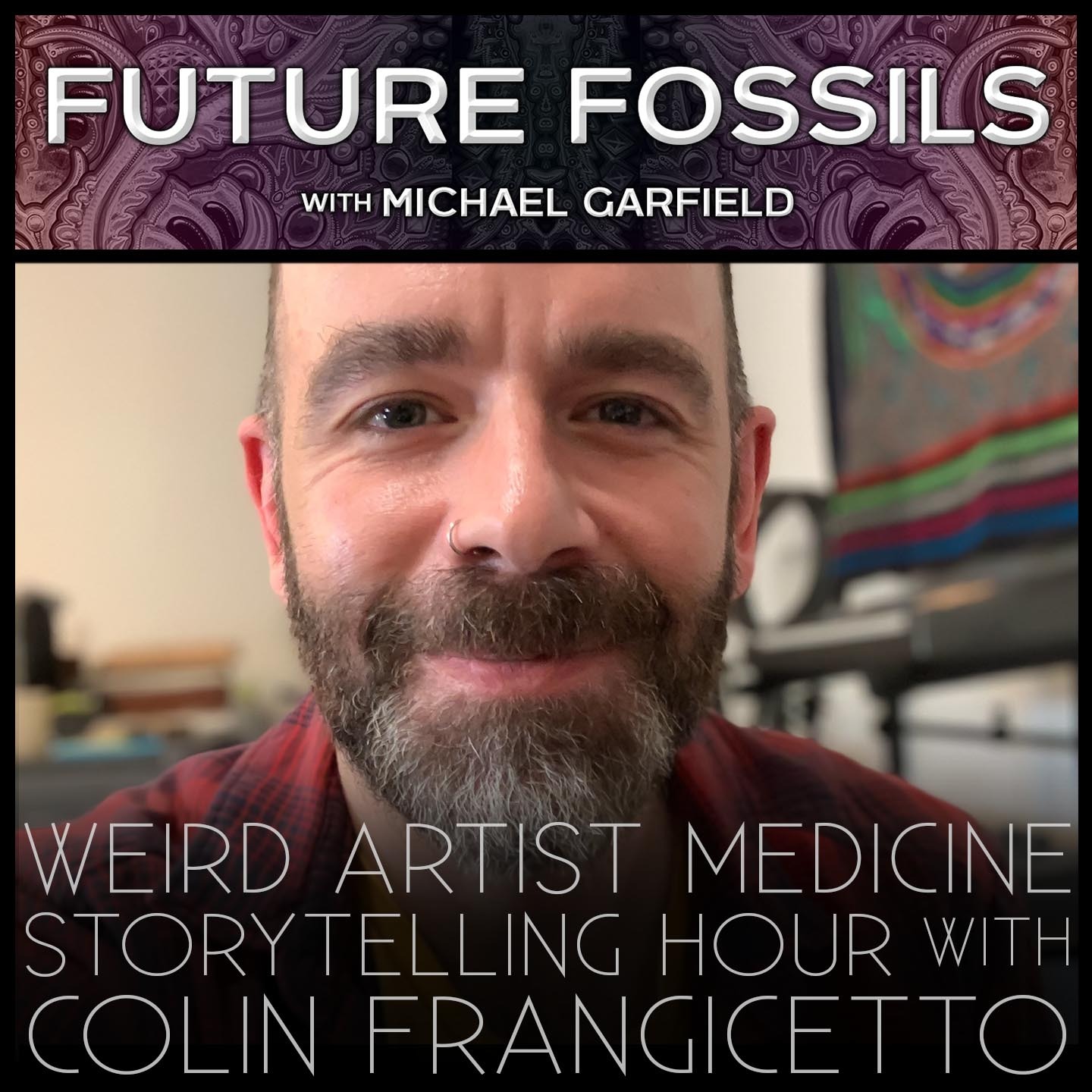 "I know now that the rules of reality change by zip code."
In a conversation recorded nearly a year ago on September 27, 2019 (and now hilariously strange in light of months of pandemic quarantine), I speak with the ultra-talented, delightful, immediately relatable and immensely likable Colin Frangicetto — guitarist for the excellent band Circa Survive and solo project Psychic Babble, painter, writer, and podcaster — about what we've learned from our high-dose psychedelic experiences, from our extended and potentially crazy periods of constant synchronicity, and from traveling the world playing music and making art.
This epi...
---
151 - Artist Jon Marro on Living a Life of Creative Service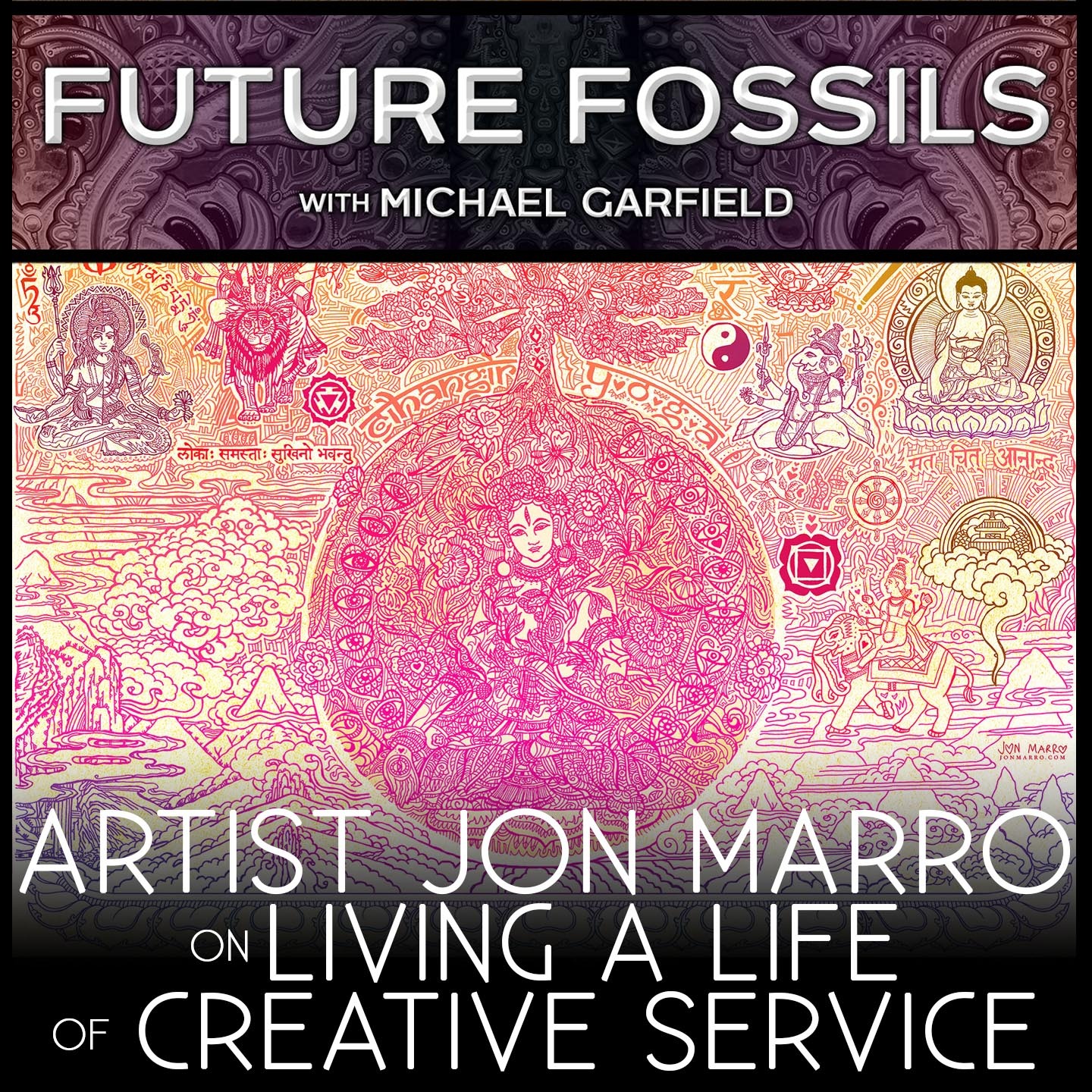 For episode 151 we welcome Jon Marro, one of the purest creative souls I've ever had the luck to encounter. Jon hit me up a couple months ago to participate in a documentary film he's producing, interviewing artists about their creative visions, and our first conversation for his interview series was so solid and heartfelt I had to swap interviewer seats with him and have him on the show. In this episode we discuss his understanding of his role in life, his relationship to time and identity and purpose, his commitment to the Great Work and serv...
---
A Unifying Meta-Theory of UFOs & The Weird with Sean Esbjörn-Hargens
For Episode 150 we welcome back Sean Esbjörn-Hargens, one of the most formidable and daring intellects I know, and the author of a new paper integrating over 650 books on UFOs and the paranormal, from over 150 disciplines, to trace the outline of a unifying meta-theory of the weird. In this episode, we discuss how Sean reconciles ten different hypotheses for the UFO phenomenon with his "mutual enactment hypothesis," an updated ontology based on reconstructive post-modernism and Indigenous ways of knowing. I tell the story of the most powerful and transformative experiences of my life, as a case study in high weird...
---
Cultural Somatics & Ritual as Justice with Tada Hozumi, Dare Sohei, and Naomi Most
"A revolution without dancing is not a revolution worth having. If there won't be dancing at the revolution, I'm not coming."
– Emma Goldman
Strap in for what might be the best Future Fossils episode yet: a four-way with guests Tada Hozumi and Dare Sohei of the Ritual as Justice School and guest co-host Naomi Most, in which we discuss how trauma manifests in posture and social interactions, how cultures are bodies we participate in, how the individual does not exist as we were t...
---
148 - Sahana Chattopadhyay on Community, Leadership, and Befriending Uncertainty
This week we sit for a soulful chat with speaker, writer, and organizational development expert Sahana Chattopadhyay of Mumbai to discuss her essays "The Power of Communities in Uncertain Times" (Part 1, Part 2) and "Befriending Uncertainty in a Post-COVID World."
Follow Sahana on Twitter & LinkedIn.
If you believe in the value of this show and want to see it thrive, support Future Fossils on Patreon for over nearly twenty secret episodes, our book club calls and recordings, and much more.
Theme Music: "God Detector" by Evan "Skytree" Snyder (feat. Michael Garfield)
---
147 - How to Live in The Future (Parts 1 - 4)
This week is something different: author-read audio of the first four essays from my ongoing book-in-progress, How to Live in The Future.
These essays are the first in my feature-length interrogation of the insufficient ways we think about the future…a poetic exploration of the fruitful interface between psychedelic mysticism, evolutionary theory, and critical futurism.
For more along these lines, check out Future Fossils Episode 129 for the Boom Festival 2016 talk that started it all…
You can read these pieces — rich with explanatory hyperlinks and graphics — at the links below:
---
146 - Raising Earth Consciousness with Ralph Metzner, Dennis McKenna, Gay Dillingham, Valerie Plame Wilson, Allan Badiner, and Michael Garfield at Synergia Ranch, April 2016
Where do I even start explaining this week's episode? Probably with a vignette: someone came up to me after I was on this all-star panel discussion featuring five living legends — psychedelic researchers Ralph Metzner and Dennis McKenna, author Allan Badiner, film-maker Gay Dillingham, and former CIA agent Valerie Plame Wilson — and asked me who I was and what I was doing there. I was the youngest person on stage by twenty years, and had done nothing with my life yet that put me in the same weight class as any of them. And yet there I was to offe...
---
145 - Weaving A New Prehistory to Rewild The Future - Michael Garfield at Earth Frequency Festival 2017
"We are living through a health crisis, an economic crisis, a racial crisis, and a democratic crisis. Each would be historic on their own. All of them are connected. That they have struck together in this way just might be what compels our transformation."
– Anand Giridharadas
This week's episode is over three years in the making: my talk from Earth Frequency Festival 2017, about a revised narrative of prehistory from which we can grow new myths better suited for our times. I almost didn't post this episode at all, even after nearly two fu...
---
144 - On Dinosaurs & Holy Wars: Creationist Amusement Parks & America's Strange Relationship with Science, with Monica Long Ross & Clayton Brown
This week I talk with film-makers Monica Long Ross and Clayton Brown about their bizarre and wonderful documentary, We Believe in Dinosaurs — and how a creationist amusement park in Kentucky provides a lens through which to examine the tense relationship between science, religion, and business in America. This is a conversation about what happens when premodern, modern, and postmodern worldviews duke it out on a landscape of rapid change for which none of them are sufficient. It's about the surreal Young Earth dinosaur museums of Late Capitalism, but more, it is about our trust (or lack of trus...
---
143 - Sanjay Rawal on Endurance Running as an Integral Yoga
This week I talk to documentary film-maker Sanjay Rawal about his profound and inspiring movie, 3100: Run and Become — which explores the spiritual practice of long-distance running around the world, from the American Southwest, to the Kalahari Desert, to a remote mountain monastery in Japan. We discuss how Sri Chinmoy (a student of Sri Aurobindo, the founder of integral yoga), started the 3100 mile race in New York, and what it has become; how to be a documentary film-maker without engaging in cultural appropriation; endurance running as an integral yoga and an act of spiritual service; exertion as its own re...
---
142 - Alex Shakar on Stories from The World After
This week I get to talk to one of my favorite fiction authors, Alex Shakar, about the profound darkbright bizarritude he channels through his two visionary satirical novels The Savage Girl and Luminarium — two works that show the möbius strip of sacred and profane, futurity and timelessness. We bounce off a long list of paradoxical domains, including saving the world with consumerism, metamodernism, ironic religion, virtuality, neurotheology, trauma and radical meaninglessness, the military entertainment complex, hikikomori, and zen comedy…
Alex Shakar's Website.
Support this show on Patreon for secret episodes, the Future...
---
141 - Nora Bateson on Warm Data vs. The Cold Equations
"The way we discuss what needs to be done now will shape what it is possible to do. This is not a moment to fix a machine, this is a moment to compose new cultures."
This week's guest is Nora Bateson, Director of the International Bateson Institute, author, film-maker, and founder of the Warm Data Lab. Nora is a magician when it comes to getting people to live the relational and dynamic, the embodied and incompressible. If you're a podcast enthusiast you've probably already bolted a bracing dose of her warm wisdom on...
---
140 - Pandemic Perspectives with Erik Davis, Tony Blake, and Mitch Mignano
We're extra lucky to have not one but three amazing guests this week: culture critic and religious scholar Erik Davis, philosopher and author Tony Blake, and trickster historian Mitch Mignano.
We planned to have a completely different conversation but due to the overbearing reality of the COVID19 crisis it ended up being a deep dive into the mythic and mystical dimensions of our moment — including nonhuman agency, the virus as teacher, Pan and panic and pandemics, solutionism isn't the solution, the danger of efficiency logic, and a media diet for meditation on the darkne...
---
139 - On Coronavirus, Complex Adaptive Systems, & Creative Opportunity
This week I take a pause on interviews to share my thoughts on the Coronavirus pandemic from the perspective of complex systems and network collapse—and talk about the possible silver lining we might find in a time of crisis and enforced social isolation. I hope it helps! Feel free to email me with your thoughts, questions, feedback.
Support this show on Patreon for secret episodes, the Future Fossils book club, and more awesome stuff than you probably have time for.
Grab the books I mention on Future Fossils at my Amazon Shop an...
---
138 - Tanya Harrison on Space Exploration 50 Years After Apollo
This week's guest is Tanya Harrison, a Mars geologist, author, and infectious banner-waving space enthusiast. We talk about For All Humankind, her new book with Danny Bednar on the legacy of the Apollo missionsm, as both a planetwide accomplishment and also a high bar against which we have since not seemed to measure up...as well as:
What it's like to drive a mars rover and extend yourself technologically through space.
What will have to change for us to attune to the plural temporalities of life on multiple worlds.
How the...
---
137 - Rolf Potts on Twenty-Five Years of World Travel
Rolf Potts is one of the world's most notable travel writers, author of five books on his adventures, pioneer "digital nomad" before that was even a thing, a totally inspiring person who has carved his own path through life and now helps others do the same through writing workshops and his excellent podcast, Deviate. (Worth noting that as of the time of this episode's publication, his latest podcast episode is about dinosaurs!) For me personally, Rolf's one of the most influential writers I've ever read, for his book, Vagabonding: An Uncommon Guide to the Art of Long-Term...
---
136 - Alyssa Gursky on Psychedelic Art Therapy & The Future of Communication
A bit about this week's amazing guest in her own words:
"I'm finishing up my Masters in Transpersonal Art Therapy at Naropa University. I've been studying Transpersonal Psychology for 6 years now. My focus has always been the theoretical and practical orientation to psychedelic assisted psychotherapy. I was raised by dead heads and frequent cannabis users, who simultaneously maintained deep professionalism and family values. So, drug culture was really inherent in my development. I have so much to say about Psychedelic Art Therapy.
I've worked on the&nb...
---
135 - Michael Phillip on The Cosmic Yes
This week we're joined by Michael Phillip, host of Third Eye Drops Podcast, to discuss some of the biggest and most persistent questions in philosophy — for which he feels he received definitive answers in a recent psychedelic experience: what it means to live a life of virtue, whether the universe is biased toward a Great Unfolding integration and continued process of perfection, the nature of evil, the question of free will, our responsibility to one another and to the future…
It's a great discussion with one of my favorite podcasting peers. Enjoy!
---
134 - Anthony Thogmartin on Mind, Music, and Technology
Multi-instrumentalist musician Anthony Thogmartin of Papadosio [band], EarthCry [solo project], and Seed to Stage [music production tutorials] joins us for the first time since Episode 10 to talk about navigating the exponentially expanding body of human knowledge, how interfacing with different media technologies yields new minds and selves at the intersection, and the profound creative evolution he and his band have undergone by embracing tools like Ableton Live. For the ten-plus years I've known him, Anthony's optimism and enthusiasm have inspired me to seize the day and strive for new horizons, and whether or not you make...
---
133 - Brian Swimme on Telling A New Story of Our Universe
This week's guest is mathematician and cosmologist Brian Swimme, faculty at CIIS' Philosophy, Cosmology, and Consciousness Program and author of several books, including The Universe is a Green Dragon: A Cosmic Creation Story (which we discuss in this episode). Brian is a major voice in the conversation about the new myths required for us in an age of planetary culture, an articulate and approachable thinker whose warmth and generosity — virtues equal to his intellectual achievement — really shine through in this conversation.
Brian at CIIS
Brian at the Center for Humans and Nature<...
---
132 - Erik Davis on Perturbations in the Reality Field
This week's guest is author, culture critic, and philosopher of the weird Erik Davis, whose work has been one of my main inspirations for almost ten years. His latest work of epic scholarship, High Weirdness: Drugs, Esoterica, and Visionary Experience in the Seventies, is an exploration of topics I presumed inaccessible to academic inquiry so masterful I've been evangelizing it for months and basically forced a copy on my boss (David Krakauer, President of the Santa Fe Institute, who was a guest in Episode 75). In this episode we peer into the intersection of psychedelics, madness, systems science, post...
---
131 - Jessica Nielson & Link Swanson on Psychedelic Science & Too Much Novelty
What's the line between being inspired and getting broken by transcendental experience? This week's episode was recorded live at the Hook & Ladder at Minneapolis as part of a special multimedia event I did with the Psychedelic Society of Minneapolis, a group led by neuroscientist Jessica Nielson. Jessica and her PhD student Link Swanson were both dear friends of mine before they met each other and I cannot be happier that they're doing psychedelic neuroscience research together now at UMN. In this conversation, which involves me definitely talking too much (but in the role of honored out-of...
---
130 - Lydia Laurenson on Identity, Community, and The New Modality
This week's guest is writer Lydia Laurenson, editor of The New Modality, whose beat explores how people find and make meaningful lives in our era of change, anxiety, and new opportunity. For years Lydia also wrote a popular BDSM blog under the pseudonym Clarisse Thorn, an experience that has profoundly shaped the way she understands plural and mutable identity in the digital age — and the importance of protecting our right to act behind created identities in the web's cultural commons. In this episode, we discuss the years of weird and wonderful adventures she's had as a writer...
---
129 - How to Live in the Future (Michael Garfield at Boom Festival 2016)
…in which I talk about Jurassic Park, Terminator, Pokémon, cat videos, Radiolab, Google, DARPA, Charles Stross, the Singularity, Pierre Teilhard de Chardin, Martine Rothblatt, Genesis P Orridge, neo-advaita nondual philosophy, and angels. ("Do you guys believe in angels?")
DISCUSSED:
Bringing Heart Back To Futurism.
Technological Acceleration As Psychedelic Yoga.
It Doesn't Have To Be Either/Or.
Scan Lovers.
Can We Have Identity Politics In A Posthuman Society?
Control or Liberation?
Recorded at Boom Fest...
---
128 - Kevin Kelly on Evolving with Technology
We live in an age of increasingly lively, intelligent, and responsive technologies, and have a lot of adjusting to do. This week's guest is one of the major inspirations animating Future Fossils Podcast: Kevin Kelly, co-founder of the WELL, Senior Maverick at WIRED, author of numerous books that profoundly shaped my thinking about our coevolution with technology. After reading Kevin's latest essay on the imminent challenges and opportunities of augmented reality – a superb rendering of the bizarre and wonderful new possibilities of a "mirrorworld" in which everything has an annotated digital double, constantly rewritten – I asked him to...
---
127 - Cory Allen on Meditation, Music, and the Wow of Now
This week's guest is Cory Allen – mindfulness instructor, audio engineer, host of The Astral Hustle Podcast, binaural beats factory, and now the author of Now is the Way: An Unconventional Approach to Modern Mindfulness. We talk about cutting through the noise and insanity of our overwhelmed digital transition age with simple presence, the rewards of even minor and incremental acts of awareness, and the richness of expressive work created from a place of calm alertness.
Grab yourself a copy of Now is the Way from my Amazon storefront:
https://www.amazon.com/shop...
---
126 - Phil Ford & JF Martel on Weird Studies & Plural Realities
This week Future Fossils gets even weirder with guests Phil Ford and JF Martel, cohosts of the Weird Studies podcast. Weird Studies is one of my favorite shows, hands down. Phil and JF's marvelous threading together of the joyful and the bleak, the transcendent and the hangdog, the gems of literature and the tentacles of the ineffable real, is a sorely needed tightrope walk in an era insistent on clean answers and decisive resolutions.
The modern world is a VERY weird place, and these two gentlemen are some of my most trusted curators of places to...
---
125 - Stuart Kauffman on Physics, Life, and The Adjacent Possible
This week's guest is living legend, transdisciplinary scientist-philosopher Stuart Kauffman, whose pioneering work on self-organization and the emergence of order helped launch the field of complex systems science and has brought us to the very edge of understanding the origins and nature of life. Over his 50+ year career and six books, including this year's The World Beyond Physics, Stu has done more than almost anyone to restore the historic union of science and philosophy, articulating a new spirituality for our secular age of systems thinking, and filing numerous patents on technologies of chemical synthesis and quan...
---