The [Un]Sanctioned Citizen Podcast
Subscribe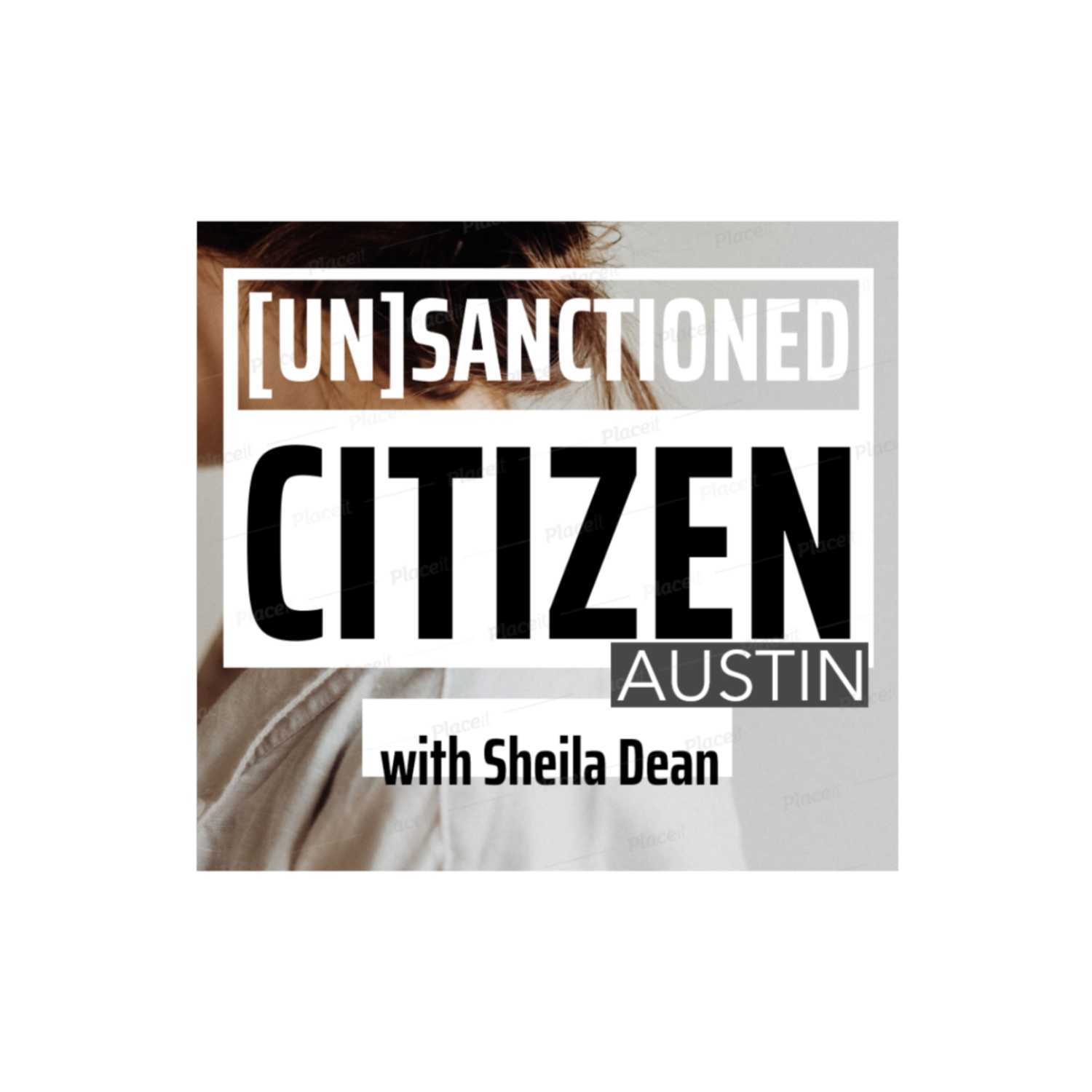 A news and information offensive against those responsible for IP theft, privacy infringement losses and tying US rights around global trade deficits with APAC (CCP). They may hide behind carefully layered NGOs, complicit E&C fixer firms to scrub out dissent or competition, but we have you in our sights: Big Tech, Big Media, and King County politicos. Now it's time to tell the rest of the world what we know and see every day and which locals paved the path to hell with other people's information.
They Are Reduced to Using Force.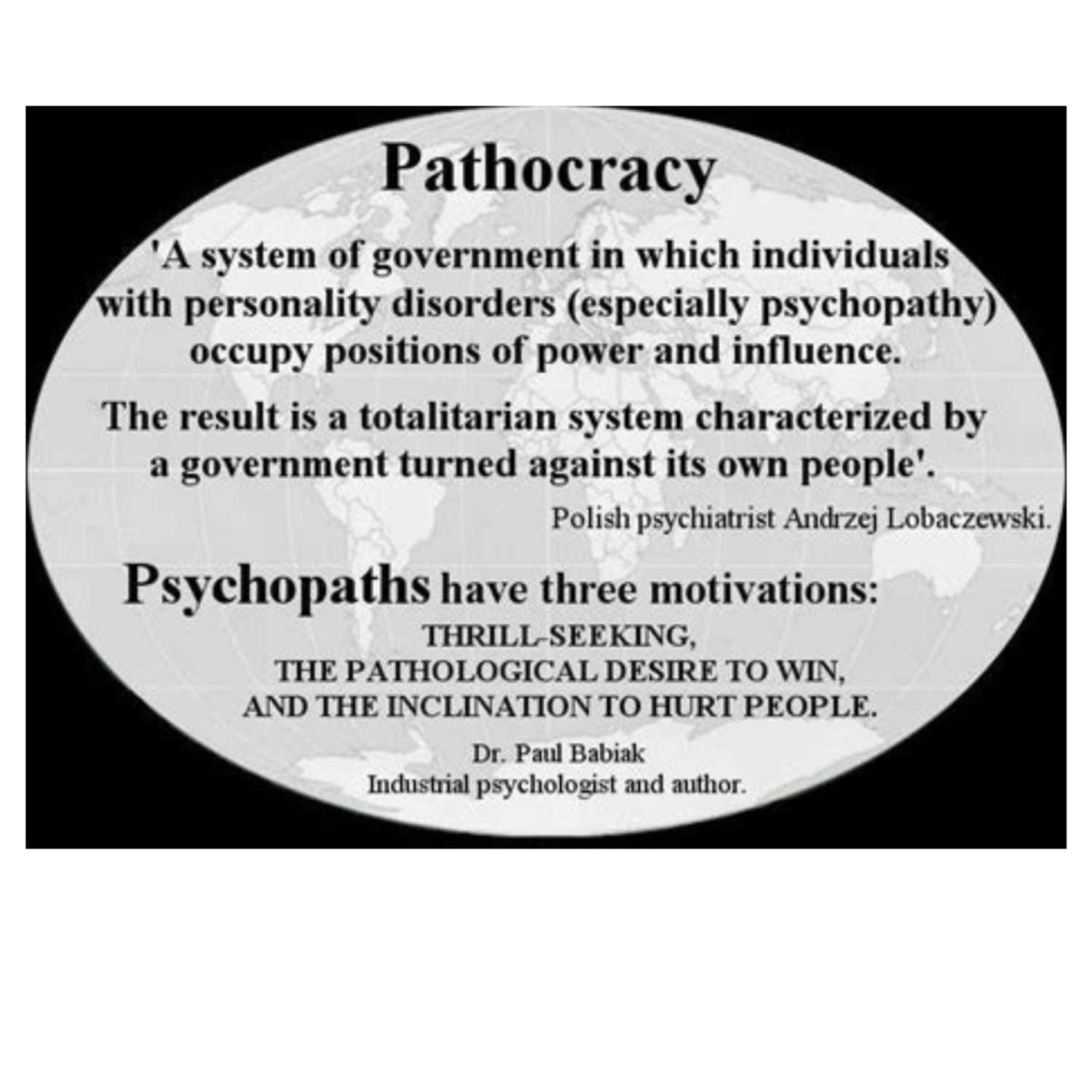 They cannot get your consent for Global UN ID merged with centralised digital currencies. So they are moving to force. Time to push back, like, right now.I had some time to think more about the problems we are facing with global ID, CBDCS and mass surveillance. More and more, I conclude the State's demand for increased "safety" measures are not earned. In fact, they have really put the screws to publican privacy and really abused the public trust. (How did they do that?) They created a signals intelligence panopticon at the flip of an autocratic switch; which they have u...
---
*That Facial Recognition Show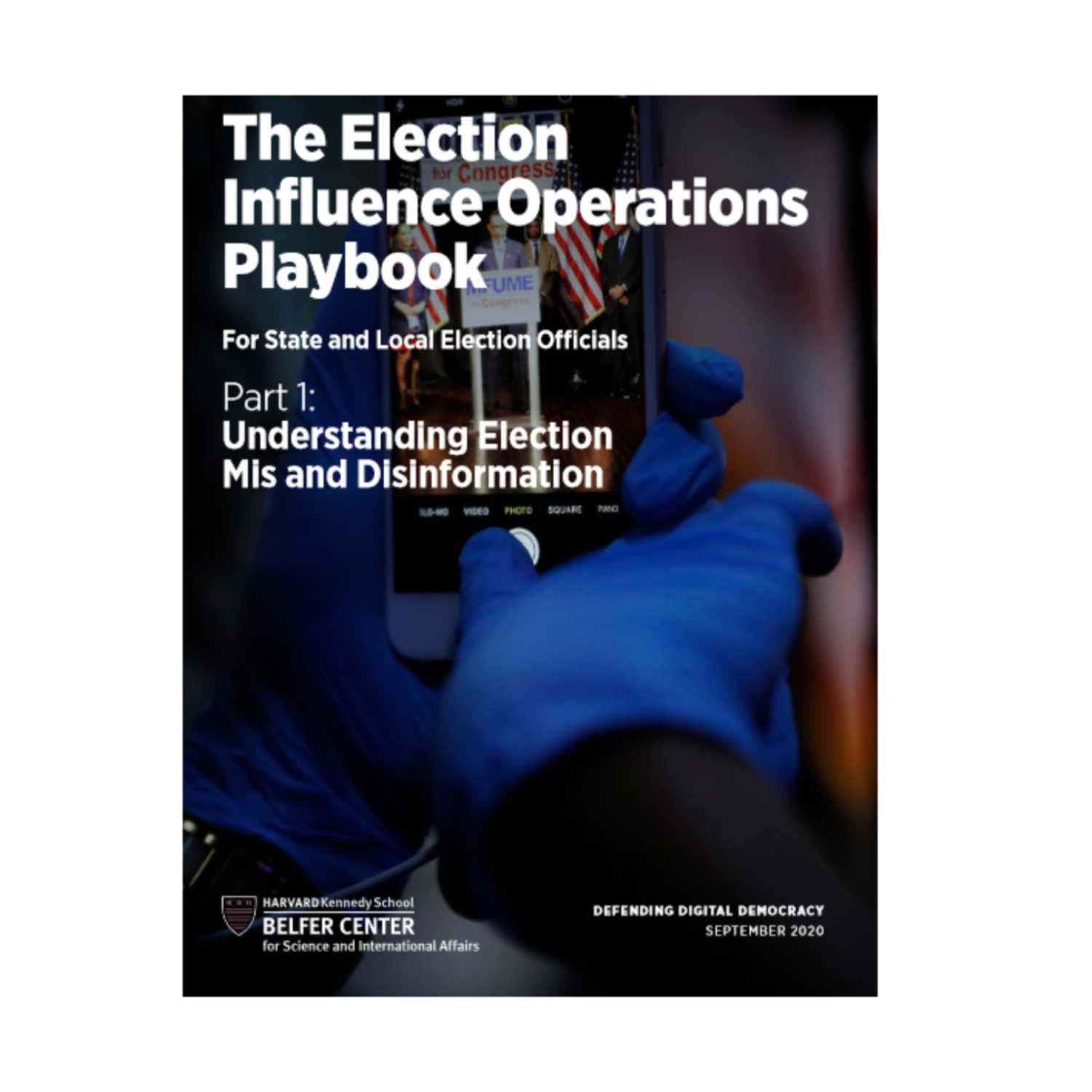 We have Facial Recognition creep. Plans to put FRT or Facial Recognition Technology in about 400+ up from about 25 in US airports surfaced this week. So, I am going to ask you, where is the outrage? Where is the dissent? + The UK Formula One Grand Prix made an independent decision as a venue to use broadly applied facial recognition technology, stadia wide because they didn't want a handful of climate activists on the speedway. + The Missouri v. Biden injunctionSOURCES: https://www.msn.com/en-us/news/technology/the-tsa-will-use-facial-recognition-in-over-400-airports/ar-AA1diydphttps://www.bbc.com/news/uk-england-northamptonshire-66120010https://www.foxnews.com/video/6330650030112ht...
---
DHS/FBI Criminalization of Democrats' Political Rivals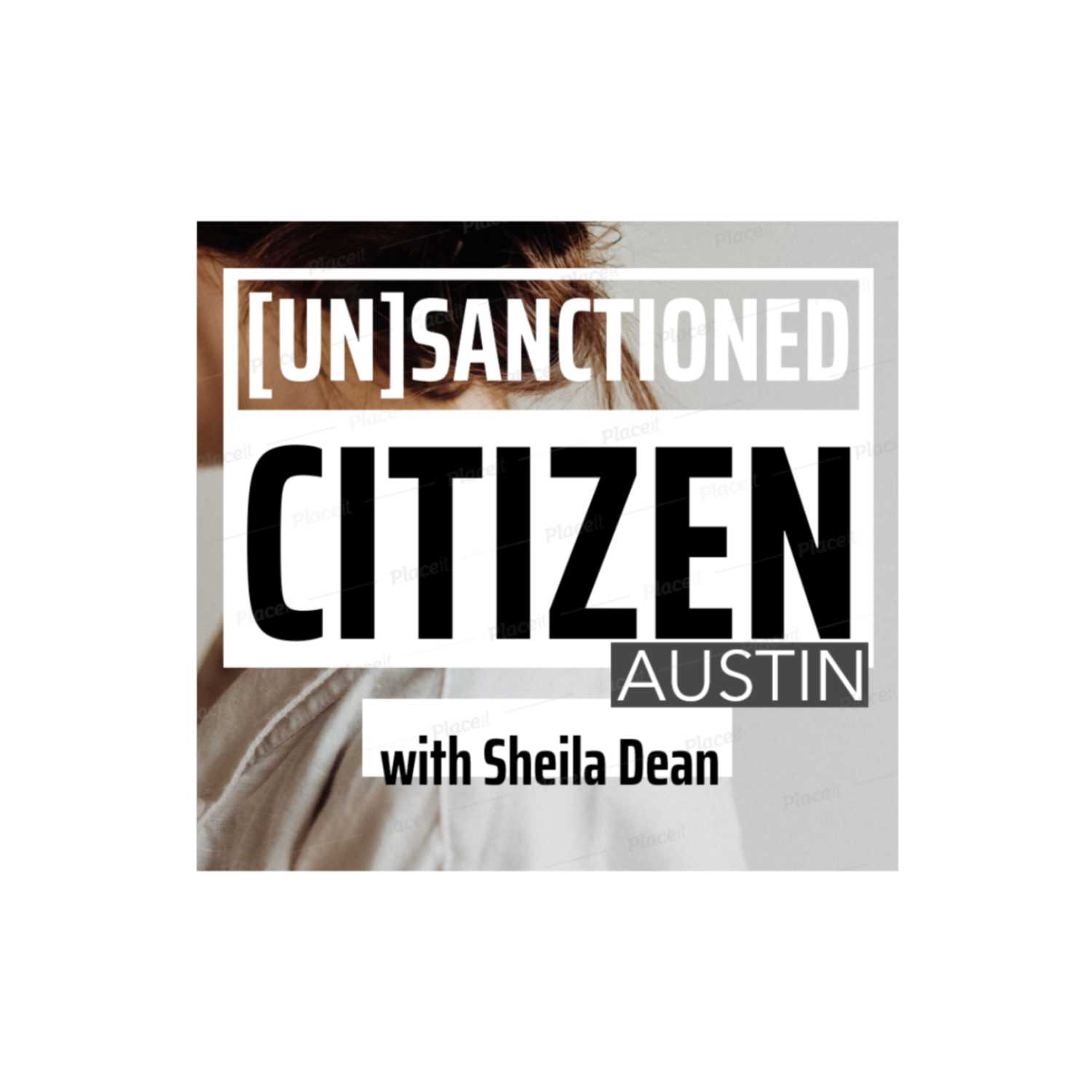 It's just not hyperbole. Last week FBI whistleblowers gave Congressional accounts on illegal censorship & lawfare targeting for conventional press. Foundation for Freedom Online provides the .ppt proving DHS is targeting their primary political opponents. + Matt Taibbi & Walter Kern covern his Black Christmas gift from IRS and a new Ukrainian all-purpose digital ID mobile wallet, Diia, for enemy snitching and mortgage application, funded by USAID. SOURCES:
https://www.racket.news/p/episode-40-america-this-week-with?utm_source=podcast-email%2Csubstack&publication_id=1042&post_id=123572265&utm_medium=email#details
https://fedscoop.com/e-gov-app-played-key-role-in-securing-funds-for-ukraine/
https://rumble.com/v2q8...
---
A Tale of 2 Hearings: A.I. & Left-Wing Extremism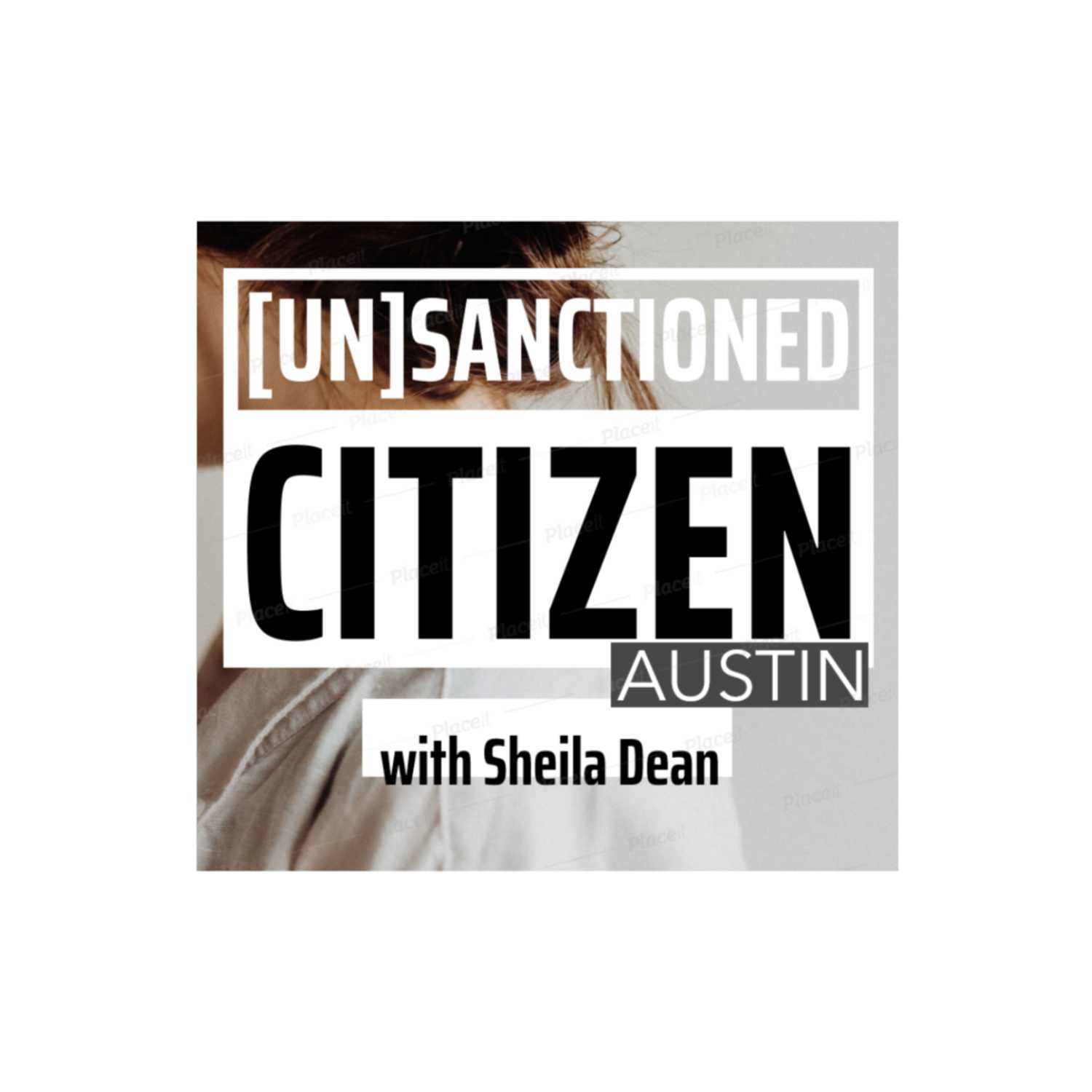 + TX passes a privacy law. + FBI so busted, so corrupt.. OMG. This is a tale of 2 different AI hearings. One was substantive, 5/16- HSGAC hearing on government process using AI and the other 5/18, manufactured consent for crisis led governance by Sam Altman, Ryan Calo, and a couple of other Silicon Valley academics wrapped around socialist tech. The first received no fanfare. The other was hailed as a cultural bellwether, a crisis tipping point to 'act now'. Since the airing of this episode, OpenAI's, Sam Altman has flown into Bilderberg as a joiner. From there, we were reminded his caricature also appe...
---
INTERVIEW: Craig "Sawman" Sawyer, Vets4ChildRescue.org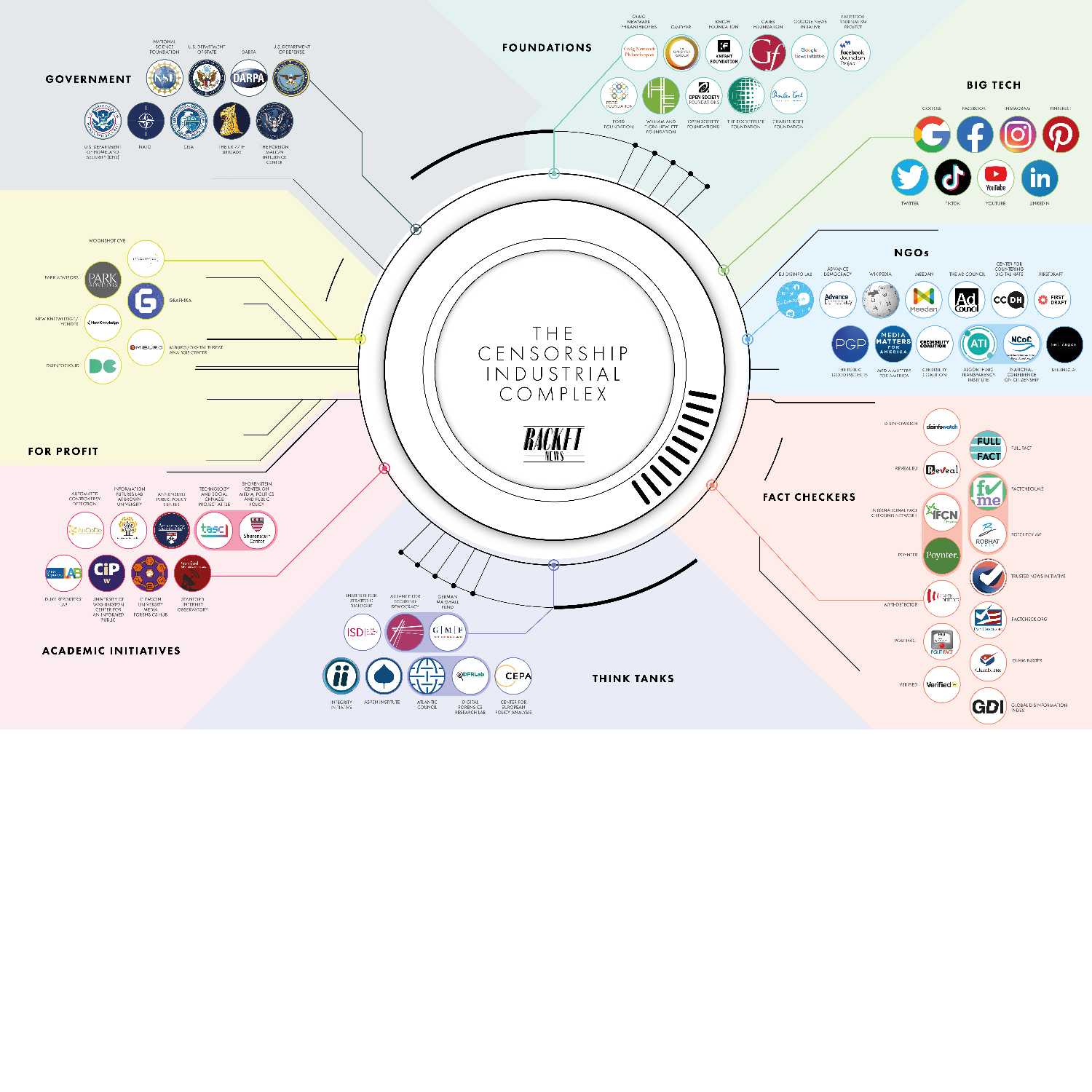 We sat down with defense expert, Craig Sawyer for a deeper look at some of the personalities that enable the undermining of our public culture, with very real impacts to the future of America.
NOTE: The claims and opinions stated during this podcast are candid towards a rare level of grievance, represented by the testimony of a whistleblower. One cannot face the darkest, most corrosive elements of moral frailty and cowardice without developing a unique set of skills in executing accountability. I invite you to listen carefully to the wisdom of one of America's alpha protectors. Yo...
---
Re-scoping a threat landscape in America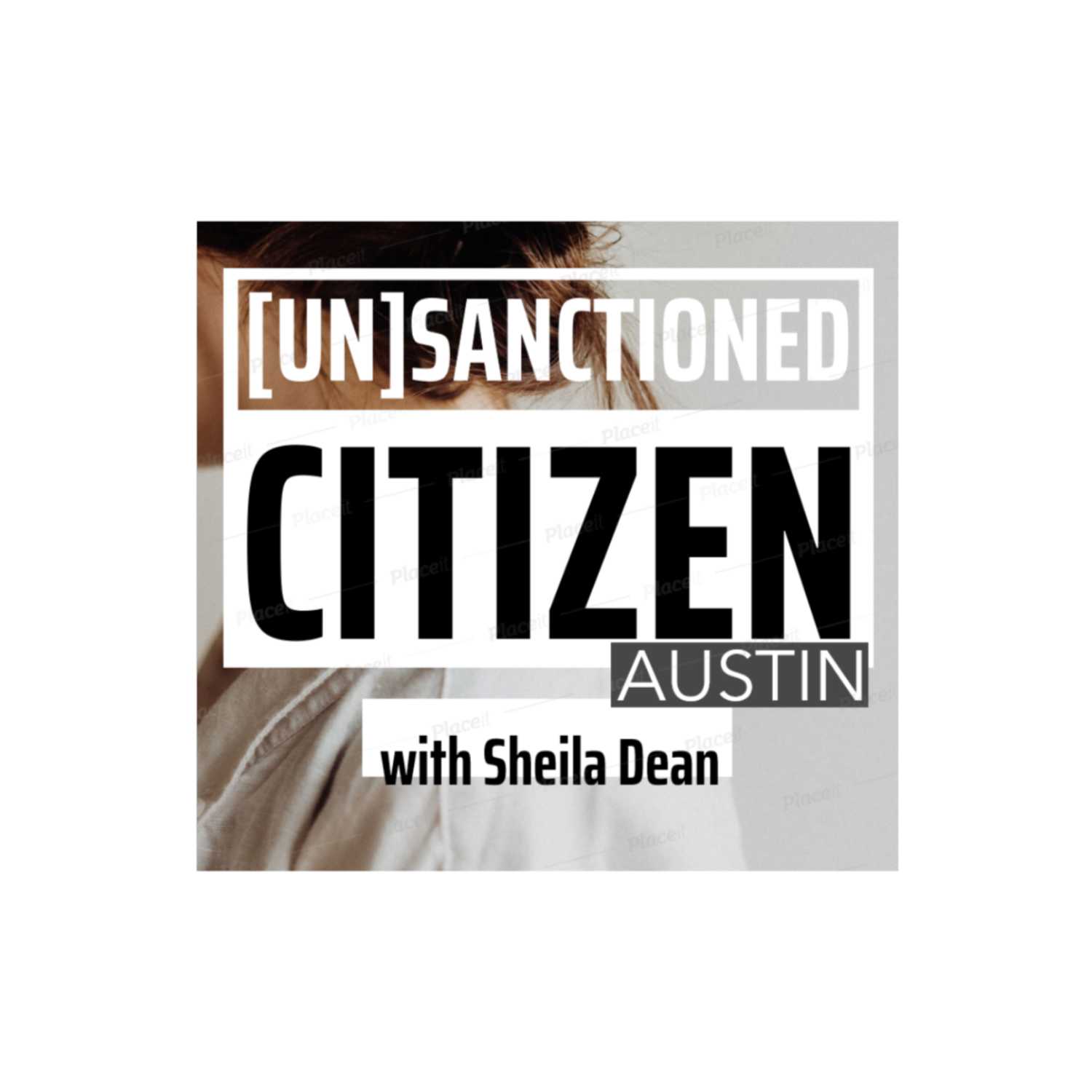 The world can be dangerous. Not everything is. How do you re-scope your threat landscape for things that actually destroy your life, liberty & pursuit of happiness?###ORIGINAL PODCAST AT CALLIN.com (~1:59:00The [Un]Sanctioned Citizen now airs Saturdays around 2PM CST on Callin.com. Join us!SOURCES:RESTRICT ACT SUMMARY Soundwave Promotions - Randy @SoundwavePromo1https://rumble.com/v2fobi0--system-update-64.html (37:00) BAN FRTThe New York Times @nytimesPolice wrongfully arrested Randal Quran Reid because of a bad facial recognition match. . nyti.ms/3nDeMRX AI PARKING LOT FOR CHATBOTS https://news.join1440.com/t/j-l-etipld-ddkjmkrki-f/ https://futureoflife.org/open-letter/pause-giant-ai-experiments/ https...
---
Bellingcat! Bellingcat! Bellingcat!!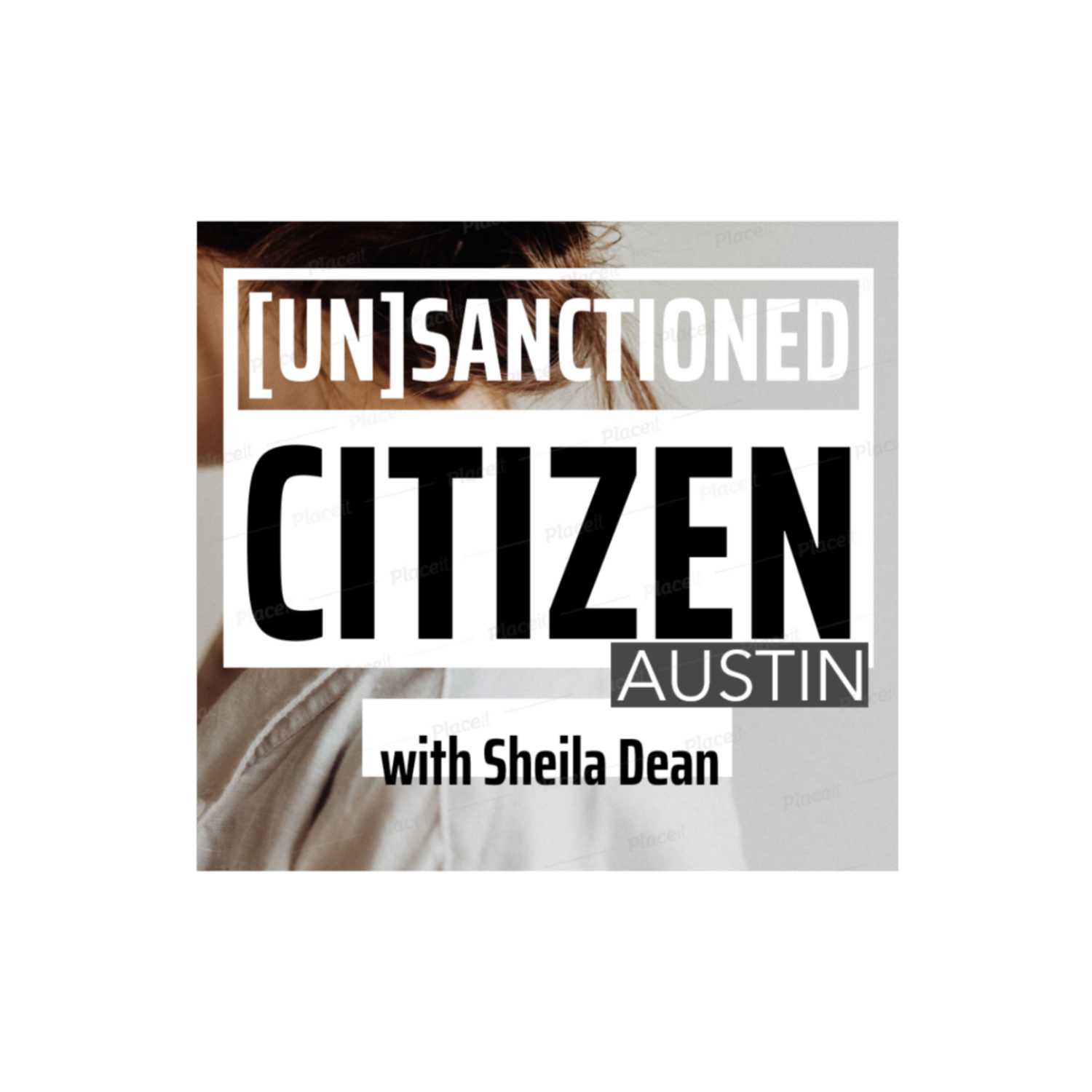 3-25-2023
Show note - We are proud to announce we added Gregor H. as a weekly co-host.
LIVE RECORDING: https://www.callin.com/episode/bellingcat-bellingcat-bellingcat-QhTeubuFVRSOURCES:
ALL THE BELLINGCATS MDM Dwindling Down After USG Pulls The Plug https://thintercept.com/2023/03/2[...]lance-map/
https://rumble.com/v2e0jv6-s[...]ow-59.html
https://rumble.com/v2e0jv6-system-update-show-59.html
https://www.racket.news/p/people-can-win
https://reclaimthenet.org/the-uk-go[...]censorship
https://twitter.com/mikebenzcyber https://twitter.com/MikeBenzC[...]01120?s=20 https://sheilamdean.substack.com/p...
---
#TwitterFiles Thought-Criminals-R-US & Stanford's Virality Project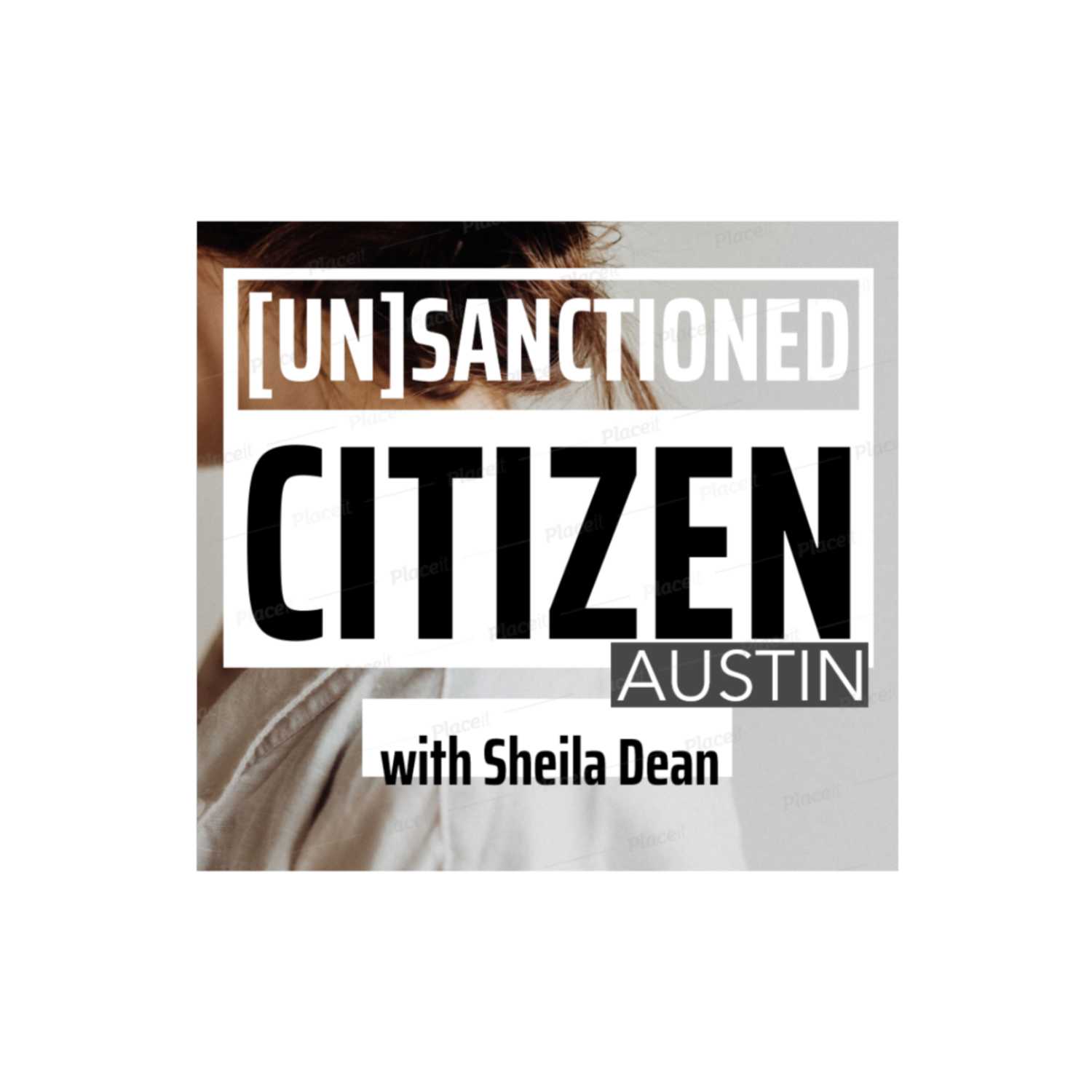 + Legislative movement on COVID transparency, Coercion at Internet Companies. +GEC reaches again for UK to continue censoring Americans
LIVE EPISODIC PLAYBACK: https://www.callin.com/episode/twitterfiles-thought-criminals-r-us-stanfords-asHnXffLcUSOURCES:
Campaign win: Tesco announces plans to phase out Hikvision https://freetibet.org/latest/tesco-to-phase-out-hikvision/?mc_cid=6b73538577CFPB is looking into the finance practices of data brokerages to apply public input to the Fair Credit Reporting Act .
https://www.consumerfinance.gov/about-us/newsroom/cfpb-launches-inquiry-into-the-business-practices-of-data-brokers/
https://dsnews.com/news/03-16-2023/cfpb-input-data-collection-firmshttps://iapp.org/news/a/a-new-standard-for-anonymization/
Privacy experts can now rely on...
---
Smart Phones & Dumb Policy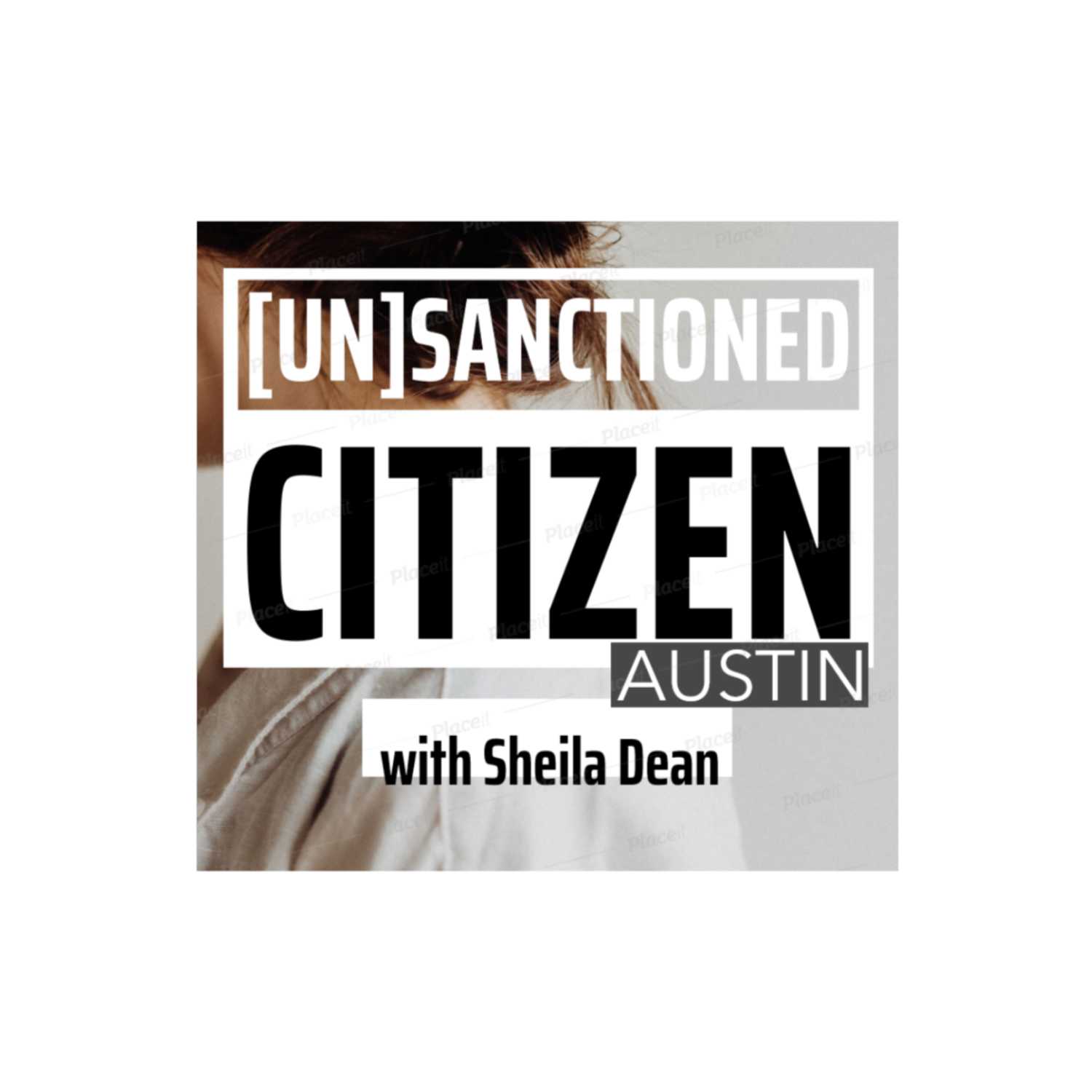 The public referendum on WEF geopolitical outcomes faces a crisis of trust based on immediate news references that now curtails NGOs input at AI governance in Europe.
UNEDITED TRANSCRIPT @Callin.com : https://www.callin.com/episode/smart-phones-dumb-global-policy-vdLkvVbrzo
*Transcript is located under the last multi-lined icon to the right of the Speaker profile icon.
SOURCES:
https://www.foxnews.com/video/6318944148112
https://www.euractiv.com/section/digital/news/tech-brief-ai-treaty-excludes-ngos-whatsapps-new-fine/
https://apnews.com/article/technology-science-christopher-wray-beijing-china-3c30625e842b08a834e715230d584847
https://reclaimthenet.org/meta-gave-the-cdc-de-facto-power-to-police-covid-misinfo/
https...
---
TWITTER FILES#6: When the government controls the flow of data…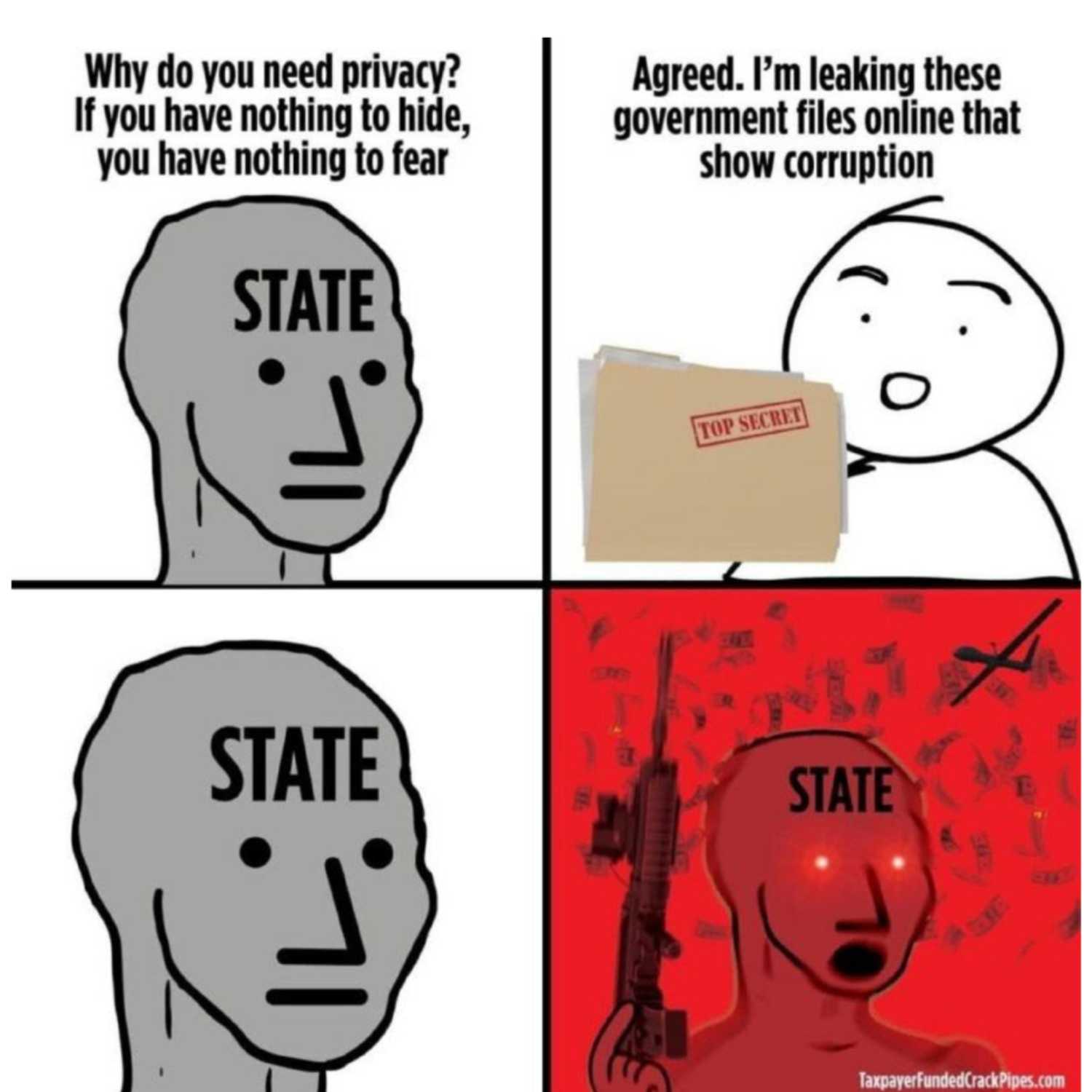 We sampled TK's, Matt Taibbi, evenly disclosing the "firehose" method of wholesale data exchanges with DHS/FBI/ONDI from Twitter Files #6. You are also equipped with a public advisory on 'Your Rights' when the government overcollects & misapproprates your social media account information.
Additional news provided on Digital IDs and Great Reset intrusions involving MasterCard's push for centralized social credit.
*Over the weekend Taibbi release a Twitter Files Supplemental; which can be found here.
SOURCES:
'YOUR RIGHTS' ADVISORY: https://sheilamdean.substack.com/p/twitter-justice-government-serviceDHS/DNI
ODNI PRIVACY CONFORMANCE ADVISORY https...
---
Monday Morning Elections Quarterback with Joseph Vargas of Keep Texas Red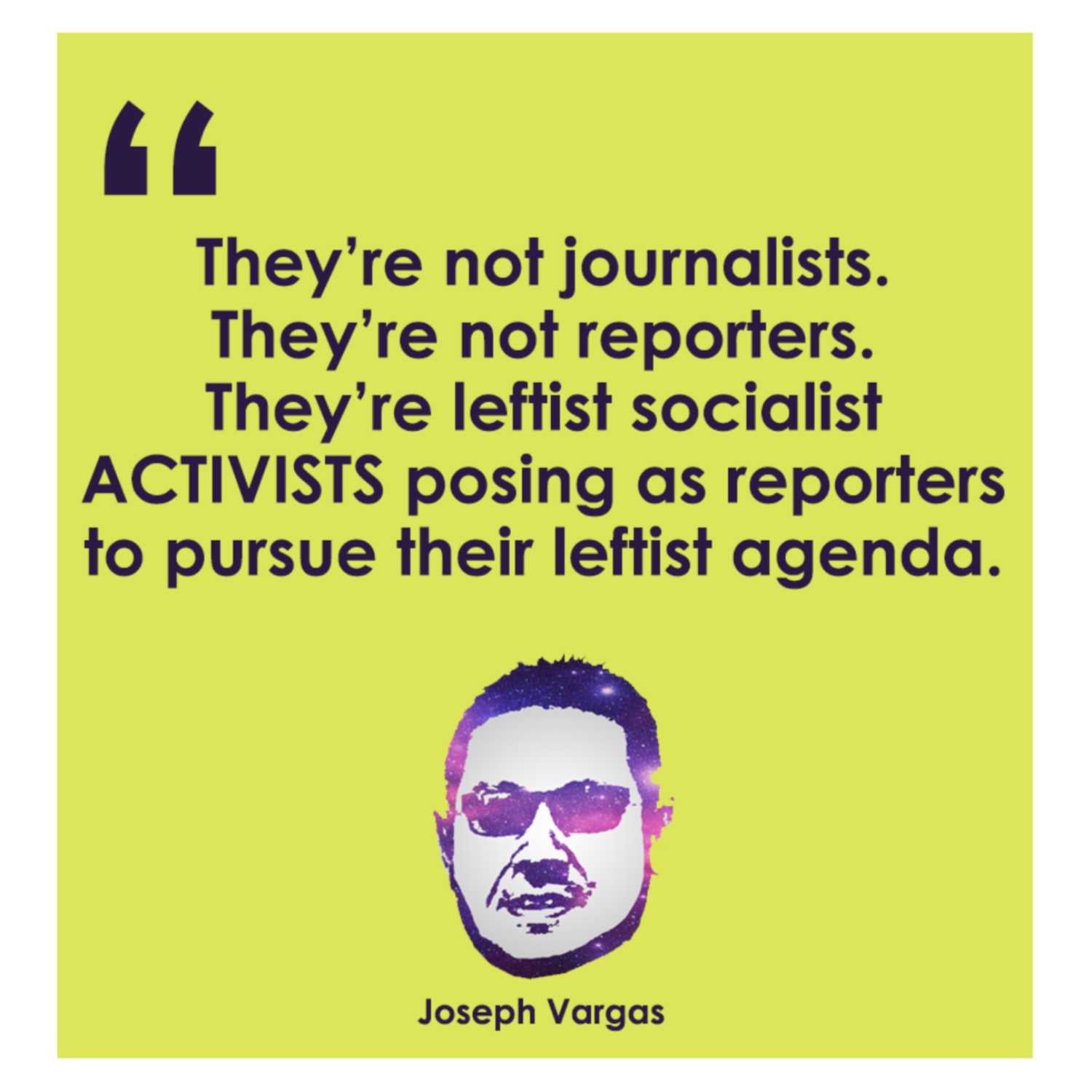 We spoke with Republican activist, behaviorist and political strategist, Joseph Vargas of KeepTexasRed.org to evaluate a trend of how and why Texas Republicans are actually bringing forward socialist policies, the revolution of the Twitter Files and border policy after Biden.
*As we were producing this Free Press journalist, Bari Weiss was releasing Twitter Files #5.
RELATED SOURCES:
AT CALLIN - https://www.callin.com/room/election-2022-post-mortem-w-keeptexas-red-bXzpwwoLoY
IMPACTS OF EMOTIONAL LANGUAGE IN REAL TIME: https://www.linkedin.com/pulse/trust-safetynow-defined-effete-dei-leadership-obstructing-sheila-dean/
---
Sikh of the Great Reset? Great. So are we.2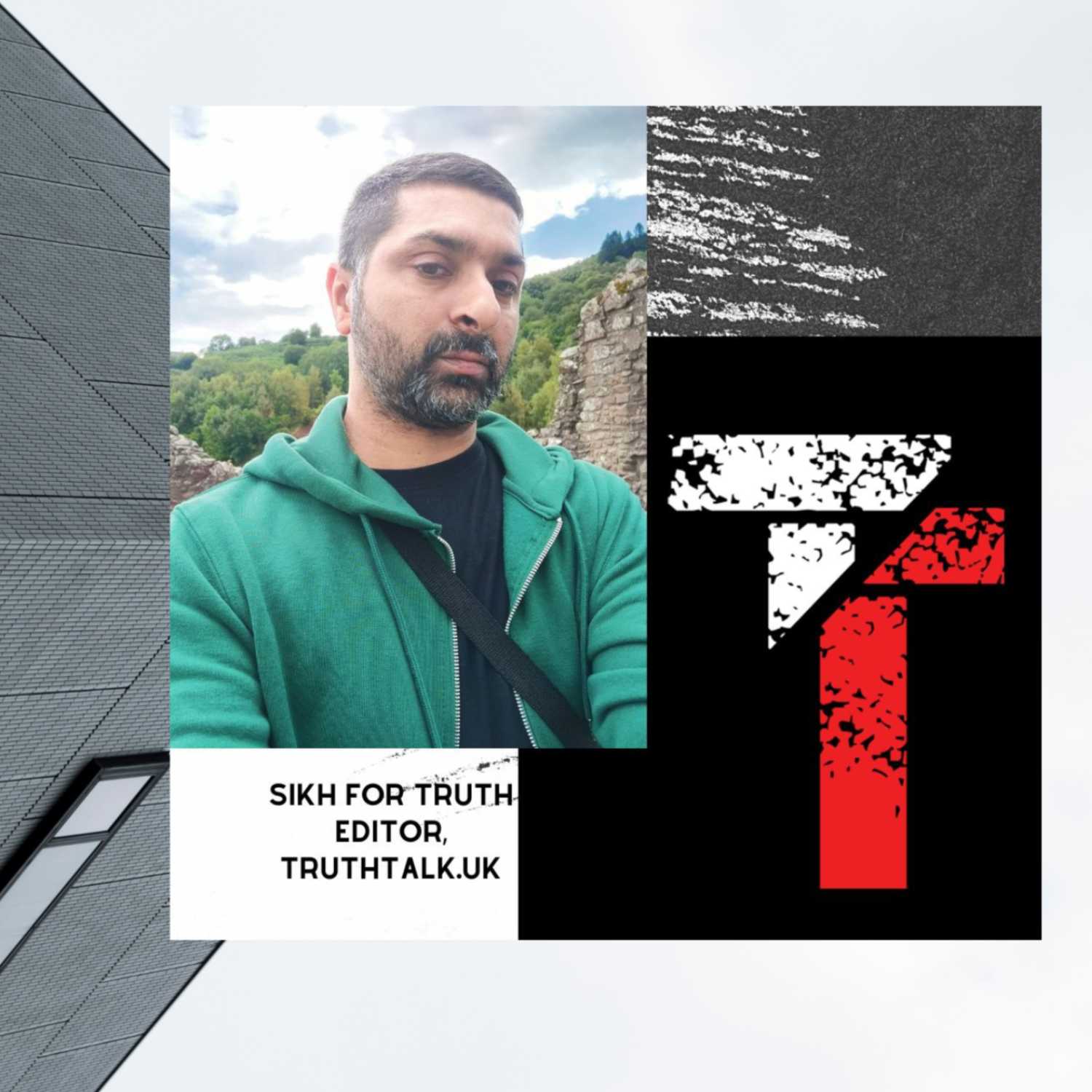 Sikh ForTruth on TruthTalk.UK discusses UK elections & business for The Great Reset. The realest Callin conversation about vax passports, Rishi Sunak as a WEF phishing exploit, and more.
---
'The Bodies of Others' Chapter 13: Vaccine Passports & The End of Human Liberty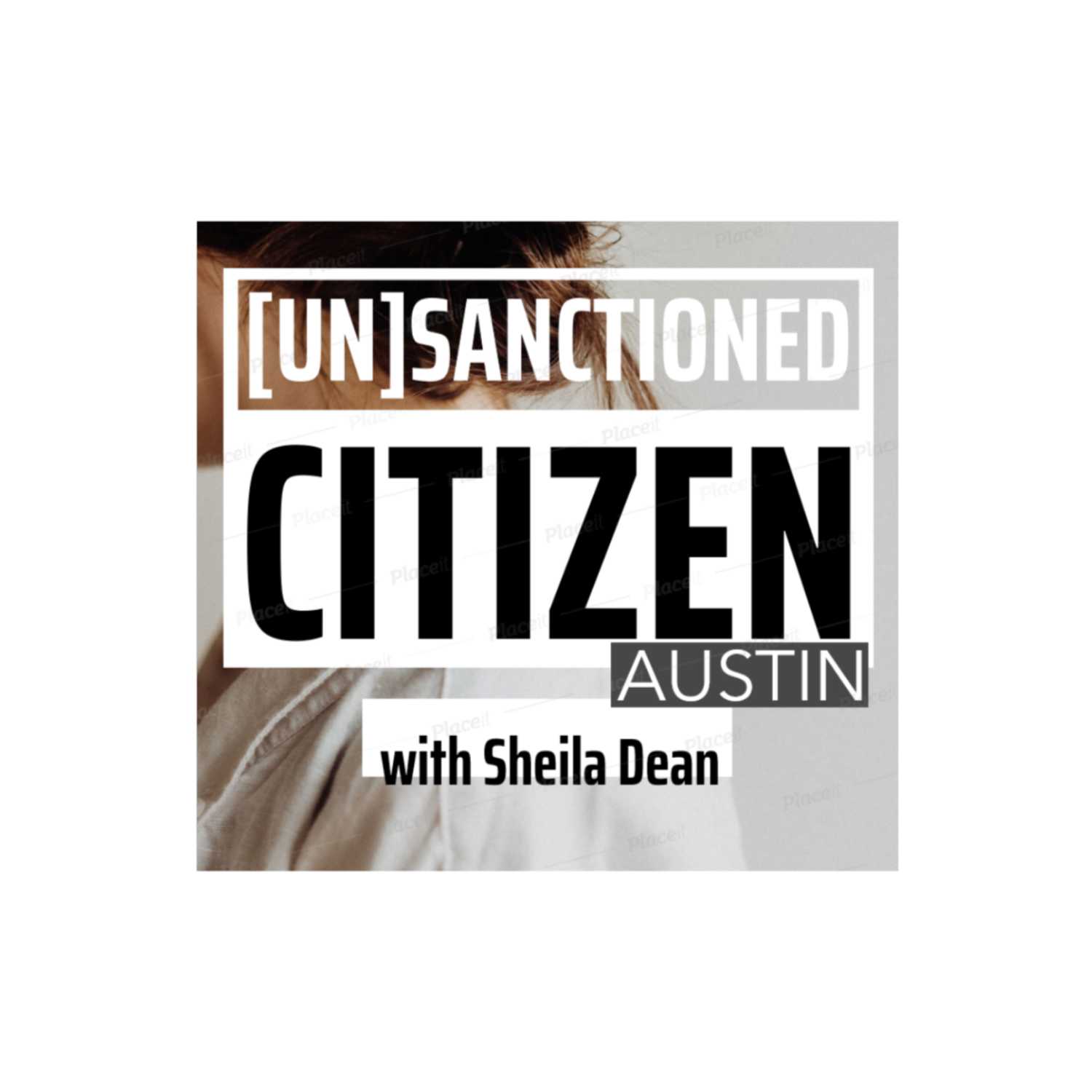 Strong arguments against the proliferation of vaccine passports and a vaccine passport mandate system from Naomi Wolf and corresponding systemic interruption and civic denial during the 2021 pandemic.
---
The Bodies Of Others' - Ch 12: THE TECH BUBBLE: VAST WEALTH VIA KILLING HUMAN COMPETITION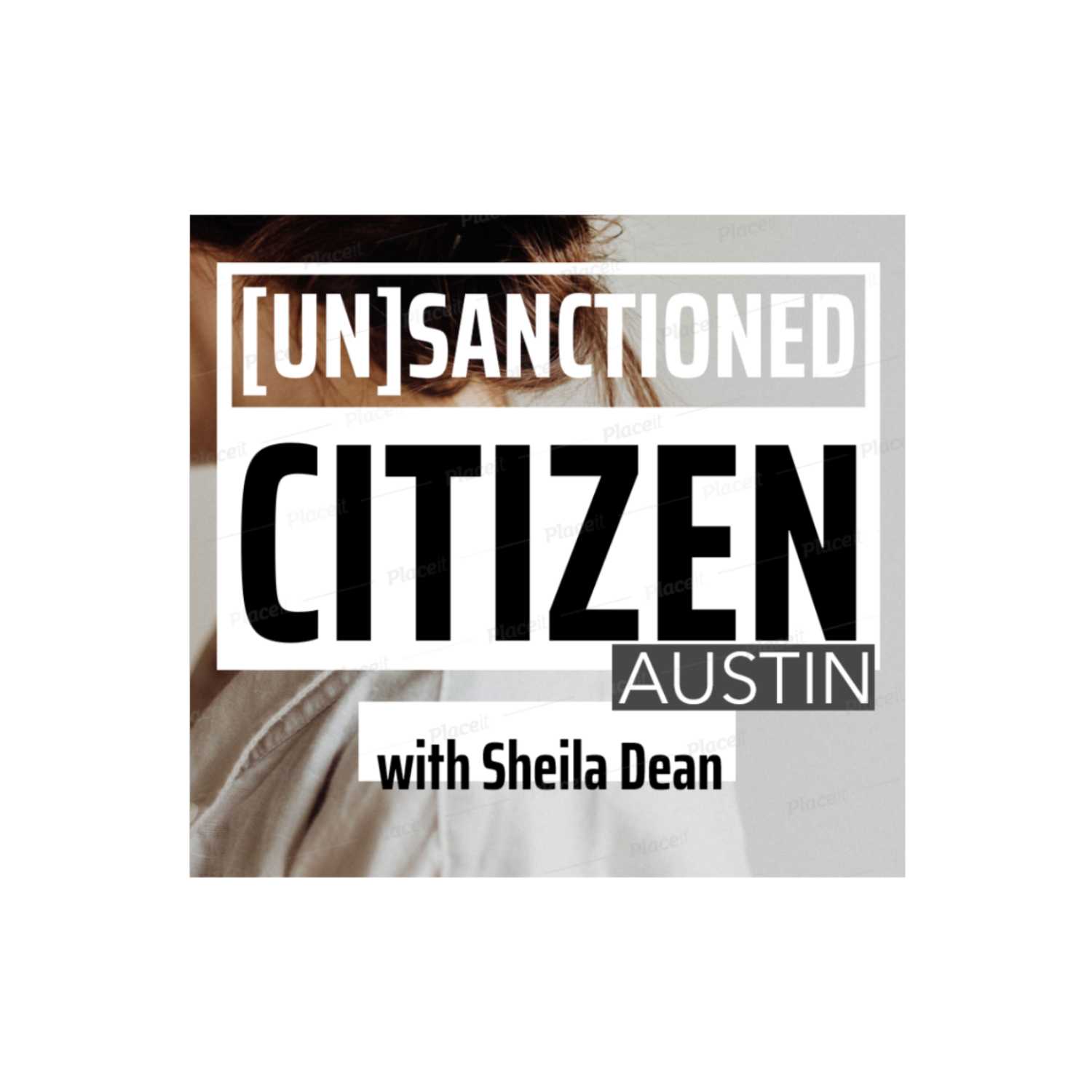 [Un]Sanction Your Mind Summer Reading -Limited Series. This reading features chapters from Naomi Wolf's 'The Bodies of Others' includes her experience being cancelled at Twitter and economic fallout as a result of posting opposition research unflattering to vaccine authorities and mandates.
---
Chapter 17: Infinite Connectivity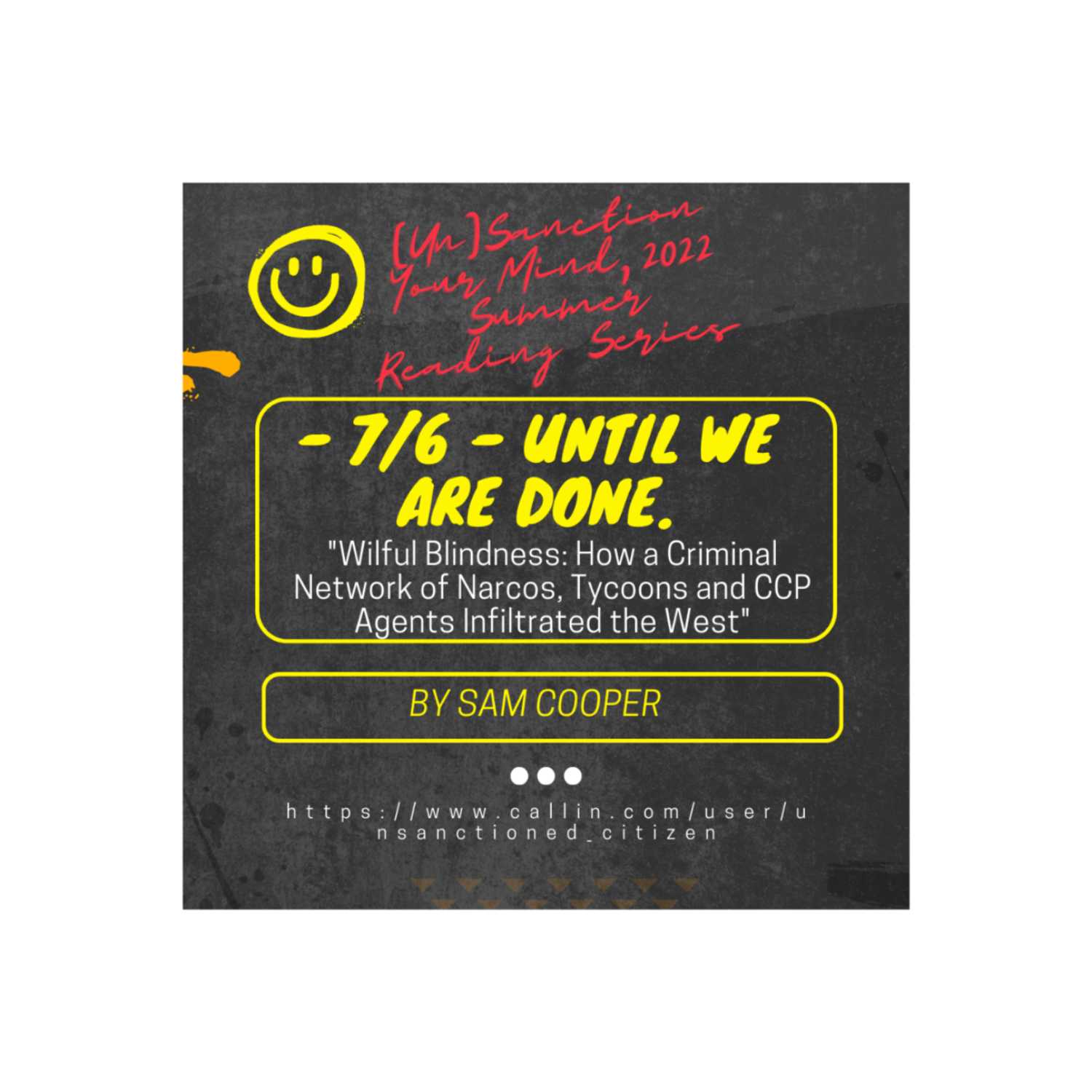 'Wilful Blindness' chapter readings conclude, with an Afterword.
---
Chapter 16: Strike Back Hard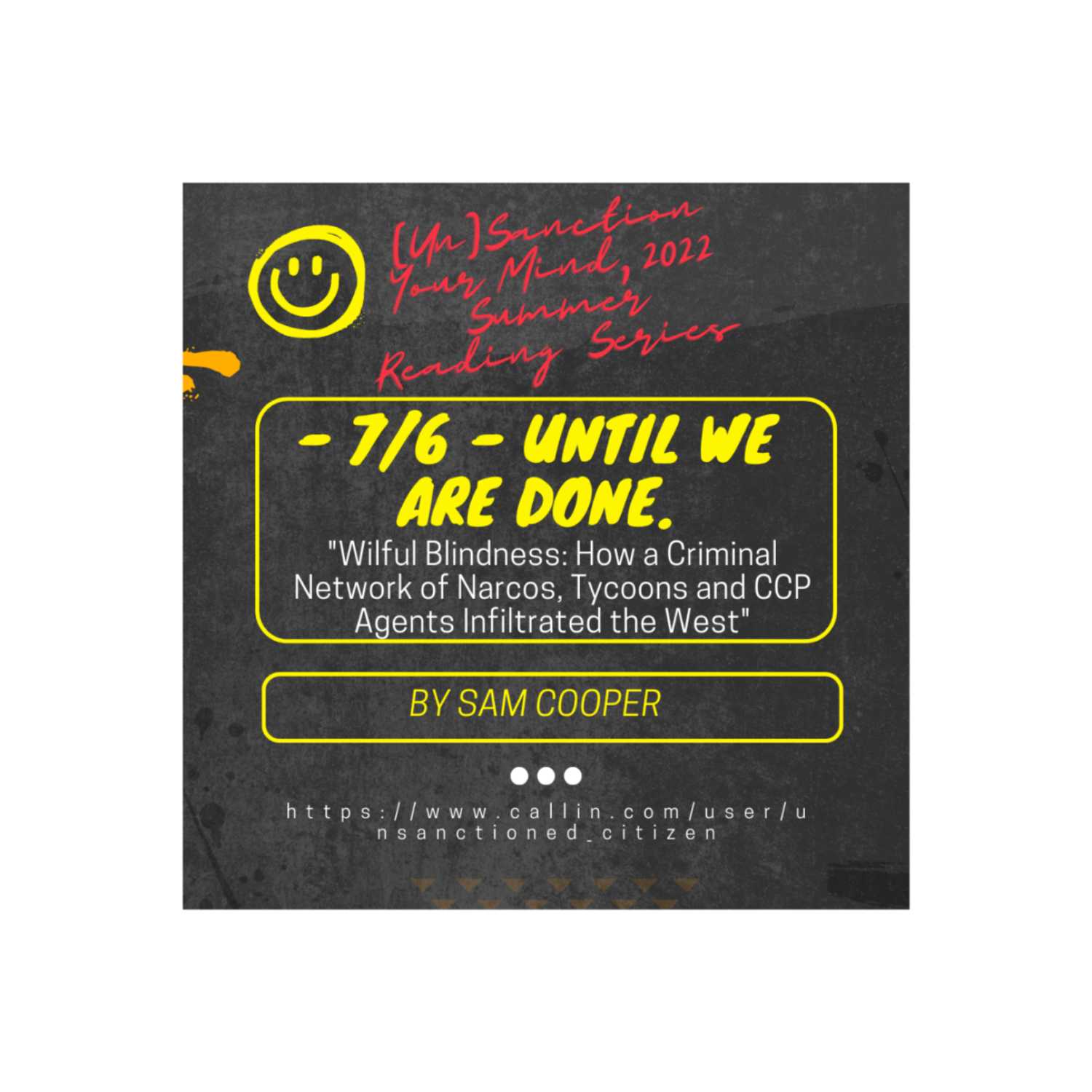 The story includes Cooper's reports of PRC PPE sabotage and corresponding blowback from Beijing. Paydirt ahoy as Cooper suddenly catches flack from mainland China in this chapter of 'Wilful Blindness'.
---
Chapter 15: Compromised Nodes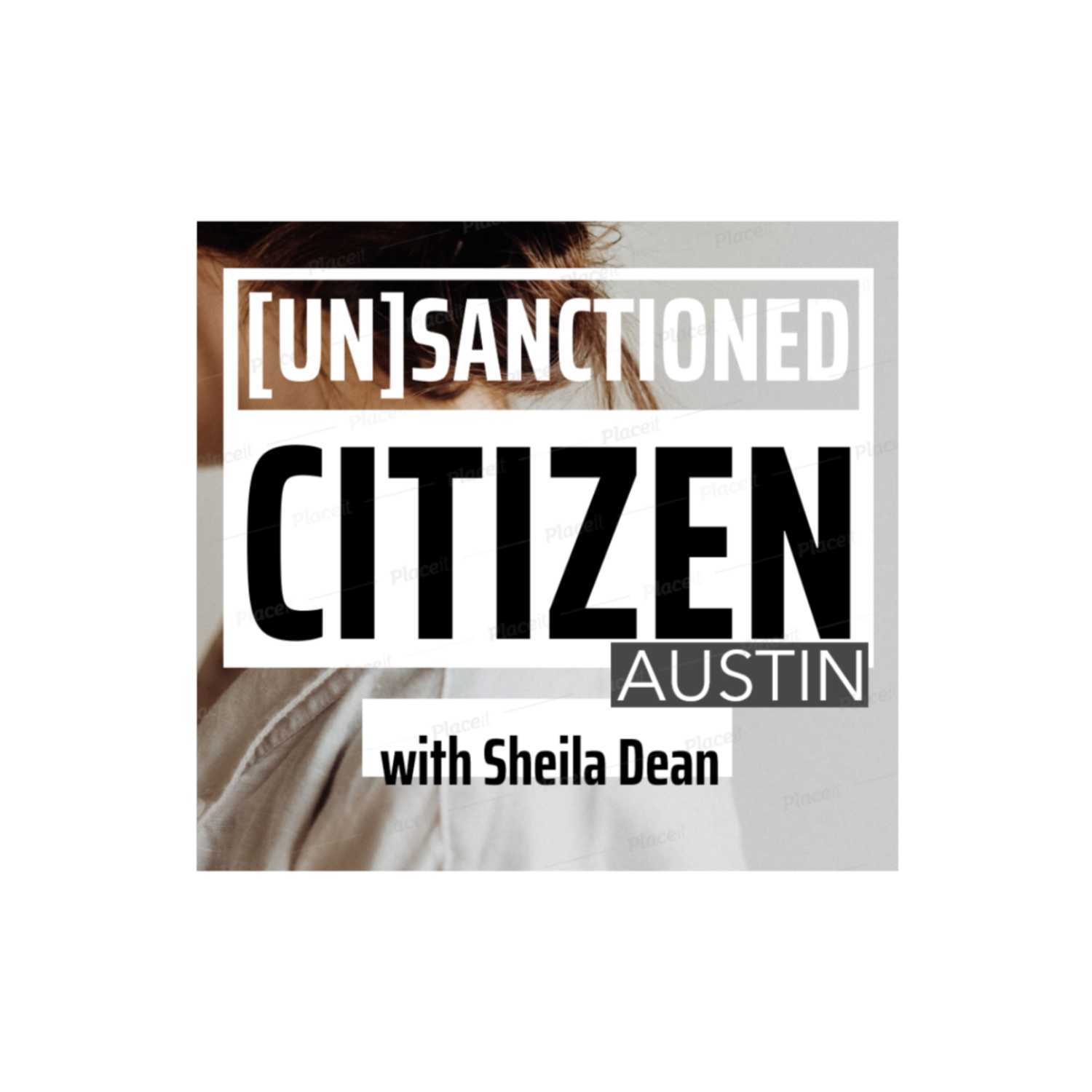 ***LENGTH ADVISORY*** 1 Hour & 54 minutes. To be continued as Sam Cooper's 'Wilful Blindness', investigative methods webbing down to 3 factions and Justin Trudeau's denials of any beneficiary connection to Vancouver's CCP narco laundry, emanating high side intelligence.
---
Chapter 14: Known knowns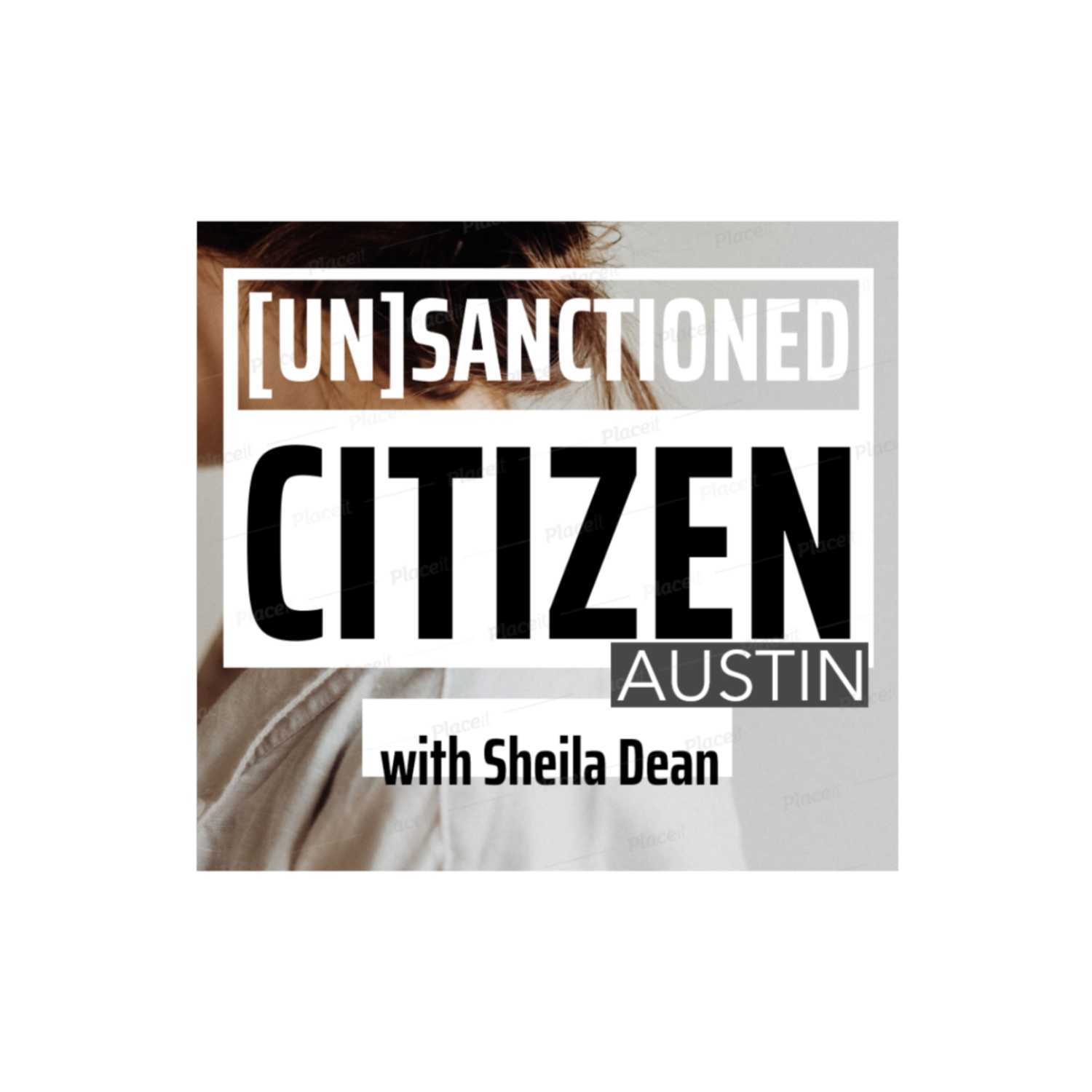 'Wilful Blindness' by Sam Cooper continues to deliver the most data driven chapter between the known corrupt PRC and Canadian Senators, gallons of fentanyl chemicals and real estate market price fixing in Vancouver, to establish the science of The Vancouver Model.
Hong Kong, Canada, corruption, fentanyl deaths, US, Mexico, Macau, casinos, money laundering, Sam Cooper, Wilful Blindness book
---
Chapter 13: Silver & Gold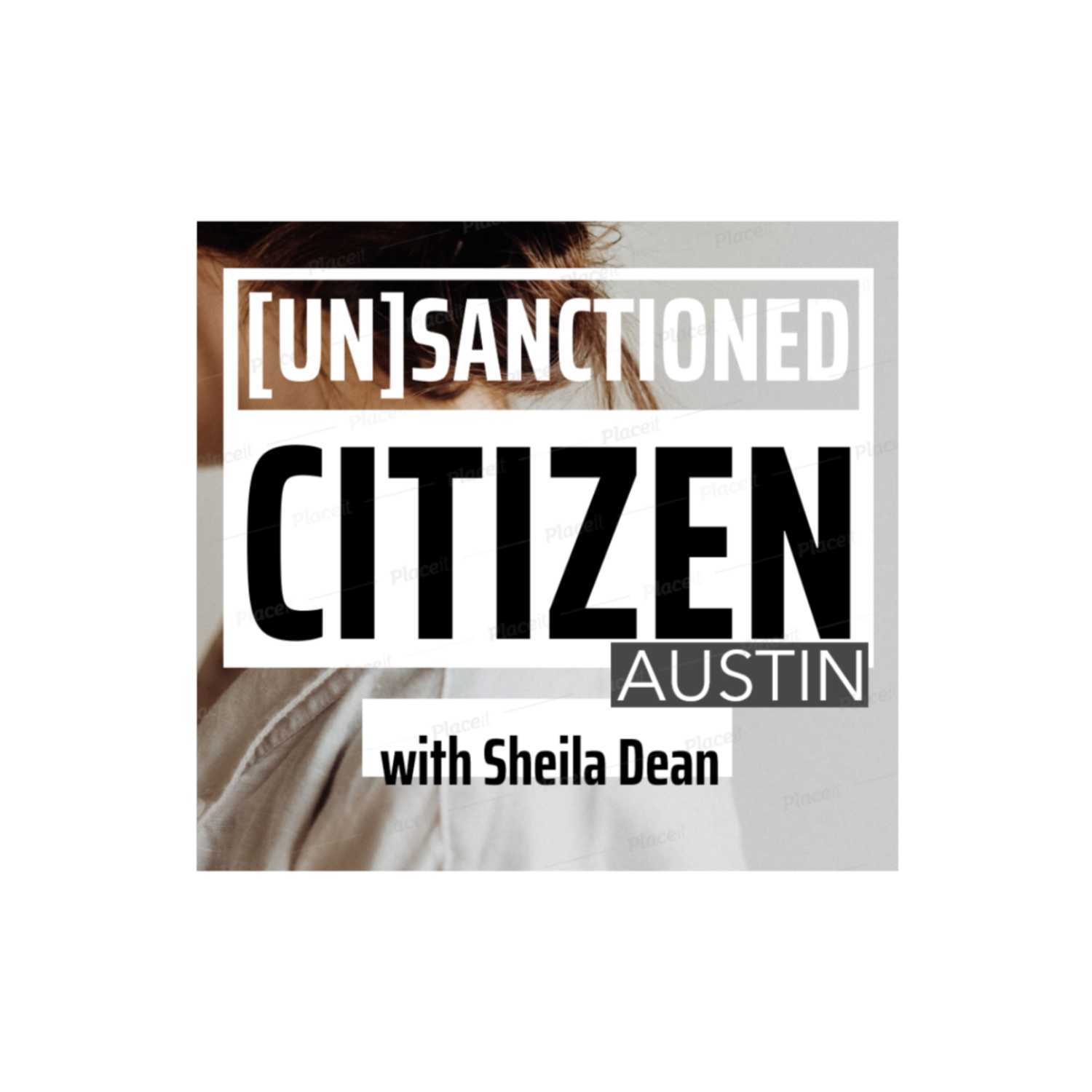 [Un]Sanction Your Mind, Summer 2022 Reading Series, features Sam Cooper's, 'Wilful Blindness' - a confrontational expose' of CCP narcotics' allianced intrusion into North America, with little to no deterrence from top Canadian officials, political beneficiaries of illicit drug income.
---
Chapter 12: Ockham's Razor (pt1)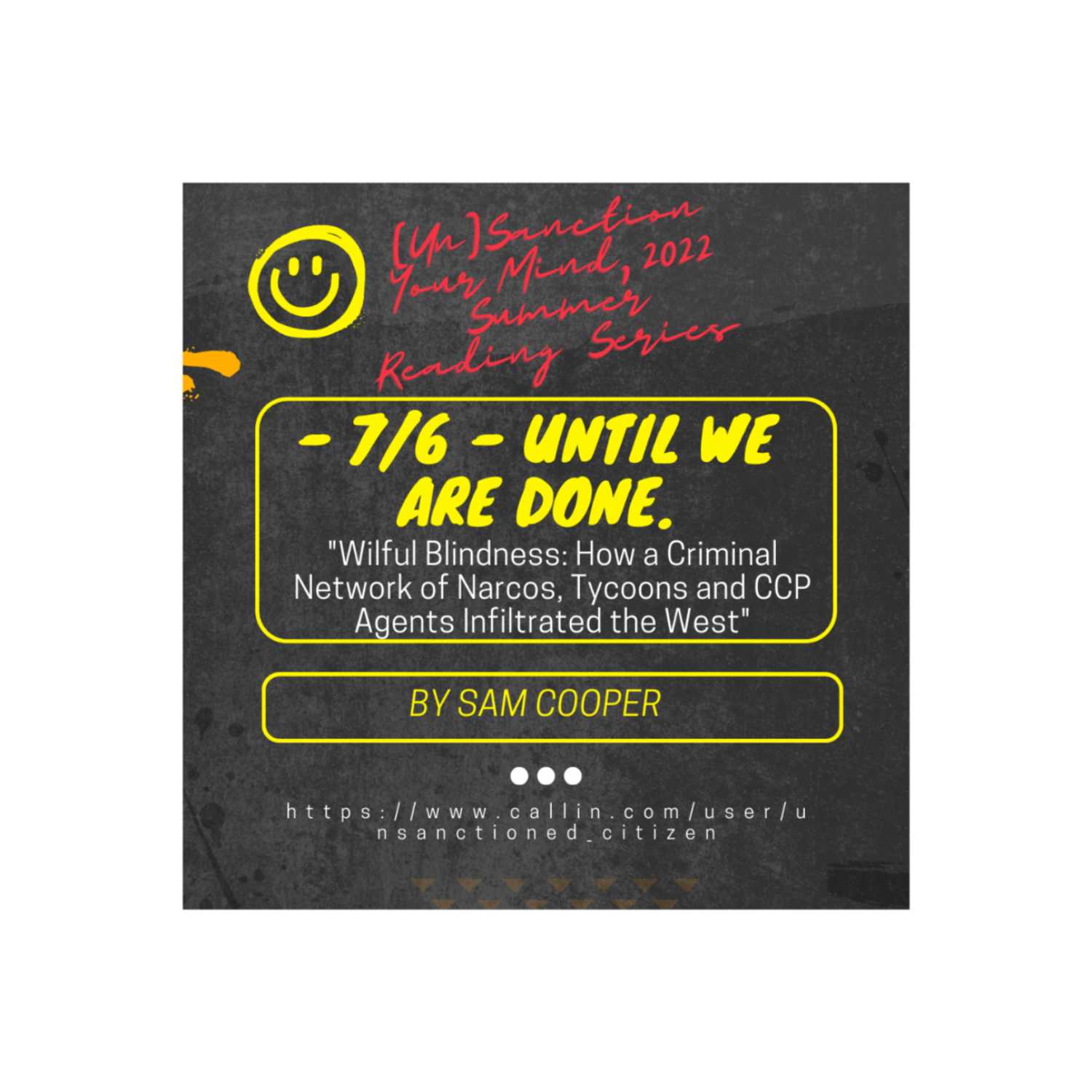 We continue reading Sam Cooper's 'Wilful Blindness'. With examples by volume, Cooper precises the CCP-based money laundering process, featuring multilayered streams of side real estate businesses, fentanyl brokers, gambling addicts and Canadian office corruption. Justin Trudeau's own political rise relied in part on the financial backing of one particular VIP gambling whale, laundering billions through B.C. Lottery Corp casinos.
The episode went long so after approximately and hour and 40 minutes we ceased recording of the chapter to return, Friday night.
---
Chapter 11: Narco City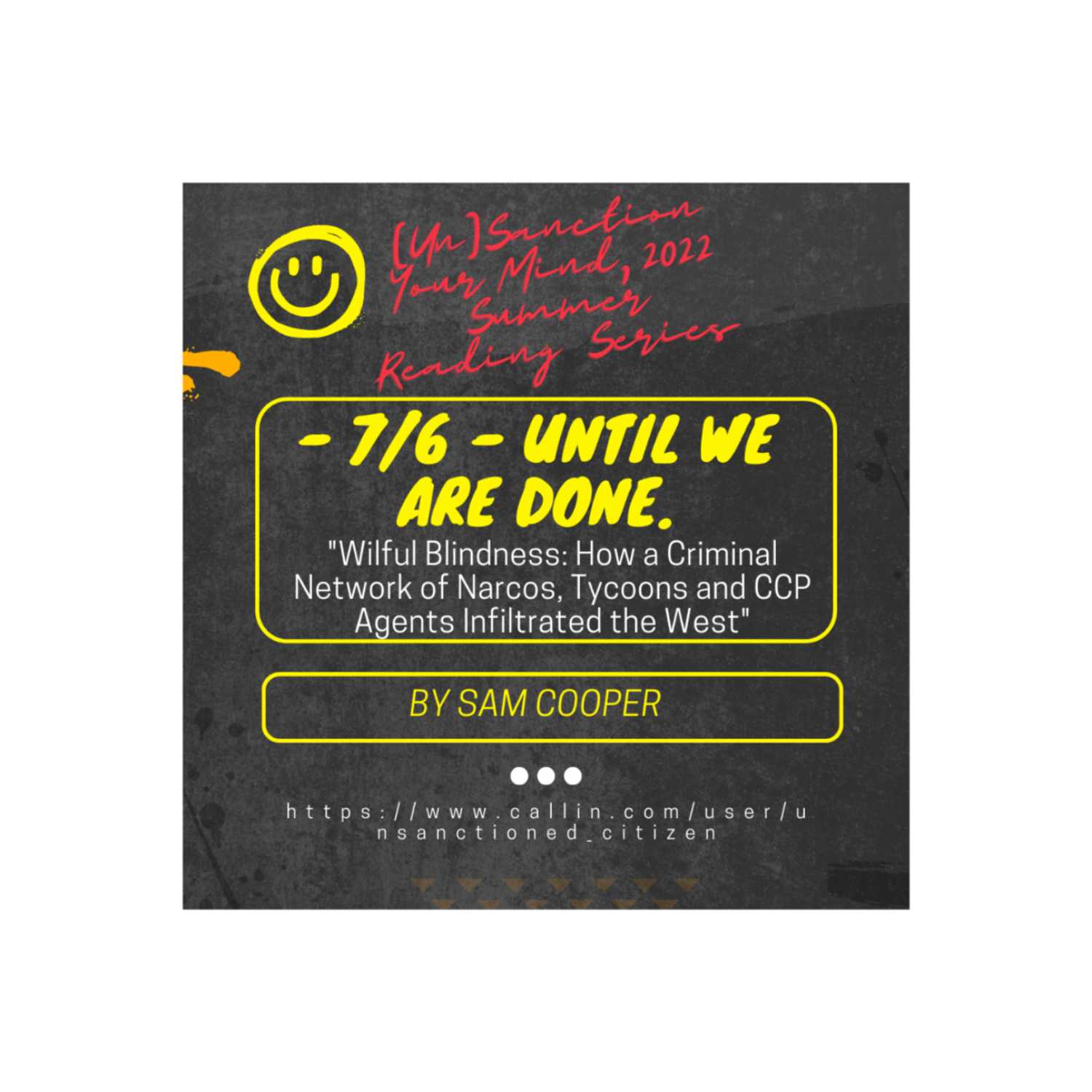 'Wilful Blindness' reading continues to include the impact damage report to Vancouver locals on the drug infested Eastside, rife with drug gang activity, addicts, prostitution, missing and murdered indigenous women and yes, even a serial killer.
---
Chapter 10: Killling the Golden Goose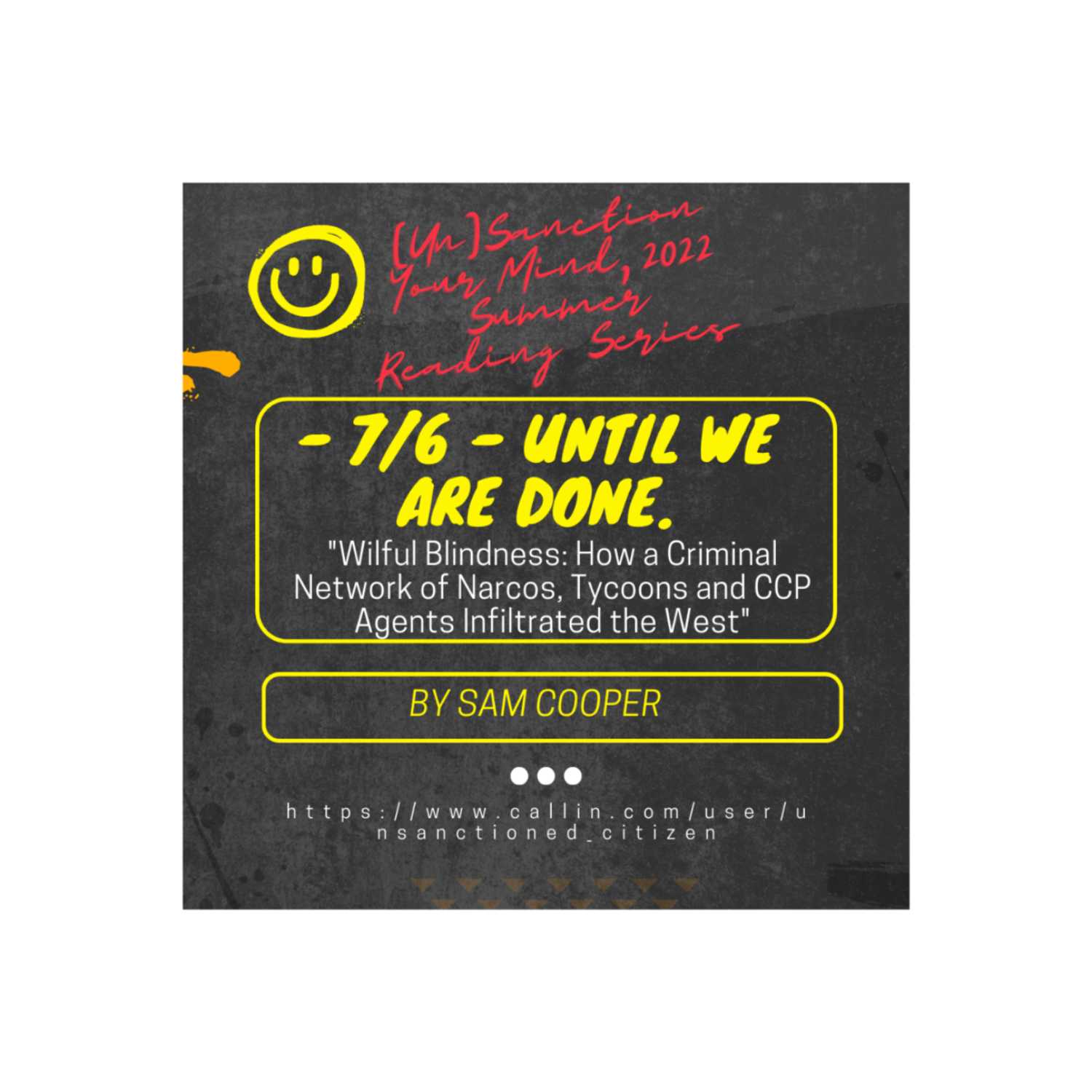 We wrap an incredible week for current revelations concerning CCP backed narco cartels, the Cullen report and Stateside implicated casinos on the West Coast. Stay tuned next week at 7:20 PM for more of Sam Cooper's 'Wilful Blindness'.
*Spoiler alert- This chapter confirms Vancouver BC casinos have laundered Mexico's and nearly all LatAm cartel drug cash, banking through the PRC backed narcocartels. Soorry!
---
Chapter 9: The Ilegal Gaming Unit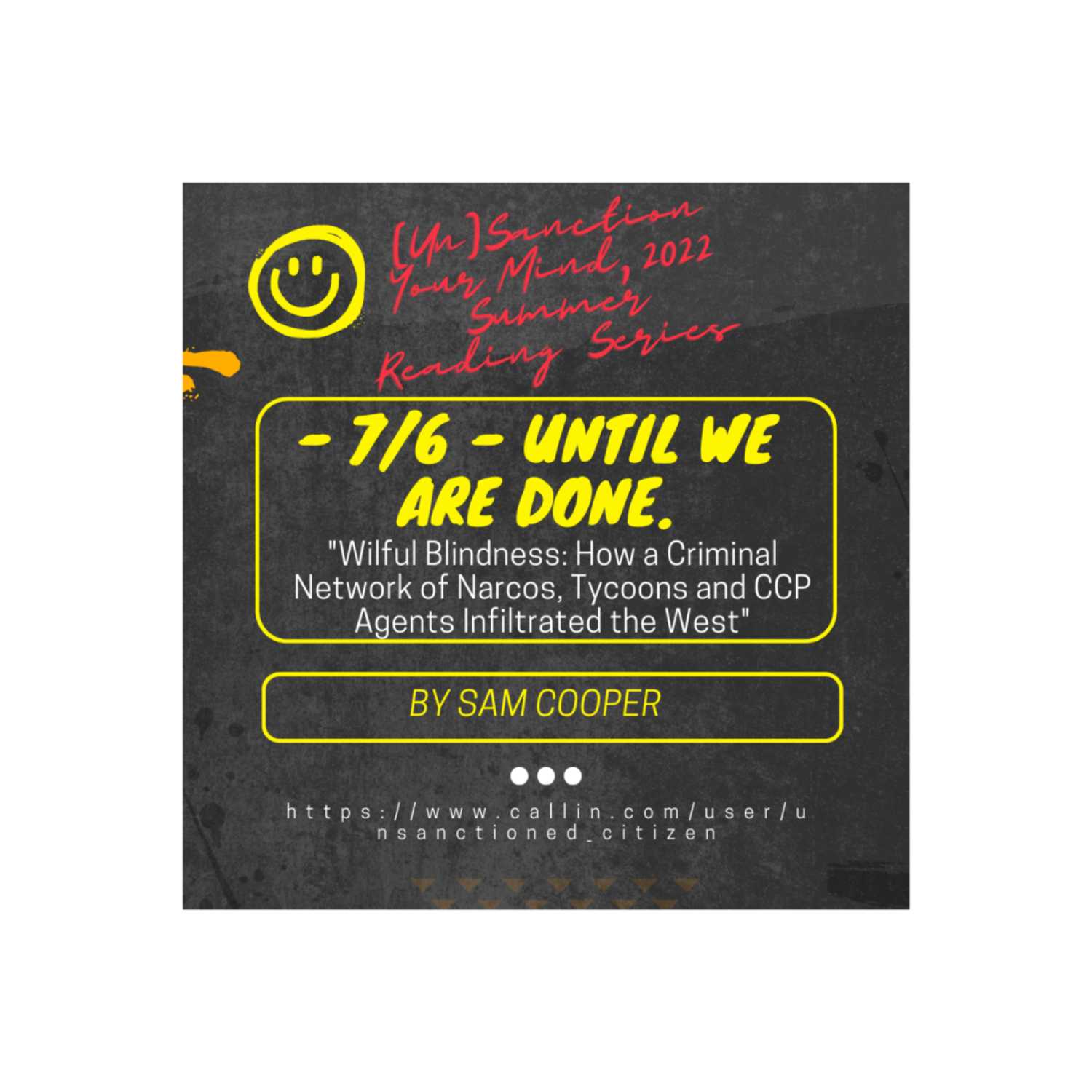 The RCMP has an illegal gaming enforcement unit. Discover more of what they actually do listening to more of Sam Cooper's 'Wilful Blindness'.
---
Chapter 8 : The PLA Whale
Riveting updates from 'Wilful Blindnes' expose' author, Sam Cooper about the Cullen investigation are now current. We begin the episode by reading an update on the Cullen Commission reporting by Wilful Blindness author Sam Cooper -
Federal 'failures' on money laundering prompt B.C. inquiry to call for provincial watchdog [Vancouver, specifically.]
---
Chapter 7: The Casino Diaries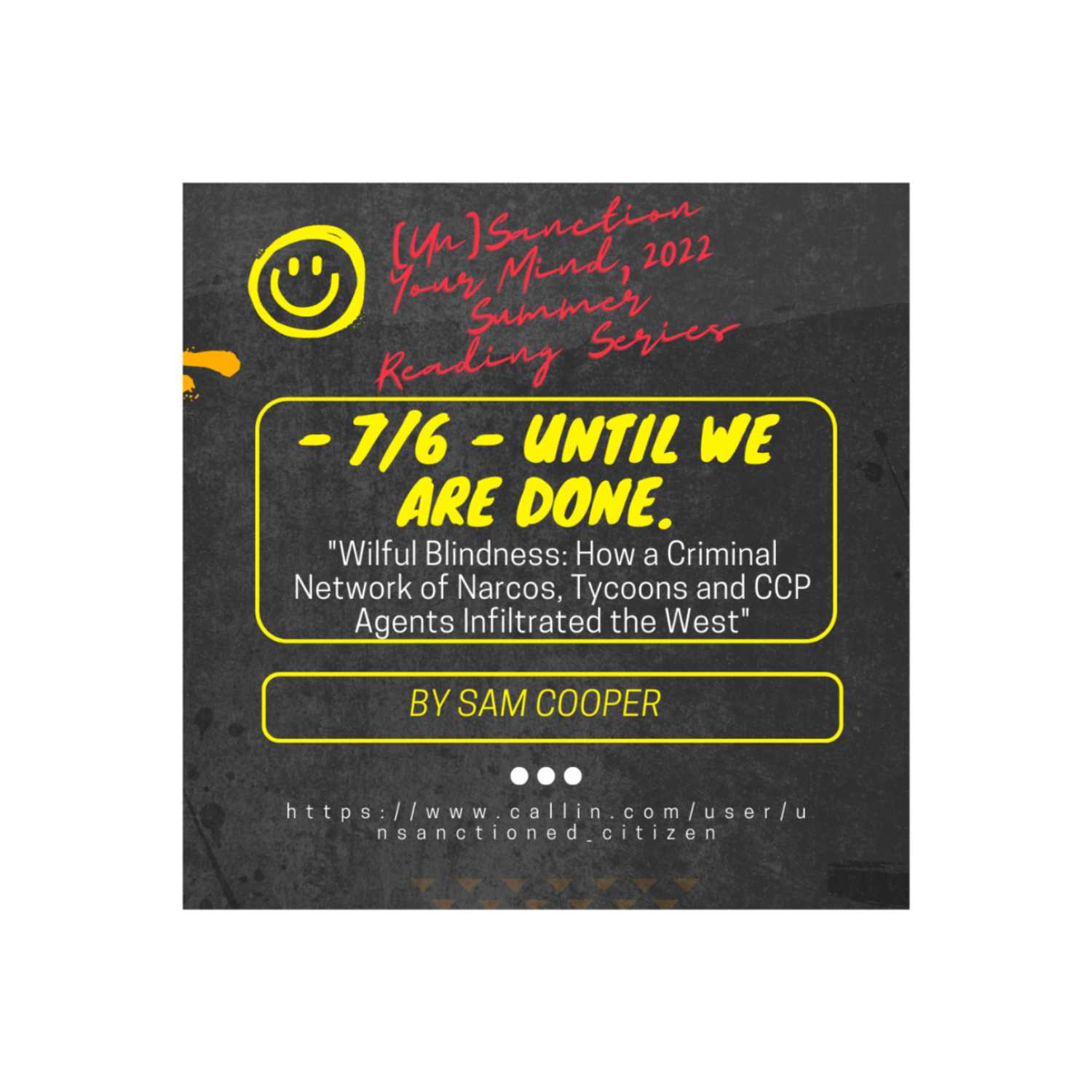 More live reading continued of 'Wilful Blindness' available for sale at Barnes & Noble and Amazon.com.
---
Chapter 6: Project Fallout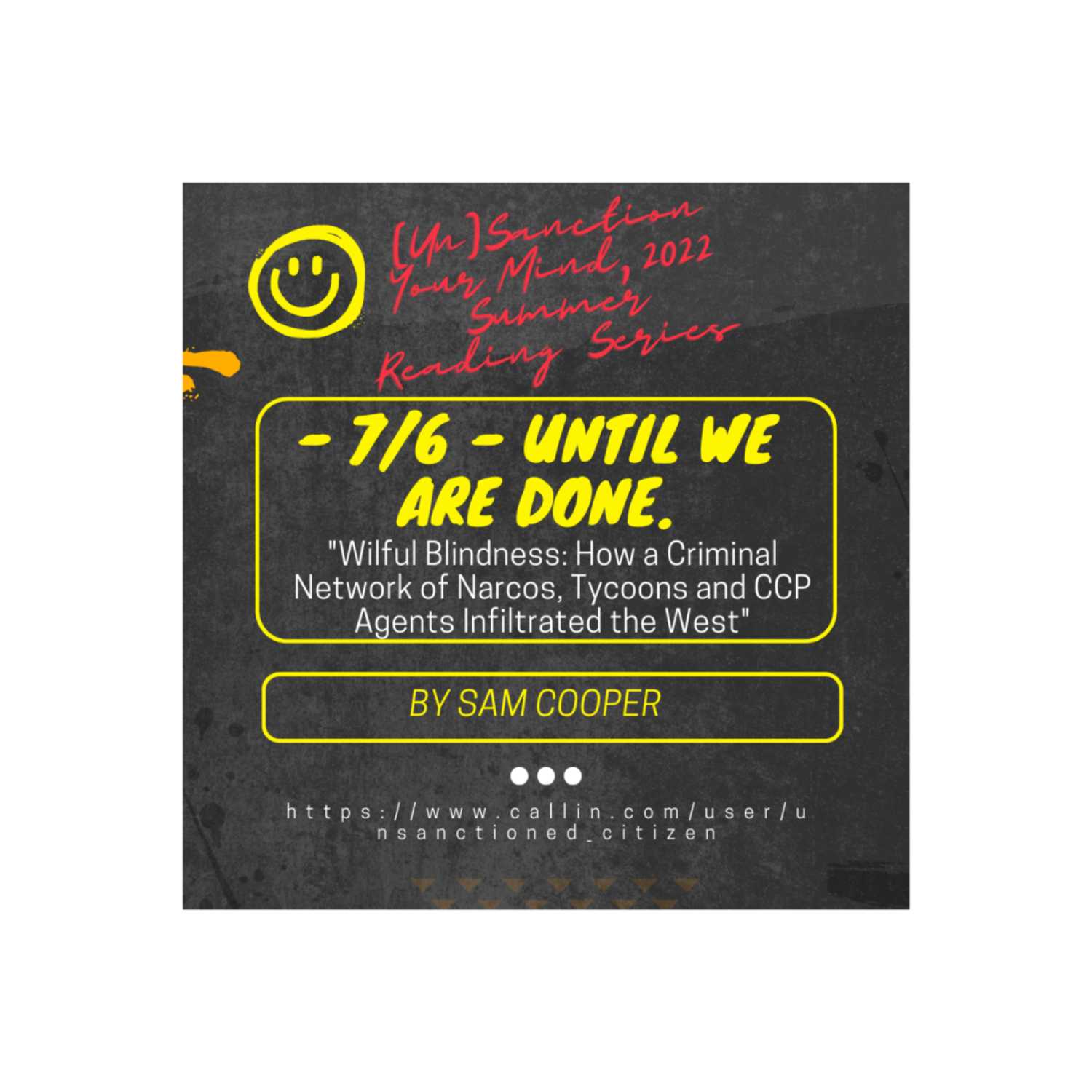 Public reading of Sam Cooper's 'Wilful Blindness' continues in the [Un]Sanction Your Mind Summer Series.
---
Chapter 5: Triads Entering Canada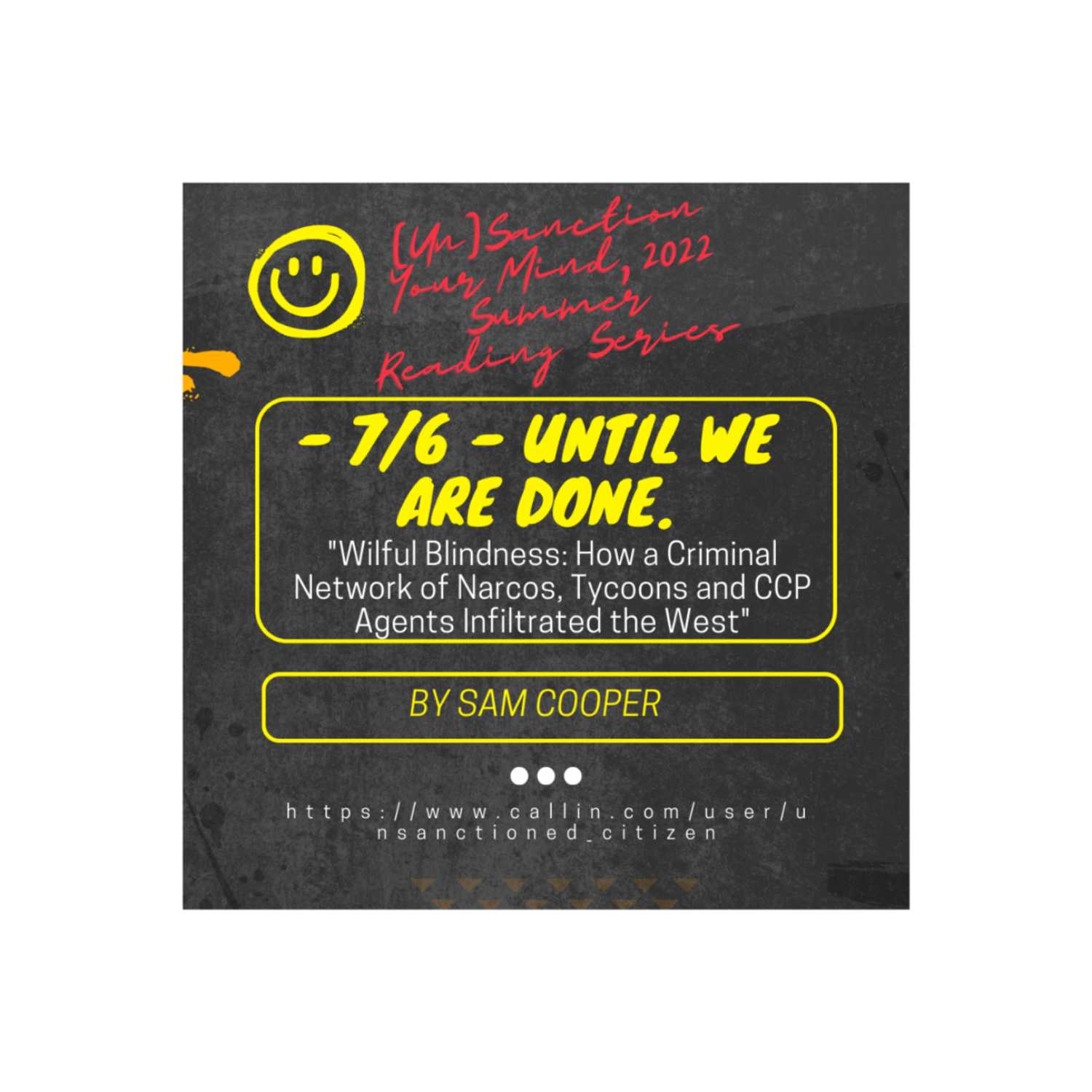 '[Un]Sanctioned Your Mind' 2022 Summer Readings Continue with Sam Cooper's 'Wilful Blindness'
---
Chapter 4: The Mission in Hong Kong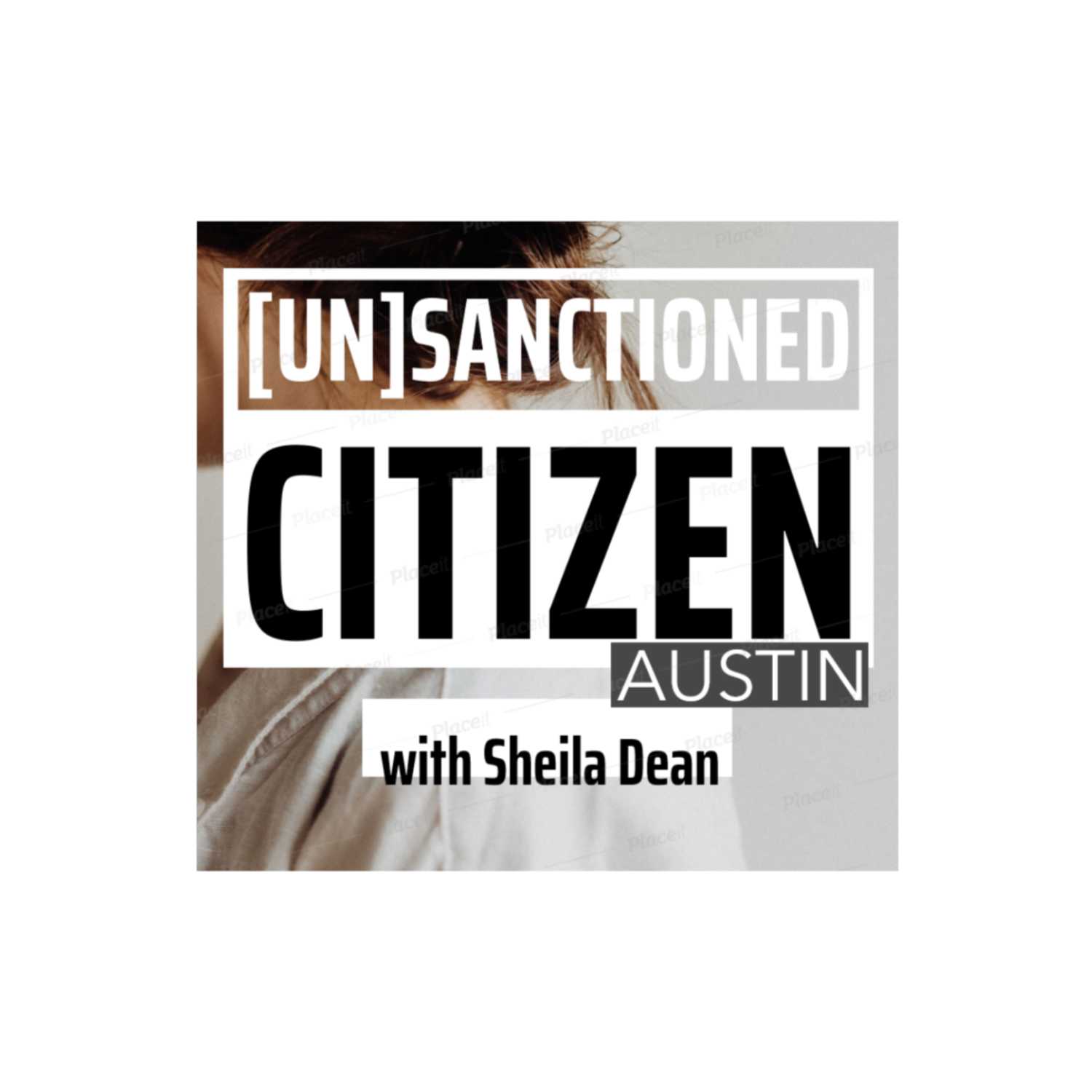 2022 Summer Reading Series Continues for [Un]Sanction Your Mind, from 'Wilful Blindness' by Sam Cooper
---
Chapter 3: The Vancouver Model 1.0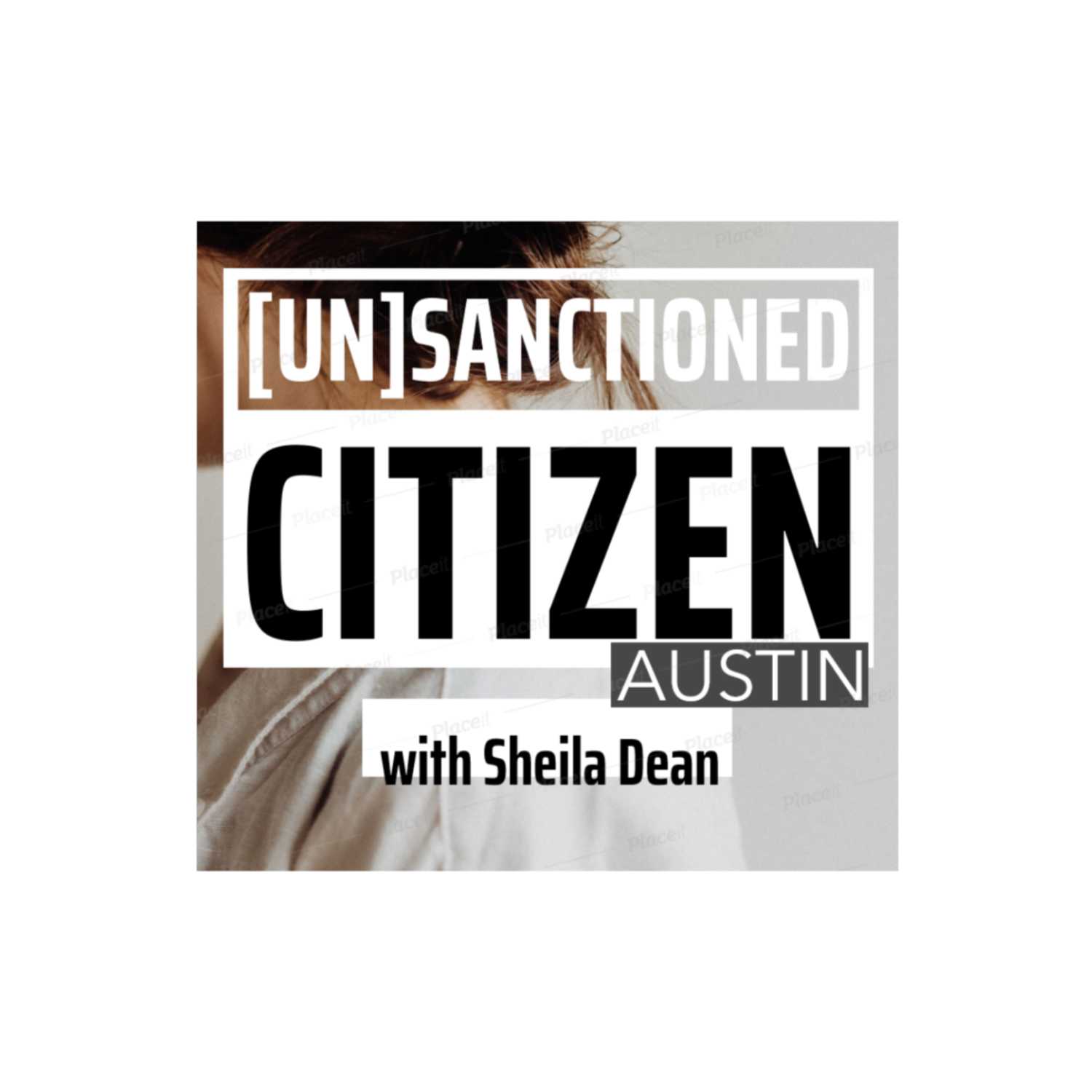 [Un]SanctionYour Mind, 2022 Summer Reading Series Continues, of 'Wilful Blindness' ANNND - A SUBSTACK SUSBSCRIPTION DRIVE! Send this to between 5 - 8 friends, to get 500 between now & July!
---
Chapter 2: Section 86, Wilful Blindness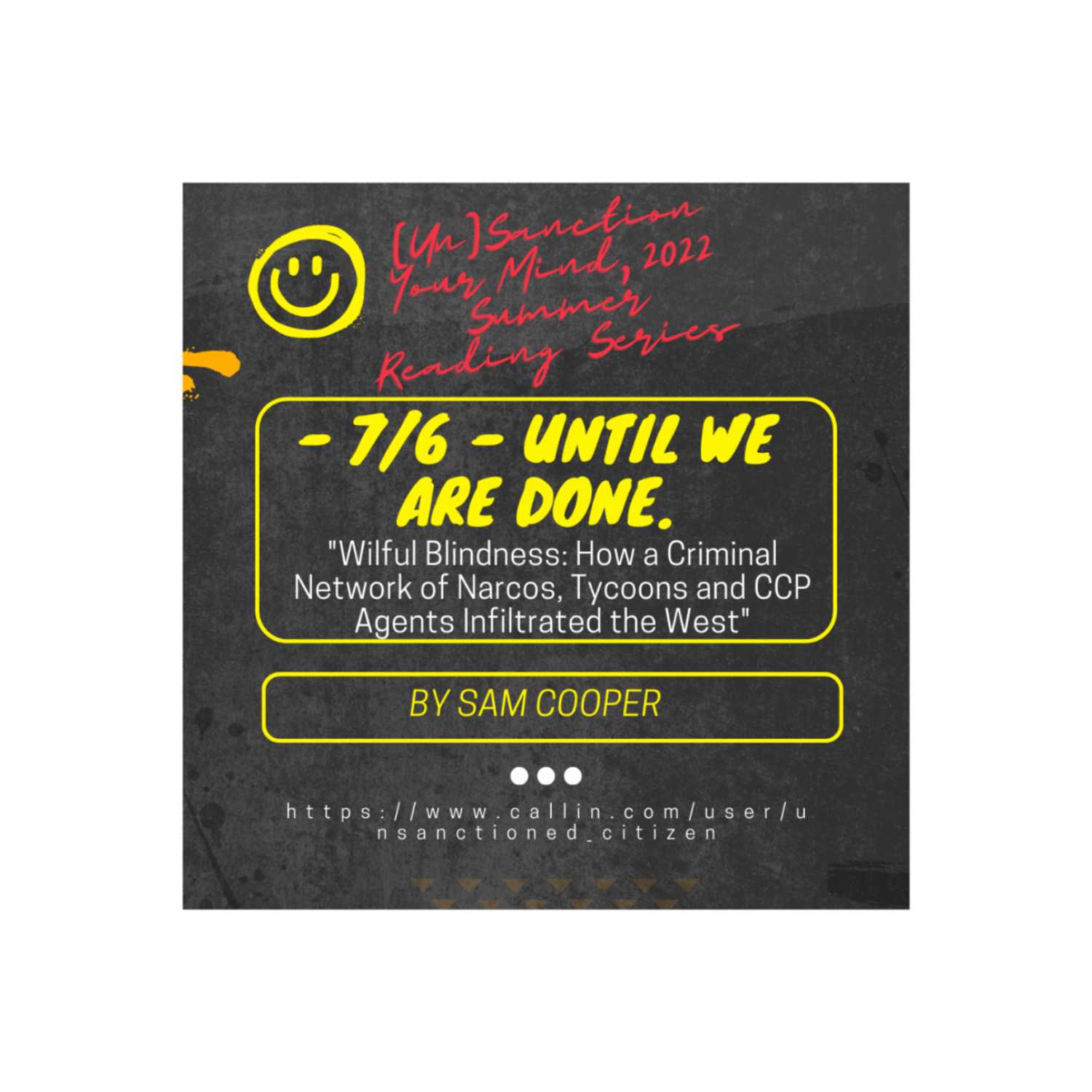 [Un]SanctionYour Mind, 2022 Summer Reading Series Continues, of 'Wilful Blindness'
---
NEW! 2022 Summer Reading Series: Chapter 1, 'Wilful Blindness'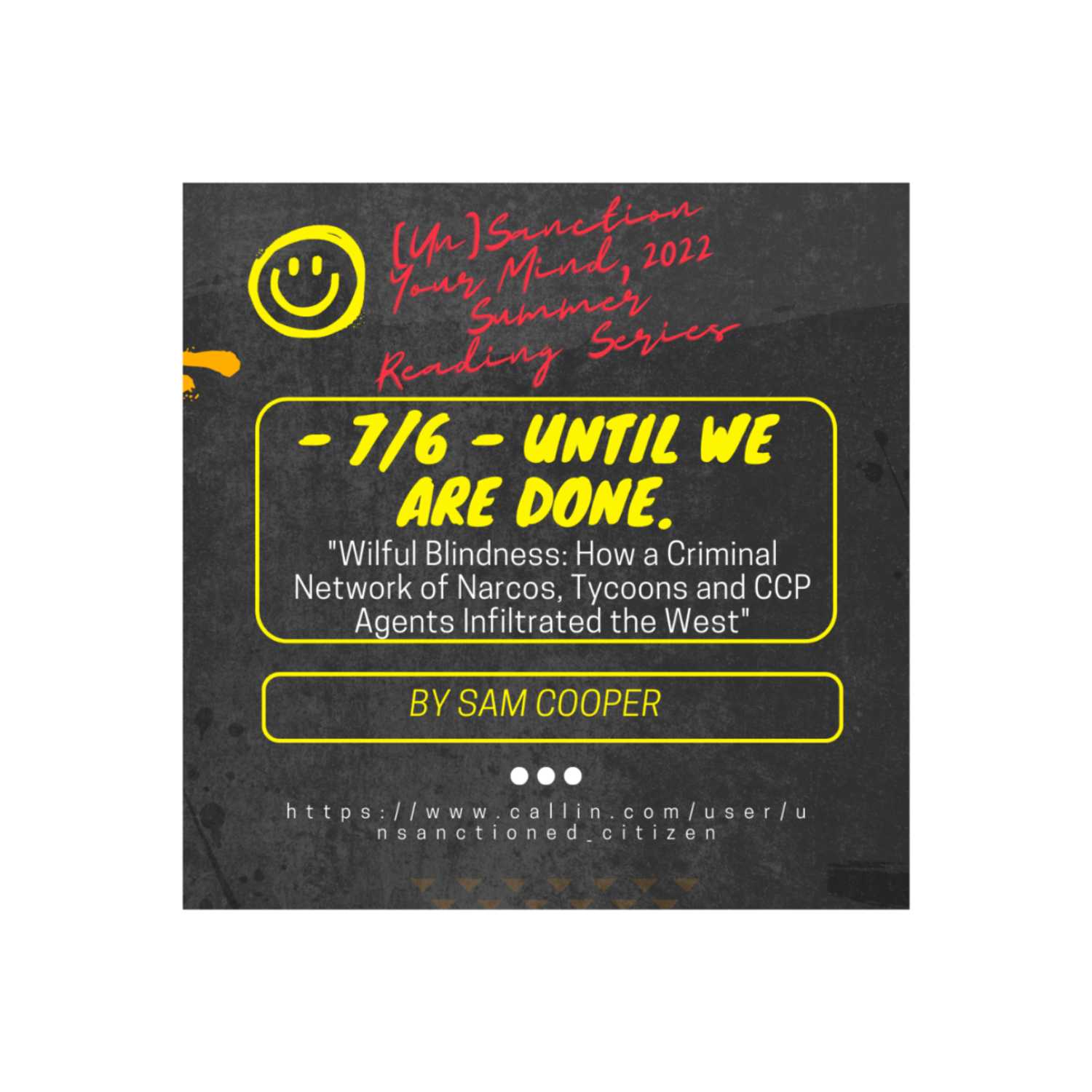 7/6 Reading essays & Chapter 1 'The Whales' from Sam Cooper's 'Wilful Blindness'
ABOUT THE SUMMER READING SERIES...
Announcing: '[Un]Sanction Your Mind' ,The 2022 Summer Reading Series
FOR IMMEDIATE RELEASE
General Public Advisory Event for Podcasting Series Feature for the Summer 2022
WHO: The [Un]Sanctioned Citizen podcast reading series [Un]Sanction Your Mind live at Callin.
WHAT: Literacy sponsors for 2022 Summer Reading Series
WHEN: Beginning 7/6, Readings air live at Callin.com 7:20 PM CST Monday through Friday, *Some weekend dates, based on availability
WHERE: Airs live from...
---
TITLE 42: The People vs. THE CRUTCH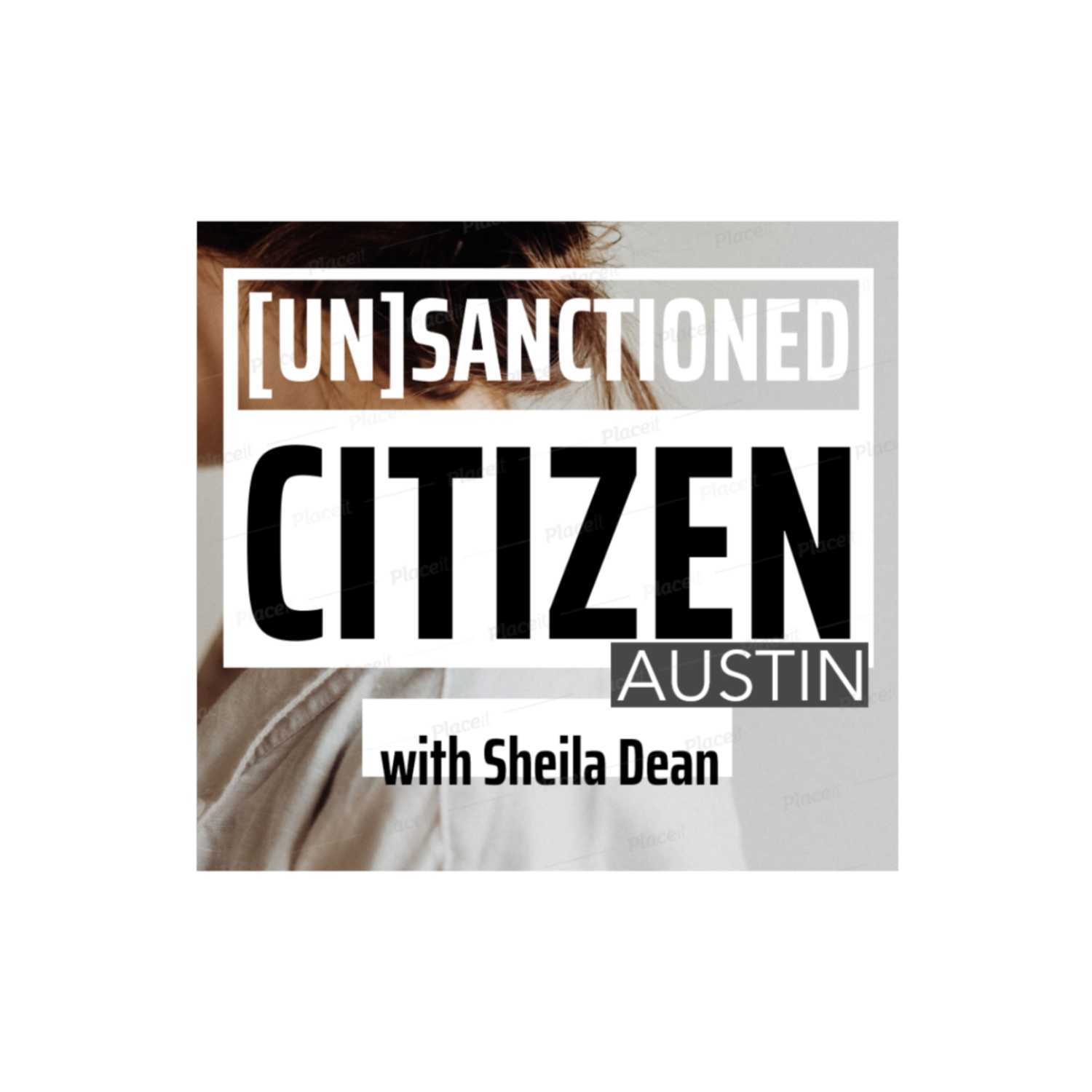 Title 42 makes Pandemic governance and entitlements a border enforcement crutch. National constituencies of all shapes colors and sizes are dying in diversely horrific poisoning and drug-related crime deaths all over the US. While we usually reserve most of our talk time to exploded information security, this episode has to go directly to the brokenness of the fundamental consent to govern in providing basic safety and protection to the American people. A public policy lecture is forthcoming. Audience discretion is advised.
---
The [Un]Sanctioned Citizen Podcast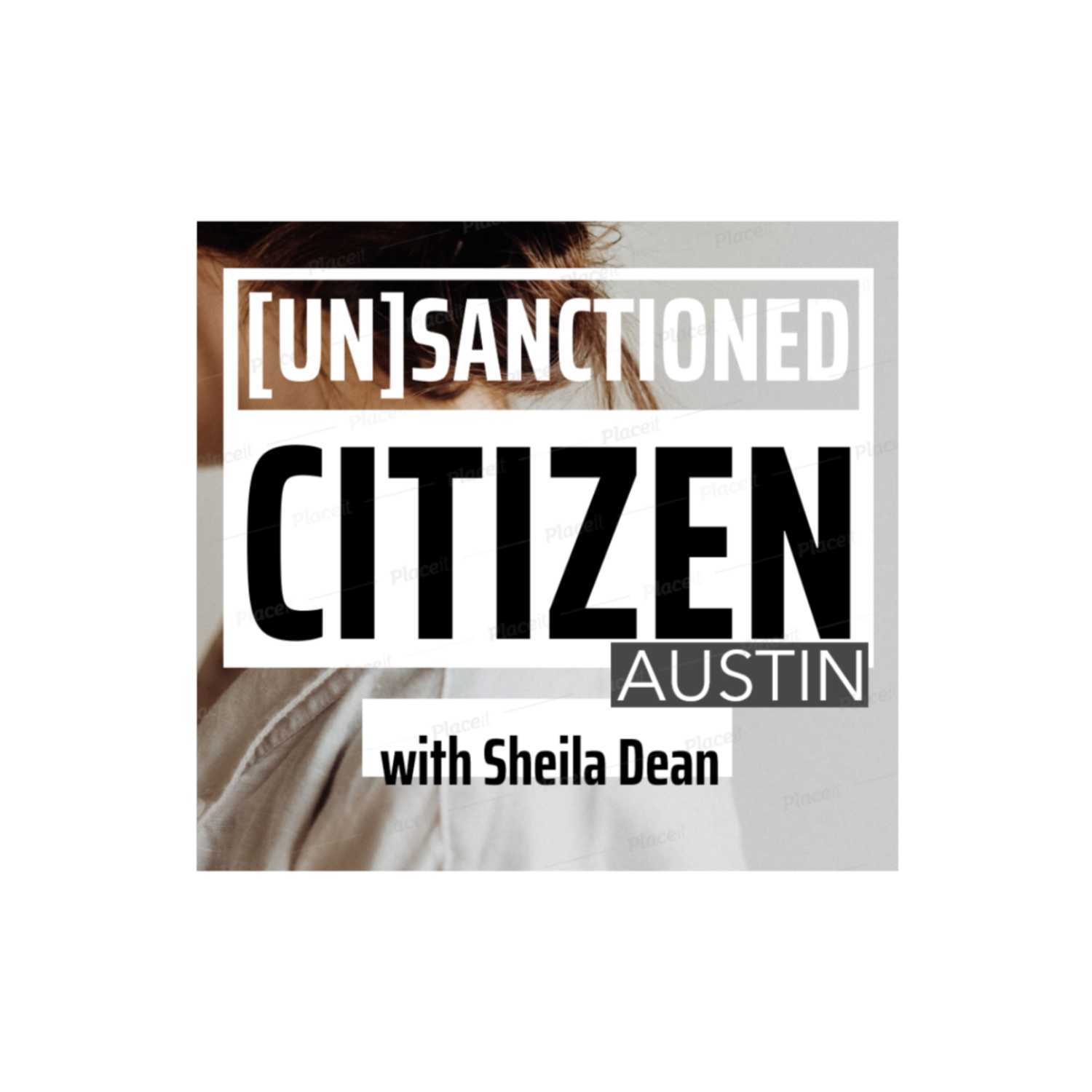 We are making preparations for the budding of the [Un]Sanctioned Citizen podcast at Callin.com.https://www.callin.com/user/unsanctioned_citizen
3/13 UPDATE: To no real surprise to anyone your Host admits to oversecuritized microphone settings. I liken it to hiding a safe key code so well even you cannot find it. So until the microphone and other hyper-private settings are managed, I am moving forward with old school guest-talk interview formatting, to post right here at Podomatic.
We really like Callin because you can have a panel of guests and issue commentators on...
---
'Wilful Blindness' is Leading U.S. out of a Network of Vancouver Modeled Tyranny & Corruption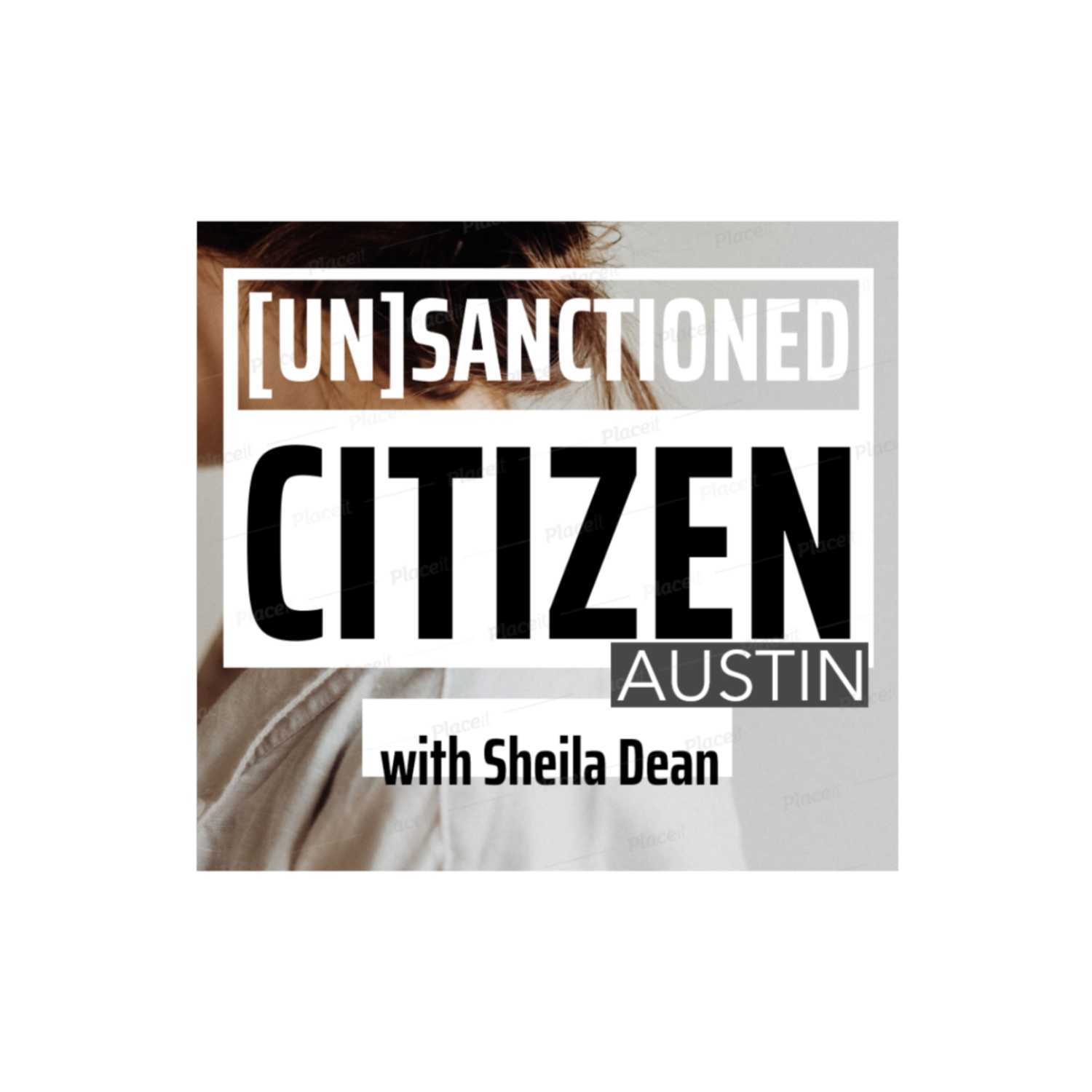 So it finally happened. Someone wrote the book on PRC/CCP infiltration of US real estate laundering of gambling money and land buys in the United States. It explains why CCP nationals are winding their way around Medina, WA and no one has registered as a foreign agent building a giant Huawei skyscraper in the middle of downtown Bellevue City in King County.
The book? 'Wilful Blindness: How a Network of Narcos, Tycoons, and CCP Agents Infiltrated the West' by Sam Cooper from Optimum Press International.
Get it. Get it. Get it. Then read it all...
---
The Talk Inside the Waiting Room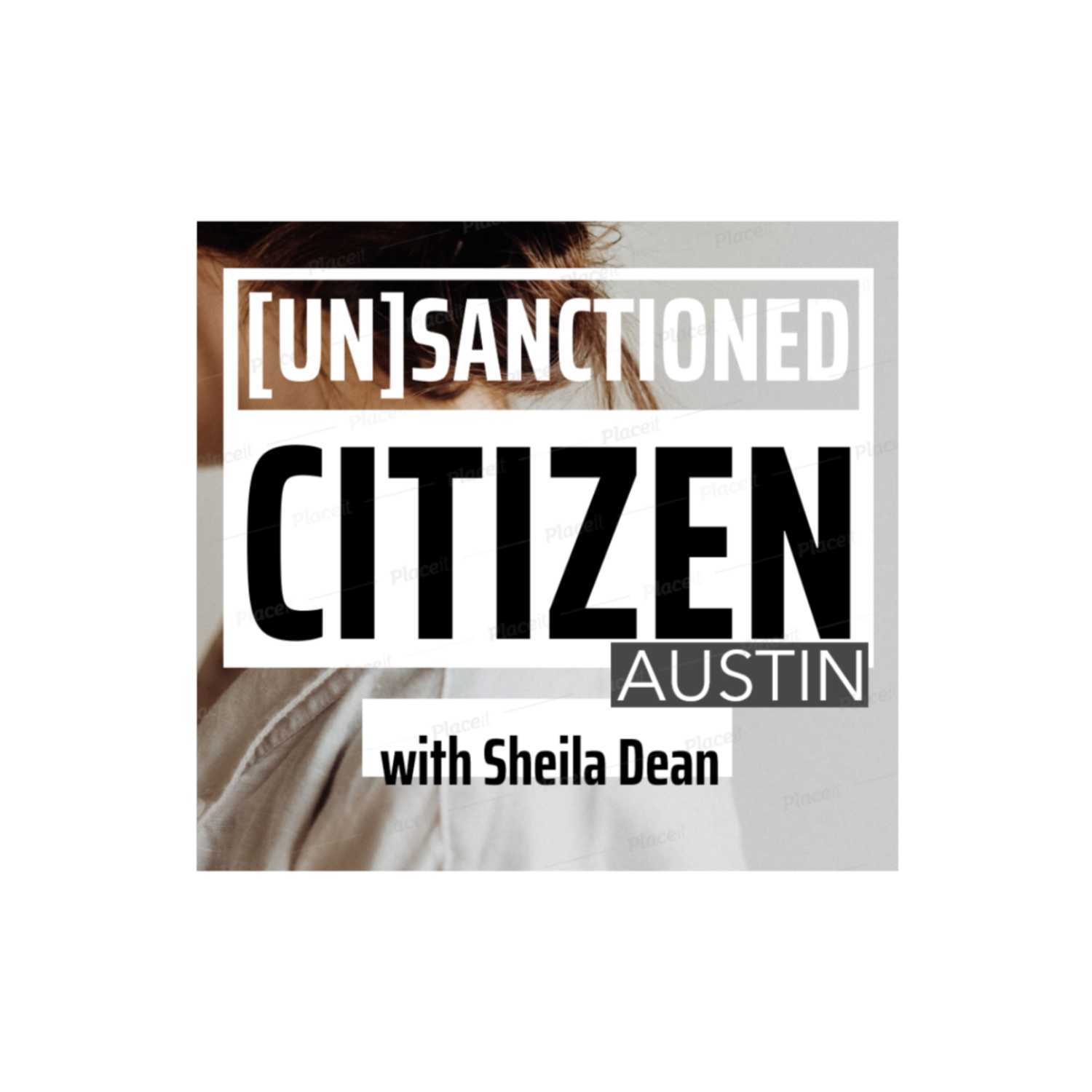 I would like to posit that the US population is sitting in a big waiting room for COVID-19 'to be over'.
Uh huh.
So, this is the little talk I give to people to I inform them of the following.
The pandemic is over when you decide that it is over because ... zero people can control COVID-19 virus from being an infectious disease that successfully ran its course. Other people are not running your life better than you could.
Everyone failed to control the virus. So what time is it now...
---
Omicron Is Undercutting Competition for Vaccine Pharma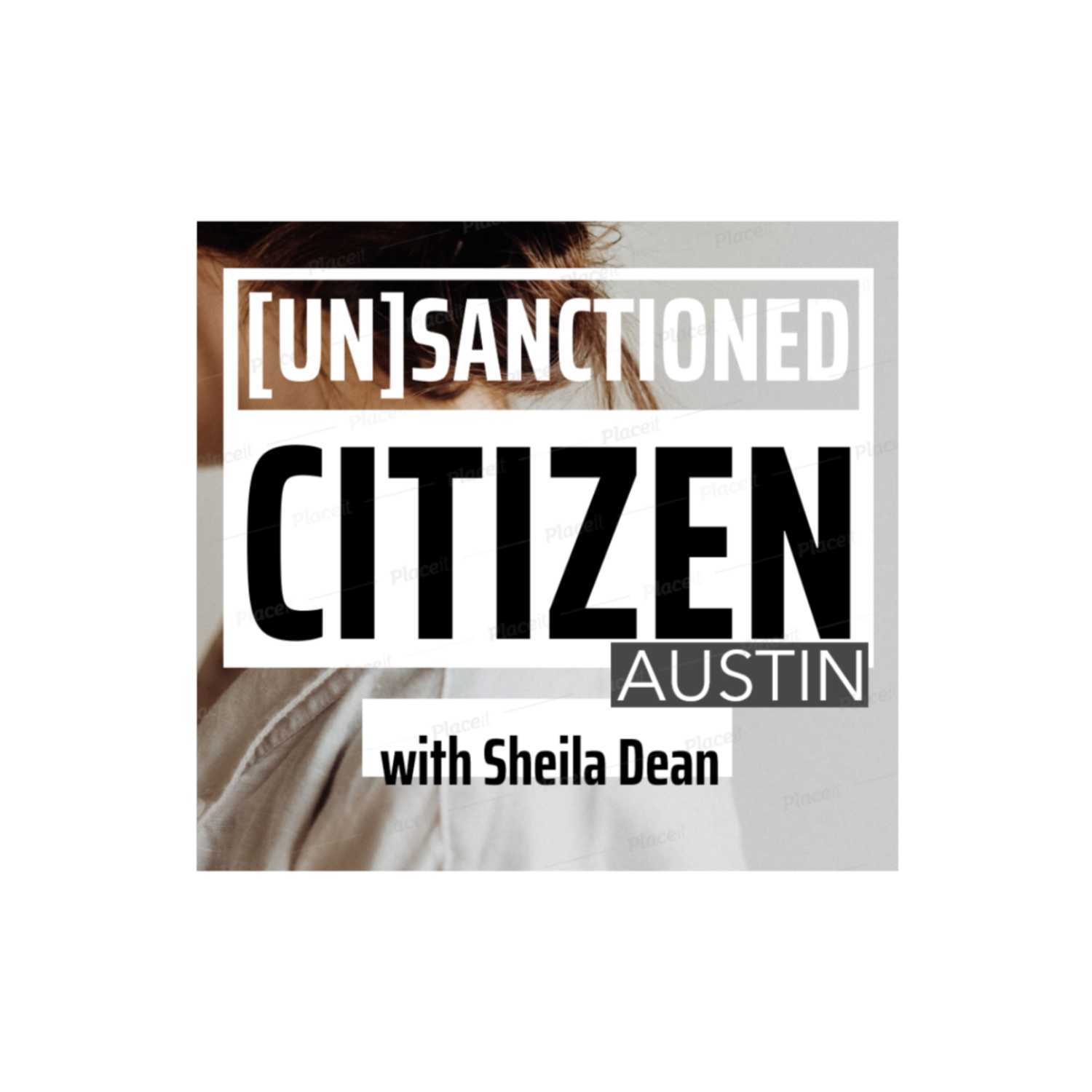 There. I'll just say it. Mexico, and possibly other poor states without access to the vaccine, are allowing the Omicron virus to overtake their population due to the mild nature of the variant and death count lower than breakout cases attributed to US vaccines.
To blame the 'unvaccinated' for an uncontrollable virus doesn't really hold up in the court of public opinion. What does hold up in medical reality is the efficacy of acquired immunity. Nothing about this has changed, except a pandemic turning endemic due to probable population herd immunity. So who do we hold to...
---
*Communists Are Not Against Slavery, especially in Oregon Marijuana Grow Sites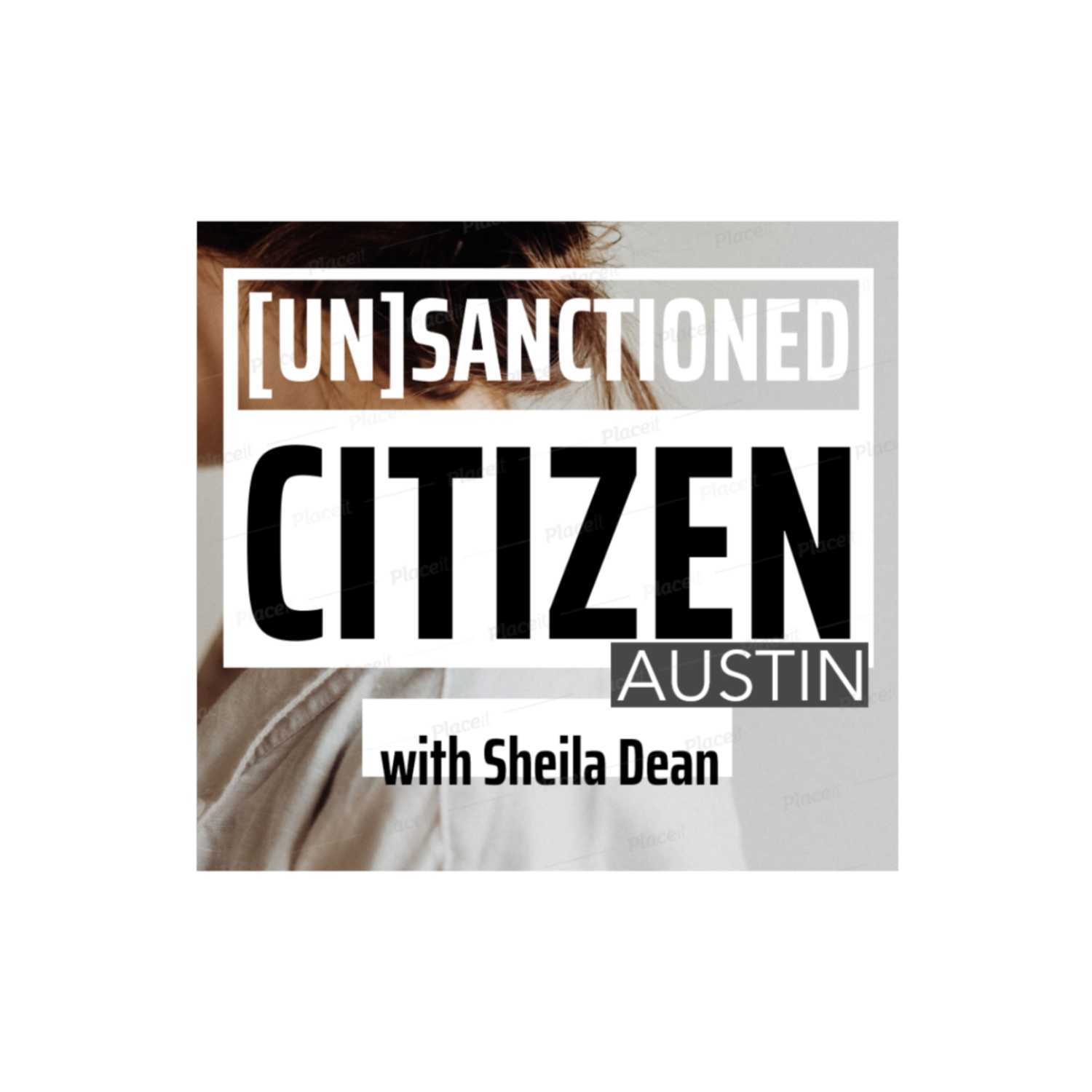 This podcast episode covers what the Axios reporters wouldn't: LA port supply chain chokes from vaccination mandates and Union refusals to comply & more on why you shouldn't let Communists run your ports.
>>>FULL EPISODE DESCRIPTION HERE.
---
ON LAWLESSNESS: A direct statement addressed to WA State AG, Bob Ferguson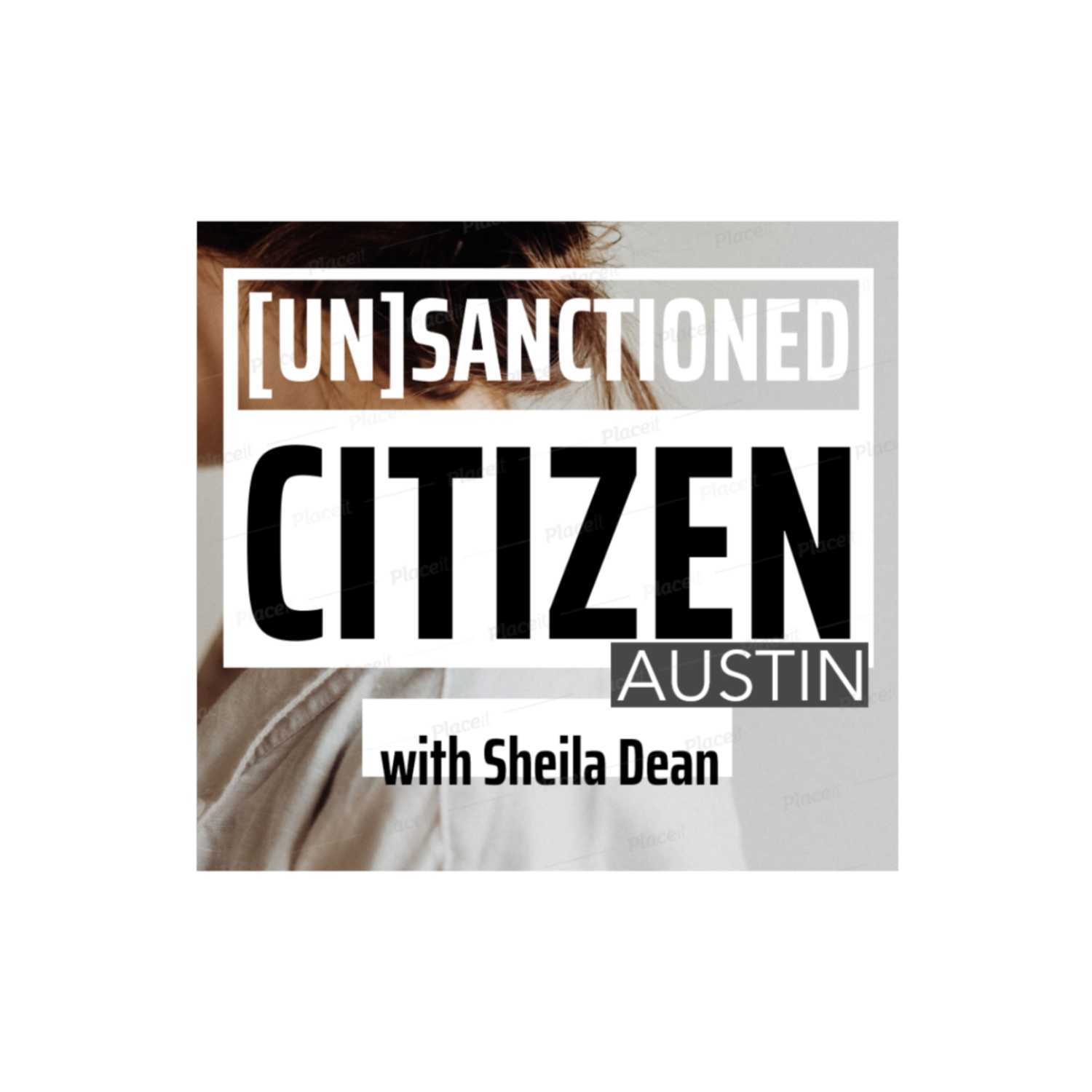 For the record, Tempest DelFuego is a fictional name attached to a real personality. The real person experiences cold, gets soaked in the rain and also feels the direct impact of a leftist led environment in Western Washington State, where progressives treat the law as if it is a subjective matter. That looks like law to be selectively enforced by mob will, prosecutorial misconduct and vigilantes, who get a criminal spree pass, if they are useful idiots to local communist political sympathies. Everyone else deals with arbitrary rules.
That's the difference between a 41 month sentence for the...
---
Stream of Consciousness for International Podcast Day!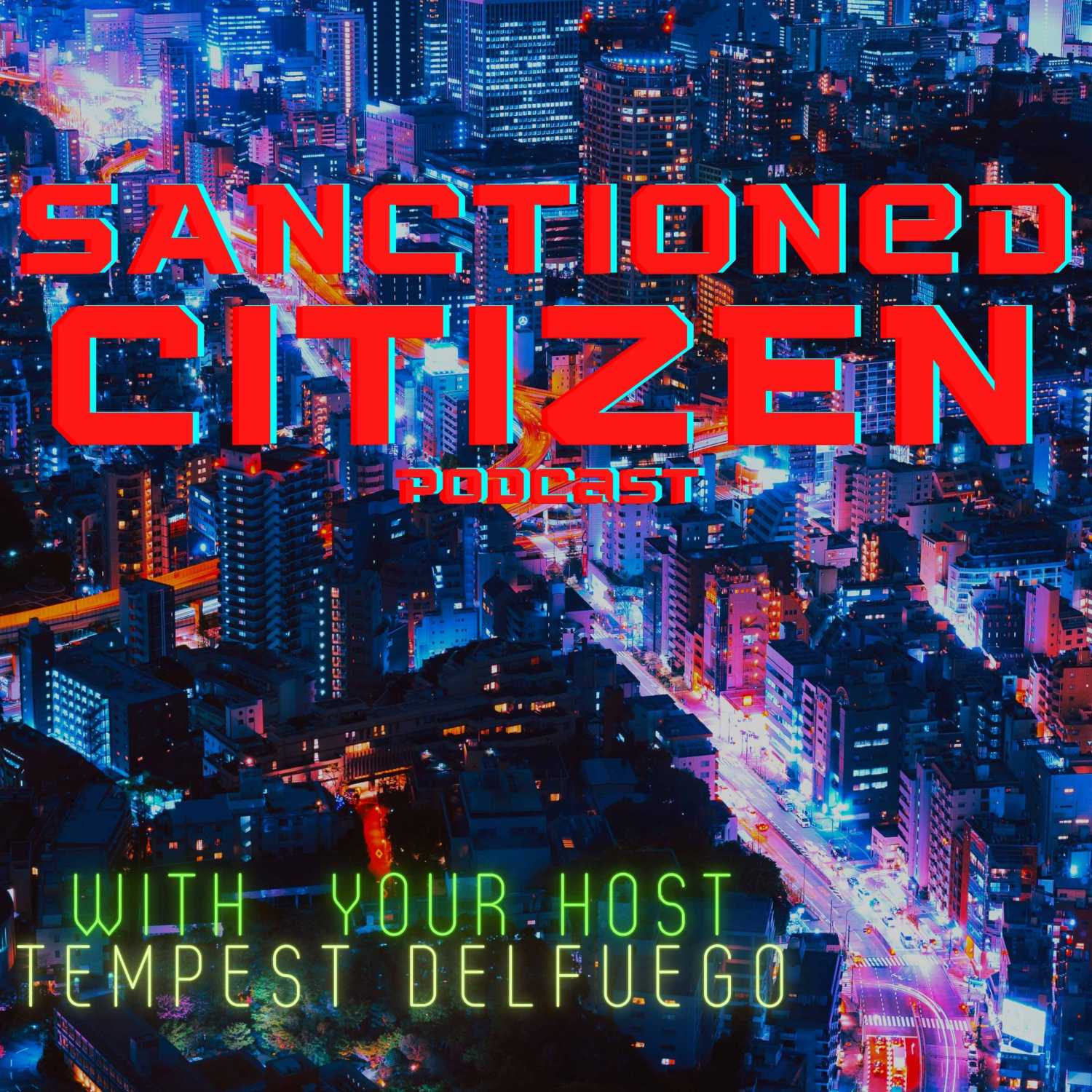 I jumped on the microphone with a rad music background set by Anabel Englund, who cannot be held responsible for the content of my expressions, and made this recording, ...and if I were in a public cafe... same difference.
Here is what I wanted to talk about.
The low grade medical internment of the United States has gotten intolerable.
It is now encroaching at a severely personal level. It looks like a duplicity of standards as medical freedom for people who are not our citizens, but the absolute boot for you. The Biden...
---
Satisfying Child Privacy, In Spite of Global Social Media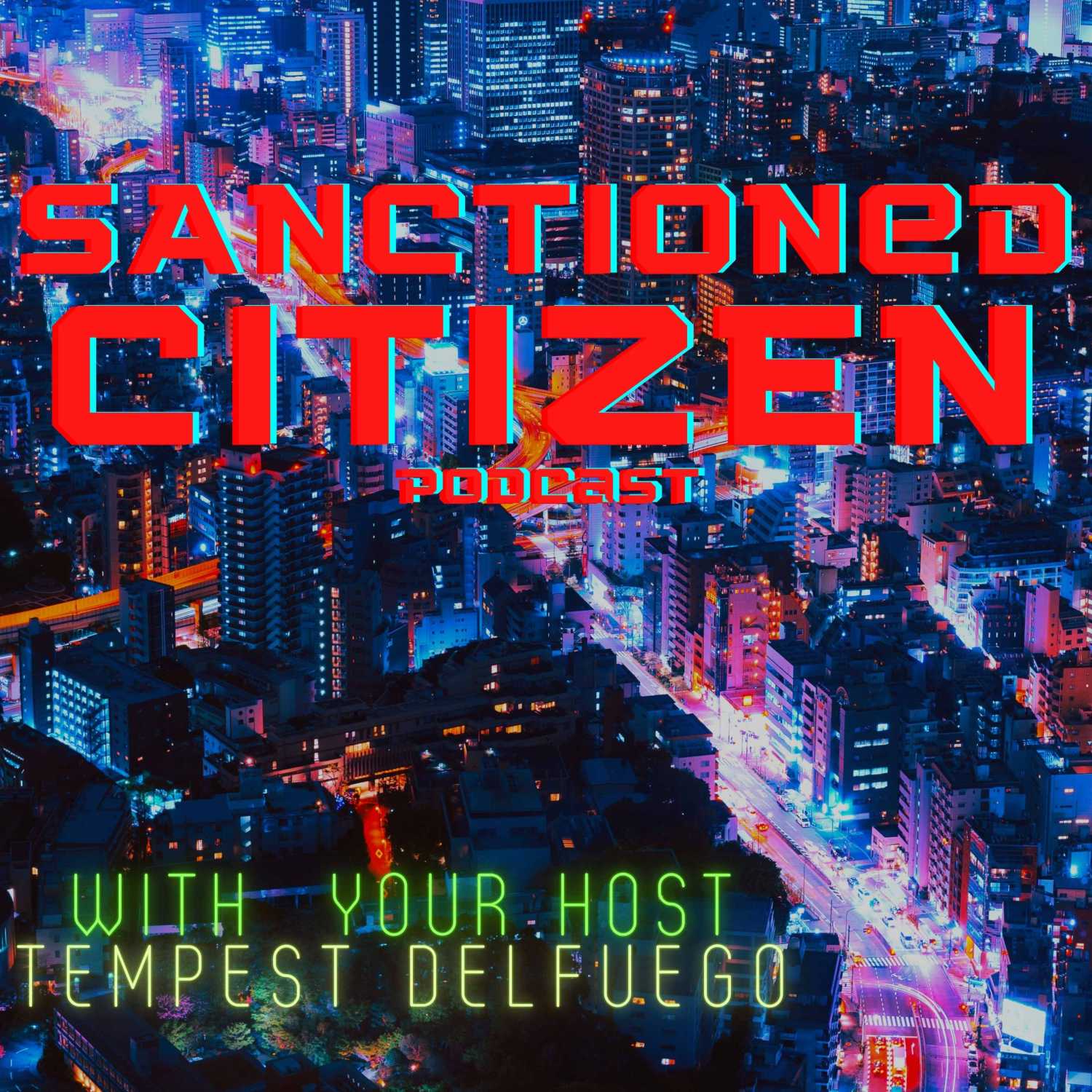 "He that gives good advice builds with one hand. He that gives good counsel and example builds with both [hands], but he that gives good admonition and bad example builds with one hand and pulls down with the other." - Francis Bacon
The essential law of moral physics is at work. You cannot say "Let's be private," toward children online, when no one in their land of models is prepared to support them with a clear example or enforceable privacy protections in their interests.
US Congress now seeks to advance online protections for children under 15...
---