Subscribe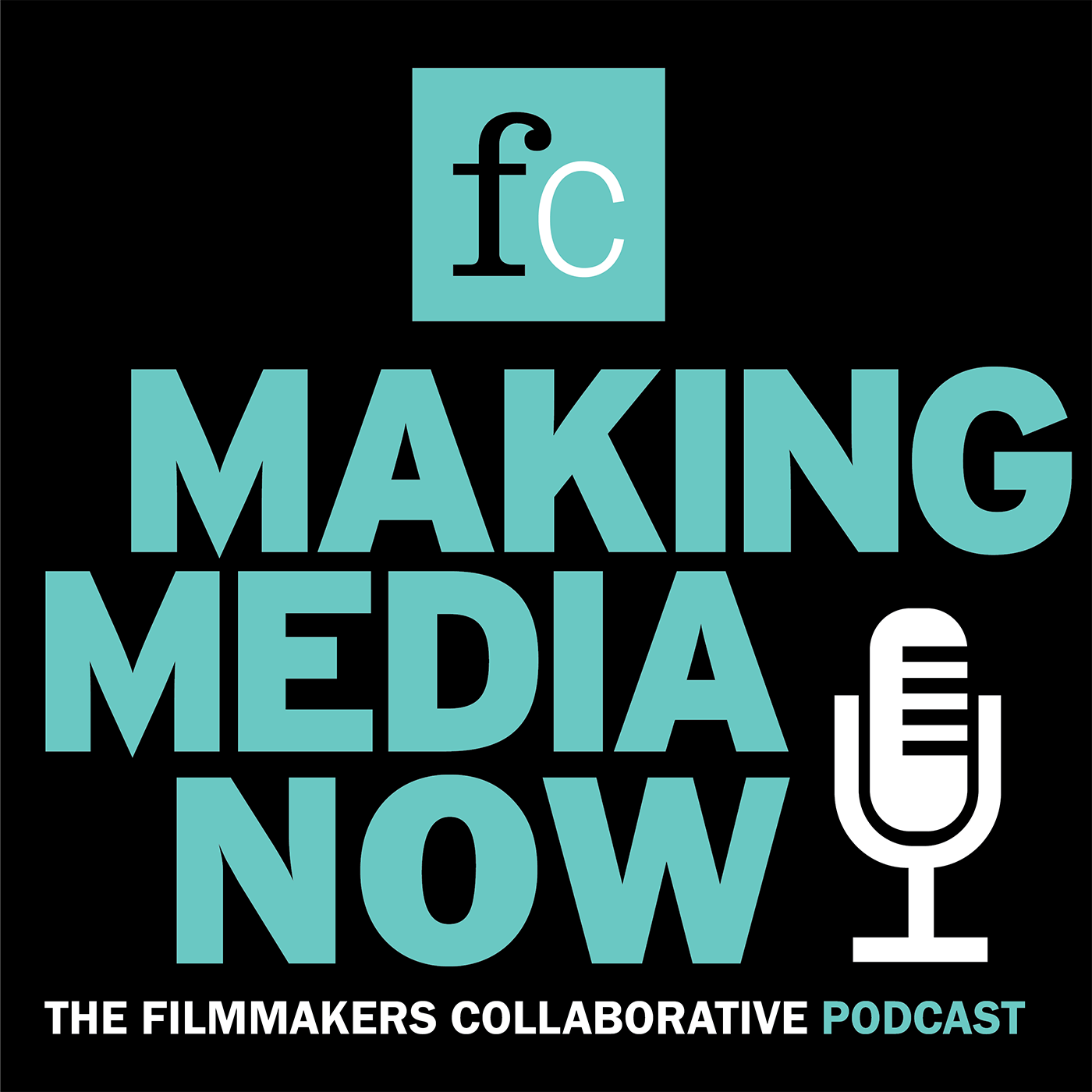 Making Media Now, presented by Filmmakers Collaborative, is a podcast dedicated to presenting informative and enlightening conversations with creators of all stripes–filmmakers, writers, directors, editors, technical experts–about their process, their vision, their joys and challenges. Listen in to meet visionaries crafting media in a range of genres and for the full spectrum of distribution platforms.
Forgiving the Unforgivable: A Conversation with Garrard McClendon
Forgiving the Unforgivable: A Conversation with Garrard McClendon
On episode number 23 of Making Media Now, the Filmmakers Collaborative podcast, host Michael Azevedo speaks with filmmaker, professor and author Garrard McClendon.   Garrard's debut documentary film, "Forgiving Cain," is a deeply personal examination of what it means to forgive an almost unimaginably painful act: the murder of your parents by armed assailants. This is the choice Garrard made in 2009, shortly after his parents, Ruby and Milton McClendon, were murdered.   Listen in to discover how and why Garrard arrived at this place of forgiveness and how he used this grievous loss...
---
Picture This: A Conversation with Storyboard Artist Josh Hayes
On episode 22 of Making Media Now, the Filmmakers Collaborative podcast, host Michael Azevedo has a fun and wide-ranging conversation with art director and storyboard artist Josh Hayes.    If you're a regular listener to this podcast, which often features conversations with filmmakers as well as folks who work their magic 'behind the scenes,' you just might be the kind of person who watches credits at the end of movie. So have you ever wondered what a Storyboard Artist does? Well, wonder no more! Meet Josh Hayes!   Josh is an LA-based storyboard artist who has worked with a virtual who's who o...
---
Big Subjects, Big Images: A Conversation with IMAX Director Daniel Ferguson
On this episode, we go big as host Michael Azevedo talks with writer, producer and director Daniel Ferguson. Daniel's films take on big subjects: the Tour de France, Jerusalem, and the Journey to Mecca. And, he shoots them in a big format for big IMAX screens all over the world. His latest immersive IMAX film is "Superpower Dogs," which introduces audiences to the life-saving superpowers and extraordinary bravery of some of the world's most amazing canines!
Making Media Now is sponsored by FC, a non-profit organization dedicated to supporting media makers from across the creative spectrum. From pro...
---
Shining "Light" on Eating Disorders in Performance Athletes
Welcome to episode number 20 of Making Media Now, the Filmmakers Collaborative podcast, with host Michael Azevedo. This episode features a conversation with first-time filmmaker Caroline Treadway about her documentary called "Light."    Drawing on Caroline's personal struggle with an eating disorder and her first-hand experience as a climber, Light illuminates the seldom-discussed issue of eating disorders in the world of professional rock climbing, particularly among its female athletes.   Since its streaming debut in February, the 45 min film has been viewed close to 160,000 times…on YouTube alone. And, as you'll hear Caroline share, has prompted viewers from across the globe to reach...
---
Traveling the Blues Trail with Filmmaker Ted Reed
It's episode 19 of Making Media Now and we've got the blues!
Listen in as host Michael Azevedo chats with Oscar- and Emmy-award winning filmmaker Ted Reed about his documentary "The Blues Trail Revisited." 
In the spring of 1970, 20 year old Museum of Fine Arts film students Ted Reed and his friend Tim Treadway drove through the south to find and record some of the last living blues legends. Their goal was to discover the very roots of American popular music, and the sources of the rock music they had grown up with. That film, the 27-mi...
---
Bringing Vitality to Virtual Film Festivals with Lela Meadow-Conner!
On episode number 18 of Making Media Now, the Filmmakers Collaborative podcast, host Michael Azevedo speaks with Lela Meadow-Conner, Executive Director of the Film Festival Alliance.  This episode serves as a coming attraction of sorts, as Lela will be the featured guest at Filmmaker Collabortive's March 17 lunchtime (12:30pm ET) webinar. (https://www.eventbrite.com/e/lunchtime-webinar-with-the-film-festival-alliance-tickets-144458327747) The Film Festival Alliance is an organization that creates a collaborative global community for mission-driven film festivals while advocating for a sustainable and inclusive environment for the filmmaking industry. Lela has served as its executive director since 2017 and has more than 20 years experience in the fil...
---
The Future is Now: Discussing Emerging Platforms with GBH's Tory Starr
On episode number 17 of Making Media Now, the Filmmakers Collaborative podcast, host Michael Azevedo chats with Tory Starr of Boston's public television powerhouse 'GBH.   
As the Director of Digital & Social Content Innovation at GBH, Tory works with the station's many local and national production units to inform and develop content strategies on social and emerging platforms.
Since 2018, she has led GBH's Emerging Platforms initiative to pilot original programming and instill audience-first content development practices throughout the station. 
Tory's expertise and insight around the topic of how best to produce and distribute dynamic and education...
---
We Need to Hang Out with Billy Baker
On this episode, host Michael Azevedo chats with Boston Globe columnist and best selling first-time author Billy Baker.    Billy Baker writes features and humor columns for the Globe. His first book, "We Need to Hang Out: A Memoir of Making Friends," which has raced up the best seller lists since it was published by Simon & Schuster in January. (https://www.simonandschuster.com/authors/Billy-Baker/150722648)   In "We Need to Hang Out," Baker embarks on an entertaining and relatable quest to reprioritize his ties with his buddies and forge more connections, all while balancing work, marriage, and kids.   Along the way, Baker talks to...
---
Meet Media-Maker Michele Meek (Holy Alliteration, Batman!)
In this episode, host Michael Azevedo speaks with the multi-talented, multi-faceted media creator Michele Meek.  
Michele is a writer, filmmaker, professor, and the founder of NewEnglandFilm.com and Independent Media Publications. Her most recent books include Independent Female Filmmakers (2019) and The Mastermind Failure Club (2020). She has directed numerous award-winning short films, including Imagine Kolle 37 (2017), and she worked as associate producer on the documentary feature Salvage (2019), which premiered at SXSW Film Festival. Her scholarly research focuses on depictions of sexual consent in media and literature, and she presented a 2018 TEDx talk. She is an Assistant Professor in the Communication Studies de...
---
Exploring "A Reckoning in Boston" with Director James Rutenbeck
In this episode of Making Media Now, host Michael Azevedo speaks with award-winning documentary filmmaker James Rutenbeck (https://www.areckoninginboston.com/index).   James is a two-time recipient of the Alfred I. duPont–Columbia University Award for his work as producer of the PBS series Unnatural Causes, about health disparities in the U.S., and Class of '27, which he executive produced, directed and edited.    He has been awarded grants from Sundance Documentary Fund, LEF Moving Image Fund, Southern Humanities Media Fund, and the Corporation for Public Broadcasting.    His latest film is called "A Reckoning in Boston," and centers on the experiences of Kafi Dixon...
---
Exploring "CodeSwitching" with Jonathan Schwartz & Mike Mascoll
On this episode, Making Media Now host Michael Azevedo speaks with Jonathan Schwartz and Mike Mascoll, the makers of an eye-opening documentary film called "CodeSwitching." (www.codeswitchingmovie.com)
"CodeSwitching" is a mashup of personal stories from three generations of students enrolled in the Boston-area METCO program: a groundbreaking voluntary desegregation initiative. 
The film explores shifting race relations in the suburban-urban axis, teen self-perception, and the role gender plays in fitting-in. Many participants in METCO achieve enviable academic success while some find navigating between the two highly-segregated worlds difficult.   Making Media Now is sponsored by FC, a non...
---
Meet Multi-Faceted Media Maker Roberto Mighty
On this episode of Making Media Now, host Michael Azevedo chats with a true creative Renaissance Man: Roberto Mighty.   
Roberto is a filmmaker, TV host/producer, multimedia artist and educator. His critically acclaimed projects garner national funding and extensive press coverage.  Roberto is currently producing and hosting 26 half-hour episodes of two new, original public TV series: "World's Greatest Cemeteries" and "getting dot OLDER". Each series will premiere in fall of 2021. And both series employ engaging storytelling to celebrate diversity and inclusiveness. To learn more, visit www.worldsgreatestcemeteries.com and www.gettingdotolder.com Roberto's latest documentary, "Legacy of Love", about Marti...
---
Bringing the Past to Life: A Conversation with Novelist Jane Healey
On this installment of Making Media Now, we celebrate a first: an interview with a novelist, in this case it's best-selling novelist Jane Healey.  We're all about conversing with, as we say, 'media makers of all sorts'….and seeing whereas books were certainly among the first forms of "media," chatting with a novelist certainly makes sense…and makes for a lively and interesting conversation.    
When her daughters were born, Jane Healey left a career in high tech to become a freelance writer. Her passion for historical fiction became her new career when her first novel THE SATURDAY EVENING GIRLS CLUB...
---
Is There a Doctor...On the Set? A Conversation Dr. Paul Heinzelmann of SetMD
On this episode, Making Media Now host Michael Azevedo speaks with Dr. Paul Heinzelmann of SetMD. 
SetMD has been providing medical services exclusively to the motion picture industry since 2007. They specialize in serving the health and wellness needs of the motion picture and television industry through a concierge-style healthcare service that combines the personalized care of old-fashioned doctor house calls with the convenience and affordability of mobile and online care options.  As of 2020, over 150 productions have been served.
In my conversation with Dr. Paul, who is an urgent care and primary care physician based out of Mass...
---
Toasting the Cocktail Conversations with Michelle Mitchell
In this episode, I chat with award-winning journalist and filmmaker Michele Mitchell about The Cocktail Conversations, her lively and thought-provoking podcast. Each episode is a racy, raucous and informed deep dive into the topics you wanna talk about, featuring questions you just might be afraid to ask. You can find The Cocktail Conversations wherever you get your podcasts! Find a comfy seat, pour yourself a refreshing beverage and take a listen!
Making Media Now is sponsored by Filmmakers Collaborative, a non-profit organization dedicated to supporting media makers of all stripes with its array of benefits and services. Vi...
---
Catching Up with Podcast Host and Comedian Pete Dominick
Pete Dominick's experience as a media maker is extensive: from headlining stand-up comedy gigs across the country to a coveted job as the warm-up comic for The Daily Show and The Colbert Report, then on to regular hosting and guest commentator spots on CNN.    For more than a decade, he hosted Stand Up with Pete on Sirium XM satellite radio and in 2020 re-branded his radio show as a daily podcast (www.standupwithpete.com) by the same name. Five days a week, Pete engages in deep-dive conversations with news makers, policy experts, journalists, filmmakers and thought leaders.    Making Media Now is sponsored...
---
A Conversation with Filmmaker and Nutritionist Diana Rodgers
For more than 15 years, Diana Rodgers has lived on a working organic farm raising vegetables and pasture-based animals. In 2010, she realized the solution to her Celiac Disease and blood sugar roller coaster was to eat an ancestral-type diet. From there, she decided to change her career in order to help others through diet and lifestyle change. Today, Diana is a Registered Dietitian with a busy clinical practice and the author of two best selling books.    And now, with the upcoming release of her documentary Sacred Cow—which will be available for streaming on Jan 5, 2021, Diana can add director to her long li...
---
An Examination of Life "In A Different Key"
Winners of 10 Emmy Awards, and veterans of PBS, ABC and CNN, co-directors Caren Zucker and John Donvan have been telling stories centered on autism for more than two decades. In this episode of Making Media Now they speak with host Michael Azevedo about their just-completed new documentary "In A Different Key".
Their film is based on their book of the same title, a narrative account of autism's history that became a New York Times bestseller and Pulitzer Prize Finalist.
Making Media Now is sponsored by Filmmakers Collaborative, a non-profit organization dedicated to supporting media make...
---
A Conversation with Midge Costin, director of Making Waves: The Art of Cinematic Sound
Heard any good movies lately? If you've never realized the indispensable role of sound design in your favorite movies, check out Making Media Now host Michael Azevedo's conversation with Midge Costin, the director of  "Making Waves: The Art of Cinematic Sound".  
Midge Costin produced and directed the award-winning feature documentary "Making Waves: The Art of Cinematic Sound" which had its world premiere at The Tribeca Film Festival and its international premiere at Cannes Film Festival in 2019.  
She was nominated for Best First Time Director by the Critics Choice Documentary Awards and the film received multiple other a...
---
A Conversation with Director Josh Seftel
Filmmakers Collaborative member Josh Seftel is a 2017 Emmy nominee and was a Peabody Awards Finalist for creating the landmark series "The Secret Life of Muslims," a poignant and insightful documentary series that   examined Islamophobia and what it meant to be a Muslim in America. 
Josh also directed the breakthrough Emmy-winning series Queer Eye for the Straight Guy, the feature film War, Inc. starring John Cusack, Marisa Tomei and Ben Kingsley, and is a contributor to Ira Glass' This American Life and CBS Sunday Morning, which has been featuring his hugely popular series of virtual conversations with his 83-year-old mother.  ...
---
Meet Filmmaker Meghan Shea
Meghan Shea is an award winning documentary and branded content film director and producer. She began her career in film at Washington Media Associates as a researcher for "Peter Jennings: Reporting on Guantamnamo," the first long-form television investigation into the Bush Administration's detention and interrogation policies. Together with her partner, in business and in marriage, Mike Rogers, Meghan heads up Persistent Productions which has offices in Massachusetts and Singapore.
---
A Conversation with Filmmaker Tim O'Donnell
In this episode, I talk with documentary filmmaker Tim O'Donnell. Tim, and his producing partner John Mercer, are the driving forces behind Pixela Pictura and Pixela Pictura films, their branded content and documentary film companies.   As Emmy-nominated and award winning creatives, their films have been seen on ESPN, ABC, PBS, at the Sundance Film Festival and events around the world. Their film "Life Without Basketball" was recognized for its contributions to global sport by Human Rights Watch and a short film adapted from the same body of work was distributed with CNN films and Uninterrupted.   Their feature documentary film "Not...
---
Introducing Making Media Now
Welcome to the debut episode of Making Media Now, the Filmmakers Collaborative podcast. In this episode your host, Michael Azevedo, speaks with Filmmakers Collaborative executive director Laura Azevedo (yes, Michael's sister!) about FC's services, mission and programs. Special thanks to Sound Engineer AJ Kierstead.
---