The Blue Collar Offroad Podcast
Subscribe
Are you feeling down because your rig is a rusty piece of junk? A flatlander with no rocks to climb? Or maybe you're on your 4th junkyard LS that wont stop losing oil pressure right before the next trip? Then this is the podcast for you! We'll help you fix your shit, tell stories about our recent misadventures offroad (or onroad), and debate with just about anyone on why patagonias are trash.
OnlyWalts. #131.
(sorry Frankie. Still mad you didn't get the diller.) This podcast features 60% Walt's nightcrawlers. Graham and Luke joined the Walt's crew for the Great American Walt and we roped Nick into joining us to tell the story. Cody and Richie provide feedback and mock Luke. It was a great Episode to record. SMORR is an awesome park, the Walt's are fucking awesome, good times great people. 

Onlywalt's is now on sale. $6.99 a month for all your indecent needs. 
---
Do Ye' believe in body damage? Bob Siwinski of FnF #130
24 hours to hell and back, civil war, humble pie, wheeling for warriors, and clean shitters. This episode has it all. Bob comes back on to talk about the stuff that is going on at FnF and going to be going on at FnF. As always he is an awesome dude who quite literally stole the show! (And provides guest as payment. It is a win/win across the board)
---
The Hendricks Experience. #129
Harry Hendricks Joins the lads to talk about some core memories like OER 4, mabell with 1 wheel drive and building a 1.8t Transaxle buggy. https://www.youtube.com/watch?v=4tB7ChDsoVE
---
Midnight Madness at the Meet N Beat. #128
KC joins the boys to talk about the insanity that was the meet and beat. Truly a wild time, Luke leaves early for "work" and grem beats on his rig alone for 2 more days. KC wrecks stuff, and drops a few spoilers as to what is coming. 
---
Baja Blast off. #127
Tommy from Twin Stick Crawlers Joins us to talk about his buggy build, his Twin Stick Crawlers page, Where he likes to wheel, the Web Wheelers Ball and more!
---
Mental Grit. #126
Zach Wolfe @zwolfe01 Came on to talk about how he got his xj setup to allow him to wheel out of his wheel chair, but with a few note worthy extras. The usual coil overs, 3/4 link, cage, and 42s. This guy is an animal and keeps on making things happen. 
---
Meat EmN' Beat'm #125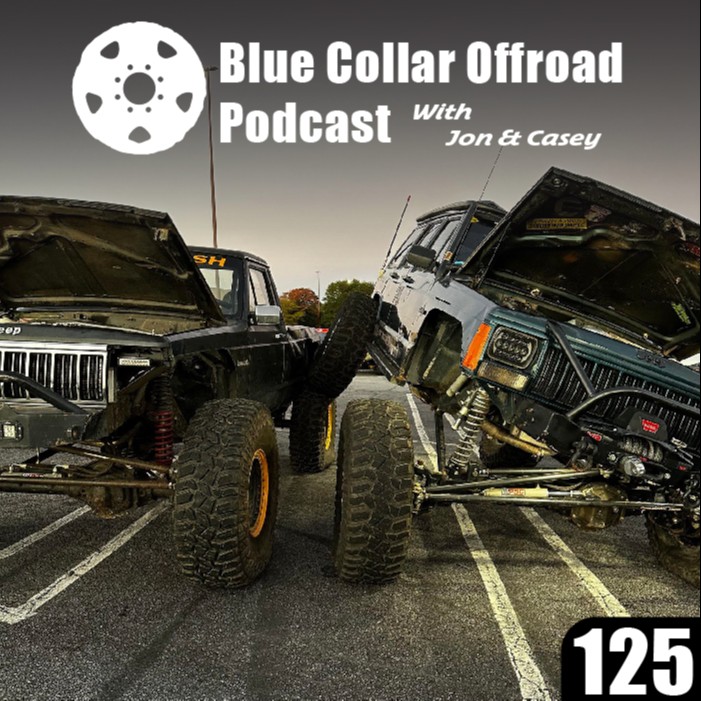 2 weeks remain till the 2nd Annual Meet and beat with @Trail_Trash. So we got together with Jon and KC, keynotes Atlas transfer cases fuck, the gerbals are doing alright, and KC ruined a classic. solid 9.9 episode. 
---
Building a better buggy with Mike Catrini #124
Mike comes on and talks about the good old days, the times where you could grab a mopar efi kit from the jeep dealership, how he got into offroading, the OG atlas experience, the Paragon sign, old school xj mods, the first chassis, and what is going into the next one! (and we dont mean his, at this time hes got a sick lawn mower.)
---
Tony's Tin Top and the boys. #123
Anthony comes on to discuss the rig that he has now and replaced the KJ, grem talks about his engine, Luke is going 4:1 with some other cool stuff going on. 
---
6BTYJ things. #122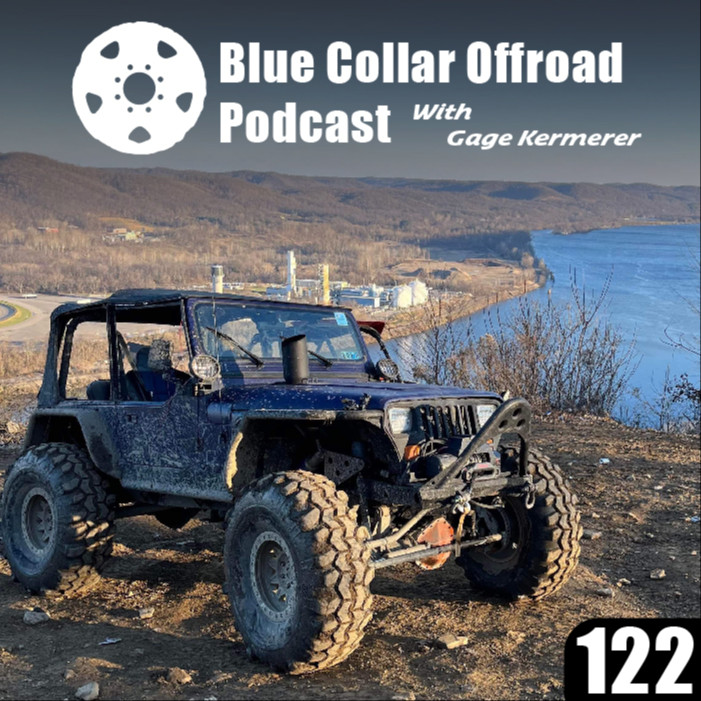 Gage Kremerer Joins us to talk about building an absolutely nutty YJ on 14bs, 42s, a minor power plant change, and just the usual cantilever coilover frontend setup. Just, ya know basic.
---
Cheap stroke jobs. #121
Grembo knock'd his 4.0L and is trying to throw together a junk yard stroker, Luke buys a 4:1 case, and Cody gets some spare parts. 
---
Heisenberg. #120
A potential drug lord wheels a dana 30? Mike joins us to talk about keeping a dana 30 together with 37s, what ways he is plotting the dana 30s downfall, and what mods are required for tons. All in all an awesome time with a cool dude! 
---
Shinnamon Toast Crunch. #119
Chris Shinammon joins Luke, richie, cody with a guest appearance from shawn as well. They cover wheeling a jk, getting involved with Rockaholics building his current buggy, plans for his new chassis and running humble pie. We finish off with some good dad advice and some horrifying cat facts.
---
Quick n' Easy #118
Cody has to go plow snow leaving Luke, Richie, and Graham shoot the breeze. Hydro lines, AN vs JIC, and what's going with Grembos jeep come up. 
---
Wheeling for longer than we've been alive. #117
Jason K returns for a long overdue and much owed episode, we cover what got the guy into wheeling, some older parks, old builds, current builds, clown school, and good times. Cant wait to see the Jeepster out and on the trails!
---
Howie's Crawlers on Nostalgia Road #116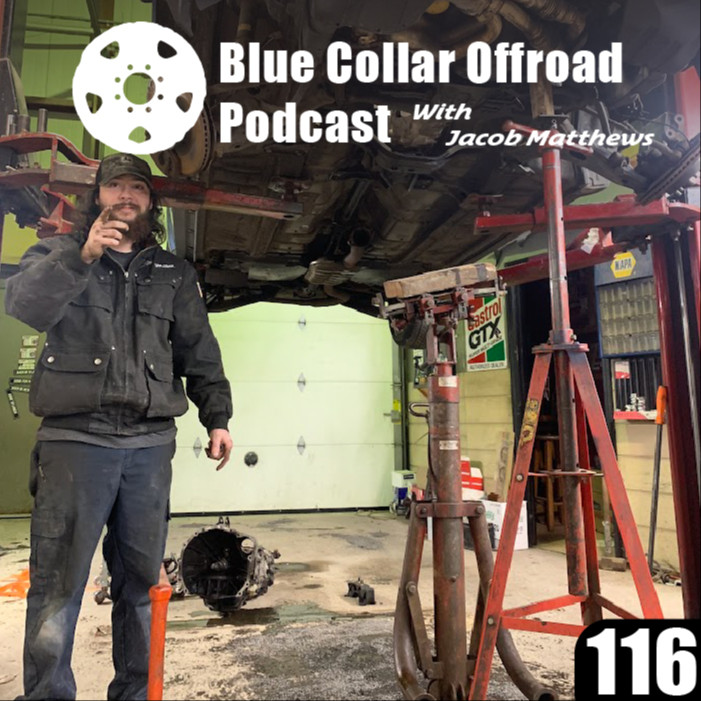 This week we grabbed the man behind the curtain on a lot of the work we have talked about on previous podcasts.

While Jacob has never officially wheeled with our club, hes worked on a good few of the rigs in it, and had a two door xj wayyy back before the club's time. What was planned as a eulogy episode to the old "Howie's Auto" Garage he recently closed, twists into a nostalgia trip back to our beginnings of plunging into this lifestyle choice. So get a jar of water and strip down to your underwear...
---
Your Typical Tenessee TJ on 43s. #115
Joe joins the boys to talk about his TJ juggy with the usual, 05+ axles, 43 stickies, suck down winches, coilovers, and a tube frame. Where the good wheeling is, bucket list trips, and how he got into it.
---
Full Hydro FM. #114
We're back with Mark Knibbs aka FM Jeeper for another round of updates on what hes been up to. Hes recently finished his full hydro system and may install a suckdown winch on each corner for maximum flex control.
---
The Great American Walt with Penny Shy. #113
Nick joins us to talk about the Great American Walt trip, the progress on his buggy and grem even bothered to show up. 
---
Long Island Crawlers. #112
This week we grabbed Mike Panebianco who is honestly long overdue for an episode! For those who don't know Mike you've more than likely seen at least one of the many rigs he has built floating around the internet. He seems to always have at least 2-3 builds in progress at any point and all of them come out phenomenal. We talk about some of our favorites that he's built, and what he has going on now. Plus a few of the memorable moments from the Rausch trips we've traditionally met up with his gang at.
---
Damn boy we RATCHET. #111
Grab your extra large crayons and start doodling while listening to the soothing sound of Keith the owner of Ratchets Offroad talks about wheeling, the business, bread and butter work and weird projects. Also Laugh at Luke and try and figure out where the meds take effect. 
---
We talk to the President again. #110
Happy New Year everyone! We kick off our third year of talking aimlessly into a mic with BYB Club President Shawn Pierce. Who finally after much delay (thanks Graham) has his new buggy back home and about ready to beat this winter. Plus the obligatory discussions about plans for the upcoming year and some reflection on 2022.
---
Elm St. In a JK. #109
Chris Iosua comes on to talk about his jk, 24 hours to hell and back, and then thing devolved into some exciting details. 
---
Haul N Crawl, How to fix an XJ. #108
Kyle from HaulNCrawl came on and asked some thought provoking questions, talked about how his xj ended up cut to absolutely nothing, what he is doing to put it back together, and finally how to package a manatee?
---
We found XJ Mike. #107
The man the myth the legend joins us to talk about his old rigs, getting back into it, wheeling with the boys, and where you can find him next! 
---
Burtis And Shreddie. #106
Curtis and Eddie ended up meeting after we where not sure if Eddie was going to make it. We talk about how xjs are nothing but compromises, eddies new buggy, his plans for it, mock Curtis and it was fun. 
---
Xtreme Dave #105
I was going to put something nifty for the title but instead I figure I will let Dave do the talking for himself. This one ranks up there with Sam, Tyler, Nick, and Dwight as far as being awesome. Super cool dude, super cool rigs (28 to be exact) and he goes into something we never knew of, off-road tours!
---
We lost XJ mike. #104
Xj Mike was supposed to come on, but he had some issues with his water heater so the boys talk wheeling kissh's, fuel cell gripes, and tow rig things. All and all it was a fun one. 
---
WeRock overload. #103
Werock, well Caleb Good does at the very least. A nice blend of Tech, humor, video games, Luke looking for a good time to hit Grem with a shovel if he has to hear any more about suckdown winches, and some talk of electric buggies. Check it out, this one was shocking. 
---
Its a Tuesday and we're friggin blastin' it. #102
This week the gang had the pleasure of talking with Tyler Oberste aka "Ober Time". We discuss his early days in the hobby, his rigs over the years, and of course the art of blastin tires off the rims in a burnout pit.
---
Pickup sticks. #101
Half the cast went AWOL so Richie and Luke called up the crew from Good Evening Ranch to shoot the shit, talk about the weekend and drop some info about what we have going on next year. We do apologize if some of the audio is imperfect, we are trying a new recording system, plus we had 2 people sharing a mic. 
---
Episode 64 Plus Grembo. #100
Nick Leblanc returns as we celebrate 100 episodes! We shoot.....No Grem shoots the shit for most of the episode, we talk about gators at some point, and Nick explains going back to a mans transmission.
---
Don't say it. @Good Evening Ranch. #99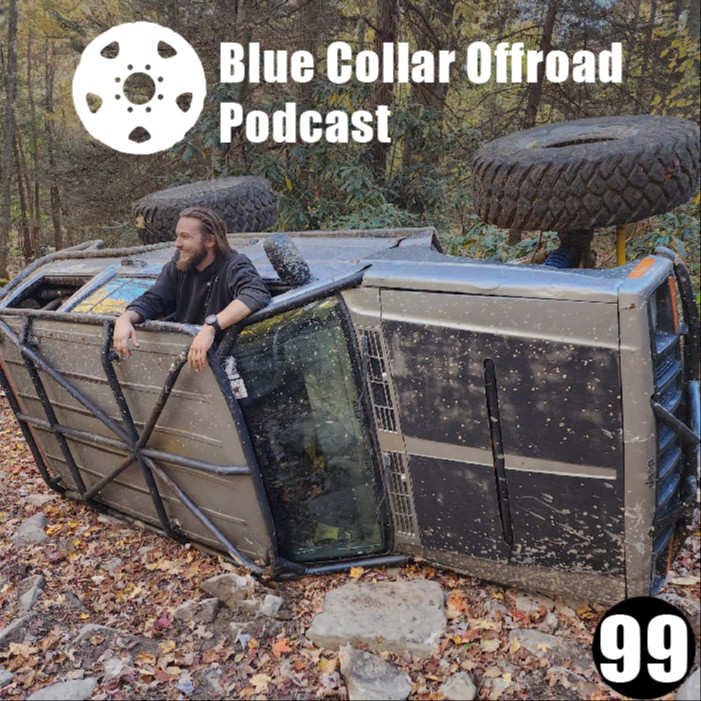 Barrel rolling into this episode the boys are back from GER and had quite the time. We find out how driving on no sleep works, why motobilt is trash, talk about good times in the woods, and we discuss moving Labor Day's party.
---
On the road again! #98
Getting ready to go to Good evening ranch has been quite a rough trip for Luke and Grem! We talk about what was required to get Berry on the trail again, and grems rig ripping the leafs out. Swing by if you are at GER!
---
Getting back on the horse. #97
After some technical issues causing a recording to go bad, Luke's jeep exploding, and with good evening ranch coming up Grem, Richie, and Cody sit down to shoot the shit.
---
Bad Geometry, Sketchy Beer, and Cody Buys a Vacuum #96
In this episode we say a prayer for the Green Buggy which we hope will be done someday soon. Drank questionable beer from Ruffstuff or something, found out the real reason people need a suckdown winch, and went way off the rails in the second half.
---
Suck me down at Rausch. #95
Jason @99_white_xj and Curtis.berens (hack bar) Join us to talk about the time they had at rausch, the damage suffered to Curtis's jeep, getting old and liking hotels and finally what Curtis will do next. (Oh and 43s+LS=V-Notch._
---
Web Wheelers Ball Pt.1 #94
Reuploading because of a hosting error. The boys talk about the Web Wheelers Ball #3. It was a great time and we can not thank every one who showed up enough. Plenty of carnage to discuss and lots more to come. Also some info about who you might hear next! Please leave a review, if you liked it share it! Thanks Yall!
---
The Road to Rausch. #93
The boys talk about what is going on with getting to the Web Wheelers Ball. Its a ton of fun and we hope you enjoy this early morning episode! 
---
508 Track Day #92
Last weekend several of us had the opportunity to go to 508 intl and run the Jeeps and buggies on the motocross track between SxS runs. Lots of really cool offroad racecars doing racecar things, and we watched Colin's Jeep learn how to properly fly.
---