This Week In Radio Tech (TWiRT)
Subscribe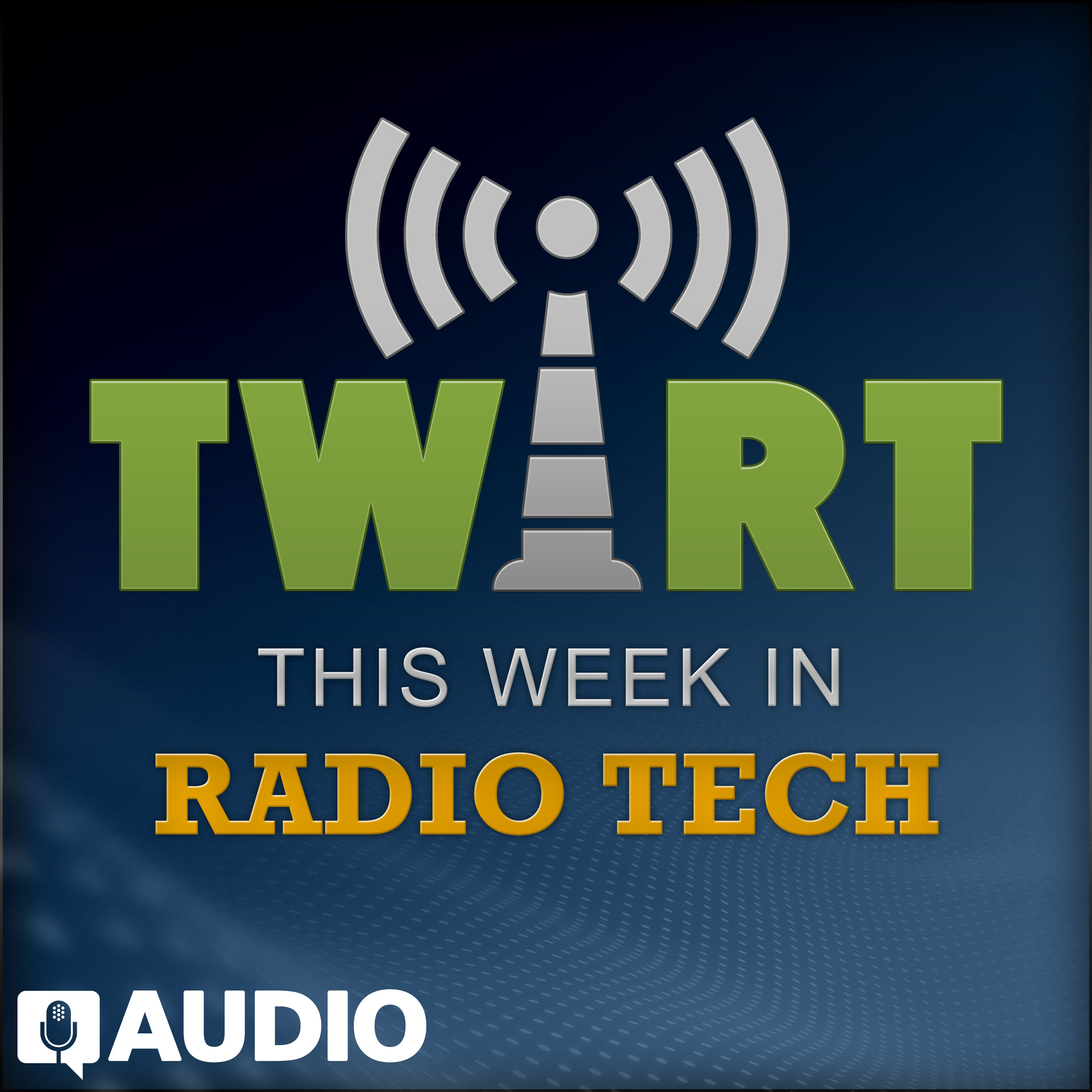 Broadcast Engineers – especially Radio engineers – work behind the scenes to bring you most everything we listen to, including web-delivered audio.Broadcast engineer and radio station owner Kirk Harnack brings you "This Week in Radio Tech". Along with co-hosts Tom Ray, Chris Tobin, and Chris Tarr, TWiRT episodes feature sage audio advice, "There I was..." stories, and instruction from some of the sharpest minds in audio media technology today. TWiRT is smart, informative, and lots of fun for audio, RF, and packet-loving geeks.
TWiRT Ep. 578 - We May Be Just as Down, But I'll Feel Better - with Stephen Wilkinson
We've seen and heard news reports about pandemic lockdown measures taken in Australia. Recently some measures have eased up, so Aussie radio engineer, Stephen Wilkinson, joins us live from Sydney. Stephen is the Technical Ops Manager at Hope Media, and he consults a number of other radio stations on their engineering and technical operations. How are his stations doing under stay-at-home orders, and what technical solutions has he implemented? Chris Tarr looks after over 30 radio stations in Wisconsin and describes his solutions as well.
---
I've Prepared All Year for This Show with Chris Tarr
We're delighted to officially welcome Chris Tarr to TWiRT as our new weekly co-host along with the show's founder, Kirk Harnack. As Group Director of Engineering for Magnum Media, Chris brings a daily hands-on radio engineering perspective to the show. We're giving Chris the floor for this episode so you can get to know him and the kinds of projects he's working on at Magnum Media. Since Chris Tobin's passing, Kirk Harnack has been hosting TWiRT solo for the past year. Kirk recently invited an engineer familiar to many of us, Chris Tarr, to rejoin TWiRT as a...
---
TWiRT 576 - What Did YOU Do - And How - Last Year? with Chris Tarr and Sam Woo
Sam Woo owns a media content and consulting company, Primetime Radio. He collaborated with former TWiRT co-host, the late Chris Tobin, on technical improvements and logistics for producing the "Let's Go Devils Podcast" as well as corporate events and more. Sam joins us to talk about his collaborations with Chris Tobin, and to show us the "Menlo" that Chris Tobin often used for his appearances on TWiRT. Since Chris Tobin's passing, Kirk Harnack has been hosting TWiRT solo for the past year. Kirk recently invited an engineer familiar to many of us, Chris Tarr, to rejoin TWiRT as a regular co...
---
TWiRT Ep. 575 - Minding Your AM Site with Benjamin Dawson and Stephen Lockwood
A few AM station owners have turned their licenses back into the FCC, giving up on their AM radio business. Many other AM station owners, however, are looking for ways to profit from their AM transmitter site property, or to reduce transmission site costs. Co-locating with land mobile and cellular towers using an inexpensive slant-wire feed for the AM station may be a solution for some AM station owners. There are other financial mitigations as well. Benjamin Dawson and Stephen Lockwood from Hatfield & Dawson Consulting Engineers join us to discuss the possibilities.
---
TWiRT Ep. 574 - Make It a Better Place with Alex Roman
Is the Mayor of Verona, NJ, doing the engineering work at the top stations in New York City? Or, is the CTO at those top-rated stations moonlighting as a New Jersey township mayor? Either way, you're right. Alex Roman leads a staff of engineers and IT pros at WQHT-FM and WBLS-FM in New York City. He says that "radio IT" is the same as "regular IT", and we all need to work with that notion. Alex reveals other insights and techniques for broadcast engineering, remote workers, and lots of outside broadcasts on this episode of TWiRT.
---
TWiRT Ep. 573 - Boomer Push for Digital with Quentin Howard
A real pioneer in deploying digital audio sources, infrastructure, and transmission in the UK - and even worldwide, Quentin Howard is our guest on this fascinating episode of TWiRT. Already a Fellow of the Institution of Engineering and Technology, Quentin was further honored as a Fellow of the Radio Academy in November, 2021. We're discussing the first uses of Compact Disc digital audio in the UK, as well as the UK's first use of audio processing on FM broadcasts in the 1980s. DAB rollout and the subsequent DAB ratification and rollout are also among our topics. We round the show...
---
TWiRT Ep. 572 - Cruisin' for Engineering with Shane Toven
Vacations are important - for our well-being, sanity, restfulness, and more. But Shane Toven just can't stop thinking and talking about broadcast engineering and the technologies that attend it! From the enormous cruise ship, "Majestic Princess," Shane joins us via SES satellite link using their O3b Networks technology. So, what do you talk about with a man on vacation? Food? Ports of call? Tracking tags? Tower sites? Staying connected to work? Satellite data transport technology? Yes!
---
TWiRT Ep. 571 - Structured Wiring with Ed Bukont
Many broadcast engineers have implemented "structured wiring" within their facilities. Some, like TWiRT host, Kirk Harnack, haven't really jumped into the best practices yet. Ed Bukont, owner of E2 Technical Services, both consults and integrates facilities. His vast experience with structured wiring in broadcast plants makes for solid information that we engineers need to know. And, he's got Kirk convinced to "do it right" on his next project.
---
TWiRT Ep. 570 - Quality is Worth the Effort with Gordon Carter
Necessity may be the "mother of invention", but Gordon Carter never thought necessity alone was good enough. As Chief Engineer at classical station, WFMT in Chicago, Gordon's broadcast audio systems had to sound impeccably great, yet withstand the rigors of 24/7/365 broadcasting in America's 3rd largest radio market, Chicago. Let's learn together from Gordon's pursuit of audio excellence in FM broadcasting.
---
TWiRT Ep. 569 - Demystifying Loudness with John Kean
In our radio broadcasting world 100% modulation (or more?) has been the goal for decades. However, we now find ourselves entering a new paradigm where consistency and quality eclipse loudness as an audio level objective. What do units of audio loudness mean? If 0 dB isn't the goal, then what is? -16 LKFS? John Kean is a leading expert on perceived audio loudness, plus he's a prominent broadcast engineer. Let's hear from John and understand what this world of audio loudness sounds like and find out why it's changing.
---
TWiRT Ep. 568 - Common Alerting Protocol
Common Alerting Protocol. Doesn't sound exciting, but what it's doing for people in many countries is sometimes life-saving. We might think of CAP as a new-ish way to receive emergency messages, such as Child Abduction Emergency notification. Or we may consider CAP as just another input source to our broadcast EAS systems. There's a lot more to CAP than this, however. Interestingly, the USA and Canada are using CAP a bit differently. Rob Hopkins from OpenBroadcaster in Canada, and Vincent Maggard, a software developer, join Kirk Harnack to explore and explain what CAP really is and how it's used
---
TWiRT Ep. 567 - Cloud Radio is Radio.Cloud
Many radio engineers are talking about "cloud" and "cloudified" broadcast infrastructure, and inroads are being made right now. One group of broadcast technologists and developers is now running over 100 radio stations in Germany, fully with cloud-based infrastructure. Radio.cloud is designed to supply a backbone of audio programming from data centers, with local customization for each market. Some of that customization is done with Artificial Intelligence, or "AI". Christian Brenner, Jim Hammond, and Tony Lorino join us, each with a different perspective on Radio.cloud's technology and capabilities.
---