Subscribe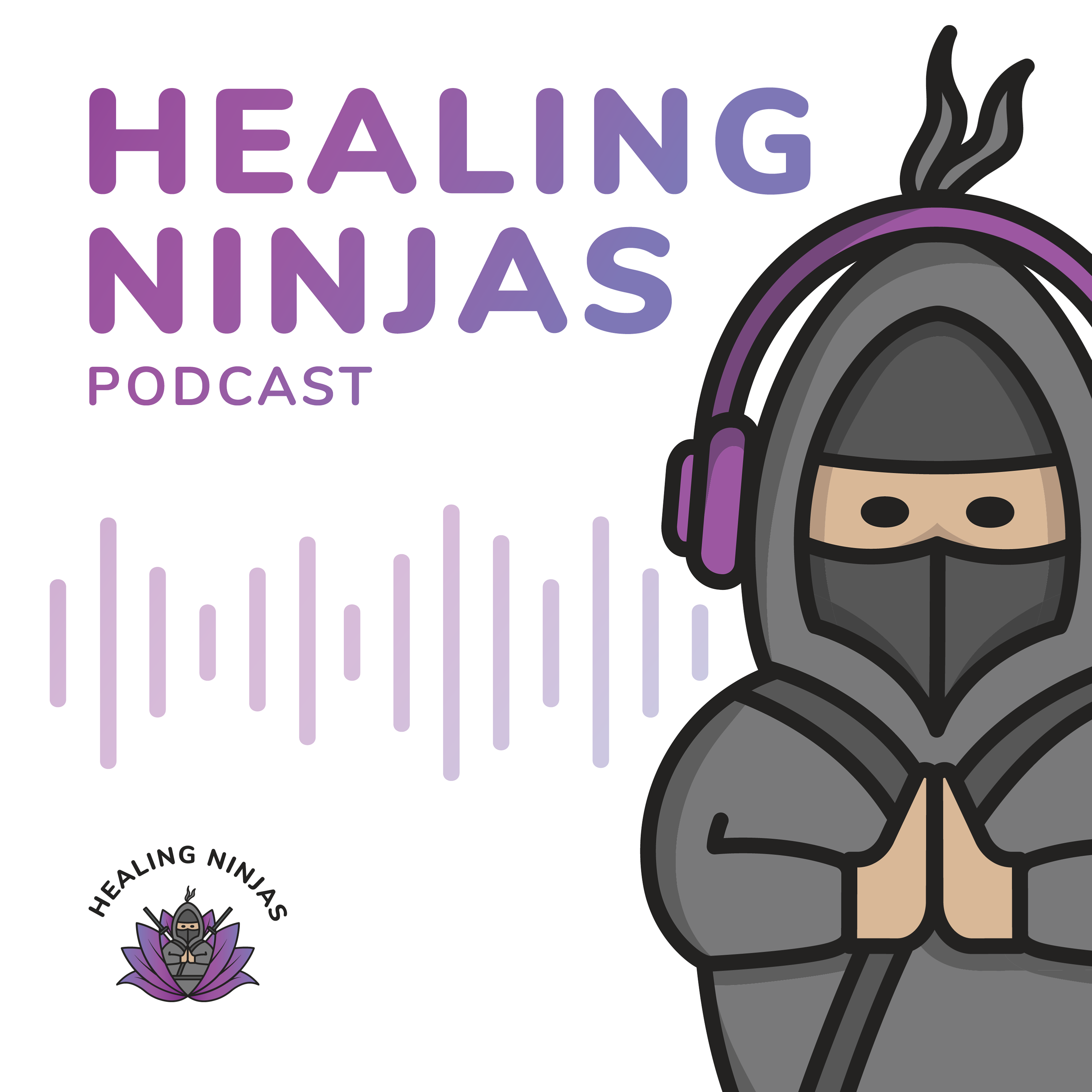 A podcast dedicated to highlighting the healing journeys of everyday people.
Therapists Are People Too
In this episode, we hear from Liliana Doyon, a first-generation Mexican-American and licensed marriage and family therapist from New York City. 
Liliana reflects on her own childhood experiences and how they led to her becoming a therapist. She talks about having experienced emotional neglect, physical abuse, and witnessing violence and rage growing up. Liliana unpacks how when she was young she would struggle with saying "I don't know" out of fear, and how progressively this led to a huge motivation to want to know more by reading and connecting to people. She talks about being 16 years old and...
---
The Healing NInjas Update: Merch, Spanish Recordings, And More!
In this episode, Hernan Carvente-Martinez, Founder/CEO of Healing Ninjas, Inc. provides updates regarding where Healing Ninjas is headed both as a brand and as space for people to share their journeys. He talks about moving towards creating space for Spanish-speaking individuals to come to the podcast and share their stories entirely in Spanish. He also reveals that Healing Ninjas t-shirts are in the works! Along with other products that connect to the topic of healing. He asks that people reach out if there are particular products that they would like to see with the Healing Ninjas brand. 
...
---
Overthinking and Embracing the Process
In this episode, we hear from Katherin Quezada, a young Mexican woman from New York City. 
Katherin talks about trying to get out of her comfort zone and growing up being told what was expected of her as a woman. She reflects on what it was like to be raised in an environment where communication was lacking and how this inevitably led her to keep to herself a lot and being very shy. Katherin also talks about recognizing repetitive harmful relationship patterns in her family and trying to break these generational patterns in her own life. She d...
---
After a Traumatic Pregnancy a Business Leader is Born
In this episode, we hear from Taishma Owens-Council, a 25-year-old Black woman, military spouse, mother, and owner of Virtual Goal Assistant Agency (VGAA).
Taishma dives into her motherhood journey. She reflects on being raised to think that women only had two options: motherhood or a career; but not both at the same time. She shares with us having the kind of awareness, during high school, that led her to know that she did not want to become a statistic and opted for birth control. Years later, after college, Tai and her husband found themselves trying for a...
---
You Are Not the Only One
In this episode, we hear from Chris Marin, a half Mexican and half Guatemalan man from Brooklyn, New York. 
Chris talks about being sexually abused as a child and growing up for many years feeling guilty for his abuse. He reflects on how difficult it has been for him to process his past trauma, especially when violence has become so natural for him to see in his daily life and in the community he lives. Chris also talks about what it was like to heal through a break-up following a 7-year relationship and how he overcame unhealthy c...
---
From Prison Sex Slave to Outlet of Hope
In this episode, we hear from Roderick Keith Johnson, a national LGBTQ advocate for criminal justice reform and mental health, and a survivor of sexual abuse. 
Roderick talks about going into a Texas maximum-security prison as a black gay man, where he was sold into sexual slavery for 18 months. He describes how he pleaded for protection while inside and was denied help from prison officials. Roderick shares how he was forced on a daily basis to have sex in prison and how he was bought and sold among various prison gangs until finally getting the attention and h...
---
If You're Not Healing, Are You Growing?
In this episode, we hear from John Ilawan, a young Filipino fitness enthusiast from Queens, New York, and graduate of John Jay College of Criminal Justice.
John shares with us his reflections on his own healing journey prior to 2021 and how it has shifted coming into the new year. He talks about the need to engage in healing work so we may consistently grow and not be comfortable in one place for the rest of our lives. John discusses what it was like to grow up in a Philipino household where he learned toxic masculine behaviors that...
---
You Have to Make Yourself Important to You
In this episode, we hear from Abdul Ali, a 25-year-old Ethiopian-American Social Activist, Organizer, and Educator from Maine. 
Ali shares with us his story, from having his parents divorced when he was 7 years old and coming to this country as a refugee. He reflects on the toll it took on him to have to choose between his dad or mom while growing up. Ali talks about what it was like to live with his father and brother in a shelter, have no structure, and feel like he had to raise himself. He opens up about later going t...
---
Talk About Your Dirt and Be Honest With Yourself
In this next episode, we hear from Ray Tebout, a strength-based human resources professional, addiction counselor, and founder of Mind Frame & Development Solutions.
Ray reflects on how people sometimes grow up normalizing what they feel, including the bad, and move through life thinking there is no alternative. Ray shares how healing was not always important to him and how changes in his nutrition allowed him to realize that some of what he was feeling was connected to other aspects of his life including his eating habits. Ray talks about losing his mother at a young age and...
---
Slow Down, And Sit With It
In this next episode, we hear from Mayte Villalba, a medical assistant, and owner of Resiliently Beautiful. 
Mayte bravely talks about what it was like to engage in her healing journey after years of holding it all in. She reflects on her experience with bullying in high school, turning into the head of the household after her parents separated, and becoming a mother figure to both her siblings and mom. Mayte also shares what it was like to grow up with an alcoholic father and later using alcohol as a coping mechanism in her own life. Mayte o...
---
Forgiving the Men Who Murdered My Father
In this next episode, we hear from Jennifer Szenay, a lake enthusiast from Michigan, an intern at Prison Radio, and an advocate for families who have been impacted by mass incarceration. 
Jennifer talks about growing up and living a double life where she tried to push all of her trauma to the side and live in denial of the pain she was experiencing. She reflects on what it was like to slow down and finally be able to look inwardly so that she could begin her healing process. Jennifer shares how she lost her father to an e...
---
Hurt Can't Be Put in a Little Box
In this next episode, Paulina Isabel Almarosa, a licensed clinical social worker and founder of LatinxGrief, allows herself to be vulnerable and emphasizes that therapists don't have it all figured out. Pauliana talks about what it was like to work in different spaces including jails, hospitals, schools, and other community organizations, and seeing her own life reflected in the lives of other people. She reflects on what it was like to have her own grief invalidated so many times in her life and wanting to create a comforting and healing space for people to process their grief without be...
---
Handling Things Before They Handle You
In this next episode, we hear from Autumn Walker, a licensed professional counselor in Maryland, who is seeking to normalize mental health. Autumn talks about how going through her own healing process allowed her to discover new sides of her story, and be able to pass on lessons learned to others wishing to engage in healing work for themselves. She reflects on what it was like to understand that, growing up, her basic needs (i.e. food, clothes, etc.) were always met but coming to the realization, as an adult, that her emotional needs were not always met as...
---
Living Through the Different Seasons of Healing
In this next episode, we hear from Yuri Orozco, a Colombian woman, dog enthusiast, scuba diver, and student at John Jay College of Criminal Justice. Yuri talks about what it was like to grow up as the daughter of an incarcerated father, going in and out of prisons, and struggling to build a connection with him. Yuri reflects on what it was like to read books like the "New Jim Crow" by Michelle Alexander, and how it led to the start of her healing journey as she began to understand the impact of mass incarceration on her relationship with her...
---
Going From Silence to Becoming a Fountain of Love
In this next episode, we hear from Arturo 'Velaz' Munoz, a poet, lecturer, and host of the Varrio Voices Podcast. He talks about what it was like at 10 years old to become a source of income at home and being introduced to alcohol early on. He shares his experience in therapy where he discovered that nothing was inherently wrong with him but also learned just how much was wrong with the conditions that he had to live through. 
Arturo talks about growing up with the name 'Silencio' (silent) and using writing as a means to vent what he was fe...
---
Healing from Sexual Assault, Supportive Language, and Practicing Self-love
Learning to use loving and supportive language for ourselves is important to the healing process.
In this next episode, our interviewee chose to remain anonymous. She talks about what it means to be a survivor of sexual assault and living in a country where so much violence is happening against women, particularly Black and Indigenous women. She reflects on the importance of setting language boundaries with people in our lives, making it clear when words that are being used are causing us harm, and also making sure that the language that we have of ourselves is affirming...
---
Toxic Masculinity, Unresolved Trauma, and Healthy Coping
Healing is painful and it can bring up a lot of anger in the process, but the end results can be tremendous.
In this episode, we hear from Antonio Reza, a half Mexican and half Irish formerly incarcerated man, who shares how "hurt people, hurt people", and how failing to address root problems in our lives can ultimately cause us to act out in ways that are destructive to ourselves and those around us. Antonio shares his thoughts on how toxic masculinity, and lack of emotional expression, affects the relationships that men have with their significant others, fami...
---
Healthy Boundaries, Being Assertive, and Breaking Free from Domestic Violence
Learning to validate ourselves is important in order to break unhealthy cycles in our lives and be able to heal.
In this next episode, our interviewee has chosen to remain anonymous. She talks about her journey of healing from domestic violence, alcoholism, and growing up as the child of an incarcerated parent. She shares what it has been like to break through the need to "perform" or seek "validation" from others, including family, and being able to recreate herself. She discusses learning to forgive and show compassion for herself and being able to find joy and peace in her l...
---
Maintaining Faith and Honoring Our Healing Journey
Being able to have faith in ourselves and honor what we have accomplished is important to the healing process.
In this episode, Naya Garrido shares with us how she finds the strength and faith to keep going on her healing journey. Naya talks about her growing up as a young single mom and being raised by a lineage of strong Honduran women. She opens up about never being able to address her own depression and hitting dark moments where she contemplated suicide. Naya shares how she has managed to overcome these internal struggles to create a more...
---
Transforming Pain Into Generational Healing
Processing past experiences is important because you can hurt others along the way if you have not healed.
In this episode, Veronica Rivera shares with us her struggles with accepting some of the hurt that she experienced in her life, like losing her father at an early age and using alcohol as a means to numb the loneliness and pain. Veronica explains how holding onto painful emotions for 40 years of her life affected not only herself but also the relationship with her mother, sisters, and children. She talks about the need to take time for ourselves to...
---
Healing Through Open Dialogue and Loving Accountability
Part of healing is acknowledging where you were wrong, sitting with what you are feeling, and finding places where you can safely share and heal.
In this episode, Durrell Washington talks about the journey of establishing a healthy co-parenting relationship with his ex-partner and acknowledging his role in how their relationship ended. Durrel talks about the struggle of learning how to, as a cis-man, find places to share and heal in intentional ways where he does not feel judged but rather held from a loving accountable place. He also talks about the need to acknowledge the harm...
---
Relationship to Self, Is Also Taking Care of Our Community
Taking care of ourselves allows us to be able to show up in full for our families and communities. 
In this episode, Sindy Avila, shares why focusing on our individual healing has a ripple effect on those around us. She references the teachings of authors such as Audre Lourde and bell hooks as she describes her journey to healing and building a strong relationship with herself in mind, body, and spirit. She goes on to share her experience with anxiety and finding refuge in meditative practice, freewriting, and affinity groups with the "Amigas."
This episode sets...
---
The Healing Ninja Journey
In this trailer episode, Hernan Carvente-Martinez, Founder & CEO of Healing Ninjas, shares his personal life experiences and how he became a healing ninja. He talks about growing up around violence and abuse in Mexico, bottling up a lot of emotions, and then coming to the United States where he joined a gang, became addicted to cocaine, and eventually landed in prison. He shares what it was like returning to the community, becoming a national advocate in the fight to end youth incarceration, and the difficulties he experienced with mental health and healing along the way.
—-
---