The Holy Ghost Notes Podcast
Subscribe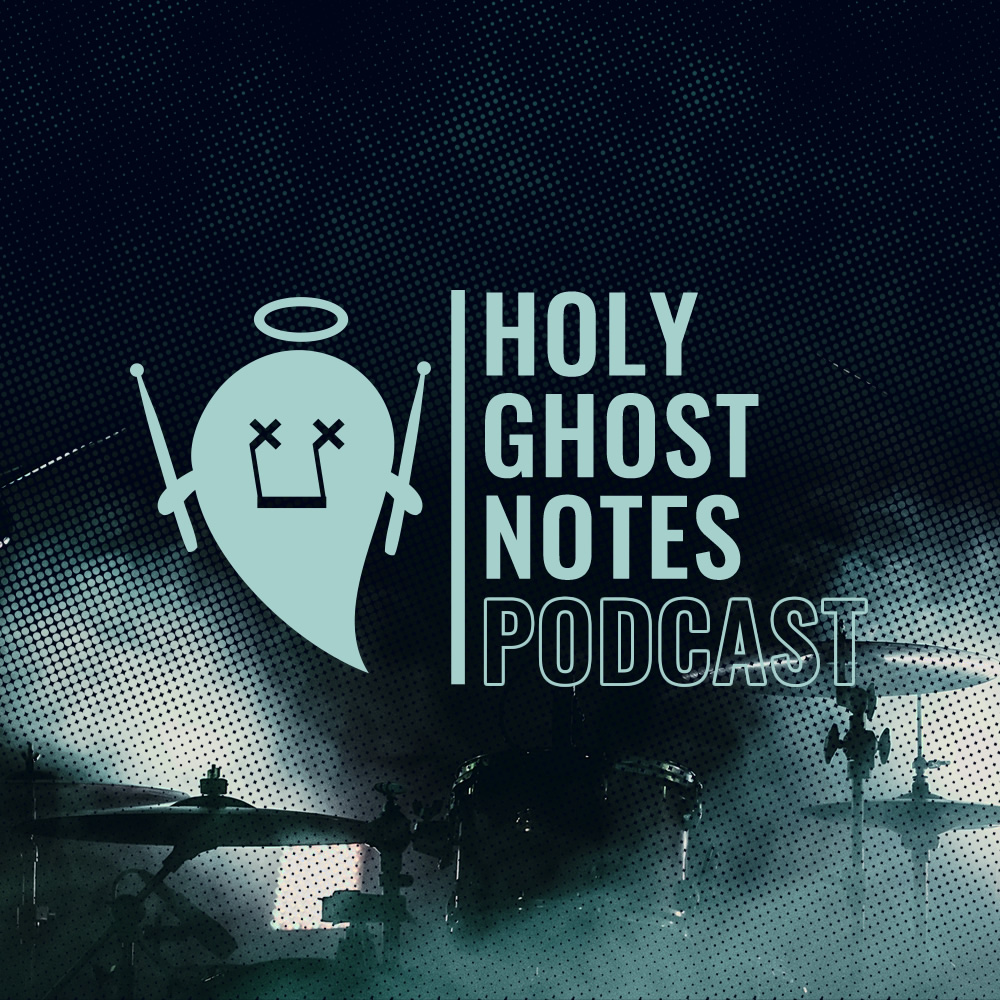 Holy Ghost Notes is a podcast that focuses on real talk about Christianity and Drums hosted by Matt Greiner and Tim Anderson.
89: Brace For Impact (How You Hit + Make A Change)
On episode eighty nine of Holy Ghost Notes, Matt records while on a bus driving down a highway in Hungry on his way to Budapest. He shares about the current European tour, the new single, 'Ancestry', and ABR's upcoming album release. Tim and Matt then discuss how the way you hit your drums is important and can, at times, be negatively impacted by the circumstances around you. The guys also talk about how making a positive change is something you shouldn't push off and how being open-minded and vulnerable can help.
---
88: For Clare (Carving Your Own Way + Grief)
On episode eighty eight of Holy Ghost Notes, Matt and Tim share stories and remember their friend, student, and Inner Circle community member, Clare Raiguel, who unexpectedly passed away recently. They start with a topic inspired by Clare, 'carving your own way', and discuss how being yourself and playing to your strengths can give you an advantage. Then the guys talk about grief, how to process and deal with it, and ultimately, why it's so important. This episode is dedicated to Clare. You are loved and will be greatly missed.
---
87: Matt Garstka
On episode eighty seven of Holy Ghost Notes, Matt and Tim are joined by drumming legend, Matt Garstka of Animals as Leaders. Matt shares about his time at Berkeley, his practice vigor, his high-pressure upbringing, and his workout routine. He also speaks on practicing living in the moment and staying out of your own head, and opens up about his faith journey.
---
86: Dallas Taylor
On episode eighty six of Holy Ghost Notes, Matt and Tim invite Dallas Taylor (frontman of Maylene and the Sons of Disaster, ex. Underoath) after bringing him up in a recent episode. Dallas talks about his life threatening accident and the long road of recovery he's been on, but also the perspective he's gained along the way. He continues to share his thoughts and emotions as he looks ahead towards his first performance since the accident. Between the laughs, the chills, the surprises, and a role in Joe Dirt 2, Dallas bears his soul, and we all get to h...
---
85: Where Credit Is Due (5 Ways To Improve Your Drumming + Pride)
On episode eighty five of Holy Ghost Notes, Matt and Tim go down a rabbit hole about radio. Then they refocus and get into their drum topic; speaking on five ways (and then some) to improve your drumming, where they each take turns listing tactics that they feel are important when it comes to advancing as a drummer. In concluding the drum topic, the guys enter into their faith topic of pride and explore the gray area between confidence and arrogance. They quickly discover that there's a lot more to pride than it simply "coming before a fall".
---
84: The Hard Reset (Overthinking + Comparison)
On episode eighty four, the guys get off to a goofy start, Tim provides a solution for forgetting passwords, and the guys jump right into their drum topic; "overthinking". Tim takes it in a slightly different direction than Matt was envisioning and tries to sing like Tom Delonge. Matt kicks off the topic of "comparison" which leads them down a path of talking about motives, leadership, and a slew of other winding thought. 
---
83: Horsing Around Can Help (Balance + Feeling Defeated)
On episode eighty three of Holy Ghost Notes, Tim catches Matt off guard right from the start and they proceed to talk a little about being task oriented vs. time efficient in light of Tim's schedule. Matt shares a story of enlightenment while on the back of a horse, which dovetails into their drum topic, "Balance on the kit". Tim kicks off the next topic, "Feeling defeated" and opens up about what's been happening in his life and some weaknesses that he's recognizing in himself. The guys go on to discuss how to best prepare for and overcome the...
---
82: Love Lens (Branding Yourself + Maybe I'm Sick)
On episode eighty two of Holy Ghost Notes, Matt talks about tour heat and tour ice baths as the guys go on a tangent about sweaty palms and dropping sticks. Matt is apprehensive about the drum topic, but takes a stab at kicking off the thought provoking conversion around "branding yourself as a drummer". The guys transition into yet another topic that Matt isn't excited to tackle, and Tim shares of a recent humbling conviction leading to a deep and honest conversation around recognizing our imperfection and being open to receiving help.
---
81: Dango Cellan
On episode eighty one of Holy Ghost Notes, Matt talks about the current ABR tour and how touring has differed as a newlywed. Then the guys bring on guest, Dango Cellan (drummer for Scott Stapp of Creed, Amber Pacific, Sonic Flood and formerly of RED, SuperChick, Fireflight, and more). Dango shares about what a day in his life looks like, and gives some advice to drummers/musicians looking to pursue a career in music. The guys also talk about the importance of the Church, despite its many shortfalls, and Dango shares about his warped tour Bible study, an encounter...
---
80: What's the Rush? (What Makes a Pro? + Patience)
On episode eighty of Holy Ghost Notes, Matt and Tim express their gratitude around hitting eighty episodes and catch up about each other's Fourth of July weekends. Tim talks about three qualities that he thinks will make and sustain a professional drummer/musician's career and Matt contributes his thoughts based on his experience as a professional in the industry. Then, the guys talk about the subject of patience - their experiences around it, the difficulty behind it, and the importance of practicing it. 
---
79: A Grain of Salt (Judging Drummers + Advice)
On episode seventy nine of Holy Ghost Notes, Tim talks about Stranger Things and tells a dad joke that goes over Matt's head as they spend some time catching up. Then, Matt talks about his experience judging alongside Aaron Spears and Dave Weckl at a recent drum competition, which initiates the topic of "judging" other drummers. The guys round out the conversation by talking about how to give and take advice in many different aspects of life. 
---
78: Build Each Other Up (Like Riding A Bike? + Friendship Commitment)
On episode seventy eight of Holy Ghost Notes, Matt and Tim talk a little bit about slowing down and taking a break from social media. Then they compare returning to the drum kit to riding a bike and explore what it takes to develop muscle memory vs. mastery. Finally, the guys discuss the commitment that comes alongside friendship, and talk about a recent experience they shared which, in turn, inspires a challenge. 
---
77: Baby, Don't Hurt Me (Improvisation + Love)
On episode seventy seven of Holy Ghost Notes, Matt and Tim reminisce about Matt's recent wedding day and some things they're learning two weeks into marriage, versus seven years into marriage. They transition into the multilevel topic of improvisation and tackle both improvising when unexpected circumstances arise as well as the ability to play improv as a drummer. The guys follow it up with the topic of love and ride the controversial line of how to define it. 
---
76: Harold Brown
On episode seventy six of Holy Ghost Notes, Matt and Tim are joined by Harold Brown (drummer and music director of Maverick City Music). Harold shares about his recent experience at the Grammy's and talks about where he got his start and the steps it took to get to where he is now. Matt reminisces about his first time meeting Harold and the unexpected turn it took, and the guys discuss being a musician in a worship setting versus in a performance setting. Harold also explains how he directs Maverick sets and he answers some challenging listener questions!
---
75: The Drummer-verse (Odd Time/Subdivisions + Discipleship)
On episode seventy five of Holy Ghost Notes, Matt and Tim talk about delicious meats and technology that is too advanced for them. Then, they attempt to dispel the intimidation that follows odd time signatures and they talk about utilizing subdivisions. Finally, the guys talk about the importance of discipleship after Matt shares about an event he recently attended.
---
74: Stick With It (Persistence + Obedience)
On episode seventy four of Holy Ghost Notes, Matt and Tim joke about what gets them "pumped up", then spend some time talking about the heartbreaking loss of the late, great, Taylor Hawkins. Matt shares about his struggle writing for the new August Burns Red album, which launches them into the topic of persistency. They talk about the value of being persistent and share some realistic ways to approach frustrating and difficult periods in drumming. To round it out, the guys share a few stories while exploring the concept of obedience, and discover some things about themselves in the proc...
---
73: Whiskey & Cheese (Too Busy for Drums + Too Busy for God)
On episode seventy three of Holy Ghost Notes, Matt and Tim "celebrate" their official three year anniversary episode by bragging about how busy they are! They start by catching up and then transition into discussing some tactics to counteract being too busy to play drums, and outline some personal tendencies they often fall victim to. Similarly, they continue their conversation about busyness, but on how it applies to faith and more specifically, maintaining a relationship with God. They realize quickly that their approach is very telling about themselves. 
---
72: Poser (Evangelism + Lessons & Accomplishments)
On episode seventy two of Holy Ghost Notes, Matt and Tim get sidetracked from the start and decide to swap topics rather than derail a solid conversation about evangelism. They discuss how putting evangelism into a box can be harmful in many ways and stress the importance of integrity. Then the guys share about some lessons they've learned and things they've accomplished (or haven't) in their drumming since the start of the year. Though many a tangent, random story, and awkward silence; this episode will be remembered (unlike evasive movie titles).
---
71: Spencer Arnott
On episode seventy one of Holy Ghost Notes, Matt and Tim finally get around to bringing Matt's drum tech (and pseudo physical therapist), Spencer Arnott on as a guest. Spencer talks about an injury that motivated him to learn more about physiology, and shares about the importance of focusing on your body and what is most natural while drumming. The guys also discuss the mental difficulty of accepting critique, and how hard it can be to try something new when you're set in your own way. 
---
70: Panic! At The Drum Kit (Don't Panic + Relax)
On episode seventy of Holy Ghost Notes, Matt and Tim squeeze in an episode while Matt is back for a day home from tour. Matt talks about touring with Killswitch Engage, some unexpected events that occurred, and shares about a moment of panic which leads them into their drum topic where they consider some ways to respond to panic. Then, the guys follow the parallel life/faith topic discussing how to relax when things happen in life that aren't fair.
---
69: I'm Sorry Greg (Home Recording + Contentment)
On episode sixty nine of Holy Ghost Notes, Matt and Tim talk about being busy and randomly share some thoughts they have about finding the right significant other. Then Matt cons Tim into drastically mispronouncing a listener's name before they begin their drum topic, walking through their home recording processes. They round it out with the topic of jealousy, which quickly transforms into the topic of contentment.
---
68: All Work No Pray (Let's Work + Let's Pray)
On episode sixty eight of Holy Ghost Notes, Matt keeps forgetting to mention that he's engaged (badum tss). Tim and his family have Covid but that doesn't stop the guys from having a healthy conversation to kick off the new year. Matt and Tim start by talking a little about the recent Christmas Burns Red show, then transition into their first topics of 2022. They talk about putting in the work and doing the hard things to hit your goals, then they talk about starting off on the right foot, no matter the situation, by beginning with prayer. They...
---
67: Unwrapping Anticipation (Anticipating Drums + Anticipating Peace)
On episode sixty seven of Ho-Ho-Holy Ghost Notes, Matt and Tim catch up and talk about preparing for Christmas, then briefly refocus their attention towards those who may be having a difficult time during this holiday season and speak to the part that we all play in being there for each other. Matt draws up an interesting hypothetical scenario and the guys discuss their differences when it comes to the anticipation of playing drums. Similarly, the guys talk about anticipating peace after Matt reads a moving prayer. They round it out with a light hearted Christmassy question. Have a...
---
66: Adam Gray & Andrew Tkaczyk
On episode sixty six of Holy Ghost Notes, Matt and Tim bring back their good friends and top requested return guests, Adam Gray (Texas In July) and Andrew Tkaczyk (The Ghost Inside). Adam talks about returning to the drum kit for the upcoming Christmas Burns Red show and about posting new content to his YouTube channel. Andrew talks about performing with TGI again and about his side projects, including a pop-punk project with Tim and some esteemed collaborators. The guys struggle to catch their breath through many laughs and relatable stories as Andrew and Adam patiently wait to start...
---
65: Growing Pains (Drumming Growth + Spiritual Growth)
On episode sixty five of Holy Ghost Notes, Matt and Tim start by talking about Thanksgiving then quickly shift over to gratitude after sharing about a close friend's car accident that happened the morning of the recording. Matt drops three important points to keep top of mind, then, as a follow up to their "goals" topic, the guys talk about "growth", both in drumming and in life. They each outline three areas where they've seen growth as drummers, and they share about some of the growth they've seen in themselves personally, since the start of the podcast.
---
64: Adam Skatula
On episode sixty four of Holy Ghost Notes, Matt tells of his near-death experience and the guys catch up on life now that Matt is home from tour. Then they bring on their friend Adam Skatula (drummer of Citizens and long-time A&R rep at Tooth & Nail/Solid State Records) for a heart to heart. Adam shares about his experience at Mars Hill church in Seattle prior to its scandalous collapse and speaks on the importance of separating biblical truths from corrupted church experiences. He also talks a little about his past, the unconventional path that led him to...
---
63: Best You've Ever Played (Goals Part 2 + Idolatry)
On episode sixty three of Holy Ghost Notes, Tim shares about some changes in his life and what he's been learning along the way. This launches the guys into a conversation about what church is/should be (surprise surprise). Matt talks about a meaningful experience that emphasized the true value of setting goals, and he reveals some new goals that he's set for himself. Then, Tim spurs on the robust topic of idolatry, and what he's been thinking about in regards to the slippery slope that leads to idolatry in modern culture.
---
62: Be Our Best (Simple vs. Complex Drumming + Good Steward)
On episode sixty two of Holy Ghost Notes, Matt and Tim talk on a whim about being insecure about their appearance and the negative effects of those insecurities. They dive into their drum topic comparing the subtleties of complex styles of drumming versus simpler styles of drumming, and how they both have a place and a purpose. Then, the guys bite off a little more than they can chew with the topic of what it means to be a good steward and doing everything to the best of your abilities, even (and especially) when nobody is watching.  
---
61: Back, From the Back Lounge (Finding Your Why + Asking "Why?")
On episode sixty one of Holy Ghost Notes, Matt and Tim laugh about the technical difficulties leading up to the recording of the episode, and Matt realizes how much has changed in his life since the last time he was recording from the back lounge of the tour bus. The guys start off by outlining the importance of "finding your why" as a drummer/musician. Then, similarly cover the topic of finding the why behind actions followed under the umbrella of "Christianity," the slippery slope between faith and religion, and the value of simply asking, "Why?". 
---
60: Seamus Evely
On episode sixty of Holy Ghost Notes, Matt and Tim are joined by Seamus Evely (host of the Drumeo Gab podcast). Seamus opens up about his departure from Drumeo Gab and his new life chapter fueled by a fire and a new baby on the way. The guys discuss life, podcasting, drumming, and Seamus shares a little about his new podcast "Shootin' the Shit with Seamus," as well as a touching spiritual experience he had with his son.
---
59: I Don't Understand (Writing a Solo + Perspective)
On episode fifty nine of Holy Ghost Notes, Matt and Tim catch up a little bit and talk about Tim's vacation and Matt's upcoming tour. They also realize some similarities in their individual growth and comment on their slight change of heart throughout the life of the podcast. Matt "kicks it off" with the "hard hitting" and "dynamic" topic of writing a drum solo. He "breaks down" his process and the guys "roll" out the most important aspects in the creation of a solo. Then Tim provides an interesting "perspective" to the topic of discovering things beyond our understanding, leading t...
---
58: Mike Sleath
On episode fifty eight of Holy Ghost Notes, Matt and Tim are joined by their new friend, Mike Sleath (drummer for Shawn Mendes). Mike talks about his background, his experience with rejection (and sweet redemption), and shares a couple painfully awkward experiences meeting his drummer heroes. The guys talk about the difficulty of finding time to progress on drums while on tour, the value of treating everyone with equal respect, and Mike levels with us about his new "nursery pop-punk" song called, Running on the Moon.
---
57: Whale, That Was Fun (Practice Routine + Belly of a Whale)
On episode fifty seven of Holy Ghost Notes, Matt and Tim talk about their fondness ProTools for music and audio production, then transition into talking about their daily practice routines. Matt breaks down a simple way to structure your practice time and set goals, while still keeping it fun and relaxed. It starts getting fishy when Matt tells a compelling story that keeps Tim on his toes. The guys finish it out with a couple fascinating thoughts on how there's often more clarity "in the valley". 
---
56: Dave King
On episode fifty six of Holy Ghost Notes, Matt and Tim "exchange some pleasantries" and talk about the need for a getaway or something special outside of your normal workflow. Then they introduce their friend, Dave King (founder of iMatter Festival and executive director of HeartSupport). Matt and Dave reminisce a little bit about their friendship and how it developed. Dave talks about the YourLife Gathering/Conference, his approach to teaching and mentoring leaders, and the importance of community in a culture of division. He also speaks into the important topic of mental health and sprinkles some challenging and...
---
55: Bubble Boy (Back to the Kit + The World We See)
On episode fifty five of Holy Ghost Notes, Tim kicks it off by correcting a mistake he made in a prior episode after being called out by a listener, the guys joke about Matt's role as Peter Criss in an upcoming movie, and announce an upcoming HeartSupport conference. After Tim reveals a surprising factoid, they talk about how it's never too late to brush off the dust and get back on the drums. Matt brings a hard hitting topic on how we each live in our own bubble, meaning; your worldview is developed by your experiences and isn'...
---
54: In the Tank (Drumming Essentials + Intrusive Thoughts)
On episode fifty four of Holy Ghost Notes, Matt takes us to Hollywood (or maybe just New Jersey) by teasing his breakout role in a new feature film. Then Tim and Matt run through a list of "drumming essentials" or what they believe are the most crucial elements to being a proficient drummer, regardless of what style of music you play. They round it out with the deeply personal topic of Intrusive Thoughts and find some revelation and encouragement that they take to heart.
---
53: Under Pressure (Live vs. Studio + Convictions)
On episode fifty three of Holy Ghost Notes, Matt talks about the preparation that went into the August Burns Red: Leveler 10 Year Anniversary Live Stream event. The guys proceed to reminisce about their friendship in 2011 when Leveler was first written and recorded. Then Tim and Matt each share a video of a drum performance that has meaning to them and talk about the difference between performing live in front of an audience versus performing in a recording studio setting or at home practicing. They finish it out by taking on the topic of conviction and analyze what it actually...
---
52: It's a Trap! (Road Stories + Temptation)
On episode fifty two of Holy Ghost Notes, Matt and Tim, in typical fashion, follow a tangent right out the gate prior to introducing an exciting evolution to the Inner Circle membership. Then the guys exchange frightening, painful, and embarrassing stories from their time on the road. They finish it out with the topic of "temptation" and come to realize some fascinating, insightful, and helpful parallels leading to a powerful conclusion.
---
51: Turn! Turn! Turn! (Gear + Seasons)
On episode fifty one of Holy Ghost Notes, Matt and Tim get back to the classic format after four consecutive guest episodes and kick it off with some lighthearted banter. After getting a little sidetracked, the guys decide to revisit the topic of drum gear and the reasoning behind their choice equipment. They finish out the episode with another "hard hitting" topic rooted in a verse out of Ecclesiastes, seasons in life. 
---
50: Hal Rosenfeld
On episode fifty of Holy Ghost Notes, Matt and Tim are joined by drummer, composer and orchestrator, Hal Rosenfeld, who has worked on projects for The Greatest Showman, Ringo Starr, Hans Zimmer, Kanye, Fortnite, The Jonas Brothers, and many more! Hal tells some outrageous stories of sessions he's worked on, and the guys talk about the most valuable way to succeed in the music industry. Finally, they all take turns talking about their "dream" artists to work with.
---