Tough Love: Artist Management
Subscribe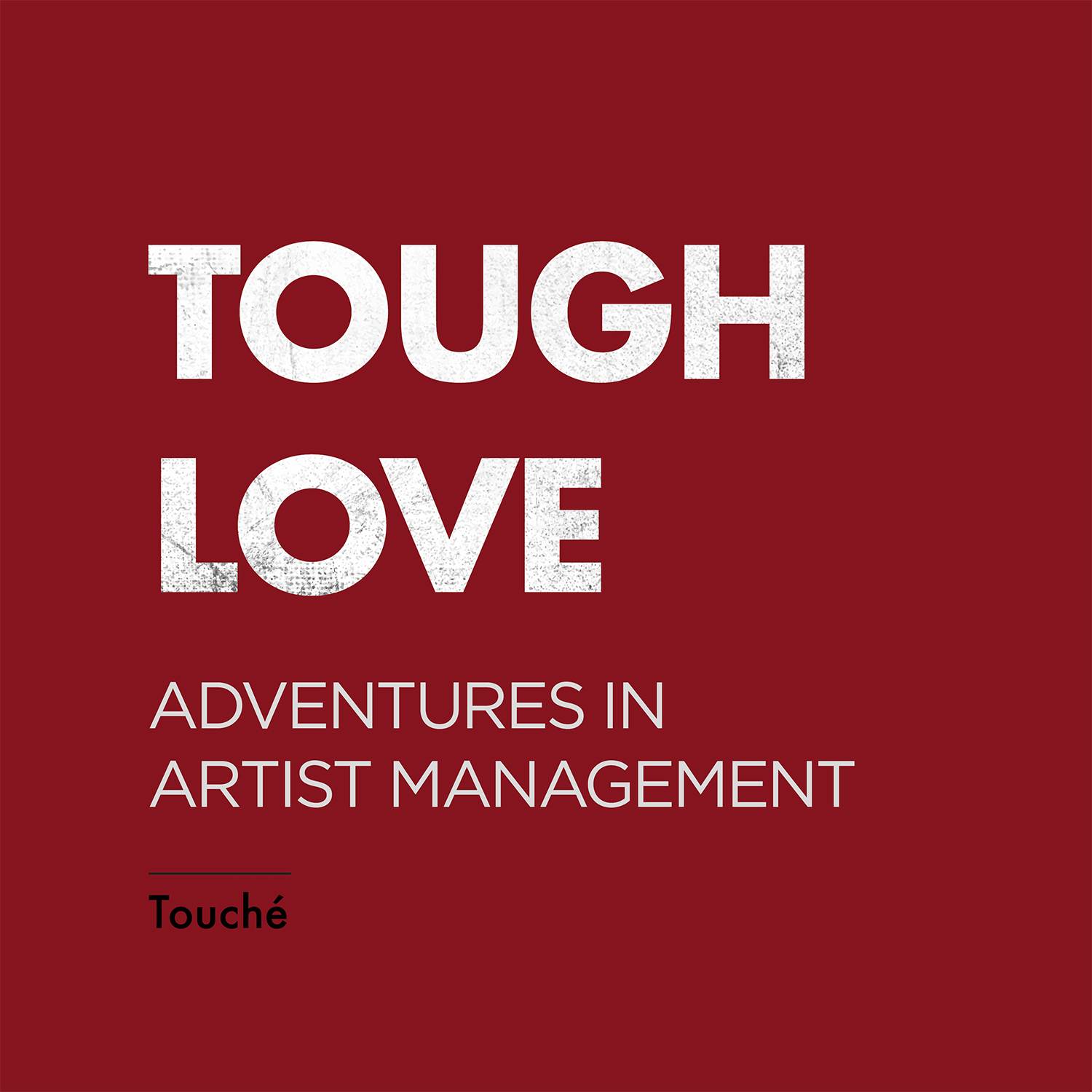 Have you ever wondered who the people are that are guiding the careers of your favorite artists? We're here to shine a light on artist managers and learn who they are, what makes them tick, and hear stories and insights from their various adventures. Join Chris Moon (an artist manager for over 25 years) as he chats with a wide range of artist managers exploring these topics and more!
Ken Weinstein - Big Hassle
---
Piers Henwood - Amelia Artists/Recordings
Piers Henwood – Amelia Artists/Recordings
For today's episode, I'm thrilled to get a chance to chat with Piers Henwood of Amelia Artists.  Piers started out as a musician, playing in the band Jets Overhead before, as so many artist managers eventually end up doing, crossing over to the dark side of artist management.  All kidding aside, Piers's vantage point on management is uniquely rooted in his time as a musician; informing his business endeavors in Amelia Artists and Recordings.  He also had the good fortune of working with Tegan & Sara for the first 20 years or so of their...
---
Paul Crockford MMF UK 30th Anniversary Edition
Paul Crockford – MMF UK 30th Anniversary Edition
For today's episode, I had the pleasure of collaborating with the Music Managers Forum – UK, in celebration of their 30th anniversary as an organization, creating community and acting as advocates for managers on a large number of important policies.  
One of their early champions was Paul Crockford, who we speak with today.
Paul has had a rather illustrious career, first as a promoter, then begrudgingly, at first, as a manager.   One of his first clients was Tears For Fears.  He now looks after Mark Knopfler, of Dire St...
---
Josh Sundquist - Middle West Management
Josh Sundquist – Middle West Management
For today's episode, I get the chance to chat with a friend of mine, Josh Sundquist at Middle West Management, who just so happens to manage one of the biggest indie artists of the last several years, Justin Vernon, and his project Bon Iver.  
We chat about his origins at the start of Middle West Management, and how his critical role in developing Bon Iver into an area/amphitheater act.  Everything Josh and his team do with Bon Iver has so much thoughtfulness and intention behind it.  They've carved out...
---
Ali Hedrick and Erik Selz
Ali Hedrick and Erik Selz – Arrival Artists
For today's episode, we have a first in Tough Love history:  Not just one, but two distinguished guests:  Ail Hedrick and Erik Selz, from Arrival Artists. 
Co-founded with a coalition of booking agents in the wake of the pandemic, Arrival Artists heralds the return of the boutique booking agency, after years of consolidation within that area of the industry.  With a rich and diverse musical roster, ranging from Andrew Bird to Sufjan Stevens, we chat about Arrival's beginnings,  Ali and Erik's approach to working with artists, and...
---
Hannah Boren
Hannah Boren –
Red Light Management
As we enter a new year, I thought we'd refine some aspects and the overall approach to what we're doing here with this podcast.
When I first envisioned this, I thought taking a seasonal approach to it would work best, coming up with topics such as "Origin Stories" and "Pivots", but as it began to unfold, I've come to realize that each artist manager's store is so unique and inspiring in its own right, that it's best to let the discussion dictate the overarching theme.
So, mo...
---
Encore: Tom Osborn
Tom Osborn
As in life, seasons change, and life gets the best of us at times, so my apologies for the unscheduled break in new episodes these past few months, but as we revamp and begin to record new, future episodes, I thought it would be nice to revisit a few of our favs as we approach the end of the year.  
One of the joys of doing this podcast is the excuse it often provides for me to catch up with old friends, and getting to learn more about their own history and start in...
---
Michelle Cable
Michelle Cable
In this episode, we have the pleasure of chatting with Michelle Cable, founder of Panache Management.
Panache started out as a zine, which lead Michelle into promoting shows, then booking shows, on a national scale, and then eventually into artist management; working with artists such as Mac DeMarco, Ty Segall, Rodrigo Amarante, and King Gizzard and the Lizard Wizard.
We chat about Michelle's series of pivots and how they were more of an evolution than a shift in direction, and the many elements that tie it all together.
---
Laurel Stearns
Laurel Stearns
In this episode, we chat with Laurel Stearns.  I first met Laurel when she was doing A&R at Capitol Records, having signed such interesting and eclectic artists such as The Decemberists and Fisherspooner.  She pivoted into artist management over the years, working with a wide range of artists including GWAR and Father John Misty, eventually landing at Primary Wave where she currently manages U.S.Girls, Red Fang, and The Album Leaf, to name a few.  
We chat about the importance of staying true to your instincts, supporting music you're passionate about...
---
Michele Fleischli
Michele Fleischli
In this episode, we chat with Michele Fleischli. Michele has crossed paths with a handful of our previous guests and I really enjoyed the opportunity to connect with her here.  Michele currently owns Like Management, working with Tenacious D and Karen O of the Yeah, Yeah, Yeahs, among others.  
Throughout her history, she's worked with an array of amazing talent, including Bad Religion, Rage Against The Machine, Sonic Youth, and Beck, to name just a few.  We cover a lot of that history, but we also touch on her interest in creating unique...
---
Justin Becker - Murmuration Music
Justin Becker
In this episode, we talk with Justin Becker, founder of Murmuration Music.  Prior to stepping out on his own, he worked at Ekonomisk Management with Andrea Troolin, where he helped steer the careers of artists such as Andrew Bird and Margot and the Nuclear So and So's.  
We chat about the many challenges, and opportunities, that were born out of the pandemic, and how the need for community offered a path to new creative endeavors.  Justin currently represents Alex Lahey, Bayonne, Okkervil River, Sondre Lerche, and Tift Merritt.
---
Justin Little - Bailey Blues
Justin Little
In this episode, we connect the dots with our last episode, where I spoke with Jordan Kurland of Brilliant Corners by chatting with Justin Little of Bailey Blues.
Justin worked with Jordan at the start of his career.  After another stint with Ben Dickey at Constant Artists, he settled in at Bailey Blues, managing The Midnight and working with K Flay, Donna Missal, Your Smith and Jake Etheridge.
We discuss the importance of making connections early in your career, and how that philosophy can also play out for artists as well, a...
---
Jordan Kurland - Brilliant Corners Artist Management
In this episode, we chat with Jordan Kurland, co-founder of Brilliant Corners Artist Management, home of Death Cab for Cutie, Soccer Mommy, She & Him, and many others.  I've had the pleasure of meeting Jordan a few times in the past, and I was thrilled when he reached out to chat.
With this past year as a backdrop, we discussed how the pandemic has created both challenges, and opportunities, for artists and artist managers.  Several of the Brilliant Corners artists were able to adapt to the changes in creative ways, and Jordan himself found time to reignite his...
---
Nick Stern - Stern Management
Nick Stern – Stern Management
In this episode, we chat with Nick Stern of Stern Management. 
Nick got his first taste of the music industry at age 15, interning at an indie record label, Zero Hour.  From there, he gained more experience working as a publicist at Atlantic Records, before pivoting into the world of artist management with his first client, Clap Your Hands, Say Yeah.  Today, Nick works with The Black Angels, Phosphorescent, Phantogram and Metric, to name a few.
We chat about the importance of building lasting relationships at an early stage in your c...
---
Tim Husom - Red Bird Music
Tim Husom –
Redbird Music
In this episode, we shift gears a bit and explore the world of film/TV composers with my friend Tim Husom, who's Redbird Music represents some of today's top composers, including Dustin O'Halloran, Colin Stetson and the estate of Johann Johansson, to name a few.  
We discuss how his early days managing indie rock and electronic bands, married with the economic downturn of 2008, inspired him to lean into film and TV opportunities for his artists, which lead to his unique path towards redefining Red Bird as a home for o...
---
Tom Osborn - Easy Eye Sound
Tom Osborn – Easy Eye Sound
In this episode, I share a spirited conversation with my friend Tom Osborn, the GM of Easy Eye Sound, a record label founded by Dan Auerbach of The Black Keys.
We chat about Tom's history in marketing at several labels, including his time at Artist Direct, one of the first label services focused companies, on through stints at Anti-, New West and how he found his way to Easy Eye Sound, which ties together his philosophy and viewpoint of how artists can both carve out and create a lane for...
---
Lazerbeak - Doomtree
Lazerbeak
For our first episode of 2021, I'm excited to share a lively and inspiring conversation with Lazerbeak, member of the hip-hop collective Doomtree, GM and manager of Doomtree, Heart Bones, solo artist and musical collaborator and producer of Dessa, among others.  Beak wears a lot of hats, and juggles them all in fine form.  
We chat about that juggling act, switching between his artistic endeavors while balancing business.  We also discuss his early years in an indie rock band, his entry point into making beats and transitioning over into hip-hop with Doomtree, and how those...
---
Lightning Round Questions
Lightning Round Questions
To round out 2020, we thought it would be fun to compile a collection of our "Lightning Round Questions" which we first introduced at the top of this season.  Think of it as a list of some of our "Favorite Things".  
We hope you enjoy revisiting these with us and thanks, as always, for listening in!
To give you further context, here's a list of our "Lightning Round" Questions:
What's the first album you ever bought? What's the first concert you attended? What's the last concert you attended? Can you s...
---
John Strohm
John Strohm
President of Rounder Records
Today we continue our series on "Pivots", breaking our long tradition of speaking only to artist managers by inviting in an outsider, the President of Rounder Records, John Strohm.   
While never "officially" an artist manager himself, he's had the opportunity to work with a wide range of amazing talent throughout his various roles within the music industry, first as an artist and musician himself, as a member of Blake Babies and The Lemonheads, then as the attorney for some of today's most successful and influential indie artists...
---
Joel Mark
Joel Mark – YMU Group
Today we continue our series on "Pivots", but for this episode, we'll be speaking with someone who shifted out of his role in A&R and into artist management.
Joel Mark, a partner in YMU Group, now manages The Faint, Soul Asylum, Liz Phair and the John Coltrane Estate, among others, but before that, he signed artists as diverse as Creed and Sigur Rós.
In our chat, we touch on how diversity inspires ideas, and how chance detours often lead to new opportunities.  
Thanks for listening a...
---
Caren Kelleher
Caren Kelleher –
Gold Rush Vinyl
Today we continue our series on "Pivots", chatting with managers how have, at one point or another in their career, veered into or out of artist management, and how their experiences as an artist manager speaks into the work they're doing now.  
When I was brainstorming on a new series topic, my guest today, Caren Kelleher, was towards the top of my list of folks I wanted to chat with, as she's reinvented herself a few times in her career, and, as our conversion revels, her passion for supporti...
---
Michael Corcoran - mtheory
Michael Corcoran – mtheory
Today marks a new chapter, or rather, season, of Tough Love.  We're moving beyond our first season theme of "Origin Stories" and embarking on a theme, "Pivots". 
To kick this off, I invited my old friend and former colleague from Nettwerk Management, Michael Corcoran , to join me.  Michael is now at mtheory, an "artist management services" company of sorts, that amplifies and assists artist managers in marketing and developing their artists. He started his career out as a tour manager, before becoming an artist manager, where he worked with a wide array of various ar...
---
Chris Moon
Chris Moon
For the close of our first season, centered around our them of "Origin Stories", we flip the script as I take the interview seat, with our newest member of the Tough Love family, Greg Dobiahl, taking over and slinging the questions my way.  Greg did a fantastic job, and let's just say I like it on the other side of the table, but it's our hopes that this episode helps give some insights into my experiences as a manager and as a reference point of sorts from which I come from in the various c...
---
Mark Cunningham
Mark Cunningham
Red Light Management
Today we speak with Mark Cunningham from Red Light Management.  I got to know Mark when he was a Aware Records/A-Squared Management early in our careers, and worked closely with him while at NoiseTrade supporting Brandi Carlile earlier in her career. 
We chat about his time at Aware, how he became a manager, and how much we both miss live music during the pandemic.  I find Mark to be one of the most passionate and articulate managers I've had the pleasure to work with, and I hope you e...
---
Christian Roreau
Christian Roreau – Thirty Tigers Management
Today we speak with Christian Roreau, artist manager at Thirty Tigers, one of the leading independent distribution and management companies.  
Christian started out as a journalism major at NYU, spent some time fronting a band before settling down in Nashville and landing at Thirty Tigers.  Like so many others, artist management wasn't a career path of choice as much as an opportunity that presented itself.  His time nurturing the careers of artists as diverse as Trampled By Turtles and Lizzo give insight into the need to be open to possibi...
---
Hannah Houser
Hannah Houser – Meru Management
I was thrilled when Hannah reached out and offered to come aboard and join me for this latest episode.   
Even though we taped this prior to the Coronavirus pandemic, a big portion of our conversation centered around working from home, which is timely for most of us now.  We also chatted about where we find inspiration and how we anchor our work in an effective manner, all of which is timeless advice.  
I hope you enjoy our chat and thanks for listening!
To learn more about Meru, click h...
---
Ben Weber
Ben Weber – Pressure Management
In this episode, I'm thrilled to have my dear friend Ben Weber on for a chat.  We've been friends for over 20 years now, but I learned a lot about Ben's background working for a variety of labels prior to carving out his career as an artist manager.  Currently working with Nada Surf and Jesse Terry, we also discuss the challenges of reinventing new ways to engage with (and find) new fans when audiences attention spans are razor thin.  
---
Erin Anderson
Erin Anderson

Olivia Artist Management
I really loved my chat with Erin Anderson.  I've had the pleasure of working with several of her artists over the years at Olivia Management, and I've always been impressed with her taste and work ethic.  
One of the things I love about doing this podcast is that it gives me the opportunity to really dig in and get to know artist managers I admire on a deeper level.  In our conversation, we discuss the trails and tribulations of not only becoming an artist manager, but also...
---
Hugo Vereker
Hugo Vereker
In this episode, I chat with an old, dear friend of mine, Hugo Vereker.  
Hugo's been managing artists since the late 70s, having had early experiences with the likes of Michael Jackson, among others.  He's an artist himself first and foremost, and as such, one of the most energetic and creative managers I know.  
I hope you enjoy our spirited conversation as much as we did.  Sometimes being a manager means wearing many hats, and I can honestly say, Hugo wears all of the well.
---
Joanne Setterington
Joanne Setterington –
Indoor Recess Management
In this episode, I chat with Joanne Setterington, founder of Indoor Recess Management, and manager for The Strumbellas.
Starting out her career as a publicist in Canada, Joanne (like so many of us do) found herself drawn into management by accident.  Her history as a publicist serves as a great backdrop to her approach and style as an artist manager.  Listen in as we discuss her unique history and grounded outlook on what it means to be an artist manager. 
I hope you enjoy our discussion, and you c...
---
Edward O'Day
Edward O'Day
Project Daybreak
In our first episode, I chat with an old friend of mine, Edward O'Day.  
Edward, along with his partner Brad Talley, founded Project Daybreak to support a certain type of artist.  We dive deeper into what defines the artists they work with, how the music of Edward's youth helped shape that perspective, and how, even with a clear view, the landscape of artist management can be hard to see from afar.  
I hope you enjoy our discussion, and you can find out more about Project Daybreak he...
---
Welcome to Tough Love
Welcome to Tough Love: Adventures in Artist Management
Being an artist manager often requires a lot of tough love.  
That's why I'm calling this deep dive into artist management Tough Love:  Adventures in Artist Management.
Enjoy this teaser episode which lays out the approach I'll be taking with this initial season.
And look for our first episode to land soon.
Thanks for listening!
---